10 Best Resources Students & Parents Can Use When Applying to the Ivies
Applying to the Ivy Leagues can be daunting and mysterious. Successfully figuring out the specifics and particulars of each school you apply to will determine if you're admitted or not. Receiving an offer of admission from one of the eight most prestigious schools in the US would be a high schooler's defining moment. It's imperative to learn about Ivy League resources.
College applications are stressful enough without the added pressure of applying to a prestigious school. AdmissionSight makes the process a little easier with our expert college admissions consultants. If you're applying to the Ivy League, start with learning about the admission resources available to you locally. This includes your high school guidance counselor, who can provide you with personalized information about the college applications process.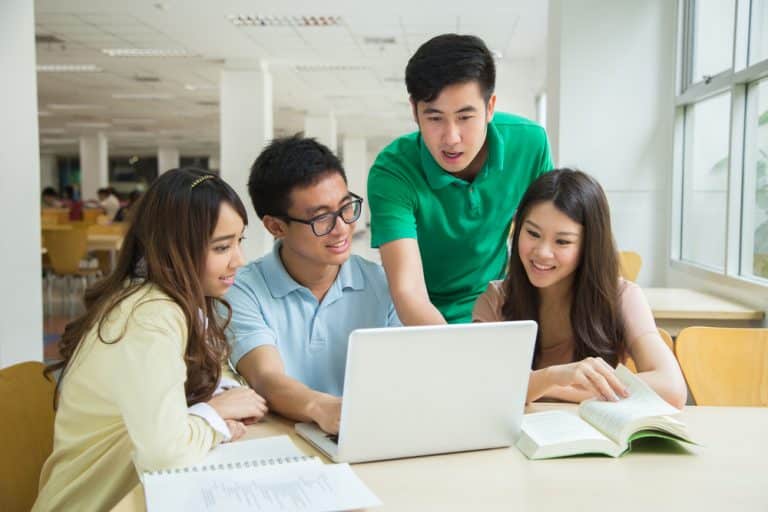 Once you begin your search in earnest, here are 10 online Ivy League resources students find helpful when navigating their Ivy league application process.
Lucky for you, all eight Ivy league schools accept applications through the Common App. Like over 800 other schools, the Ivy League schools allow students to streamline their admission application process. Instead of having to complete separate applications at each of the schools, students can complete one application and then tailor their other application materials for each one.
This saves time and effort, as well as enabling ease of organization and streamlining the process. After you submit your applications, you'll get confirmations from each school and instructions on how to create an account on their admissions websites.
Each application will cost you $75, which also keeps the costs to an average amount. Rather than paying a $50 application fee at one school and a $100 application fee at another school, each application will cost you the same amount. This also makes it fair and more accessible, so that students don't have to forgo applying to a school with a more expensive application fee. Use the Common App to start compiling your college applications for the Ivy League.
While many schools are not requiring the ACT, students should research the test to make an informed decision on whether they will submit standardized test scores. The ACT is administered by a nonprofit organization who specializes in test administration. The website features different tabs for test registration, test prep, information about test day, and retrieving test scores.
ACT works with Kaplan to provide test prep materials that include workbook sets, live online classes, self-paced modules, and private tutoring. You can also get a free guide for taking the ACT test when you sign up for your account. The steps for what to bring and what to do on test day are also listed. After testing, you can use the website to access your scores and designate additional schools to receive your test score report.
The ACT website features a blog with testing experts and information on the latest research on the ACT test.
The SAT is the standardized test administered by the College Board and accepted as an alternative or complementary test score to the ACT. The CollegeBoard also oversees the Advanced Placement program and exams, ACCUPLACER, and CLEP. ACCUPLACER is an assessment that provide students with guidance on majors and future career plans. The CLEP is an exam students can take to earn college credit without taking college courses.
The College Board website includes information on registering for the SAT and the different versions of the PSAT, along with several college search and college match resources, like HigherEd Search and CSSProfile. These resources can be used to match your skills and talents with different schools where you might be a good fit.
On the College Board website, you can also find information about taking the SAT test, preparing for the test, and when your test scores will be released. The SAT's official test prep is offered through Khan Academy, so you can use the website to prepare to take the test using fun and interactive modules. You can also check the specific date your test scores will be made available. The CollegeBoard website is one of those great resources for the Ivies with a variety of different services and offerings.
Ever wondered how the top schools compare to each other on a variety of different metrics and statistics? Niche gives a perfect illustration of how the different schools rank up against each other. You can search for a number of different filters including for the best schools and the top party schools, the schools with the best student life and the schools with the best value.
These comparisons will help you when doing research on colleges to develop your list of schools. You can use this information to make your college list or remove schools from your list.
For each school, Niche provides information like their acceptance rate, which is the number of students they admit to each incoming class, their SAT range, such as the median score of the average accepted student, and their net price, which is the total amount you can expect to spend after factoring in the funds from a typical financial aid package.
The Ivy League's regularly make the top 10 of Niche's best schools list. You can also create an account to favorite and save schools to make researching each one even easier. You can use the website to compare the schools on your list to determine which will be the best fit for you.
Not quite sure of your approval odds for your dream school? Want the honest truth about your chances of getting in with the academic record you submit? Cappex offers an innovative and easy to use calculator that will reveal whether your chances of being admitted to a particular school are low or high.
On the Cappex website, you enter some basic information about yourself, including your high school location, your GPA, ACT and SAT scores, if you have them, and your desired major. You can also use hypothetical information if you'd like to play around with the GPA and test scores you would need to increase your admission odds.
After entering your information, the website will show you a bar graph with your admission odds for each of your selected schools. Cappex will tell you whether your academic performance matches that of students previously admitted and whether your application materials will be good enough to secure your own admission. But keep in mind, this is based on Cappex's data. The admissions teams at your schools always have the final say.
The website also provides a list of other schools you might be a good fit for. You can enter further criteria like the extracurricular activities you participated in, what specific features you are looking for in a school, and your parent's background information to receive additional lists of potential colleges you might consider.
Cappex is a great Ivy League resource when you are just beginning to decide your list of schools, when you're trying to narrow down your college list, and when you need help finding other options you might not have previously thought about.
Great Value Colleges is another valuable Ivy League resource as it compiles lists of schools based on different categories students might care about. Ever wondered which school is best for artists? Great Value Colleges has a list for that with schools that have great programs artists might be interested in applying to.
Curious about which schools have sustainability programs? Great Value Colleges put together a list with those schools, too, for students interested in climate change and the environment. It's perfectly reasonable to select your school based on its relationship to values you hold, and Great Value Colleges makes that much easier.
Great Value Colleges has a list of "18 things you didn't know about the Ivy Leagues" that has some surprising secrets that were mouth-opening and awe inspiring. From enduring campus traditions and popular fraternal organizations to expansive museum collections and rare, unread manuscripts, the Ivy Leagues offer some extraordinary benefits and experiences to its students. Look over the list to consider if anything you learn inspires you when applying to the Ivy League.
Some students are visual and kinesthetic; they need to see, feel, taste, touch, and smell the campus environment where they will spend four years. The more immersive they can get, they better they will feel about making their decision.
For many students, taking campus tours is just not possible. With busy schedules and travel expenses, many students cannot stop their lives to go and visit every single school they are going to apply to. This means utilizing virtual tours when available to still get a visual of what the school looks and feels like.
Search the Campus Tours website for the school you want to visit virtually. It will take you to 3D maps, virtual campus tours, videos, and virtual reality pics. You can use these images and videos to explore the campus without leaving the comfort of your home. Be mindful that different schools have different virtual features available.
This interactive experience does not quite replicate the real world experience of being on campus, but often the virtual campus tours will offer students a chance to see places that a campus tour wouldn't ordinarily take them to, like the insides of classrooms and dorm spaces where students actually live. If you know you won't be able to see a campus in person, Campus Tours is a great website to add to your Ivy League resources.
Even if you don't think you'll use loans, it's still a great idea to be familiar with the Free Application for Federal Student Aid (FAFSA). All schools require a FAFSA in order to determine a student's financial aid package, so anyone applying for scholarships and grants will need a FAFSA as well. You'll need to create an account through the website that you'll use every year you complete the application. Your parents will also need an account if you plan to use their financial information.
Once you've entered all the important financial data, the FAFSA will calculate your expected family contribution (EFC) and produce a student aid report (SAR). The school uses this information to determine how much aid you'll need to cover all of your expected expenses.
This includes not just tuition and fees, but paying for health insurance, room and board, meal plans, transportation, books and supplies, and personal expenses. Knowing how much of your expenses a school will cover can help your family prepare and plan. The FAFSA is the very first step in order to reduce your family's overall financial load.
Thinking of applying for scholarships? Who doesn't want free money, right? With every scholarship dollar you earn, your family will have one less dollar to spend out of pocket. Think of scholarships as a way for you to win money for college using your grades and experiences as your entries. Scholarships can range from a few hundred dollars to tens of thousands from larger awards. FastWeb does an amazing job of informing students of all the latest scholarships, their requirements, and their deadlines.
Once you create an account, you'll input information about yourself and your interests. The more information you include the better FastWeb will be able to identify potential scholarships you might be eligible for.
You'll include your location, the colleges you're planning to apply to, and as much information about yourself as you'd like to enter. Are you lefthanded? There's a box to check. Have you written a play or a short story? Include that creative tidbit, too. The more detailed you are, the better FastWeb is at finding scholarships that you'd make a good match for.
After you have a list of all the scholarships that you might be eligible for, you can go through them and sort them by deadlines and award amounts. You can complete and submit the newest scholarship applications first or focus on only the ones with high dollar amounts.
Some of the scholarship applications are as simple as completing online forms with information about yourself. Other scholarships ask for essays and videos, so these will require more time and effort to complete. You can decide which scholarships you want to submit applications for and which to ignore. There is so much free money for students, and FastWeb can help claim some of it for yourself.
The AdmissionSight Blog offers numerous tips on how to gain an edge in the college admissions process. With tons of fruitful information about everything from extracurricular activities to summer programs to the top science research programs in the country, the AdmissionSight blog is an excellent and reliable  resource for college admissions. You'll find the tips to be immediately helpful and quickly valuable in your college admissions journey
Writing strong and unique college essays for your applications is one of the best ways to set apart your college applications from all the other students who will apply. If you're struggling with writing the essay, our free resources provide enough guidance and examples to learn new storytelling and personal narrative techniques.
The AdmissionSight blog has a a lot of wonderful information on college admissions, everything from how to stand out as an applicant or guide to supplemental essays. In addition, supplemental essay guide helps applicants ideate and start with some practical tips that will be relevant even after you are admitted to the college of your choice. The AdmissionSight blog is the most powerful  Ivy League resources you didn't know about that you thought you needed.
Using the resources
With the 10 Ivy League resources above, you'll be able to research specific statistics about schools, complete application requirements, start and submit your applications, and find money to pay for your education.
Creating an account and bookmarking the websites will keep them handy on your web browser when you are most likely to use them. With bookmarks, you can also go back to the websites as often as you need to. You'll also want to get very familiar with websites you'll use repeatedly, like the FAFSA and FastWeb.
AdmissionSight as an Ivy League Resource
The college application process is multi-layered and consequential. There are so many steps to follow and keeping up with all of them can be a challenge. Our admission experts at AdmissionSight know the ins and outs of applying for the Ivy Leagues.
Even with the resources available at your fingertips, it helps to have someone who can guide you through every step of the way and give you the security of confidence and accountability. Let AdmissionSight take out all the guesswork as you apply for your Ivy League education.