8 Tips for Requesting Letters of Recommendation from Teachers
The vast majority of colleges and universities require applicants to provide letters of recommendation from teachers. You can think of these letters as stamps of approval speaking to your academic abilities, personality, and college preparedness. With tens of thousands of applicants to sift through, admissions officers need any help they can get to better understand each applicant. One of the most effective ways to do this has to have former teachers vouch for applicants. In theory, it sounds quite easy. However, many students wonder how to request a letter of recommendation.
Well, you're in the right place! Here, we will take a look at the significance of letters of recommendation along with some tips to help you maximize this opportunity.
What's the purpose of a letter of recommendation?
The purpose of a letter of recommendation is to give admissions officers insight into the person behind the application. As you're filling out your college application, you'll notice that a good majority of the information is simply data.
Your GPA, your standardized test scores, and even the courses you take in high school are all pretty cut and dry. They don't reveal much about who you are or what you can offer a university. One of the ways colleges seeks to better understand their applicants is through letters of recommendation.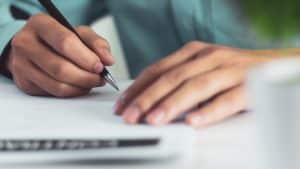 These letters offer insights colleges could never glean from even the most detailed application. After all, who knows you better academically than your high school teachers? Nobody!
What schools require letters of recommendation?
The vast majority of colleges and universities request students to provide at least one letter of recommendation along with their application. The specifics of this letter of recommendation vary between each institution.
For example, some colleges ask that students provide just one letter of recommendation while other schools want to see two. There are also differences in who the colleges want to author those letters of recommendation. It's important to consider all of the possibilities for letters of recommendation when determining which high school teachers you choose to write the letters.
Other colleges and universities open up the requirement to any authority figure within your school. That's why it's imperative that applicants understand the specific letter of recommendation requirements for each school they're applying to.
You hate to put all of that work in only to realize you got a letter of recommendation from the wrong person or are one short of the required amount.
How to get the best letters of recommendation
Letters of recommendation shouldn't just be seen as requirements to apply to the college of your choice. They should also be viewed as an opportunity for applicants to catch the attention of admissions officers.
Think about it for a minute. Most of the information on your application isn't reflective of what makes you unique. A letter of recommendation provides colleges an accurate glimpse of who you are, what interests you, how you interact with other students and teachers, and how others think of you.
If you can make the most of this part of your application, you'll be one step closer to cementing your spot in the school of your dreams. For many students, the letter of recommendation doesn't feel empowering at all.
The idea of having another person partially responsible for your admissions chances can make you feel helpless. In reality, you still have a massive amount of influence over how your letters of recommendation turn out. How is that possible when someone else is writing it?
Well, you're still in control of who you ask to write the letter, what you ask them to write, and how you ask them. If you're thinking ahead, you even have control over what they wrote based on your performance in the classroom.
Let's take a look at exactly how to request a letter of recommendation.
Ask in person.
Imagine receiving an email from a fellow student that another person in your class needs a favor. Pretty awkward, right? Going through a third party is never a good way to ask someone for their help. The same is true when asking for a letter of recommendation.
On the Common App, a formalized and highly popular application accepted by the vast majority of colleges, allows you to request letters of recommendation from teachers indirectly. While this is the proper way to handle the applications, it's important to actually ask them beforehand.
This not only ensures they have the time or desire to write the letter, but it also shows you're consideration and respect for their time.
Ask ahead of time.
Asking a teacher for a letter of recommendation two days before it's due isn't a good strategy. It's not only slightly disrespectful to your teacher but it also puts you in a pickle. If your instructor doesn't have enough time or doesn't see the email soon enough, you might not have a letter of recommendation before your application is due. Yikes!
You can easily avoid that issue by asking well before the deadline. An excellent rule of thumb to follow is 90 days or three months of notice. Besides, the more time you give the authors of your letters, the higher quality they'll be.
Ask for the letters in person.
If you're asking a teacher for a letter of recommendation, it's most likely because you developed a special relationship with them. Whether they were your favorite instructor, helped you find your field of interest, or just were an awesome teacher, you'll want to respect that connection.
Instead of sending an impersonal email or text, ask for the letter of recommendation in person. If it's a teacher you haven't seen in a year or so, take a few minutes to catch up. Let them know when you're planning to study in college, why you chose that university, and about your long-term goals.
Don't forget to let them know how much you enjoyed them as a teacher. Be bold and be honest! This is a sure-fire way to get an emphatic "yes."
Ask each teacher individually.
Another unwritten rule of courtesy when asking for letters of recommendation is to ask each teacher individually. Keep in mind that you're asking for a pretty big favor. These letters will prove decisive in your ultimate college admissions fate.
The vast majority of teachers are more than happy to assist their students with these letters, but it's always smart to remain as respectful as possible. Asking each instructor individually is more personable.
Similarly, you should avoid asking one teacher with fellow students for the same reason. You'll see a much more engaged and excited response from teachers.
Take care of print submissions.
As mentioned before, the Common App allows letters of recommendation to be uploaded and submitted virtually. Ah, the perks of technology! But keep an eye out. Some schools still request print submissions.
Check with the school to see what they require as it varies between each college and university. If print submissions are needed, you're responsible for making sure they arrive. Get an envelope for each letter of recommendation you're submitting along with a stamp.
Fill out the address of the admissions office of the school in question and provide it for each teacher you've asked to write your letters. This is an important step that's easy to overlook!
Be respectful of your teacher's process.
High school teachers are no strangers to college letters of recommendation, especially the most popular instructor. Unless you're asking a newer teacher, there's a good chance your instructor will already have their own process for providing letters of recommendation.
Some might have you respond to a series of questions beforehand to gain a better understanding of what they should write. Some high schools might even have a formalized process for issuing letters of recommendation.
It might not fit your idea of an ideal process, but it's important to stick with these previously established means. Besides, these procedures might even ensure your letter of recommendation is finished quicker!
Be ready to show your thanks.
Teachers write letters of recommendation out of the goodness of their hearts. They genuinely care about you and want to see you do well. It's always a nice gesture to do something for a teacher who writes you a letter of recommendation.
You could get them a gift card to their favorite restaurant, buy them a gift basket, or even just write a heartfelt thank you card. Anything to show your gratitude will be greatly appreciated and is the perfect way to thank a teacher for helping you.
Besides, you might even need another letter of recommendation down the line for grad school or even a job. So keep all your bridges intact!
Don't get discouraged.
Although 9 out of 10 times a teacher will be more than happy to write you a letter of recommendation without any issues, every once in a while it's not going to work out with the teacher you wanted.
It's important to not let this minor setback discourage you from moving forward with your application process. If one teacher had something positive to say about you, there's a high chance you have a multitude of instructors from which to choose.
It's helpful to make a list of the top teachers you want to write your letters of recommendation. Start with the first two (or three depending on how many letters you need) and simply work backward if the teachers don't have the time or other issues arise.
How to choose who will write your letters of recommendation
One of the most critical decisions for applicants is choosing which teacher to ask to write the letter of recommendation. Although any teacher might be willing to help, the quality of the letter won't be the same.
It's crucial that you choose an instructor that will write an awesome letter of recommendation. After all, you don't have complete control over what's written. So it's important to think carefully about who you want to write your letter of recommendation to. Admissions officers take these letters very seriously.
For some students, the answer will be clear. For others, it will be much more difficult to decide which teacher to ask. Here are just a few criteria to use when narrowing down your search:
Choose someone who has gotten to know you well.
Make sure they actually like you. (This is an important one you shouldn't forget about!)
Find a teacher who teaches a subject that lines up with your intended field of study in college.
Be sure to choose an instructor with sufficient free time to write a quality letter of recommendation.
A good exercise is to imagine which teacher you would want to represent you in a meeting with admissions officers from your school of choice. Although a letter of recommendation isn't the same as meeting someone in person, the instructor you choose is still representing you to colleges. So choose wisely!
What if I need more than two letters of recommendation?
If your school requires more than two letters of recommendation, it's important to choose instructors who can provide different highlights of you as an applicant. While having several letters of recommendation that say the same thing will reinforce those particular characteristics, admissions officers are looking for well-rounded students.
This is especially true if the school is requesting to see three letters of recommendation. Choosing teachers who can say different things about you will show admissions officers that you're not unidimensional. It'll illustrate your various abilities.
For instance, your English teacher might know your writing skills while your math teacher sees your critical thinking and analytical skills. Requesting letters of recommendation from these instructors with varying perspectives of you will make for a more holistic application. However, don't stray too far from your core subject area. If possible, try to keep at least two letters of recommendation within your field of interest.
What if I don't know my teachers well?
How to request a letter of recommendation from teachers you barely know? Students simply don't get to know their teachers well. This might partially be due to the personality of the student or even the demeanor or teaching style of the teachers. While it's ideal that students have at least one teacher they develop a special relationship with, you're not out of luck if you don't have that.
If you start preparing for your application early enough, you still have time to build rapport with a few teachers. You can start participating more in class, stay after to ask questions and meet during office hours to speak even more.
The whole goal is to make sure your name sticks out to these instructors. By the time you ask for a letter of recommendation, not only will these instructors be happy to oblige, but they'll also have more than enough great things to say about you.
If you find yourself in a pickle with no teachers that stand out and just a few weeks until your letters are due (a situation which you can avoid by following the aforementioned tips!), it's still possible to get a worthwhile letter of recommendation.
Simply ask a teacher who stands out in some way either because you enjoy their class or enjoy their personality. Teachers always enjoy supporting a child's academic future, even for students they might not know too well. Don't let your lack of familiarity or unique relationship with teachers keep you from asking early! The longer you wait, the more difficult things will become!
Secure a spot in the school of your choice.
The college admissions process often feels confusing and sometimes even a bit scary. Mini high schoolers and parents feel lost without much direction. That's where a college entrance expert like AdmissionSight can help!
We have over a decade of experience helping students navigate through the college admissions process. Our services are uniquely designed to help high schoolers better understand college applications, what admissions officers are looking for, and how best to secure a spot in the school of their choice. How does it work? We're glad you asked!
We work one on one with students to develop a custom-tailored action plan that will drastically improve their chances of getting accepted to any school. In fact, 75% of the students we work with get accepted to an Ivy League school and Top 10 university.
There's no reason that can't be you next! Whether you need a hand choosing your high school courses or picking your extracurriculars, we can help! We even assist students with writing their college essays and preparing for college interviews. If your college application requires it, we can help you master it.
If you're interested, feel free to contact us for a free consultation. We look forward to hearing from you!