A Closer Look at Brown Medical School
The Warren Alpert Medical School of Brown University, commonly referred to as Brown Medical School, has a rich history dating back to the 19th century. Founded in 1811 as the medical department of Brown University, it was one of the earliest medical schools in New England. However, due to various challenges, including financial issues and the inability to maintain a hospital, the school closed in 1827.
It wasn't until 1972 that Brown University decided to reestablish the medical program, largely in response to the community's growing need for medical professionals. In 2000, the school was renamed the Warren Alpert Medical School of Brown University in honor of Warren Alpert, a philanthropist who donated significantly.
The school's mission is to cultivate a diverse community of lifelong learners who, in their unique ways, lead the charge to improve health, whether locally or globally. A set of core values, including collaboration, respect, integrity, innovation, accountability, and excellence, underpin this mission.
Brown Med School is committed to providing a rigorous yet supportive educational environment that prepares students not only to meet the demands of current medical practice but also to transform the future of medicine.
Brown University Academics for Medicine
Description of the curriculum
The curriculum at Brown Med School is designed to promote a deep understanding of the biomedical sciences and the development of clinical skills, focusing on critical thinking and lifelong learning. The pre-clinical phase, which spans the first two years, emphasizes the fundamental scientific principles of medicine, introduces students to clinical practice, and promotes self-directed learning.
The curriculum integrates the traditional basic science disciplines into organ-system-based modules, thus providing a comprehensive and interdisciplinary understanding of the human body in health and disease. In the clinical phase covering the last two years, students are fully immersed in patient care across various specialties.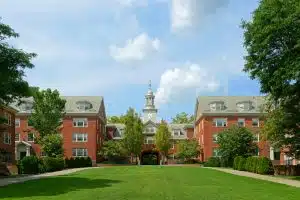 They rotate through various clinical settings, developing their diagnosis, treatment, and communication skills. In addition, the Scholarly Concentrations program is a unique feature of Brown's curriculum, designed to support the pursuit of original research and scholarship in areas of interest to individual students.
This program encourages medical students to engage in independent, mentored, scholarly work in one of several areas, such as medical education, global health, or medical humanities, among others.
Special programs
As part of Brown University Academics, the Brown Medical School offers several special programs designed to cultivate versatile physicians equipped to navigate the multifaceted world of healthcare. The MD-PhD Program is an integrated training program intended for students interested in a career conducting medically-related research. Students that are part of this program are prepared for careers as physician-scientists, balancing patient care and advancing knowledge through research.
The MD-MPH Program is designed for those interested in public health. This program equips students with skills to address health disparities, health policy and management issues, and community health challenges on a broader scale alongside their medical training.
Lastly, the MD-MBA Program is a collaborative effort between the med school and the school of business. This program prepares future physicians for leadership roles in healthcare organizations, understanding health economics, and effectively managing healthcare delivery systems. All these programs underscore Brown Medical School's commitment to training physicians and healthcare leaders.
Research opportunities
Brown University Medical School is deeply committed to fostering a culture of research, offering a range of opportunities for med students to engage in groundbreaking biomedical investigations. These opportunities span basic, translational, clinical, and population health research, allowing students to pursue areas of interest aligned with their career aspirations.
Research can be conducted under the guidance of faculty members who are considered as the top experts in their fields in state-of-the-art facilities and research labs. Students are also pushed to participate in summer research projects and have the option to pursue a year of dedicated research.
In addition, the Scholarly Concentrations Program provides a structured pathway for research, where students can pursue in-depth study and projects in a defined area of interest. Through these research opportunities, Brown Medical School not only enhances the education of its students but also contributes to advancements in medical science and healthcare.
Postgraduate residency and fellowship programs
In partnership with its affiliated hospitals, Brown Med School offers a comprehensive array of postgraduate residency and fellowship programs across a wide spectrum of specialties. These programs are designed to provide the next generation of physicians with the high-caliber, real-world clinical experience and advanced training they need to excel in their chosen fields.
Residents and fellows can work closely with renowned faculty, treat diverse patients, and participate in innovative research. The programs emphasize a balance of hands-on patient care, academic learning, and research, ensuring that graduates are well-prepared for independent practice or further specialized training. In addition, Brown's strong support system and collaborative culture foster an environment conducive to learning and professional growth.
Admission requirements for Brown University Medical School
Overview of the application process
The application process for Brown Medical School begins with submitting the American Medical College Application Service (AMCAS) application, typically available in May each year. This primary application includes sections for personal information, academic history, work, and activities, letters of recommendation, and a personal statement.
After reviewing the AMCAS application, selected applicants are invited to complete Brown's secondary application, which often includes additional essays specific to the school. The secondary application allows applicants to further demonstrate their interest in Brown and fit with the school's mission and values. After evaluating the secondary applications, the admissions committee invites a select group of applicants for interviews.
The interview process typically includes one-on-one meetings with faculty members and current students, a tour of the campus, and an opportunity to learn more about the curriculum and student life. Following the interviews, the admissions committee reviews the complete application and makes decisions on admission. The entire process, from submission of the AMCAS application to final decisions, generally spans from June to March.
Prerequisites and admission requirements
The Admission requirements for Brown University ensure that the school seeks academically prepared students who possess personal qualities that will serve them well as physicians. The school requires applicants to have a bachelor's degree from an accredited institution before enrolling.
Although there are no specific required courses, Brown recommends that applicants complete coursework in biology, chemistry (both inorganic and organic), biochemistry, physics, and mathematics. Proficiency in English is also required, as all instruction is in English. The MCAT (Medical College Admission Test) is required, and the scores from the test must be from within the last three years.
Other factors considered in the admissions process include the applicant's potential for leadership, commitment to service, and interpersonal skills. In addition, applicants must forward letters of recommendation, ideally from individuals who can speak to the applicant's qualifications for a medical career. Brown Medical School also values diversity and encourages applications from individuals from all backgrounds.
Brown University Medical School Campus and Facilities
Description of the campus
The Warren Alpert Medical School of Brown University is located in Providence, Rhode Island, a city known for its vibrant arts scene, culinary offerings, and rich history. The medical school building opened in 2011 and is a state-of-the-art facility reflecting Brown's commitment to innovative medical education.
The building features spacious lecture halls with advanced technology, multiple small rooms for group study and team-based learning, and laboratories for clinical skills and simulation training. It also houses a medical library and areas for relaxation and informal gatherings, promoting a sense of community among students.
The campus is near many of the city's landmarks and amenities and several affiliated hospitals, providing easy access to clinical experiences. As part of the broader Brown University campus, medical students have access to various resources and facilities, including athletic facilities, dining halls, and additional libraries. The campus blends historic charm with modern facilities, offering a conducive learning, research, and community engagement environment.
Overview of medical education facilities
The Brown University Medical School boasts state-of-the-art medical education facilities that promote an innovative and interactive learning environment. The medical school building, a modern and eco-friendly facility, is the hub of the student experience. It features lecture halls equipped with advanced multimedia technology for interactive learning and numerous smaller classrooms and study rooms that facilitate team-based learning and small-group discussions.
The building also houses a Clinical Skills Suite, where students can practice patient encounters and procedural skills in a simulated environment. For research, there are cutting-edge laboratories and access to multiple research centers across the university.
Moreover, the building includes comfortable spaces for students to study, relax, and interact with peers, fostering a sense of community. Additionally, the school's proximity to its affiliated hospitals gives students ready access to real-world clinical settings where they can put into use what they have learned and their skills.
Library and research facilities
The Brown Medical School offers students access to exceptional library and research facilities. The Knowledge Center within the medical school building provides a wealth of resources, including a vast collection of medical texts, journals, and electronic resources. It also offers individual and group study spaces, computers, and other technological tools.
Medical students also have access to all libraries within Brown University, including the Sciences Library, which houses many resources relevant to medical and health sciences. For research, the school features state-of-the-art laboratories within the medical school building and access to numerous research institutes and centers across the university.
These facilities give students the tools to engage in cutting-edge research in various medical and health-related fields. The school's strong connections with affiliated hospitals also provide additional opportunities for clinical research.
Clinical training sites
Clinical training is an important part of medical education at Brown. The school partners with several top-ranked hospitals in the region to provide students with diverse clinical experiences. These include Rhode Island Hospital, the state's largest and the primary teaching hospital for Brown; the Miriam Hospital, known for its high-quality patient care and comprehensive services; and Hasbro Children's Hospital, the state's only facility dedicated to pediatric care.
Other clinical sites include the Providence VA Medical Center, Women & Infants Hospital, and Butler Hospital. These training sites offer students the opportunity to see various patients and conditions and work with healthcare professionals across many specialties.
The proximity of these clinical sites to the medical school building allows for the seamless integration of clinical experiences with the rest of the medical curriculum. These affiliations provide students with real-world, hands-on experience to become competent, compassionate physicians.
Brown University Faculty
Overview of the Faculty
The faculty at the Warren Alpert Medical School of Brown University comprises a diverse group of accomplished educators, researchers, and clinicians. The faculty is deeply committed to the school's mission of excellence in medical education, research, and patient care. They bring a wide range of expertise across various medical specialties, providing students with a comprehensive and up-to-date understanding of medicine.
Faculty members are renowned for their research contributions, clinical expertise, and dedication to teaching. They serve as teachers, mentors, and role models, fostering a supportive and stimulating learning environment. The faculty-student ratio at Brown Medical School is favorable, allowing for personalized attention and mentorship.
Faculty members also maintain active practices, conduct groundbreaking research, and are actively involved in service to the community, embodying the school's commitment to integrating clinical practice, research, and education.
Notable faculty members and their contributions
The faculty at Brown Med School includes numerous renowned educators, researchers, and clinicians. While I don't have real-time data, as of my last training cut-off in September 2021, some notable faculty included Dr. Jack A. Elias, Dean of Medicine and Biological Sciences, who is recognized for his deep research in the field of pulmonary medicine, particularly in understanding the molecular mechanisms of lung disease.
Another notable faculty member is Dr. Josiah Rich, a Professor of Medicine and Epidemiology, who has significantly contributed to addiction, infectious diseases, and health issues among incarcerated populations. Dr. Julie Roth, an Associate Professor of Neurology, is recognized for her work in neuro-oncology, particularly in improving treatments for brain tumors.
Faculty-student ratio and mentorship opportunities
The Warren Alpert Medical School of Brown University prides itself on maintaining a favorable faculty-student ratio, ensuring students receive personalized attention and mentorship throughout their educational journey. This low ratio allows for small-group learning and fosters strong relationships between students and faculty, a key aspect of Brown's supportive and collegial environment.
In addition to classroom interactions, students have opportunities for mentorship through research projects, clinical rotations, and the Scholarly Concentrations program. Faculty mentors guide students in academic and professional development, advising them on course selection, research projects, career planning, and more.
Furthermore, through the Doctoring Program, students are paired with a faculty mentor who supervises their clinical skills development over the first two years of medical school. These mentorship opportunities underscore Brown's commitment to fostering a supportive, learner-centered environment.
Brown University Alumni
Notable alumni
The school boasts a list of Brown University Alumni who have significantly contributed to medicine and beyond. While I don't have real-time data access, and my training only goes up until September 2021, here are a few notable examples. An emergency physician and researcher, Dr. Megan Ranney is nationally recognized for her work in gun violence prevention and digital health.
She frequently appears on national media outlets as a healthcare analyst. Dr. Paul Farmer, a medical anthropologist, and physician, co-founded Partners in Health, an international non-profit organization that provides healthcare to the poor. He is known for his humanitarian work and contributions to understanding social determinants of health.
Dr. John J. Donohue, a pioneer in cancer research, has made groundbreaking contributions to treating testicular cancer. This is just a sampling of the many accomplished individuals who have graduated from Brown Medical School.
Career outcomes of graduates
Warren Alpert Medical School of Brown University graduates enjoy diverse and successful career outcomes. Many pursue careers in clinical practice across various specialties, while others engage in medical research, public health, healthcare administration, or medical education. Brown's strong network of affiliated hospitals and the school's emphasis on mentorship and career counseling support graduates in securing competitive residencies nationwide.
In addition to traditional medical fields, some graduates leverage their medical training to influence healthcare policy, start biotech companies, or work with non-profit organizations to address global health issues.
The school's commitment to fostering well-rounded physicians and its rigorous academic and clinical training equips graduates with the skills and knowledge needed to excel in their chosen career paths and make meaningful contributions to medicine.
Impact of Brown Medical School on Healthcare
The Warren Alpert Medical School of Brown University plays a significant role in shaping healthcare locally, nationally, and globally. The school's rigorous medical education, innovative research, and commitment to service translate into meaningful impact in various facets of healthcare. Graduates of Brown Medical School go on to become leaders in various medical specialties, contributing to patient care, medical education, research, and policy.
The school's groundbreaking research has led to advancements in our understanding of various diseases, improved treatment options, and policy changes. Its close partnerships with local hospitals and health organizations also allow the school to impact healthcare delivery directly in its community, providing vital services and addressing health disparities.
The school's focus on social responsibility, community engagement, and global health initiatives also fosters a service culture, improving health outcomes in underserved communities. Overall, Brown Medical School's influence is broad and far-reaching, contributing to the betterment of healthcare on multiple fronts.
Now you have an idea about Brown Medical School. If you are still planning your college admission, you should get guidance from AdmissionSight. With guidance from AdmissionSight's top experts in college admission with 10 years of experience, you can get into any college you dream of. You can talk to our experts today to get started.