A Closer Look at Duke Medical School
Duke Medical School, formally known as Duke University School of Medicine, was founded in 1925 as an integral part of Duke University in Durham, North Carolina. With a rich history of excellence in medical education, research, and patient care, Duke Med School has become known as one of the most respected and innovative institutions worldwide.
The school aims to advance medical knowledge and improve patient care through cutting-edge research, education, and community service. Its vision is to train the next generation of compassionate and skilled medical professionals who will significantly contribute to transforming medicine and improving society.
Consistently ranked among the top medical schools in the United States, Duke University Medical School is known for its rigorous academic programs, groundbreaking research, and highly skilled faculty, contributing to its prestigious reputation. The campus, located within Duke University's main campus, boasts state-of-the-art facilities, including the Trent Semans Center for Health Education, the Duke Clinical Research Institute, and the Duke Cancer Institute.
These facilities provide students, faculty, and researchers with the resources and environment necessary to foster innovation, collaboration, and medical education and research excellence.
Duke Medical Program
Doctor of Medicine (MD) Program
The Doctor of Medicine (MD) program at Duke Med School offers a unique and innovative curriculum designed to provide medical students with a solid foundation in medical sciences, clinical skills, and research. The Duke Medical Program emphasizes a Team-Based Learning approach, encouraging collaboration and problem-solving among students to enhance their understanding of complex medical concepts.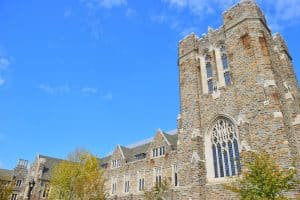 Clinical experience is integral to the curriculum, with students gaining hands-on training in various settings, including the Duke University Health System and affiliated hospitals. Furthermore, Duke Medical School is committed to fostering a culture of research and discovery, offering numerous research opportunities for students throughout their medical education.
This comprehensive approach to medical education equips Duke MD students with the knowledge, skills, and experience required to excel as compassionate and competent physicians in a rapidly evolving healthcare landscape.
MD/PhD Program (Medical Scientist Training Program)
The MD/Ph.D. Program, also known as the Medical Scientist Training Program (MSTP) at Duke University Medical School, is designed to cultivate a new generation of physician-scientists who can seamlessly integrate their clinical and research expertise to advance the field of medicine. With a serious emphasis on the interplay between scientific discovery and clinical application, the program aims to provide medical students with an in-depth understanding of both clinical medicine and biomedical research.
The curriculum combines the core MD courses with a tailored PhD program, allowing students to pursue research in immunology, neuroscience, genetics, and more. Typically taking seven to eight years to complete, the MSTP is a fully-funded program, providing students with financial support for tuition, fees, and a stipend throughout their training.
This comprehensive approach enables graduates to become academic medicine, research, and industry leaders, driving innovation and improving patient care.
Master's Programs
Duke Med School offers a range of Master's programs tailored to meet its students' diverse needs and career aspirations. The Master of Biomedical Sciences program is designed for students seeking advanced training in the life sciences, preparing them for careers in academia, industry, or further professional education.
The Master of Health Sciences program focuses on providing students with a strong foundation in health-related research methodologies, equipping them with the skills required to pursue careers in clinical research, public health, or health policy.
The Master of Management in Clinical Informatics program combines healthcare, information technology, and management principles to train professionals who can effectively lead healthcare organizations in leveraging data and technology for improved patient outcomes and operational efficiency.
Each of these Master's programs at Duke Medical School offers a unique blend of coursework, research opportunities, and practical experiences, preparing graduates to excel in their chosen fields and contribute meaningfully to the advancement of healthcare.
Doctoral Programs
Duke Medical School's Doctoral Programs allow students to engage in cutting-edge research and contribute to advancing knowledge in their respective fields. The Ph.D. in Biomedical Sciences program fosters a deep understanding of the molecular and cellular mechanisms underlying human health and disease, preparing students for careers in academia, industry, or government research.
This interdisciplinary program allows students to tailor their research focus to genetics, immunology, neuroscience, or pharmacology. On the other hand, the Ph.D. in Health Sciences program emphasizes the development of expertise in health-related research methodologies, including clinical research, health services research, and population health.
Graduates of the medical program are well-equipped to pursue careers in academia, research organizations, public health agencies, or healthcare administration. Both doctoral programs at Duke Med School provide students with a rigorous education, research mentorship, and a collaborative environment that fosters intellectual growth and scientific discovery.
Continuing Medical Education and Professional Development
Continuing Medical Education (CME) and Professional Development at Duke Medical School are essential components of the school's commitment to fostering lifelong learning and maintaining the highest standards of medical practice.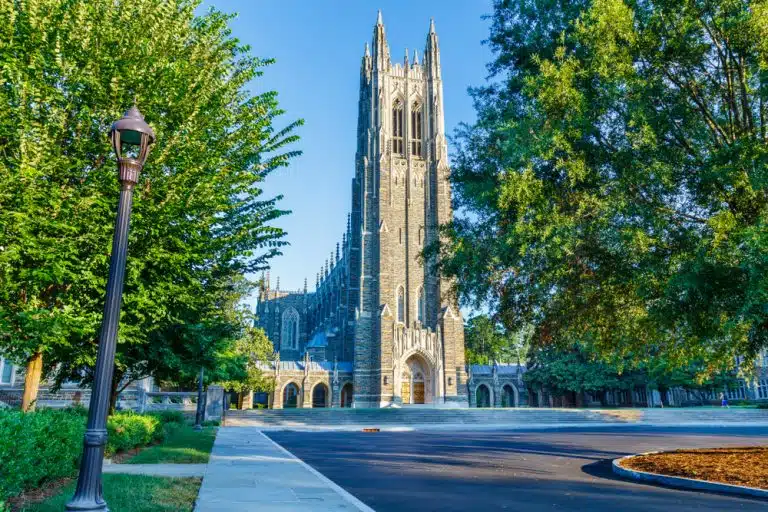 Recognizing the ever-evolving nature of medicine and healthcare, Duke offers a wide range of CME courses, workshops, conferences, and online resources designed to help medical professionals stay current with advances in their fields, enhance their clinical skills, and maintain their professional competencies. These educational opportunities cover a diverse array of topics, including emerging clinical research, innovative treatment approaches, and the latest diagnostic tools.
By engaging in CME and professional development, healthcare professionals affiliated with Duke University Medical School can continually improve their practice, ensuring the delivery of high-quality, evidence-based patient care and contributing to the overall advancement of medicine.
Duke Medical School Admissions
Application process and requirements
The application process for Duke Medical School is designed to identify well-rounded and motivated candidates who demonstrate the potential to excel in medical education, research, and patient care. Applicants must first fulfill prerequisite courses, including biology, chemistry, physics, and mathematics, ensuring they have a solid foundation in the sciences.
They must also take the Medical College Admission Test (MCAT), a standardized exam that assesses problem-solving, critical thinking, and knowledge of natural, behavioral, and social science concepts. In addition, applicants are required to submit letters of recommendation from various individuals who can attest to their academic abilities, personal qualities, and potential for medical success.
Lastly, a compelling personal statement is an essential component of the application, as it allows medical student candidates to share their motivations, experiences, and aspirations for a medical career. Duke Med School evaluates applications holistically, considering academic achievements and each candidate's personal qualities, experiences, and potential to contribute to the school's mission and vision.
Selection criteria and holistic review
Duke University Medical School employs a holistic review process in its selection criteria, ensuring that each applicant is evaluated based on a comprehensive set of factors beyond academic performance. This approach allows the admissions committee to consider each candidate's unique strengths, experiences, and personal qualities, seeking those who will not only excel academically but also contribute meaningfully to the diverse and dynamic learning environment at Duke.
Factors considered in the holistic review include leadership abilities, commitment to community service, resilience, cultural competency, and effective communication skills. By taking the whole person into account, Duke Medical School aims to identify candidates who possess the potential to become compassionate, skilled, and innovative physicians dedicated to advancing medical knowledge and improving patient care.
Interview process
The interview process at Duke Med School is a crucial stage in the admissions journey, as it offers both the school and the candidates an opportunity to determine whether they are the right fit for each other. Selected applicants are invited to participate in interviews conducted by faculty members and current medical students, who assess the applicant's interpersonal skills, motivation, ethical reasoning, and understanding of the medical profession.
The interview format may include traditional one-on-one interviews, multiple mini-interviews (MMIs), or a combination of both, providing applicants with opportunities to showcase their problem-solving abilities, communication skills, and suitability for a medical career.
The interview process also allows candidates to gain a deeper understanding of Duke Medical School's culture, curriculum, and values, enabling them to make informed decisions about their medical education and future career path.
Financial aid and scholarships
Duke University Medical School is committed to ensuring that all qualified students can pursue a medical education, regardless of their financial circumstances. To this end, the school offers a range of financial aid options, including need-based grants, loans, and work-study programs. Additionally, merit-based scholarships are available to recognize and support outstanding applicants who demonstrate exceptional academic achievement, leadership, and commitment to medicine.
The school's financial aid office assists students in navigating the application process, identify available funding sources, and creating a financial plan tailored to their needs. By providing financial support and guidance, Duke Med School aims to reduce the financial burden on students, giving them the opportunity to focus on their education and personal growth as they embark on their journey to becoming compassionate and skilled medical professionals.
Diversity and inclusion initiatives
Duke Medical School greatly emphasizes fostering diversity and inclusion within its community, recognizing that a diverse student body enhances the educational experience and contributes to a more culturally competent healthcare workforce. The school has implemented various initiatives to promote a culture of inclusivity, respect, and open-mindedness.
These efforts include targeted outreach and support for underrepresented minorities, women, LGBTQ+ individuals, and students from socioeconomically disadvantaged backgrounds. Through pipeline programs, mentorship opportunities, and collaborations with local and national organizations, Duke Med School aims to attract and retain diverse students who bring varied perspectives, experiences, and backgrounds to enrich the learning environment.
By actively promoting diversity and inclusion, Duke University Medical School is committed to creating a supportive community for all its members and shaping future physicians better equipped to address the healthcare needs of an increasingly diverse patient population.
Duke Research and Innovation
Major research areas and initiatives
Duke Med School is at the forefront of cutting-edge medical research, strongly emphasizing interdisciplinary collaboration and innovation. The school's major research areas and initiatives encompass various biomedical and health-related disciplines, including but not limited to cancer, cardiovascular disease, neurosciences, genomics, immunology, and regenerative medicine.
These Duke research endeavors are driven by world-class faculty members who work closely with students, clinicians, and other researchers to translate scientific discoveries into novel therapies and improved patient care.
Furthermore, Duke University Medical School actively fosters a culture of collaboration, forming partnerships with other research institutions, industry, and government agencies to tackle pressing medical challenges and advance human health. By investing in groundbreaking research and fostering a collaborative research environment, Duke Med School continues to push the boundaries of medical knowledge and improve patient outcomes worldwide.
Research facilities and resources
Duke Medical School offers numerous research facilities and resources to support its students, faculty, and researchers in pursuing scientific discovery and innovation. State-of-the-art laboratories, core facilities, and research centers, such as the Duke Clinical Research Institute, the Duke Cancer Institute, and the Duke Molecular Physiology Institute, provide cutting-edge equipment and technologies to enable groundbreaking research across various disciplines.
Additionally, the school offers numerous resources to facilitate interdisciplinary collaboration, including access to research databases, specialized training programs, and grant support services. By providing a robust research infrastructure and fostering a collaborative environment, Duke Med School enables its community members to conduct high-quality research, advance medical knowledge, and contribute to developing novel treatments and therapies that improve patient care and outcomes.
Collaboration with Duke University Hospital
Duke University Medical School maintains a strong collaborative relationship with Duke University Hospital, one of the nation's leading academic medical centers. This partnership is crucial in integrating medical education, research, and patient care, allowing medical students and faculty to gain valuable clinical experience while contributing to medical knowledge and treatment advancements.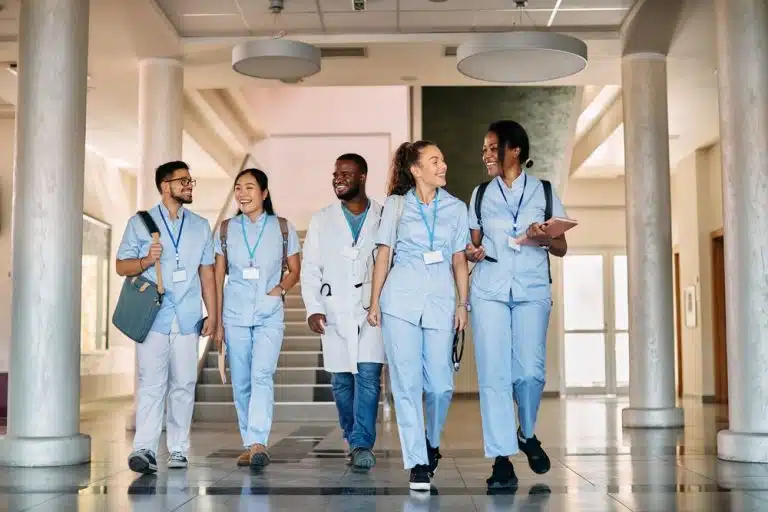 The close collaboration between the medical school and the hospital provides students access to a diverse patient population, a broad range of clinical settings, and the opportunity to work alongside accomplished healthcare professionals. Furthermore, the partnership fosters a culture of interdisciplinary cooperation, as clinicians, researchers, and medical educators work together to address complex medical challenges, develop innovative therapies, and improve patient outcomes.
This symbiotic relationship between Duke Med School and Duke University Hospital ensures a comprehensive and dynamic learning experience for medical students while reinforcing the school's commitment to excellence in medical education, research, and patient care.
Research funding and grants
Duke Medical School consistently ranks among the top institutions in the United States for research funding and grants, reflecting its commitment to advancing medical knowledge and fostering scientific discovery. The school receives substantial support from various sources, including the National Institutes of Health (NIH), foundations, industry partners, and private donors.
This funding enables researchers at Duke to pursue groundbreaking studies across a wide range of disciplines, such as cancer, neuroscience, genomics, and immunology. In addition, the school provides resources and support services to assist faculty and students in identifying and securing research grants, including grant writing workshops, funding opportunity databases, and proposal review services.
By attracting significant research funding and offering comprehensive grant support, Duke Med School ensures that its faculty, students, and researchers have the resources to pursue innovative research projects, advance medical knowledge, and develop novel treatments and therapies.
Duke Med School Clinical Training
Clinical rotations and elective opportunities
Clinical rotations and elective opportunities at Duke Med School are designed to provide students with hands-on clinical experience, preparing them to become skilled and compassionate physicians. During the clinical phase of their medical education, students rotate through various medical specialties, such as internal medicine, surgery, pediatrics, and obstetrics and gynecology, among others.
These rotations occur at Duke University Hospital, affiliated hospitals, and community clinics, exposing students to a diverse patient population as well as a wide range of clinical settings. Additionally, elective opportunities are available to tailor students' clinical experiences according to their interests and career goals.
These electives may include specialized clinical rotations, research projects, or global health experiences, allowing students to explore specific areas of medicine in greater depth. Through these clinical rotations and elective opportunities, Duke Medical School ensures that its students gain the practical skills, knowledge, and adaptability required to excel in the dynamic and ever-evolving field of medicine.
Affiliated hospitals and healthcare centers
Duke University Medical School benefits from strong affiliations with a large network of hospitals and healthcare centers that contribute to its students' comprehensive clinical education. Duke University Hospital is the primary teaching hospital, offering a diverse patient population, renowned faculty, and state-of-the-art facilities.
Additionally, the school is affiliated with other prominent healthcare centers, such as the Duke Regional Hospital, Duke Raleigh Hospital, and the Durham Veterans Affairs Medical Center. These affiliations provide students with clinical experiences across specialties, patient populations, and healthcare settings. Moreover, these collaborations facilitate interdisciplinary research and promote the translation of scientific discoveries into clinical practice.
By maintaining strong ties with affiliated hospitals and healthcare centers, Duke University Medical School ensures that its students receive a well-rounded clinical education that prepares them to become compassionate and skilled physicians ready to meet the challenges of today's healthcare landscape.
Global health experiences
Duke Medical School is committed to cultivating a global perspective among its students and fostering an understanding of diverse healthcare systems and challenges. Even now, the school offers a variety of global health experiences, including international clinical rotations, research projects, and educational programs. These opportunities enable students to engage with different cultures, gain insights into global health disparities, and learn about innovative approaches to healthcare delivery.
By participating in global health experiences, students develop cultural competence, enhance their clinical skills, and broaden their understanding of the various social determinants of health. These experiences also foster a sense of global responsibility and encourage students to think critically about how they can improve health outcomes locally and worldwide.
Through its emphasis on global health experiences, Duke Med School nurtures well-rounded physicians equipped to tackle complex health challenges on an international scale and contribute to advancing healthcare across diverse communities.
Residency and fellowship programs
Duke Medical School is renowned for its extensive residency and fellowship programs that provide advanced clinical training and prepare graduates for successful careers in various medical specialties. In collaboration with Duke University Hospital and other affiliated healthcare centers, these programs offer a rigorous and comprehensive curriculum encompassing clinical rotations, research opportunities, and educational conferences.
Residents and fellows benefit from working alongside experienced faculty, who serve as mentors and role models, fostering an environment of clinical excellence, scholarly inquiry, and professional growth. The programs also emphasize developing leadership skills, teamwork, and adapting to the evolving healthcare landscape.
With a strong commitment to supporting the career development of its trainees, Duke Med School ensures that its residency and fellowship programs produce highly skilled and compassionate healthcare professionals who are prepared to excel in their various fields and contribute to the advancement of medicine.
Now that you know about Duke Medical School, you should have an easier time deciding if you will enter Duke. Wherever you might want to enter, you can get help with AdmissionSight with the help of our world-class guidance. With the help of experts, choosing the best university that suits you best shouldn't be hard with the help of AdmissionSight. You can talk to us today to get started.