A Closer Look at Harvard Medical School
Harvard Medical School (HMS), located in the Longwood Medical Area of Boston, Massachusetts, is one of the world's most prestigious and respected medical schools. Established in 1782, HMS is the third-oldest medical school in the US and has been spearheading medical education, research, and innovation for over two centuries.
Since its inception, HMS has played a pivotal role in shaping the course of modern medicine and has been responsible for numerous groundbreaking discoveries and advancements in various fields of medicine. The institution's commitment to providing an exceptional education and fostering research has allowed it to maintain a global reputation for excellence, attracting some of the brightest minds worldwide.
HMS's vast network of affiliated hospitals, research centers, and collaborative partnerships further contributes to its immense impact on healthcare worldwide. This esteemed medical school's alumni have made significant contributions to society, from pioneering new treatments and therapies to shaping healthcare policy and improving public health.
With a strong foundation and a rich history, Harvard Medical School continues to be a driving force in the medical field, striving to push the boundaries of knowledge, promote innovative thinking, and create lasting positive change in the world of healthcare.
Harvard Medical School Campus and facilities
1. Longwood Medical Area location
The Longwood Medical Area, situated in the heart of Boston, Massachusetts, is a thriving medical and academic hub home to HMS and a myriad of world-class research institutions and hospitals. This bustling neighborhood spans approximately 213 acres and comprises renowned medical centers, such as Brigham and Women's Hospital, Beth Israel Deaconess Medical Center, and Boston Children's Hospital.
The area fosters an environment of collaboration, innovation, and cutting-edge research, making it a key player in advancing healthcare and medical knowledge. The Longwood Medical Area's unique concentration of top-tier institutions draws a diverse and talented community of medical professionals, students, and researchers, further solidifying its position as a premier destination for medical education and research.
2. Major buildings and landmarks
The Harvard Medical School campus boasts several major buildings and landmarks central to the institution's educational and research endeavors. The Tosteson Medical Education Center (TMEC) serves as the primary site for medical education, housing classrooms, lecture halls, and simulation centers designed to provide students with hands-on learning experiences.
The Countway Library of Medicine, considered to be one of the largest medical libraries in the world, is a treasure trove of resources for students, researchers, and faculty, offering access to vast collections of books, journals, and electronic resources. Vanderbilt Hall, a historic building dating back to 1928, provides residential accommodations for students, fostering a close-knit community and encouraging camaraderie among classmates.
Lastly, the New Research Building (NRB) is a state-of-the-art facility that supports cutting-edge research in various biomedical fields, promoting interdisciplinary collaboration and innovation among scientists, clinicians, and students to advance medical knowledge and improve patient care.
3. Affiliated hospitals and research institutions
Harvard Medical School benefits from strong affiliations with several world-renowned hospitals and research institutions, enabling students to gain valuable clinical experience and participate in groundbreaking research.
Massachusetts General Hospital (MGH), founded in 1811, is the third oldest general hospital in the US and consistently ranks as one of the top hospitals in the country. MGH is well-known for its innovative research and exceptional patient care across various specialties.
Brigham and Women's Hospital (BWH), another leading teaching hospital, is internationally recognized for its advancements in women's health, cardiovascular medicine, and immunology.
Beth Israel Deaconess Medical Center (BIDMC) provides students with opportunities to engage in patient-centered care and contribute to ongoing research in various medical domains. Dana-Farber Cancer Institute (DFCI), a world-class cancer research and treatment center, is committed to discovering novel therapies and improving patient outcomes in oncology.
These affiliations offer HMS students unparalleled access to diverse clinical settings, mentorship from top medical professionals, and involvement in cutting-edge research that continually shapes the future of medicine.
Harvard medical school programs
1. Doctor of Medicine (MD) program
The Doctor of Medicine (MD) program at Harvard Medical School is renowned for its innovative and rigorous curriculum created to prepare students for successful medical careers. The program integrates basic science, clinical medicine, and research opportunities to create well-rounded physicians.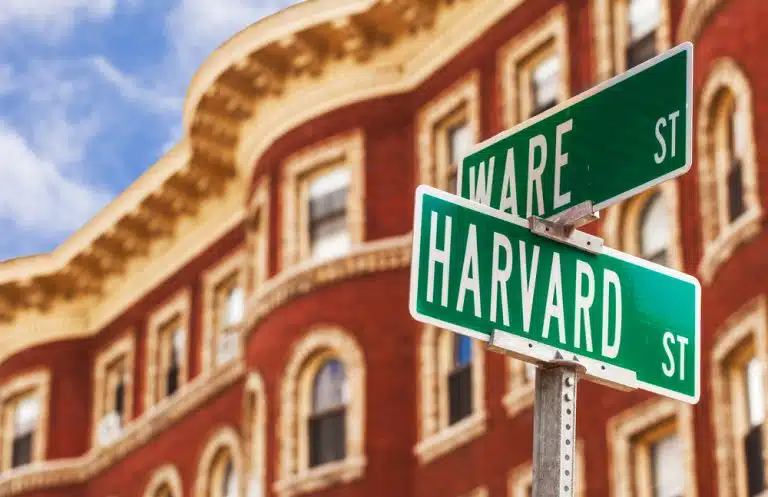 The curriculum is divided into two primary tracks: the Pathways program and the Health Sciences and Technology (HST) program. The Pathways program emphasizes active learning and problem-solving through a combination of case-based learning, small group discussions, and hands-on clinical experiences.
The HST program, offered in collaboration with the Massachusetts Institute of Technology (MIT), takes an interdisciplinary approach to medical education, combining engineering, biomedical sciences, and clinical practice to train physician-scientists who will contribute to advancing healthcare technology and biomedical research. Both tracks provide students with the skills, knowledge, and experiences needed to excel in their chosen medical fields and become healthcare leaders.
2. Ph.D. programs
HMS offers outstanding Ph.D. programs to prepare students for cutting-edge research and academic careers. The Ph.D. Program in Biomedical and Biological Sciences (BBS) is an interdisciplinary program that gives students a strong foundation in various research areas, such as genetics, immunology, neuroscience, and stem cell biology.
Through mentorship from renowned faculty and access to state-of-the-art research facilities, BBS students gain the skills that are needed to become leaders in their respective fields. The Health Sciences and Technology (HST) Ph.D. program, a joint program with the Massachusetts Institute of Technology (MIT), focuses on interdisciplinary research at the intersection of medicine, engineering, and biomedical sciences.
HST students are equipped with the expertise to develop novel technologies and methodologies that advance the understanding of human biology and improve patient care. Both Ph.D. programs foster a collaborative and supportive environment, encouraging students to engage in groundbreaking research and contribute to the ever-evolving landscape of medical knowledge.
3. Master's programs
Harvard Medical School offers a variety of master's programs designed to address specific areas of interest and expertise within the medical field. The Master of Medical Science (MMSc) program caters to those seeking advanced clinical investigation, medical education, or global health delivery training, equipping students with the skills necessary to excel in these specialized areas.
The Master of Bioethics (MBE) program addresses the complex ethical issues arising from advancements in medicine and biomedical research, training students to navigate these challenges and contribute to ethical decision-making in healthcare.
The Master of Healthcare Quality and Safety (MHQS) program focuses on developing leaders who can improve patient care by implementing evidence-based strategies and innovative approaches to enhance healthcare quality and safety.
These master's programs, tailored to students' unique interests and goals, are designed to foster a deep understanding of the various aspects of healthcare, enabling graduates to make meaningful contributions to the field and drive positive change in patient care and medical practice.
4. Combined degree programs
HMS offers several combined degree programs that enable students to pursue interdisciplinary interests and develop diverse skill sets, preparing them for leadership roles in various areas of medicine.
The MD/Ph.D. program is designed for students interested in becoming physician-scientists, combining rigorous medical education with advanced research training, resulting in graduates who can bridge the gap between clinical practice and scientific discovery. The MD/MBA program, offered in conjunction with Harvard Business School, trains students to become skilled clinicians and healthcare leaders with a strong understanding of management, healthcare economics, and policy.
This combination equips graduates with the tools necessary to drive improvements in healthcare systems and organizations. The MD/MPH program, a collaboration with the Harvard T.H. Chan School of Public Health, focuses on the intersection of clinical medicine and public health, producing graduates who can address pressing healthcare challenges and promote health equity on a population level.
These combined degree programs provide students with unique opportunities to develop a wide range of skills and knowledge, empowering them to excel in their chosen careers and make a lasting impact on medicine.
Harvard Medical School Admissions and Financial Aid
Admissions process and criteria
The admissions process at Harvard Medical School is highly selective, aiming to identify students with the academic aptitude, personal qualities, and passion for medicine required to excel in the program. To be considered for medical school admission, applicants must meet specific prerequisites, including the completion of the necessary undergraduate coursework in biology, chemistry, physics, and mathematics.
In addition, applicants are required to take the Medical College Admission Test (MCAT) and submit their scores alongside letters of recommendation, personal statements, and official transcripts. Once applications are reviewed, a select group of candidates is invited for interviews, which play a crucial role in the admissions process.
The interview process at HMS typically consists of two one-on-one interviews with faculty members, providing an opportunity for both parties to assess compatibility and allowing the admissions committee to evaluate the applicant's interpersonal skills, motivation, and potential for success in the medical profession.
Through this rigorous and holistic review process, HMS aims to assemble a diverse and talented cohort of students who will contribute to and thrive within the institution's challenging and enriching educational environment.
Financial aid opportunities
Harvard Medical School is committed to making medical education accessible to all qualified all kinds of students, regardless of their financial backgrounds. To support this goal, HMS offers various financial aid opportunities. Need-based aid is available through grants and low-interest loans, determined by assessing the applicant's financial situation and demonstrated need.
Merit-based scholarships are also offered to recognize outstanding academic achievements, leadership qualities, or other exceptional accomplishments. These scholarships are awarded based on the applicant's merit, independent of their financial need.
Additionally, HMS participates in loan forgiveness programs, such as the National Health Service Corps Loan Repayment Program and the Public Service Loan Forgiveness Program, which provide financial relief to students who commit to serving in high-need areas or public service roles after graduation.
By offering a range of financial aid opportunities, HMS aims to reduce the financial burden of medical education and enable talented students from diverse backgrounds to pursue their passion for medicine without being hindered by financial constraints.3. Loan forgiveness programs.
Harvard Med School Research and Innovation
Cutting-edge research areas
Harvard Medical School is an international leader in cutting-edge research, addressing some of the most pressing challenges in modern medicine. In stem cell and regenerative medicine, researchers at HMS are exploring the potential of stem cells to repair damaged tissues, develop novel therapies, and treat various diseases, such as Parkinson's and diabetes.
In neuroscience, HMS scientists are working to uncover the intricate workings of the human brain, investigating topics such as neurodegenerative diseases, neural circuits, and cognitive function. Genetics and genomics research at HMS focuses on understanding the role of genes in both health and disease, harnessing the power of technologies like CRISPR to develop targeted therapies for conditions like cancer and genetic disorders.
In the realm of immunology and infectious diseases, researchers are dedicated to understanding the immune system's response to pathogens, developing vaccines, and designing novel treatments for conditions such as autoimmune diseases and allergies. These cutting-edge research areas demonstrate HMS's commitment to pushing the boundaries of medical knowledge and making a lasting impact on human health.
Interdisciplinary research centers and institutes
HMS emphasizes the importance of interdisciplinary research by hosting numerous centers and institutes that bring together experts from various fields to tackle complex medical challenges. These centers and institutes foster collaboration among scientists, clinicians, and scholars, promoting innovative thinking and synergistic research efforts.
By providing a platform for interdisciplinary dialogue, these Harvard Med School Research centers facilitate the integration of knowledge from diverse domains, such as genetics, immunology, neuroscience, and bioinformatics. This collaborative approach leads to breakthroughs in understanding disease mechanisms, developing novel therapies, and enhancing patient care.
The interdisciplinary research centers and institutes at HMS exemplify the institution's commitment to fostering a culture of innovation, curiosity, and collaboration, driving scientific discovery and advancing the future of medicine.
Notable discoveries and breakthroughs
Harvard Medical School has a rich and storied history of notable discoveries and breakthroughs that have profoundly impacted the field of medicine. Some of these groundbreaking achievements include the development of the smallpox vaccine by Edward Jenner, which laid the foundation for modern vaccination efforts, and the discovery of the DNA structure by both James Watson and Francis Crick, which revolutionized our understanding of genetics and molecular biology.
HMS researchers have also made significant contributions to the field of immunology, such as discovering the role of the immune system's T cells in fighting infections and cancer. Additionally, pioneering work in stem cell research at HMS has opened new avenues for regenerative medicine and the development of novel therapies for various diseases.
These discoveries, along with countless others, underscore the institution's dedication to advancing medical knowledge, improving patient care, and shaping the future of medicine through innovative research and discovery.
Harvard medical school notable alumni and global impact
Notable alumni and their contributions
Harvard Medical School has notable alumni who have made significant contributions to medicine, science, and public health. Dr. Sidney Farber, known as the father of modern chemotherapy, developed the first successful cancer treatment using antifolate drugs, revolutionizing the approach to cancer care.
Dr. Bernard Lown, a pioneering cardiologist, co-invented the defibrillator and established the Lown Cardiovascular Center, which has played a crucial role in advancing cardiovascular health. Dr. Paul Farmer, a renowned physician, and anthropologist, co-founded Partners In Health, a global health organization committed to improving healthcare access and quality in underprivileged communities.
Dr. Harvey Cushing, a pioneer in neurosurgery, made significant advances in brain surgery techniques and is often referred to by many as the father of modern neurosurgery. These alumni, among many others, exemplify HMS graduates' impact on shaping medical practice, advancing scientific knowledge, and improving the health and well-being of countless individuals worldwide.
Global health initiatives and partnerships
Harvard Medical School actively engages in global health initiatives and partnerships, reflecting its commitment to improving health outcomes and reducing health disparities worldwide. Through collaborative projects, educational programs, and research endeavors, HMS works with various partners, including governments, non-governmental organizations, and academic institutions, to address pressing global health challenges.
These initiatives are focused on a wide range of topics, such as infectious diseases, non-communicable diseases, health systems strengthening, and health policy. HMS also supports international clinical and research training opportunities for students and faculty, promoting cross-cultural understanding and fostering the development of future global health leaders.
By leveraging its expertise, resources, and partnerships, HMS plays a pivotal role in advancing health equity, fostering sustainable development, and improving the well-being of communities worldwide.
Continuing medical education and professional development programs
HMS recognizes the importance of lifelong learning for healthcare professionals and is committed to providing a wide range of continuing medical education (CME) and professional development programs.
These offerings are designed to keep physicians, researchers, and other healthcare professionals up-to-date with the latest advancements in their fields, enabling them to deliver the highest quality care to their patients. The CME programs at HMS cover a broad spectrum of medical specialties and include conferences, workshops, seminars, and online courses, providing participants with various flexible learning options.
Furthermore, HMS's professional development programs focus on enhancing skills in areas. Some of these include leadership, communication, and healthcare management, empowering professionals to excel in their careers and contribute to improvements in healthcare systems and patient care.
By offering these comprehensive educational resources, Harvard Medical School demonstrates its dedication to supporting medical professionals' ongoing growth and development throughout their careers.
Now that you have an idea about Harvard Medical School, your college admissions into that university should be next in your mind. To ensure that you get into Harvard, you can get help with AdmissionSight. With ten years of experience with college admission experts, AdmissionSight can help you get into Harvard Medical School. You can talk to our experts today to get an initial consultation.