A Closer Look at UCLA Medical School
The University of California, Los Angeles (UCLA) Medical School, officially known as the David Geffen School of Medicine at UCLA, is a prestigious institution with a rich and storied history that dates back to its founding in 1951. Initially, the UCLA Medical School was the second medical school that was a member of the University of California system, established to meet the healthcare needs of Southern California's rapidly growing post-war population.
In 2001, the school was renamed after media mogul David Geffen following his significant donation, earmarked to provide full-ride scholarships to outstanding medical students. Over the years, UCLA Med School has consistently spearheaded medical education, research, and patient care, earning an enviable reputation nationally and internationally.
According to the U.S. News & World Report rankings, it is consistently placed among the top medical schools in the United States, especially recognized for its excellence in primary care, research, and selected specialties like geriatrics, pediatrics, and psychiatry. The institution's faculty comprises distinguished professionals, and many leading researchers in their fields, thereby contributing to its standing as a hub for groundbreaking medical research.
Furthermore, the David Geffen School of Medicine is known for its strong commitment with regards to diversity and inclusion, aiming to train a cadre of physicians who mirror the diverse population of California and the nation. The school's illustrious history and high standing in medical education make it a coveted choice for aspiring medical professionals worldwide.
UCLA Campus and Facilities
Description of the campus
The UCLA Medical School is situated in the Westwood neighborhood of Los Angeles, California, sharing the sprawling, beautifully landscaped UCLA campus with other university departments. The medical school's facilities are located in the southern part of the campus, including the state-of-the-art Ronald Reagan UCLA Medical Center, the UCLA Medical Plaza, and the David Geffen School of Medicine buildings.
These structures house cutting-edge research labs, classrooms, lecture halls, and medical facilities. The campus environment is vibrant and bustling, yet it maintains tranquility with its green spaces and artistic sculptures. Students also have access to various campus amenities, including libraries, fitness centers, dining halls, and cultural centers.
The location of the campus also offers the advantage of being near the culturally rich and diverse city of Los Angeles, offering students a broad range of recreational and learning opportunities off-campus.
Overview of the medical school facilities
The facilities at UCLA Med School are designed to support top-tier medical education, research, and patient care. The David Geffen School of Medicine, the main educational facility, houses state-of-the-art classrooms, laboratories, and research facilities, allowing students and faculty to engage in cutting-edge medical research and education.
The Ronald Reagan UCLA Medical Center, a world-renowned hospital, provides a setting for students to gain practical, hands-on experience and learn from leading healthcare professionals. This award-winning hospital is known for its advanced patient care and houses a range of specialty services. The UCLA Medical Plaza, adjacent to the Medical Center, is home to many outpatient clinics and specialty practices, providing a wide range of healthcare services.
The UCLA Mattel Children's Hospital, located within the Ronald Reagan UCLA Medical Center, aims to provide comprehensive care for children, from newborns to adolescents. This facility is also a platform for pediatric research, allowing students to understand and contribute to children's healthcare.
Lastly, UCLA Health operates a network of community clinics spread throughout Los Angeles and its surrounding regions. These clinics allow students to interact with diverse patient populations and understand community-based healthcare. These facilities offer students a rich, diverse, and comprehensive medical training environment.
UCLA Academics
Overview of the academic programs offered
UCLA Medical School offers a broad range of academic programs tailored to meet its students' diverse interests and career goals. The primary program is the Doctor of Medicine (M.D.) Program created to provide students with the knowledge, skills, and understanding necessary to become competent and compassionate physicians.
This program is complemented by a wealth of clinical experiences and opportunities for research. The M.D./Ph.D. Program, which is also known as the Medical Scientist Training Program (MSTP), is available for students interested in combining medical education with advanced research training. This dual-degree program prepares students for physician-scientist careers, equipping them to conduct research that translates into improved patient care.
The school also offers a variety of combined and dual degree programs, including MD/MBA, MD/MPP, and MD/MPH, among others. These programs are designed for med students who wish to integrate medical knowledge with other disciplines, such as business, public policy, or public health.
Finally, the Graduate Medical Education program encompasses a wide range of residency and fellowship training programs in various medical specialties and subspecialties, fostering medical graduates' advanced clinical training and professional development.
Description of the curriculum
The curriculum that is offered at the David Geffen School of Medicine is designed to provide med students with a comprehensive medical education while fostering their interests and career goals. The curriculum is divided into three phases: pre-clerkship, clinical clerkship, and elective phase. Students gain a solid foundation in the biomedical sciences during the pre-clerkship phase, which typically spans the first two years.
This phase integrates basic science with clinical medicine, promoting a deep understanding of human biology and disease. The curriculum also incorporates early clinical exposure and patient interactions to bolster students' clinical skills. Following the pre-clerkship phase is the clinical clerkship phase, which takes place during the third year.
Students rotate through different medical specialties in a variety of clinical settings, applying their foundational knowledge to take care of patients under the supervision of experienced clinicians. This phase gives students a broad perspective on different medical disciplines and helps them identify their areas of interest.
Finally, the elective phase, primarily in the fourth year, allows students to delve deeper into their chosen specialties. They can choose from various elective courses, sub-internships, and research projects, tailoring their learning experience to align with their career aspirations. This phase also includes dedicated time for residency interviews and career planning.
Research opportunities and facilities
As part of UCLA Academics, Research is a cornerstone of the educational experience. The school provides numerous research opportunities across various biomedical fields, enabling students to explore their scientific interests, develop critical thinking skills, and contribute to medical advancements.
Students can engage in research projects under the mentorship of faculty members who are leading experts in their fields, ranging from basic science and clinical research to public health and health policy studies.
The school is also known to be home to various research centers and institutes, such as the Eli and Edythe Broad Center of Regenerative Medicine and Stem Cell Research, the Jonsson Comprehensive Cancer Center, and the UCLA Brain Research Institute, among others. These facilities provide cutting-edge resources and technologies, fostering a dynamic and collaborative environment for groundbreaking research.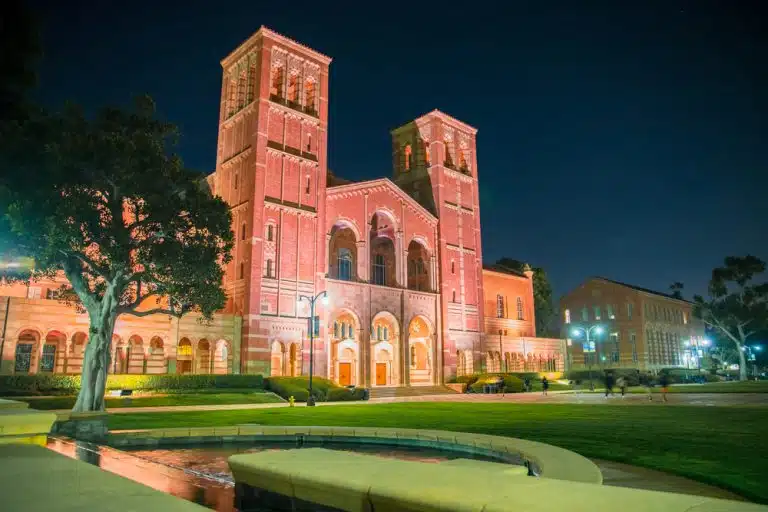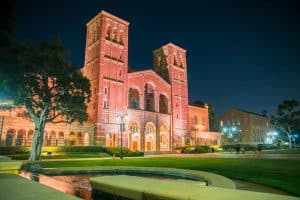 Moreover, the school's location in one of the nation's largest biomedical hubs offers additional opportunities for partnerships and collaborations with other leading research institutions, industries, and community organizations. The school also offers research fellowships, summer research programs, and the opportunity to pursue a dual M.D./Ph.D. degree for those with a profound interest in academic medicine and research.
UCLA Medical School Admissions
Admission requirements
Admission to the UCLA Medical School is highly competitive and seeks to select students who demonstrate academic excellence, strong interpersonal skills, and a genuine commitment to serving others through medicine.
Applicants to this school must have a bachelor's degree that is obtained from an accredited college or university and complete prerequisite courses in Biology, Chemistry, Physics, and Mathematics. All applicants are required to apply and take the Medical College Admission Test (MCAT), and scores from the last three years are considered valid.
In addition to academic qualifications, the school strongly emphasizes personal characteristics, such as integrity, leadership, and resilience. Applicants are evaluated on their healthcare experiences, community service, research, and other extracurricular activities.
Diversity is a central value at the David Geffen School of Medicine, and the admissions committee seeks to admit a class that reflects the nation's rich diversity. Finally, international students are welcome to apply but must have completed at least one year of study at a U.S. or Canadian college or university. All applications must be submitted through the American Medical College Application Service (AMCAS).
Application process
The application process for the David Geffen School of Medicine starts with submitting the primary application via the American Medical College Application Service (AMCAS). This application includes sections for academic history, work and activities, personal comments (personal statement), and letters of recommendation.
After reviewing the primary application, the school sends a secondary application to selected applicants. The secondary application typically consists of additional essay questions that help the admissions committee understand the applicant's fit with the school's mission and values. Upon review of the secondary application, the committee invites a select group of applicants for interviews.
The interview day is an important part of the application process and gives the applicant an opportunity to learn more about the school. At the same time, the committee assesses the applicant's personal qualities, communication skills, and motivation for medicine. After the interview, the committee deliberates and makes decisions on admission.
It is important to note as an incoming student that the application process is holistic and considers all aspects of the applicant's profile, including academic performance, MCAT scores, experiences, personal attributes, and letters of recommendation. The process follows a timeline set by the Association of American Medical Colleges (AAMC), with the application cycle beginning in May and decisions typically released by the following March.
UCLA School of Medicine Graduates Opportunities
Residency match results and statistics
Historically, UCLA Medical School graduates have been highly successful in the National Resident Matching Program (NRMP), often known as "The Match." Many of these graduates have matched with their top-choice programs and in a wide range of specialties, reflecting the students' comprehensive training and diverse interests. Some of the most popular specialties have traditionally included Internal Medicine, Pediatrics, Surgery, Psychiatry, and Anesthesiology, among others.
Many graduates also secure residency positions in highly competitive specialties like Dermatology, Neurosurgery, and Orthopedic Surgery. Furthermore, many students match with prestigious residency programs within UCLA Health and at other leading institutions nationwide.
Career support and guidance
Career support and guidance are integral to the student experience at the David Geffen School of Medicine. The school's Career Development Office provides a wide range of services to assist students in navigating their career paths in medicine.
This includes individual career counseling, specialty exploration events, residency application workshops, interview preparation, and CV review. Throughout their medical education, students are also supported by faculty advisors who offer guidance on academic progress, research opportunities, and career decisions.
In addition, the school hosts an annual Career Day, where students can interact with practicing physicians from various specialties to gain insights into different career paths. Additional resources and guidance are provided for those interested in non-clinical careers or dual degree options. The school's robust career support system ensures that students can make informed decisions about their career paths and successfully transition to residency and beyond.
Now that you know about UCLA Medical School, you should have an easier time in deciding if you will enter this university. Wherever you might want to enter, you can get help with AdmissionSight with the help of our world-class guidance. With the help of experts, choosing the best university that suits you best shouldn't be hard with the help of AdmissionSight. You can talk to us today to get started.