A Closer Look at USC Medical School
The University of Southern California (USC) Keck School of Medicine, also known as the USC Medical School, was founded in 1885, making it one of the oldest medical schools in California. It has since grown to become a distinguished institution globally recognized for its excellence in medical education, research, and patient care.
Its journey from its humble beginnings is marked by significant milestones, including establishing the Los Angeles County-USC Medical Center in 1932, a significant partnership that expanded clinical training opportunities for students. In 1999, the medical school was renamed the Keck School of Medicine after receiving a transformative gift from the W.M. Keck Foundation, which propelled the school to new heights in medical innovation and research.
As for its mission, the USC Keck School of Medicine is dedicated to developing professionals equipped to become trailblazers in clinical care, research, and education. The school aims to improve the quality of life and health for individuals and communities by providing comprehensive, patient-centered care informed by the latest advances in medical knowledge.
The school's vision is to embody the future of medicine, where understanding fundamental biological processes is seamlessly translated into treatments and therapies that benefit society. Therefore, the USC Keck School of Medicine is a place where compassionate healthcare and cutting-edge research go hand in hand, guided by a commitment to scholarly inquiry, integrity, and a deep-seated desire to serve.
USC Campus, Facilities, and Location
Overview of the campus and its facilities
The University of Southern California (USC) Keck School of Medicine is situated on the USC Health Sciences campus, a vibrant and dynamic environment that spans over a hundred acres in East Los Angeles. This state-of-the-art campus provides many facilities and resources to support student learning and research.
These include cutting-edge laboratories, high-tech classrooms, study spaces, and a well-equipped medical library offering many books, journals, and digital resources. The USC Campus also houses the renowned USC Norris Comprehensive Cancer Center, the Eli and Edythe Broad Center for Regenerative Medicine and Stem Cell Research, and several other research institutes.
For clinical training, students have access to the Los Angeles County + USC Medical Center, one of the largest public hospitals in the US, and the USC University Hospital, a private research and teaching hospital. Additionally, the campus offers amenities like dining options, fitness centers, and green spaces for relaxation and recreation, making it a comprehensive environment for holistic development.
USC Health Sciences campus location and environment
The USC Health Sciences campus is located just east of downtown Los Angeles in the Boyle Heights neighborhood. This location places it in the heart of a vibrant, diverse city and allows students to serve and interact with various patient populations. The campus spans over a hundred acres and is a biomedical research and medical education hub.
The environment is dynamic and academically charged, with constant interdisciplinary collaboration among various departments. Despite its urban setting, the campus offers several green spaces for relaxation and outdoor study, creating a balanced and serene atmosphere amid the bustling city.
The campus location also gives students the advantage of living and studying in Los Angeles, a city known for its cultural diversity, dynamic arts scene, and beautiful weather, further enriching their medical school experience.
Los Angeles area and its influence on medical education at USC
Los Angeles, a sprawling metropolis in Southern California, is known for its multiculturalism, entertainment industry, and innovation, offering a uniquely diverse and dynamic environment for medical education. This diversity is reflected in the patient population that USC Medical School students encounter during their clinical training, providing them with invaluable experience in treating various conditions in patients from different cultural and socioeconomic backgrounds.
Furthermore, the city's high-density population, coupled with a robust network of healthcare facilities, offers students comprehensive and multifaceted exposure to various healthcare systems and specialties. Los Angeles is also a biotechnology and biomedical research hub, offering plenty of opportunities for students interested in these areas.
Beyond academia, the city's vibrant arts scene, outdoor activities, and cultural attractions contribute to a well-rounded experience, enhancing students' quality of life during rigorous medical training. Thus, Los Angeles plays a crucial role in shaping the medical education at USC, influencing not just the curriculum but also its students' broader experiences and perspectives.
USC Academics
Overview of programs offered
The USC Medical School offers an array of academic programs designed to cater to various career aspirations within the medical field. Starting at the undergraduate level, USC offers robust pre-med programs that provide students with a solid foundation in the sciences and humanities, preparing them for the rigors of medical school.
The Doctor of Medicine (M.D.) program at the Keck School of Medicine is a comprehensive and innovative course of study that integrates scientific theory with hands-on clinical practice, enabling students to develop the necessary important skills, knowledge, and attitudes for success in a wide array of medical specialties.
In addition to the M.D. program, Keck School of Medicine offers a range of graduate programs, including Master's and Ph.D. programs in areas such as biomedical and biological sciences, global medicine, and health administration.
As part of the USC Academics, for students interested in combining their medical training with other disciplines, there are dual degree options available such as the M.D./Ph.D., M.D./M.P.H. (Master of Public Health), and M.D./M.B.A. (Master of Business Administration) programs. These programs give students a broader perspective and skill set, preparing them to excel in an increasingly complex and interdisciplinary healthcare landscape.
Curriculum structure and highlights
The University of Southern California (USC) Keck School of Medicine curriculum is designed to provide a comprehensive medical education that integrates scientific knowledge with clinical practice. The Doctor of Medicine (M.D.) program is typically completed over four years. The first two years, known as the pre-clerkship phase, are dedicated to foundational sciences and are composed of integrated blocks focusing on different organ systems and diseases.
This phase also includes early clinical experiences and courses on medical skills and professional development. The third and fourth years, the clinical clerkship phase, involves rotations in various medical specialties at affiliated hospitals and clinics, where students gain hands-on experience in patient care. In their senior year, students can choose from a wide range of electives to explore areas of interest in greater depth.
Interwoven throughout the curriculum are themes such as ethics, health equity, and wellness, reflecting the school's commitment to holistic, patient-centered care. Additionally, the curriculum encourages research, with opportunities for students to engage in scientific inquiry and discovery. The curriculum's structure and components aim to produce well-rounded physicians equipped to meet contemporary medicine's challenges and opportunities.
Research opportunities and resources
The USC Medical School is renowned for its strong commitment to biomedical research and discovery. Students at Keck have numerous opportunities to participate in research across various disciplines, from basic science and clinical research to health services and policy research.
The school's world-class faculty, and many leaders in their fields, offer mentorship and guidance to students embarking on their research projects. Research resources available to students include state-of-the-art laboratories and research facilities and support for project design, data analysis, and manuscript preparation.
In addition, USC's location in Los Angeles provides students to work and communicate with a diverse patient population, making it an ideal setting for population health and epidemiological studies. The school also hosts annual research symposia where students can show their work to peers and faculty. These research experiences enhance students' understanding of medicine and foster critical thinking, creativity, and scientific rigor, skills essential for future physicians and scientists.
Student performance and success rates (USMLE scores, residency placements, etc.)
The University of Southern California Keck School of Medicine consistently boasts impressive student performance metrics and success rates, reflecting the high quality of its medical education. Students at Keck typically perform well on the United States Medical Licensing Examination (USMLE), with scores often exceeding national averages.
This success can be attributed to the school's rigorous curriculum and extensive support services, which prepare students for this critical step toward licensure. Regarding residency placements, Keck students have a strong track record of matching into competitive programs across various specialties within California and throughout the country.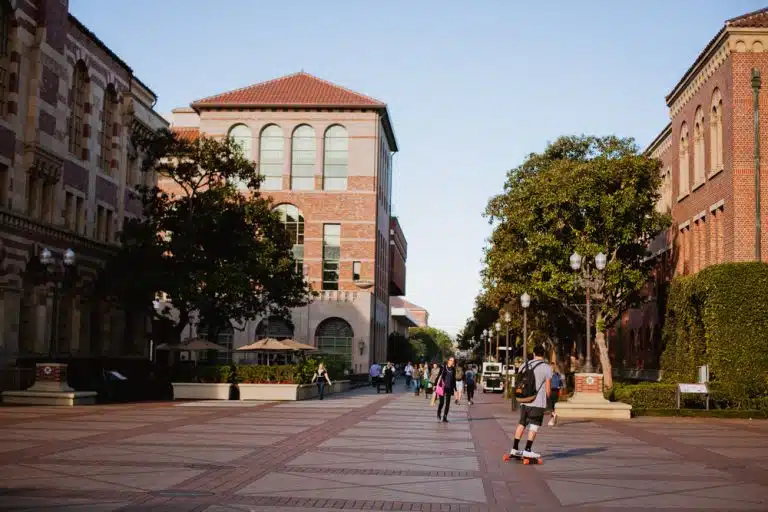 This success in residency placement is a testament to the school's comprehensive clinical training and mentorship. Additionally, the school's alumni network spans the globe, with graduates often holding prominent positions in academia, clinical practice, research, and healthcare leadership.
USC Medical School Admissions
Overview of the admissions process
The admissions process at the USC Medical School is designed to identify students who demonstrate the potential to excel in the medical profession and who align with the school's mission and values.
The process begins with applying to the American Medical College Application Service (AMCAS), which includes academic transcripts, Medical College Admission Test (MCAT) scores, letters of recommendation, and personal essays. Applicants who pass the initial review are invited to complete a secondary application, which allows them to share more about their experiences, motivations, and fit with Keck's mission.
This is followed by an interview process, which is a Multiple Mini Interview (MMI) format at Keck. These interviews are designed to assess non-cognitive qualities like ethical decision-making, communication skills, and empathy.
The admissions committee reviews all these components holistically when making decisions. Given the competitive nature of med school admissions, applicants are encouraged to demonstrate strong academic performance, meaningful clinical and volunteer experiences, research involvement, and a clear motivation for pursuing a medical career.
Prerequisites and requirements
The USC Medical School has established certain prerequisites and requirements for prospective students to ensure they are adequately prepared for the rigors of medical school. Regarding academic prerequisites, applicants must have a bachelor's degree from an accredited institution and complete coursework in biology, general and organic chemistry, physics, and biochemistry.
While not always explicitly required, courses in social sciences, humanities, and mathematics are also recommended to provide a broad foundation of knowledge. All applicants must apply and take the Medical College Admission Test (MCAT), and scores must be from within three years of the application date. Keck also values diverse experiences and backgrounds, so in addition to academic performance, applicants should demonstrate a commitment to service, leadership, research, and clinical experiences.
Applicants of this school are expected to have an understanding of the medical profession, often gained through shadowing, volunteering, or employment in healthcare settings. Finally, applicants must possess the physical and emotional capacity to meet the essential functions of a medical student, with or without reasonable accommodations.
USC Med School Clinical Training and Experiences
Overview of affiliated hospitals and clinical sites
The University of Southern California Keck School of Medicine is affiliated with various hospitals and clinical sites that provide students with diverse and comprehensive clinical training experiences. Notably, the school has a major affiliation with the Los Angeles County + USC Medical Center.
This hospital serves a diverse and often underserved patient population, offering students a unique opportunity to learn about various pathologies and health issues. Other major affiliated hospitals include the USC Norris Comprehensive Cancer Center, a cancer research and treatment leader, and the USC University Hospital, a private hospital known for its organ transplantation and orthopedic surgery specialties.
In addition, students can train at the Children's Hospital Los Angeles, which is known as one of the top pediatric hospitals in the United States. Keck students also have access to numerous other clinical sites, including community clinics and specialty practices, ensuring they gain broad and varied clinical experience. These affiliations enable students to learn from a diverse patient population and faculty leaders in their fields.
Structure of clinical rotations
At the USC Med School, the structure of clinical rotations is designed to provide students with comprehensive exposure to various medical specialties and to cultivate their clinical skills. Clinical rotations typically begin in the third year of the Doctor of Medicine (M.D.) program, following the completion of the pre-clerkship phase.
During this time, students rotate through core specialties such as Internal Medicine, Surgery, Pediatrics, Obstetrics and Gynecology, Psychiatry, and Family Medicine. Each rotation lasts several weeks and involves hands-on patient care under the supervision of experienced physicians. Students participate in patient interviews, physical examinations, diagnostic decision-making, and therapeutic procedures and attend rounds, seminars, and conferences.
In their fourth year, students complete elective rotations, which allow them to explore areas of interest in greater depth or to gain experience in other specialties beyond the core rotations. The clinical rotations emphasize developing strong clinical reasoning, communication skills, professionalism, and a commitment to lifelong learning.
Special programs and opportunities (e.g., global health, community health projects)
The USC Medical School offers many special programs and opportunities to enrich the medical education experience and cater to diverse student interests. For example, the Global Health program provides students with opportunities to learn about health issues from a global perspective, often involving overseas electives or research projects in international settings.
The school's commitment to community health is evident in numerous outreach initiatives and service-learning opportunities. Students can participate in local health clinics, health education programs, and other projects that serve the underserved populations in Los Angeles. In addition, the school has programs focused on medical innovation and entrepreneurship, providing students with the skills to transform healthcare delivery and technology.
Research opportunities abound, with programs designed to support student involvement in biomedical research, health services research, and more. Some programs promote leadership, wellness, diversity, and inclusion, all contributing to a well-rounded and fulfilling medical school experience.
Now that you have an idea about the USC Medical School, your college admissions should be where you pay attention next. To ensure that you get into the college you want, you can get help with AdmissionSight. With ten years of experience with college admission experts, AdmissionSight can help you get into the college of your choice. You can talk to our experts today to get an initial consultation.