A Closer Look at Yale Medical School
Yale Medical School, formally known as the Yale School of Medicine, is a prestigious institution renowned for its excellence in medical education, research, and patient care. Established in 1810 as the Medical Institution of Yale College, it is the first medical school in Connecticut and the sixth oldest medical school in the United States.
The school's mission has evolved over the years, consistently reflecting a commitment to cutting-edge medical advancements and the highest standards of medical education. Yale Med School is situated in New Haven, Connecticut, on a beautiful and historically rich campus that includes the renowned Sterling Hall of Medicine, the Anlyan Center, and the Cushing/Whitney Medical Library.
The campus offers a vibrant and collaborative environment, fostering interdisciplinary learning and opportunities for students to engage with other programs within Yale University. With its storied past and ongoing dedication to innovation, Yale University Medical School continues to spearhead medical education and research, cultivating the next generation of healthcare leaders and pioneers.
Academics at Yale Med School
Yale School of Medicine Curriculum
The Yale School of Medicine curriculum is designed to provide a strong foundation in the medical sciences while fostering critical thinking and promoting lifelong learning. In the pre-clinical years, students engage in an integrated, organ-systems-based approach, covering foundational topics in biomedical sciences, clinical skills, and medical humanities.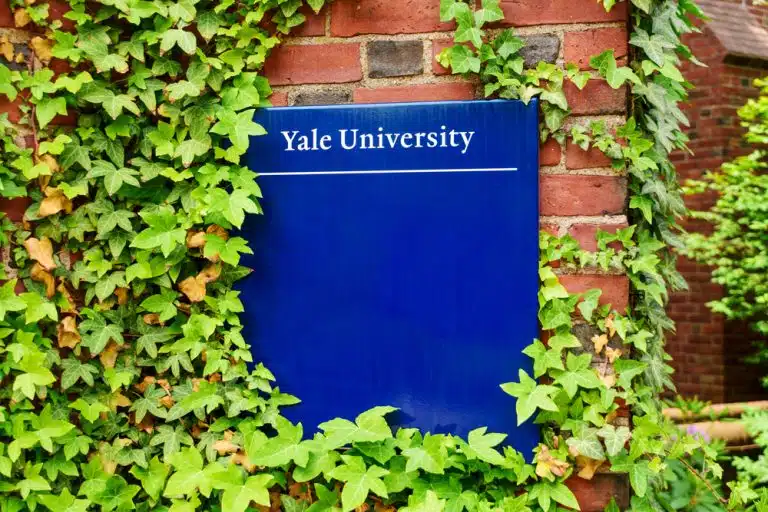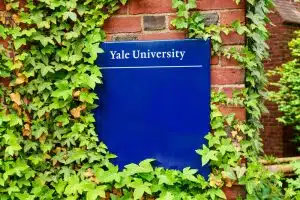 During the clinical years, students participate in core clerkships across various specialties, gaining hands-on experience and refining their clinical acumen. In addition to the required coursework, Yale offers numerous electives and research opportunities, allowing students to pursue their interests and passions within medicine.
This well-rounded and innovative curriculum ensures that Yale medical graduates are well-prepared to excel in their chosen fields and contribute meaningfully to the advancement of healthcare.
Interdisciplinary focus
Yale Med School strongly emphasizes interdisciplinary learning, fostering collaboration and integration with other schools and departments within Yale University. This approach encourages students to explore connections between medicine and various fields, including public health, law, business, and the humanities.
To facilitate this interdisciplinary focus, Yale offers joint degree programs, such as MD-MPH, MD-MBA, MD-JD, and MD-PhD, allowing students to pursue dual degrees and acquire a diverse skill set that enhances their medical education. These collaborative opportunities and joint degree programs broaden students' perspectives and help prepare them to address the complex challenges and opportunities at the intersection of medicine and other disciplines.
Special programs and centers
Yale Medical School offers a variety of special programs and centers to cater to its students' diverse interests and career goals. The MD-PhD Program combines medical education with rigorous research training, preparing graduates for careers as physician-scientists in academia, industry, or government.
The Physician Associate Program trains highly skilled physician assistants who can provide high-quality, patient-centered care in various clinical settings. The Medical Scientist Training Program is a competitive dual-degree program funded by the National Institutes of Health, designed to train students in clinical medicine and biomedical sciences research.
Lastly, the Yale Center for Asylum Medicine is a pioneering initiative that provides medical evaluations and support for asylum seekers, engaging students and faculty in human rights advocacy and research. These specialized programs and centers demonstrate Yale Medical School's commitment to addressing healthcare needs and societal challenges through targeted education and research initiatives.
Yale Medical School Admissions
1. Application process
The Yale Medical School application process is designed to identify well-rounded and academically accomplished candidates with a passion for medicine. Applicants must complete prerequisite courses in biology, chemistry, physics, and other relevant subjects to ensure a strong scientific foundation.
Prospective students must also take the Medical College Admission Test (MCAT), which assesses their understanding of basic science concepts, critical thinking, and problem-solving skills. In addition to these requirements for admission, applicants must submit to the school letters of recommendation from individuals who can attest to their academic abilities, character, and suitability for a medical career.
Finally, selected candidates are invited to participate in interviews, allowing the admissions committee to better understand the applicants' motivations, experiences, and personal qualities. This comprehensive application process helps Yale Medical School identify and enroll promising future physicians and leaders in healthcare.
2. Selection criteria
Yale Medical School's selection criteria reflect its commitment to enrolling a diverse and talented cohort of students who demonstrate promise in their academic and personal pursuits. Academic excellence is crucial, as evidenced by strong performance in prerequisite courses and competitive MCAT scores. Research experience is highly valued, showcasing an applicant's ability to engage in scientific inquiry and contribute to advancing knowledge.
Extracurricular activities, such as community service, leadership roles, or clinical experiences, highlight a candidate's dedication to their interests and potential to impact the medical profession. Personal qualities, including resilience, empathy, and effective communication skills, are also considered, as they are essential for compassionate and skilled physicians.
By evaluating applicants based on these Yale Medical School admissions criteria, the school ensures its students possess the diverse strengths and abilities necessary to excel in their medical education and future careers.
3. Financial aid and scholarships
Yale Medical School is committed to making medical education accessible to medical students from diverse financial backgrounds by offering a range of financial aid and scholarship opportunities. Need-based financial aid packages, including grants, loans, and work-study opportunities, are available to help eligible students cover tuition, fees, and living expenses.
Additionally, merit-based scholarships recognize exceptional students for their academic achievements, research accomplishments, or commitment to community service. Yale Med School also encourages students to explore external scholarship and grant opportunities to supplement their financial aid packages.
By providing these resources, Yale ensures that financial constraints do not hinder talented and deserving students from pursuing their medical education and fulfilling their potential as future healthcare professionals.
Innovation and research at Yale Medical School
Research areas
There is a firm emphasis on research at Yale Medical School, offering a wide range of opportunities for students to engage in cutting-edge investigations across various domains. In basic science, researchers delve into the fundamental mechanisms underlying health and disease, exploring topics such as molecular biology, genetics, and immunology.
Translational research at Yale focuses on bridging the gap between basic science discoveries and clinical applications to develop innovative diagnostic tools, therapies, and preventive measures to improve patient care. Clinical research encompasses patient-oriented studies and clinical trials to evaluate novel treatments and interventions' safety, efficacy, and outcomes.
By fostering a rich research environment across these diverse areas, Yale University Medical School equips its students with the necessary skills and knowledge to contribute meaningfully to advancing medical science and improving healthcare outcomes.
Research facilities and resources
Yale Medical School provides state-of-the-art research facilities and resources to support its students and faculty in their research endeavors. The school is home to a large number of research centers spanning a wide array of disciplines, such as neuroscience, cancer biology, and regenerative medicine. These centers foster collaboration among researchers from different fields, promoting interdisciplinary approaches to solving complex medical challenges.
Yale-New Haven Hospital, the primary teaching hospital affiliated with the medical school, is also a valuable resource for clinical research. It offers students access to diverse patient populations and clinical settings, enabling them to conduct patient-oriented studies and gain hands-on experience implementing evidence-based practices.
With the support of these facilities and resources, Yale Med School continues to drive innovation and discovery in the medical sciences, shaping the future of healthcare.
Funding and grant opportunities
Yale Med School is dedicated to supporting its students and faculty in their research pursuits by providing access to various funding and grant opportunities. Internal funding sources, such as departmental grants, fellowships, and research awards, are available to help cover research-related expenses, including equipment, travel, and conference attendance.
The school also encourages students to explore external funding opportunities, such as those offered by the National Institutes of Health, the National Science Foundation, and private foundations, to secure additional financial support for their projects.
These funding and grant opportunities facilitate groundbreaking research and enable students to develop essential skills in grant writing and project management, which will serve them well throughout their careers in academia, industry, or government.
Clinical training at Yale Med School
Affiliated hospitals and clinical sites
Yale Medical School offers its students diverse clinical experiences through its affiliations with various hospitals and clinical sites. Yale-New Haven Hospital, a leading academic medical center, serves as the primary teaching hospital, providing students with exposure to various medical specialties and patient populations.
Yale-New Haven Children's Hospital, another key affiliate, offers specialized pediatric care and clinical training opportunities in neonatology, surgery, and oncology. Smilow Cancer Hospital, part of the Yale-New Haven Hospital System, is dedicated to cancer care and research, allowing students to gain experience in the latest oncology treatments and advancements.
The VA Connecticut Healthcare System allows students to work with veterans and learn about unique healthcare needs related to military service. By training at these diverse clinical sites, Yale University Medical School students develop the skills and expertise to excel in their chosen fields and provide exceptional patient care.
Clinical rotations and clerkships
Clinical rotations and clerkships are vital to the Yale Med School curriculum, allowing students to apply their classroom knowledge to real-world clinical settings and gain hands-on experience in various medical specialties.
During these rotations, students work closely with experienced physicians, residents, and healthcare professionals, developing their clinical understanding and learning to provide patient-centered care.
Clerkships cover core specialties such as internal medicine, surgery, pediatrics, obstetrics and gynecology, and psychiatry, as well as elective rotations that enable students to explore their interests and career goals.
Through these clinical experiences, Yale medical students cultivate essential patient assessment, diagnosis, treatment planning, and communication skills, preparing them to become competent and compassionate physicians ready to tackle the challenges of an ever-evolving healthcare landscape.
International clinical opportunities
Yale Medical School recognizes the importance of providing students with a global perspective on healthcare and offers a range of international clinical opportunities. These experiences allow students to engage with diverse healthcare systems and patient populations, broadening their understanding of cultural, social, and economic factors influencing health outcomes.
Students may participate in clinical rotations, research projects, or public health initiatives in various countries, gaining valuable insights into global health issues and strategies for addressing healthcare disparities.
These international experiences not only enrich students' medical education but also foster the development of culturally competent physicians who are better equipped to provide care to diverse populations and contribute to improving health equity worldwide.
Yale Medical school Alumni and career support
Notable alumni
Yale Med School boasts an impressive roster of notable alumni who have significantly contributed to the medical field and beyond. These distinguished individuals have excelled in various areas, such as clinical practice, research, academia, public health, and healthcare policy.
Among them are pioneers like Harvey Cushing, the father of modern neurosurgery, and Charles S. Davidson, who made groundbreaking advancements in understanding and treating cardiovascular diseases. Other notable alumni include Howard P. House, a founder of modern otology, and Susan Hockfield, the first female president of the Massachusetts Institute of Technology.
These accomplished Yale medical school alumni serve as inspiring examples for current and future Yale University Medical School students, demonstrating the potential impact they can have on healthcare and the broader society through their dedication, innovation, and passion for medicine.
Career development resources
Yale Medical School is committed to supporting its students in achieving their career goals by providing various career development resources. The school offers personalized career counseling, helping students explore various medical specialties and navigate the process of choosing a residency program.
Additionally, students have access to workshops and seminars that cover topics such as CV writing, interviewing skills, and networking strategies, equipping them with the tools necessary to succeed in the competitive job market.
The school also frequently hosts career fairs and networking events, where students can meet with potential employers, learn about job openings, and establish valuable connections within the medical community.
By offering these comprehensive career development resources, Yale Med School ensures that its graduates are well-prepared to pursue fulfilling and successful careers in their chosen fields within medicine and healthcare.
Residency placement
Yale Medical School takes pride in its strong residency placement record, with graduates consistently securing positions in highly competitive and prestigious residency programs across the country. The school's comprehensive medical education and emphasis on research, clinical experience, and personal development equip students with the knowledge and skills required to excel in their chosen specialties.
Throughout the residency application process, students receive guidance and support from faculty advisors, mentors, and the career development office, ensuring they are well-prepared for interviews and can make informed decisions about their future training.
Yale Medical School's success in residency placement is proof of the quality of its education and the caliber of its graduates, who go on to become accomplished healthcare professionals, leaders, and innovators in medicine.
Now that you have an idea about Yale Medical School, your admissions to that university should be next on your mind. To ensure that you get into Yale, you can get help with AdmissionSight. With ten years of experience working with college admission experts, AdmissionSight can help you get into Yale University. You can talk to our experts today to get an initial consultation.