A Comprehensive Guide to HBCU Scholarships
A Comprehensive Guide to HBCU Scholarships
HBCU scholarships play a crucial role in making higher education more accessible and affordable for students attending Historically Black Colleges and Universities. These scholarships, which can be merit-based, need-based, or field-specific, help to alleviate the financial burden associated with a college education and enable students to focus on their academic and personal growth.
Offered by HBCUs themselves, as well as private organizations, corporations, and government entities, these scholarships come in various forms and cater to different student needs and interests. Students can find institutional scholarships that cover tuition and other expenses, private and corporate scholarships aimed at supporting HBCU students, and government-funded scholarships designed to assist students in specific fields of study or career paths.
By taking advantage of HBCU scholarships, students not only gain access to quality education but also become part of a long-standing legacy of excellence, determination, and empowerment.
What are the Types of HBCU Scholarships?
Let's explore the various types of scholarships offered by HBCUs and prominent scholarship programs that students can pursue.
Institutional Scholarships: HBCUs often offer scholarships to students based on their academic achievements, leadership potential, or unique talents. These scholarships may cover partial to full tuition, and in some cases, additional expenses such as room and board or books. Examples of institutional scholarships include the Presidential Scholarship at Howard University and the Distinguished Scholars Program at Morehouse College.
Private and Corporate Scholarships: Many private organizations, foundations, and corporations provide scholarships specifically for students attending HBCUs. These scholarships may be merit-based, need-based, or designed to support students pursuing particular fields of study or career paths. Some well-known private and corporate scholarships include the UNCF General Scholarship and the TMCF | Walmart Foundation First-Generation Scholars Program.
Government-funded Scholarships: Federal and state governments offer various scholarship programs for students attending HBCUs. These scholarships may be need-based, such as the Pell Grant or Federal Supplemental Educational Opportunity Grant (FSEOG), or merit-based, like the National Merit Scholarship Program. Additionally, some government-funded scholarships are designed to support students pursuing specific fields of study or careers, such as the SMART Scholarship for STEM students or the TEACH Grant for aspiring educators.
Prominent HBCU Scholarship Programs
The United Negro College Fund (UNCF): As the nation's largest and most effective minority education organization, UNCF supports more than 60,000 students annually. The UNCF offers a plethora of scholarships and internships for students attending HBCUs and other historically black institutions.
Thurgood Marshall College Fund (TMCF): TMCF is a leading national organization supporting HBCU students by providing scholarships, capacity-building support, and career opportunities. TMCF has numerous scholarship programs tailored to different academic fields and student needs.
Tom Joyner Foundation: This foundation focuses on providing scholarships to HBCU students with demonstrated financial need. In addition to partial scholarships, the foundation also offers full-ride scholarships that cover tuition, room and board, and books for deserving students.
The Jackie Robinson Foundation: The Jackie Robinson Foundation offers scholarships to minority students attending four-year colleges and universities, including HBCUs. Beyond financial assistance, the foundation provides mentoring, leadership development, and internship opportunities for its scholars.
The History of HBCUs
The history of Historically Black Colleges and Universities (HBCUs) is one of resilience, determination, and the unwavering pursuit of educational opportunities for African American students. Established primarily in the late 19th and early 20th centuries, HBCUs were born out of a pressing need to provide higher education access to a population that was systematically excluded from predominantly white institutions due to racial segregation and discrimination.
Beginning with the founding of Cheyney University of Pennsylvania in 1837, HBCUs emerged as beacons of hope and empowerment, offering African Americans the chance to attain academic, professional, and personal success. This paved the way for HBCU Scholarships.
During the Reconstruction Era, following the Civil War, many more HBCUs were established with the support of religious organizations and the federal government, primarily through the Morrill Act of 1890, which mandated states to provide separate land-grant institutions for African American students. Over the years, HBCUs have evolved and expanded their academic offerings to include a diverse range of disciplines while remaining steadfast in their mission to serve and uplift the African American community.
These institutions have been instrumental in the development of black intellectualism and the Civil Rights Movement, producing influential leaders and trailblazers such as Dr. Martin Luther King Jr., Thurgood Marshall, and Oprah Winfrey. As we reflect on the rich history of HBCUs, it is vital to acknowledge their enduring impact on American society and their ongoing efforts to promote equity, inclusion, and social progress.
Unique Characteristics of HBCUs
Commitment to Diversity and Inclusivity: HBCUs were founded with the mission to serve African American students, but they have always welcomed students of all races and ethnicities. These institutions foster a sense of belonging and community, encouraging students from diverse backgrounds to engage in meaningful conversations and forge lasting connections.
Focus on Academic Excellence: HBCUs are committed to providing students with a high-quality education that prepares them for success in their chosen fields. Many HBCUs offer specialized programs in areas such as STEM, business, and the arts, as well as programs that address the unique needs of African American students. HBCU scholarships also make it possible for students in-need to attain academic excellence.
Emphasis on Personal and Professional Development: HBCUs are known for their nurturing and supportive environments that prioritize students' personal and professional growth. Through mentorship, career guidance, and leadership opportunities, HBCUs empower students to excel both inside and outside the classroom.
Rich Cultural Heritage: HBCUs have a deep-rooted history and legacy that students can draw upon for inspiration and motivation. The institutions celebrate African American culture and history, creating a sense of pride and unity among students and alumni.
Impact of HBCUs
Education and Empowerment: HBCUs have been instrumental in increasing access to higher education for African American students, helping to close the education gap and promote social mobility. Graduates of HBCUs have gone on to make significant contributions to various fields, including politics, entertainment, science, and business.
Economic Contributions: HBCUs contribute significantly to the economy, both at the local and national levels. They generate billions of dollars in economic impact, create thousands of jobs, and serve as catalysts for community development and revitalization.
Social and Cultural Impact: HBCUs have played a pivotal role in shaping American culture and society by producing leaders in various fields and promoting social justice. These institutions have been at the forefront of the Civil Rights Movement and continue to advocate for equity and inclusion.
How to Apply for HBCU Scholarships
This part of the blog outlines a step-by-step guide to help you navigate the process of applying for HBCU scholarships.
Step 1: Begin Early
Start your scholarship search early, preferably during your junior year of high school. This allows you ample time to identify potential scholarships, gather necessary information, and prepare a solid application. It also enables you to stay ahead of application deadlines, which can often be much earlier than college application deadlines.
Step 2: Conduct Thorough Research
Invest time in researching various HBCU scholarships to identify those that cater to your specific needs and interests. Consider institutional scholarships offered by HBCUs themselves, private and corporate scholarships aimed at HBCU students, and government-funded scholarships for HBCU attendees. Make a list of potential scholarships, taking note of their eligibility criteria, application requirements, and deadlines.
Step 3: Organize Your Application Materials
Gather and organize all required application materials, including transcripts, test scores, letters of recommendation, essays, and other supporting documents. Create a folder for each scholarship you plan to apply for and keep track of deadlines using a calendar or spreadsheet. This organization will make it easier to stay on top of multiple applications and ensure nothing slips through the cracks.
Step 4: Request Letters of Recommendation
Request letters of recommendation from teachers, mentors, or other individuals who can attest to your achievements and character. Provide them with ample notice, a clear understanding of the scholarship requirements, and your personal statement or resume to help them write a strong, relevant letter. Follow up with a thank you note and keep them updated on the status of your applications.
Step 5: Tailor Your Applications
Customize your applications to demonstrate how you meet the specific requirements of each scholarship. Showcase your strengths, achievements, and aspirations in a way that aligns with the scholarship's mission and values. This personalized approach will help you stand out from other applicants and increase your chances of success.
Step 6: Craft Compelling Essays
Write engaging and persuasive essays that showcase your unique story, experiences, and goals. Make sure to address the essay prompts directly and adhere to any specified word limits. Use clear, concise language, and avoid clichés or generic statements. Proofread your essays multiple times and ask for feedback from trusted individuals to ensure your essays are polished and compelling before sending them to your desired HBCU scholarship programs.
Step 7: Submit Your Applications
Once you have completed and reviewed your applications, submit them ahead of the specified deadlines. Double-check that you have included all required materials and followed the submission guidelines accurately. Keep copies of your submitted applications and track their status, following up with scholarship organizations if necessary.
Step 8: Stay Persistent
Applying for scholarships can be a time-consuming and competitive process, but persistence pays off. Continue to search for and apply for multiple scholarships throughout your high school and college years. Remember that every bit of financial aid can make a significant difference in your educational journey.
Applying for HBCU scholarships may seem daunting, but with careful planning, research, and persistence, you can successfully navigate the process and secure the financial assistance you need. By following this step-by-step guide and staying committed to your goals, you can unlock the door to an enriching HBCU experience and a brighter future.
Conclusion
HBCU scholarships offer a valuable opportunity for students to pursue higher education without the stress of significant financial burdens. By researching and applying for various scholarships, you can maximize your chances of receiving financial assistance and unlock the door to a brighter future.
Start early, stay organized, and be persistent in your search for scholarships that cater to your unique needs and goals. Remember, every bit of financial aid helps, and securing multiple scholarships can add up to a significant sum. HBCU scholarships continue to play a crucial role in shaping the lives and careers of countless students.
How AdmissionSight can help you with college admissions
AdmissionSight is a college consulting firm that provides personalized assistance to students throughout the college admissions process. Here are some ways that AdmissionSight can help you: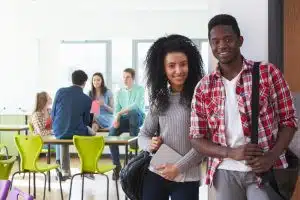 Admissions strategy: AdmissionSight can help you develop a strategic plan for your college application process. Our professional consultants can assist with identifying schools that are a good fit for your academic, extracurricular, and personal goals and help you plan and prioritize your application strategy.
Application review: AdmissionSight can review your application and provide feedback on how to improve it. We can offer suggestions on how to make your application stand out and highlight your strengths and unique qualities.
Essay coaching: AdmissionSight can help you craft compelling essays that showcase your personality, goals, and achievements. We can guide you through the essay writing process and provide feedback on your drafts to help you refine your writing.
Interview preparation: AdmissionSight can provide interview coaching to help you feel confident and prepared for your college interviews. Our experts can offer tips on how to present yourself professionally and how to answer common interview questions.
Extracurricular planning: AdmissionSight can help you plan and develop your extracurricular activities to make them more impactful and meaningful. We can suggest activities that align with your interests and goals and provide guidance on how to demonstrate your leadership and initiative.
Overall, AdmissionSight can provide valuable guidance and support throughout the college admissions process to help you maximize your chances of getting accepted into the college of your choice.