A Detailed Guide for Formatting Your College Essays
When students are preparing to apply to top colleges and universities in the world, of course, two of the most important factors that many of those students spend hours obsessing over is how their academic and extracurricular performance will stack up against the other students that are applying in the same application cycle. However, another vitally important component of any student's ability to get into some of the most prestigious and selective schools in the country is the college essay. For that reason, it is required for every high school student preparing to apply to college to learn how to format a college essay.
In truth, many experts within the college admissions industry believe that a student's personal essays are one of the most important parts of a college application. That boost in importance has only gained momentum ever since a huge number of schools across the country have decided to make SAT and ACT scores an optional component of a student's undergraduate application.
At AdmissionSight, we worked with intelligent and dedicated students who are determined to get into some of the top schools in not only the United States but the entire world. Typically, our students are targeting schools that end up in the top 10 ranking year in and years out such as Harvard, Stanford, MIT, and more. Our admissions consultants and students work together to formulate specific tools and strategies that are meant to give the student's the best shot at success possible by overcoming any weaknesses in their application profile, accentuating strengths, and ultimately beating the highly restrictive acceptance rates at these top schools.
When it comes to our measure of success, the proof is in the pudding. Over the years, 75.0 percent of the students that we have worked with have gone on to get into either an Ivy League school like Yale, Princeton, or Columbia or a top 10 school like UChicago or Caltech. We know what it takes to get into these competitive and prestigious schools, and we utilize our years' worth of experience to give out students the upper hand when it comes to achieving their goals.
Thanks to our experience, we know how students can set themselves up for success – or failure – depending on how they approach their application essays as well as their school-specific essays.
So, if you are wondering how many paragraphs a college essay should have or simply asking the question, "How long should my college essay be?" then you have absolutely come to the right place. Let's get started on breaking down everything that you need to know about the formatting of college essays together.
How important are college essays?
Before we get into the formatting information regarding college essays today and how to format a college essay, we did want to briefly go over some of the basic information in terms of how much importance is actually put upon your college essays.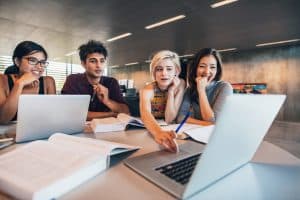 Based on research done at many of the top 250 schools in the country, the results are quite fascinating. Based on the findings, essays account for 25 percent of a student's overall application, and the only thing that accounts for more is not a student's grades and coursework, but actually their extracurricular activities! The breakdown is as follows:
30 percent for extracurriculars
25 percent for essays
20 percent for grades and coursework
15 percent for test scores
10 percent for recommendations and interviews
It is important to keep in mind that now that many of the top schools in the country have adopted a test-optional policy, the 15 percent put upon standardized test scores has likely been spread out amongst the other factors.
The weight has likely been primarily put onto grades and coursework, as admissions officers now depend on grades and the difficulty of high school curriculum, even more, to determine whether or not a student is a strong academic fit at their school. For that reason, it is quite likely that essays are not either equal to, slightly above, or slightly below grades and coursework in terms of how important they are in the eyes of admissions officers and committees all over the country!
This information may be somewhat surprising, and possibly even shocking, to you. After all, so much value is put on grades in high school that it only makes sense for grades to be the key deciding factor. And while it is true that grades are crucial to getting into top schools, they are more seen as something of a prerequisite to even be considered.
The vast majority of students who do not make it from the first round to the second round of consideration fail to do so due to insufficient grade point averages and the difficulty of courses. However, once the pool is thinned out, essays play a crucial role in allowing students to rise above the rest and ultimately get offered a spot of admission at a top school. So, why is knowing how to format a college essay so that you can craft the best piece possible so important? Here are some aspects to consider:
Essays allow students to demonstrate their interests: One of the most important aspects of the personal essay section is that they offer applying students the chance to discuss their interests, passions, and goals in depth. This gives admissions officers an idea of what a student may hope to do during the years of their education and what they hope to do in the years following. Great schools want to accept students who they believe are destined to accomplish great things. The essay section is arguably the best place to do just that.
They offer insight into who a student is as a person: While schools are – of course – concerned with accepting students who the admissions committee believes will be a great academic fit at the school, they are also looking to offer spots of admissions to students who are good and well-rounded people that have talents and experiences that make them unique. As you may have guessed, the personal essay section is without a doubt the best place for students to cover these important topics.
They offer students the chance to predict what their impact on campus will be: Finally, top schools are incredibly proud of, and committed to fostering, the strong and dedicated community that exists both on the school's campus amongst undergraduate and graduate students and within their alumni community. Schools like Harvard and Yale want to find students that will be active members of the school's community for years to come. The essay sections give students the chance to talk about how they have impacted their community at high school or in their hometown up to this point and thus articulating what the school can expect of them going forward.
As you can see, it is not all about grades and test scores when it comes to getting accepted by the top schools in the country. Now that you have a better idea of how important your essays will be and why they are considered so highly by admissions officers, let's get into how to correctly format these brief, but crucial essays.
How to format a college essay?
The first thing to know about how to format a college essay is that how you end up actually formatting them will depend heavily on whether you are submitting them in a text box or in an attached word document. Since both options are quite common from one school to the next, let's go over the formatting rules for both!
First off, though, let's cover three important formatting points regardless of whether you are writing in a text box or in an attached document:
There is no need for a title to your essay, they take up space and eat into your, sometimes quite restrictive, word count
Stay within the word limit as much as possible. It is not advised that you finish with an essay that is either more or less than 10 percent of the required word count
Indent or double space to separate paragraphs clearly throughout your personal essays
Now that those basic guidelines are out of the way, let's go over the more specific formatting rules depending on how you plan on submitting your essays:
Submitting via a text box
Make sure that your paragraphs are clearly and uniformly separated. Text boxes can sometimes undo indents and double spacing, so make sure to review this before you save and submit
It is wise to avoid trying to create essays in a kind of artistic shape (like a circle, for example) as text boxes will likely reformat and destroy your shape upon saving
Avoid italics and bolding in your paragraphs because this kind of formatting often does not translate to text boxes
Submitting through an attached document
Use a standard font and size like Times New Roman, 12 point
Make your lines 1.5-spaced or double-spaced
Use 1-inch margins
Save it as a PDF since it can't be edited. This also prevents any formatting issues that come with Microsoft Word, since older versions are sometimes incompatible with the newer formatting
Number each page with your last name in the header or footer (like "Smith 1")
Pay extra attention to any word limits, as you won't be cut off automatically, unlike with most text boxes
Typical college essay formats
Beyond these fairly straightforward rules on how to format a college essay, we also wanted to go over the most common ways in which students decide to format the essays themselves. There are a number of different formats, and they can work to really successful effects. Moreover, if you are given the opportunity to write a number of different essays (which is very often the case), you can consider answering different questions in different formats.
Here are the different formatting types you can consider while crafting your college essays:
In-the-moment narration: This is arguably the most common format, and it basically is when you tell the story one moment at a time. This is a really effective writing format as it allows your reader to experience the story as it happens along with you. This is a fantastic structured format for essays that deal with personal emotions, experiences, and reflections.
Narration told over an extended period of time: Another common format for personal essays gives you the chance to tell a story that takes place over years and is made up of multiple different experiences. This is ideal for a story with many different parts and if you want to discuss personal development over time.
Narration told through anecdotes or montage: If you are looking to discuss an overarching theme of a part of your life told over different experiences and instances, doing so by using brief anecdotes or montages may be a great option for you. This format also allows you to be more experimental and creative in your use of language, prose, and more if you are interested in doing so.
Playing with the essay format and technique:  While the previously mentioned formats are quite typical, you can decide to buck all of those common trends and utilize a format far more unique and personal. We have seen personal essays that are written like screenplays or stage plays, utilizing visual formatting, writing your essay out like it is the dialogue of a debate, writing a song, or many more. You can also write in the iambic pentameter if you like or in the language that you grew up speaking or a language that you acquired during your life (including code or programming language). If you choose to write in a language other than English, you will have to leave room in your total word count to offer a translation in English along with the rest of your essay.
The truth is that any of these formats can be used to great effect or not-so-great effect depending on what you decide to write your essay on. At the end of the day, the most important part of your essay is going to be the topic that you choose and how effectively you answer the question that is provided to you through the prompt. Still, making sure that you know how to format a college essay will allow you to avoid making distracting and costly mistakes that can end up hurting the overall quality of your hard work.
So, to finish up this piece, we thought that we would break down some of the most important tips to keep in mind in order to succeed at writing your college essays.
Tips to succeed in your college essays
Answer the question: This is arguably the most important tip that any student can learn when it comes to these essays. Even if you write the most beautiful essay you can, it is not going to work in your favor if you do not succeed in answering the question that is provided to you in the prompt. Make sure to really understand what the prompt is asking of you, and when you have finished each draft of your essay, make sure to confirm that you are indeed fulfilling what is being asked of you.
Don't shy away from detail: The relatively short word count of college essays (typically between 150 and 650 words) sometimes forces students into thinking that going into detail is going to be hard or impossible. That can lead to really general, and boring, essays. The truth is that covering a smaller topic in great detail is likely going to work more in your favor than covering a wide range of topics with a broad stroke. Be as precise and unique as you possibly can be to make sure that your readers are interested and engaged in the essays that you write.
Remain humble: One mistake that we see a lot of students make upon their first drafts of essays is the sense that in order to show off how impressive they are as people, they have to basically brag. While there is absolutely nothing wrong with being proud of things you have accomplished, overcome, and experienced, essays should never come off as braggadocious. In fact, some of the best essays we have ever come across have also served as fantastic opportunities for students to acknowledge any flaws, contradictions in their resumes, or any uncertainty that they have about the process.
Make your message clear: If there is perhaps one of these tips that you simply have to follow, it is this one. Keeping your message clear and writing it with confidence is crucial to getting your overall idea across. It is also the best way to make sure that the admissions officers and committees reading your essays understand who you are as a person as best as possible!
Craft your perfect personal essays
Every student is going to write different personal essays, and that is arguably the most important point to keep in mind when you start the process of writing yours. The point is that they are specific and unique to the student writing them, so never try to write what you think other applicants are writing, and never try to write what you think the school is expecting out of you. Write what feels honest and important to you!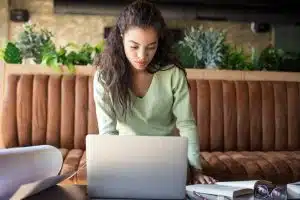 If you are interested in learning more about the essay writing process or what you can do to improve your chances of getting into your top schools, contact AdmissionSight today to schedule a free consultation.