All About the International Baccalaureate (IB)
What Is the International Baccalaureate?
What is the International Baccalaureate? All students have the chance to get an education appropriate for a world that is becoming more and more globalized. The International Baccalaureate (IB) is a worldwide, nonprofit educational program with four programs that aims to advance students' development. Find out more about IB through this discussion.
The IB Diploma Program (DP) and the Career-related Program (CP), which each have six core subjects, will be of considerable interest to high school pupils.
Any high school student between the ages of 16 and 19 who supports the mission of the International Baccalaureate can apply for the program. Although IB does not have any additional limits, some institutions may have GPA requirements and many have a restricted number of program spaces, making the admission process difficult.
Typically, IB program applicants must apply by a deadline, which can be obtained on the website of their IB school or by speaking with school counselors. Letters of recommendation from teachers, grade reports, essays, writing samples, personal statements, records of immunizations, and a list of extracurricular activities are all possible application requirements. Additionally, students might need to live close enough to the institution that offers the IB curriculum.
Which Is Better IB Vs. AP?
Both the AP and IB programs, which are geared toward high school students, provide access to college-level coursework and the chance to receive college credit.
What distinguishes AP from IB then? Which is better IB vs. AP? We will discuss which program will appear more remarkable on your college applications and introduce you to both.
5 Major Distinctions Among IB and AP
High school students can take rigorous courses through the AP and IB programs and receive college credit for them. However, they have quite distinct ideas and objectives.
The Advanced Placement program was created in the US to assist high school students in getting ready for college by enrolling in challenging courses. Depending on their institution, timetable, and objectives, students could enroll in just one or as many as twelve AP subjects.
The International Baccalaureate (IB), on the other hand, was created in Switzerland to be a diploma that is recognized globally. You must complete a predetermined number of courses in a variety of subjects to receive the diploma. The IB was designed to be a fixed schedule of courses, while it is possible to take just a few IBs without receiving the diploma.
Let's now go through five significant distinctions between the two programs.
 AP Has Much Greater Popularity Than IB
Compared to AP, the IB program is much less popular. In 2019, more than 2.8 million students took the AP exam, whereas only roughly 166,000 students took the IB exam. Additionally, nearly 30% of US public high school students took at least one AP exam in 2014, according to AP.
The IB program is less common than AP since, for a school to sponsor an IB program, they must be able to provide enough classes for the diploma. Adding IB is frequently more expensive than beginning a couple of AP courses.
 The Objectives of the IB And AP Programs Differ
The programs also have various objectives. Writing and the development of critical thinking skills are given more importance in the IB program than only the test itself. The IB diploma also maintains extracurricular requirements and requires an extended essay which is a lengthy research paper in the format of a college paper.
The AP program, in contrast, focuses on teaching students a specific topic and assessing their understanding through tests. These assessments place a greater emphasis on achieving specific topic goals and include more multiple-choice questions.
 IB Is More Costly Than AP
IB examinations are more expensive for US students than AP tests, which is another distinction. IB exams are $119 each, but AP exams are $94 each for students attending schools in the US, US territories, or Canada and $124 each for everyone else. Your actual cost might be lower, though, because many institutions offer financial help and fee-waiver programs for AP tests. (Also, keep in mind that although these costs are high, they are far less expensive than the price of taking the same course in college.
Only the IB Mandates That You Enroll In Classes
AP examinations can be taken without being enrolled in an AP course, but IB tests require enrollment in an IB class. The AP program will provide you more freedom if you are fluent in a language that your school does not teach or if you wish to self-study a specialized subject like art history.
The International Baccalaureate (IB) further provides standard-level and higher-level courses. You must enroll in at least three higher-level courses to receive an IB diploma. Although some areas, like calculus and physics, have multiple course options, AP courses are only available at one level.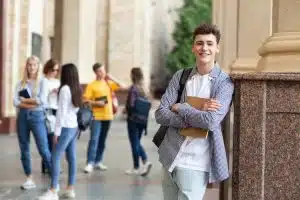 Some high schools regard IB higher level to be more difficult than AP. Although not all universities offer credit for standard-level IB examinations, most do for AP exams and higher-level IB exams. If you want to get into the most selective colleges, it makes sense to pursue the IB diploma if it is offered at your school as AP is not a diploma program. If you don't, you haven't actually taken the most difficult courses that were offered to you.
However, you won't necessarily be penalized for choosing not to complete the diploma if you have a tough extracurricular schedule or are totally dedicated to a few academic areas.
Bottom line: You should think about the options available at your high school and how demanding your schedule (including extracurriculars) appears in comparison.
What Are the Benefits of IB?
One popular query among students is "What are the benefits of IB?" Here are some factors that make the program unique and why it might be the best course of study for you as more and more schools are switching to it.
Depth of Study
IB students are obliged to take courses from six distinct topic categories, including languages, humanities, sciences, and math, in contrast to A-Levels where a student must specialize down to three or four disciplines. The IB program's framework fosters the development of depth and breadth of knowledge.
Practical Experience
Students in the IB program engage in CAS or Creativity, Activity, and Service. This component's purpose is to allow students to gain knowledge through practical application and engage in selfless action. Through assignments, clubs, volunteer work, athletics, and other extracurricular activities, students explore their individual interests and talents. Students that participate in CAS become more well-rounded, driven, and involved people.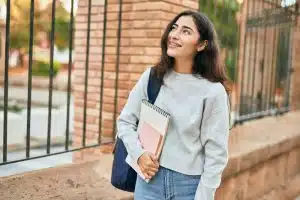 Freedom
IB students are urged to connect all they have learned and to trust their own judgment. There are parallels between what is taught in science classes and what takes place on the soccer pitch. Then, you can incorporate this relationship into a personal research project for a paper like the Extended Essay. The flexibility to pursue their hobbies and sources of inspiration is granted to students.
Research Expertise
The IB Diploma also includes the Theory of Knowledge component and the Extended Essay. These elements call for students to develop sophisticated organizing and independent research abilities, which are essential for any student hoping to pursue higher education or success in their future employment.
Thinking Independently
Discussions and two-way communication between teachers and students are elements of the IB classroom. Every student is urged to speak up and express their ideas. This method of instruction creates learners who are capable of original thought, secure in their opinions, and open to hearing what others have to say.
International Citizenship
The IB Diploma is acknowledged around the world. It is provided in around 150 countries worldwide and is acknowledged by roughly 90 colleges and institutions. This includes esteemed US institutions of higher learning including Harvard, Yale, and Stanford. In order to educate students for becoming global citizens, the IB curriculum also trains them to be outward-facing and culturally sensitive.
Level of Difficulty
The International Baccalaureate (IB) is academically challenging. It encourages and motivates pupils to succeed and discover their potential. The IB is incredibly rewarding for people who want to push themselves. Students leave with the knowledge and a degree of assurance that will propel them ahead for the rest of their lives.
Managing Time
Time management is essential to effective independent study, and IB students have a natural aptitude for learning this ability. Students who create effective study habits, schedule time for assignments, build personal revision strategies, and avoid distractions will advance more quickly through university-level schooling.
Admission to Universities
IB Diploma holders are more likely than students with comparable credentials to enroll in one of the top 20 universities and colleges in the UK, according to a survey by the Higher Education Statistics Agency (HESA). Additionally, it was discovered that IB graduates have a higher chance of getting accepted into 10 of the most prominent universities in the US.
Personal Development
The level of personal growth that IB students experience is sufficient justification for selecting this program. These students gain exposure to various viewpoints, develop their ability to articulate their own opinions, learn to balance academic work with extracurricular activities, learn through experience, research, and manage their own work.
What Average Do You Need To Get Into IB?
What average do you need to get into IB? In the US, universities don't publish the exact cutoff scores for the IB Diploma Program. You'll need a balanced mix of sixes and sevens (no fewer than six) in your subjects if you wish to apply to the Ivy League and other more elite universities for a chance at admission.
A score in the 40s will increase your academic competitiveness (note that many non-academic elements are in play), but a 38 or higher is still regarded as a strong IB score. You most definitely don't want to be dropping below the 36-point threshold if you're going for the Ivies. Your application must be outstanding overall to make up for a score on the lower end if it is lower than 36.
The International Baccalaureate (IB) results at leading US universities are as follows:
| | |
| --- | --- |
| Institution | Minimum IB Score Required |
| Harvard | 42 |
| Princeton | 42 |
| Yale | 40 |
| Columbia | 40 |
| Brown | 40 |
| U Penn | 38 |
| Cornell | 38 |
| Dartmouth | 37 |
| Stanford | 40 |
| Duke | 40 |
| MIT | 40 |
| Northwestern | 37 |
| U Chicago | 36 |
| UC Berkeley | 37 |
| UCLA | 37 |
| NYU | 37 |
Which School Has the Best IB Results?
Numerous foreign schools that offer the International Baccalaureate are located in the US. Now, which school has the best IB results? Let's see where students can get the best international experience, receive a more challenging education, and have the opportunity to pursue higher education anywhere around the globe.
Windermere Preparatory School  – A Nord Anglia Education School
Located at 6189 Winter Garden-Vineland Road in Windermere, Florida, 34786. Primary, middle, and high school students attend WPS as boarders.
A PLP (personal learning plan) is used in conjunction with academics and is age-appropriately designed to help children develop excellent habits, a strong work ethic, independence, and self-reflection. The school offers leisurely holiday excursions to nearby destinations like Walt Disney World, the Kennedy Space Center, basketball games, etc. that are culturally enriching and enjoyable. For its secondary pupils, the school provides the International Baccalaureate Diploma Programme (IBDP).
1. The Newman School
The school is situated at 247 Marlborough St. in Boston, Massachusetts. This day school, which was founded in 1945, provides instruction for students in grades 7 through 12.
Even if they choose not to take the tests, TNS permits students to enroll in one or more of the International Baccalaureate (IB) courses out of interest. Along with IB development of academic focus and organizational abilities, they also provide college counseling beginning in ninth grade. They presently provide their pupils with access to the Middle Years Programme (MYP) and Diploma Programme (IBDP) of the International Baccalaureate.
The Village School – A North Anglia Education Institution
The school is established at 2005 Gentryside Drive in Houston, Texas, 77077. TVS, a day and boarding school founded in 1966, provides instruction from primary through secondary levels.
Both 5-day (weekends with families) and 7-day boarding options are available at the school. Full-time boarders at the school have access to campus facilities around-the-clock and are covered by health insurance.
In grade 11, the school gives students an option between the national curriculum and the IB Diploma Programme. Students may enroll in a single IB subject in addition to the required national curriculum to earn extra credit that will benefit their college applications.
International Academy
The International Academy only offers daytime education. They provide the Diploma Program and the Middle Years Programme (MYP) for the International Baccalaureate (DP). Numerous National Merit Scholars have graduated from this institution, and former students now attend prestigious colleges including CalTech, Nottingham, Cornell, Stanford, and Brown.
To combine academic life with interests, the school offers a variety of organizations on each campus, ranging from classic groups like art, yearbook, debate, and cinema to robotics, anime, and esports.
City Honors School
Established in Buffalo, New York 14204, 186 East North Street, although CHS and the IBO have been associated since 1989, the school's long history dates back to 1897.
CHS, an IB-only institution, offers the Middle Years Programme (MYP) for grades 5 through 10, and the Diploma Programme (DP) for grades 11 through 12. With a staff of experts in autism, the school provides a specially designed program for pupils with the condition.
How Hard Is the IB Program?
If you're interested to join the IB, you might wonder "How hard is the IB program?" In addition to the coursework and assignments associated with the six required subjects in the International Baccalaureate (IB), you also have to complete essays, presentations, and projects for the three core components: Theory of Knowledge, the Extended Essay, and CAS (Creativity, Activity, Service).
This makes the course considerably more difficult and content-heavy, so being conscientious and organized is more crucial than being intelligent. To fit in all the activities and maintain a steady grade with all the various assessments taking place, you must have excellent time management skills.
Unfortunately, you can't always do this without drastically reducing your sleep or putting your sanity (or both!) to the test. Despite having so many options for subjects, the IB offers less flexibility due to the required depth of study.
The IB Diploma has a rigid curriculum and only allows students to choose six subjects from among six different categories, or five if you exclude the arts area. This is about as flexible as it gets. There is no such thing as triple dipping if you choose not to take an arts course. However, you can "double dip" in another category. This means that you may, for instance, take two sciences, which might be plenty for most people.
If you decide to take the IB, make sure your motivations are honorable. Others who are a good fit for the program will do well, but for those who aren't, it may be quite the opposite.
Whether you choose the IB or another option, you want to perform at your best in an environment that will foster your intellectual and academic development. If you excel in your schoolwork, you will have a far more chance of being accepted into a top-tier institution than if you perform "just good" on the International Baccalaureate (IB)
If you would want to learn more about which program to take, whether IB or AP, AdmissionSight experts are available for discussion. The International Baccalaureate (IB) is an extremely challenging program yet there are several pros to taking it. Learn more about IB with AdmissionSight experts by starting with booking an initial consultation.