Amherst vs Notre Dame: A Comprehensive Analysis
Choosing the right school for your undergraduate studies can be a challenging and overwhelming experience. With so many options available, it can be tough to differentiate between schools that all seem to offer similar academic and social opportunities. In this article, we'll compare Amherst vs Notre Dame to help you decide which school is right for you.
Academic Programs and Curriculum: How Do They Compare?
Academic programs and curriculum are often the most important factors to consider when deciding where to attend college. At Amherst College, students have the option to choose from 40 majors, including English, Mathematics, and Biology, among others. One thing that sets Amherst apart is its open curriculum, which allows students to choose their courses of study without any specific requirements.
At Notre Dame, students can choose from over 65 undergraduate majors, including Engineering, Business, and Psychology. Notre Dame offers a core curriculum that emphasizes liberal arts and sciences, which means that students must complete certain courses in order to graduate.
Another factor to consider when comparing academic programs and curriculum is the availability of research opportunities. At Amherst College, students have access to numerous research opportunities, including the opportunity to work with faculty members on research projects. Additionally, Amherst offers funding for students to conduct their own research projects during the summer months. Notre Dame also offers research opportunities for students, including the opportunity to participate in research projects with faculty members. However, these opportunities may be more limited due to the larger size of the university and the higher number of students competing for these opportunities.
Campus Culture: A Closer Look at Student Life
The campus culture at Amherst College is known for being tight-knit and inclusive. The small size of the school means that students often develop close relationships with their peers and professors. There are plenty of on-campus events and activities, including lectures, concerts, and performances.
The campus culture at Notre Dame is characterized by its strong Catholic identity. Religious activities, including mass and prayer groups, are a large part of campus life. There are also a variety of student-run clubs and organizations, as well as athletic events and concerts.
Another aspect of campus culture at Amherst College is its commitment to social justice and activism. Students are encouraged to engage in community service and participate in protests and demonstrations. The school also offers a variety of courses and programs focused on social issues, such as gender and race studies.
At Notre Dame, the campus culture also emphasizes academic excellence. The school is known for its rigorous academic programs and high standards for student achievement. There are a variety of resources available to students, including tutoring and academic advising, to help them succeed in their studies.
Athletic Programs: Which School Has the Edge?
When it comes to athletics, both Amherst and Notre Dame have successful programs. Amherst participates in Division III sports, with notable teams in soccer, basketball, and lacrosse. Notre Dame is a Division I school, with strong teams in football, basketball, and hockey.
However, Amherst also has a renowned track and field program, with several athletes competing at the national level. The school also offers a variety of club sports, including ultimate frisbee, rugby, and volleyball.
On the other hand, Notre Dame has a highly competitive swimming and diving team, with several athletes qualifying for the NCAA championships. The school also has a strong women's soccer program, consistently ranking in the top 25 nationally.
Amherst vs Notre Dame: Location and Surrounding Area
Amherst College is located in Amherst, Massachusetts, which is a small, quaint town with a vibrant downtown area. The town is known for its welcoming community and cultural events, including the Amherst Music Festival and the Taste of Amherst.
The University of Notre Dame is located in South Bend, Indiana, which is a mid-sized town with a strong sense of community. The town is home to a variety of parks, museums, and theaters, as well as a bustling downtown area.
Despite their differences in size and location, both Amherst and South Bend offer a range of outdoor activities for residents and visitors. Amherst is surrounded by beautiful hiking trails and nature reserves, including the Mount Holyoke Range State Park and the Amethyst Brook Conservation Area. Similarly, South Bend boasts a number of parks and recreational areas, such as the St. Patrick's County Park and the East Race Waterway, which offers kayaking and rafting opportunities.
Admissions Process: Requirements, Acceptance Rates, and Selectivity
The admissions process at both Amherst and Notre Dame is highly selective. Amherst College has an acceptance rate of around 13%, with an average SAT score of 1500 and an average ACT score of 34. Notre Dame has an acceptance rate of around 18%, with an average SAT score of 1448 and an average ACT score of 34.
Aside from standardized test scores, both Amherst and Notre Dame also consider a range of other factors in their admissions process. These include extracurricular activities, essays, letters of recommendation, and demonstrated interest in the school. Amherst College, for example, places a strong emphasis on intellectual curiosity and academic achievement, while Notre Dame values leadership and service to others.
It's worth noting that both schools have different application deadlines and requirements. Amherst College, for instance, has a single deadline of January 1st for regular decision applicants, while Notre Dame has two deadlines: November 1st for early action and January 1st for regular decision. Additionally, Notre Dame requires applicants to submit a supplemental essay, while Amherst does not.
Alumni Network and Career Services: How They Can Impact Your Future
Both Amherst and Notre Dame have strong alumni networks that can be beneficial for students and recent graduates. Amherst College has a Career Center that offers personalized counseling and resources for career exploration and job searching. Notre Dame offers a variety of career services, including career counseling, resume reviews, and job fairs.
Networking with alumni can provide valuable connections and opportunities in the job market. Amherst College's alumni network includes successful professionals in a variety of fields, who are often willing to mentor and offer advice to current students. Notre Dame's alumni network is also extensive, with over 140,000 members worldwide, and offers opportunities for networking events and career panels.
In addition to career services, both schools offer resources for graduate school preparation. Amherst College's Career Center provides guidance on the graduate school application process, including personal statement reviews and interview preparation. Notre Dame's Graduate School Office offers workshops and resources for students considering graduate school, as well as assistance with the application process.
Amherst vs Notre Dame: Diversity and Inclusion
The student body at Amherst College is highly diverse, with students from various racial, ethnic, and socioeconomic backgrounds. The college is committed to promoting equity and inclusion, and offers a variety of resources and programs to support underrepresented students.
The student body at Notre Dame is predominantly white and Catholic, but the school is actively working to improve diversity and inclusion on campus. Notre Dame has a Multicultural Student Programs and Services office, as well as a Diversity and Inclusion Council.
One of the ways Notre Dame is working to improve diversity and inclusion is by increasing the recruitment and retention of underrepresented students and faculty. The university has implemented targeted outreach and support programs for these groups, including mentorship programs and scholarships. Additionally, Notre Dame has established partnerships with organizations that promote diversity in higher education, such as the Posse Foundation and the Gates Millennium Scholars Program.
Amherst vs Notre Dame: Faculty and Staff
Both Amherst and Notre Dame have highly qualified faculty and staff, with many professors holding advanced degrees from prestigious universities. The teaching styles at each school vary, with some professors emphasizing lecture-based instruction and others favoring discussion-based classes.
Additionally, many faculty members at both schools have extensive experience in their respective fields, with some having worked in industry or conducted research in their areas of expertise. This real-world experience often translates into practical and relevant examples used in class. Furthermore, some professors incorporate technology into their teaching, using online resources and multimedia presentations to enhance the learning experience. Overall, students can expect to receive a well-rounded education from knowledgeable and dedicated faculty and staff at both Amherst and Notre Dame.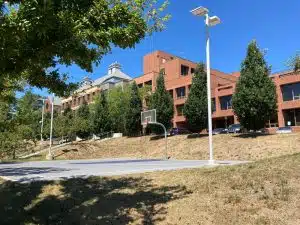 Amherst vs Notre Dame: Research Opportunities
Research opportunities are available to students at both Amherst and Notre Dame. Amherst College has a robust undergraduate research program, with opportunities for students to work on independent projects with faculty mentors. Notre Dame is a well-funded research institution, with opportunities for students to work with renowned scholars on cutting-edge research projects.
Additionally, Amherst College offers research opportunities in a wide range of fields, including the humanities, social sciences, and natural sciences. Students can participate in research projects in fields such as psychology, biology, and environmental studies. Notre Dame also offers research opportunities in various fields, including engineering, business, and theology. Students can work on projects related to renewable energy, entrepreneurship, and Catholic social teaching.
Furthermore, both Amherst and Notre Dame provide students with opportunities to present their research at conferences and publish their work in academic journals. Amherst College hosts an annual undergraduate research symposium, where students can showcase their research to the college community. Notre Dame sponsors several research conferences throughout the year, where students can present their work to scholars and professionals in their field.
Cost of Attendance: Comparing Tuition, Fees, and Financial Aid Options
The cost of attendance at Amherst College is around $76,000 per year, which includes tuition, fees, room, and board. The college offers a variety of need-based financial aid options, as well as merit-based scholarships. Notre Dame's cost of attendance is around $76,000 per year as well, with similar financial aid options.
It is important to note that the cost of attendance can vary depending on individual circumstances, such as the student's residency status and choice of major. Additionally, both Amherst College and Notre Dame offer work-study programs to help students offset the cost of attendance through part-time employment on campus. These programs not only provide financial assistance, but also valuable work experience for students.
Student Success Stories: Highlighting Notable Alumni from Both Schools
Notable alumni from Amherst College include writer Sylvia Plath, Supreme Court Justice David Souter, and actor David Hyde Pierce. Notable alumni from Notre Dame include former Vice President Joe Biden, journalist Mike Golic, and football coach Knute Rockne.
Another notable alumnus from Amherst College is Dr. Anthony Fauci, who has served as the director of the National Institute of Allergy and Infectious Diseases since 1984. He has played a key role in the United States' response to numerous infectious disease outbreaks, including HIV/AIDS, Ebola, and COVID-19. Notre Dame also boasts notable alumni in the field of politics, including former Secretary of State Condoleezza Rice and former Speaker of the House Paul Ryan.
Amherst vs Notre Dame: Campus Amenities
Both Amherst and Notre Dame offer a variety of amenities to students, including on-campus housing, dining options, libraries, and recreation facilities. Amherst College has 34 residence halls and a variety of dining options, including a student-run coffee shop. Notre Dame has 29 residence halls and numerous dining options, including a food court and an on-campus Starbucks.
In addition to these amenities, both Amherst and Notre Dame also offer extensive recreation facilities for students. Amherst College has a state-of-the-art fitness center, an indoor track, and multiple sports fields and courts. Notre Dame has a fitness center, an Olympic-sized swimming pool, and an ice rink. These facilities provide students with opportunities to stay active and healthy, and to participate in a variety of sports and fitness activities.
Student Organizations and Extracurricular Activities: What's Available at Each School?
There are a variety of student organizations and extracurricular activities available at both Amherst College and Notre Dame. Amherst has over 100 student-run clubs and organizations, including a Quidditch team and an a cappella group. Notre Dame has over 400 student clubs and organizations, including a service-oriented club and a chess club.
Additionally, both schools offer a range of athletic teams and intramural sports for students to participate in. Amherst has a strong tradition in Division III athletics, with teams in sports such as basketball, soccer, and lacrosse. Notre Dame, on the other hand, is known for its football program, but also has teams in sports such as swimming, tennis, and volleyball. Both schools also offer opportunities for students to get involved in community service and volunteer work, with programs such as Habitat for Humanity and local tutoring initiatives.
Rankings and Reputation: How Do Amherst and Notre Dame Stack Up Against Other Colleges?
Amherst College is consistently ranked as one of the top liberal arts colleges in the country. U.S. News & World Report currently ranks Amherst College as the second-best liberal arts college in the nation, behind only Williams College.
The University of Notre Dame is also highly ranked, currently placed at #19 among national universities by U.S. News & World Report.
Overall, both Amherst College and Notre Dame are excellent choices for students seeking a high-quality education in a supportive and engaging environment. Ultimately, the choice between the two schools will depend on your individual preferences and priorities. We hope that this comprehensive analysis has provided you with the information you need to make an informed decision.
It's worth noting that rankings and reputation are not the only factors to consider when choosing a college. Other important considerations include location, campus culture, extracurricular opportunities, and financial aid options. It's important to do your research and visit campuses to get a sense of what each school has to offer beyond its rankings and reputation.
How AdmissionSight Can Help You With College Admissions
AdmissionSight is a college consulting firm that provides personalized assistance to students throughout the college admissions process. Here are some ways that AdmissionSight can help you:
Admissions strategy: AdmissionSight can help you develop a strategic plan for your college application process. Our professional consultants can assist with identifying schools that are a good fit for your academic, extracurricular, and personal goals and help you plan and prioritize your application strategy.
Application review: AdmissionSight can review your application and provide feedback on how to improve it. We can offer suggestions on making your application stand out and highlighting your strengths and unique qualities.
Essay coaching: AdmissionSight can help you craft compelling essays that showcase your personality, goals, and achievements. We can guide you through the essay writing process and provide feedback on your drafts to help you refine your writing.
Interview preparation: AdmissionSight can provide interview coaching to help you feel confident and prepared for college interviews. Our experts can offer tips on how to present yourself professionally and how to answer common interview questions.
Extracurricular planning: AdmissionSight can help you plan and develop your extracurricular activities to make them more impactful and meaningful. We can suggest activities that align with your interests and goals and provide guidance on demonstrating your leadership and initiative.
Overall, AdmissionSight can provide valuable guidance and support throughout the college admissions process to help you maximize your chances of getting accepted into the college of your choice.
With a high success rate of over 75%, we have built a strong network in the past decade. Book an initial consultation today, free of charge!