How to Ace the AP Chinese and Language Culture Exam
For many of the most impressive high school students in the United States, one of the best ways to set themselves apart from the pack in terms of college application profiles is to create a challenging and impressive high school curriculum. This often means enrolling in AP and honors courses that oftentimes reflect college-level courses more than they resemble your basic high school class. While AP courses that deal with STEM subjects, history or writing are certainly the most popular, some of the most impressive are part of the AP Languages and Cultures program such as the AP Chinese Language and Culture Exam.
Chinese is one of the eight languages that is part of the Ap World Languages and Cultures program and is – perhaps somewhat unsurprisingly – one of the most popular AP Language and Culture programs right behind AP French Language and Culture and AP Spanish Language and Culture. If you are thinking about taking the AP Chinese Language and Culture Exam, whether you have taken the AP Course, are a native Chinese speaker, or have taken other Chinese language courses and have self-studied for this exam, we at AdmissionSight have made a point to offer an objective breakdown of this course and exam so that you can prepare yourself as best you can for this fantastic and challenging course!
The College Board created the AP Languages and Cultures program based on their belief that American students should gain proficiency in a second language in order to gain success in the increasingly globalized culture and economy of the 21st century. When it comes to learning Chinese, there are few more important languages when it comes to the world of international business. China is a major economic power and many of the top businesses in the world put major emphasis on hiring young professionals who can speak Chinese and helm potential deals and partnerships with Chinese brands.
For that reason, even if your ultimately interested is not directly related to the Chinese language, but instead you are interested in one day enrolling in a top business program or even an MBA program, then thinking about learning Chinese in high school and eventually taking the AP Chinese Language and Culture Exam could be a truly great decision for you!
About the AP Chinese Language and Culture Course
One important thing to keep in mind is that the AP Chinese Language and Culture exam is that the emphasis of the course is to encourage true communication skills, which means that there is major focus that is put on making sure that students are able to both express themselves in speaking and writing and understand others through speaking and writing rather than mastering grammar specificities.
On top of putting an emphasis on teaching students about communication in Chinese communication, the class is also geared towards educating students on modern and historic Chinese culture. Overall, the course is meant to assess three primary skills:
Interpersonal communication
Interpretive communication
Presentational skills
Furthermore, the course has six learning objectives:
Engage in spoken interpersonal communication
Engage in written interpersonal communication
Comprehend information from a variety of audio, visual, and audiovisual resources
Comprehend information from a variety of written and print resources
Plan, produce, and present spoken presentational communications
Plan and produce written presentational communications
On top of focusing on the communication skills within the course, students will also be expected to grasp basic truths about Chinese culture. That means that students will study and be expected to memorize and understand both modern and historical contexts along with develop a deep awareness and appreciation for social, political and educational issues.
Some specifics include learning about the role that religion and politics play in modern Chinese society, the modern gender roles in Chinese culture and other topics such as history, customs and art.
In all, the course revolves around six primary course themes. These themes are used in order to help students develop their skills in the modes of modern communication.
Within each of these themes, there are five to seven recommended contexts. Each unit does target a primary theme; however it also is used to connect.to additional recommended contexts for those themes.
The primary themes are as follows:
Prerequisites
It is important to understand that students who take the AP Chinese Language and Culture exam are typically entering their fourth year of high-school level Chinese language study. Keeping that in mind, there are no official prerequisites for this course, which is different from many other AP courses that are available to high school students. The reason for that is because many students who end up taking AP Languages and Cultures courses are native speakers in the language they have chosen to study.
For that reason, unless you are regularly exposed to Japanese language outside of the classroom, or have taken three years of Chinese language study, you should not really consider this course to be an option for you despite the fact that there are no official prerequisites.
In case you are not convinced, consider the fact that the majority of the course is taught in Chinese and the majority of the exam's directions are written in Chinese. If you do not think you would be able to operate well within these guidelines, then you should seek out other options regarding language study.
AP Chinese Language and Culture Exam
Now that you have a decent idea when it comes to the format of the actual course, it is important to break down the format of the exam itself. Much like standardized tests such as the SAT and ACT, it is important that students take the time and energy to not only master the subject matter that they will face on an AP exam, but also master the format in which those questions will be asked.
With that in mind, we at AdmissionSight have broken down the exam itself while also breaking down what we believe is the most effect and impactful way to prepare for and study for this – and every other – AP exam.
In all, the AP Chinese Language and Culture Exam takes two hours and 15 minutes to complete. The exam is split up into four separate sections which are meant to study a student's mastery of four different skills.
Another unique thing that is important to note is that unlike the majority of other AP exams, the AP Chinese Language and Culture Exam is administered entirely on a computer. Through the course of the exam, students read text on a computer screen, type using a keyboard, listen to recording through headphones and speak into a microphone. Students do not need to write on paper for the exam, however writing in paper is allowed in order to take notes and workout problems during the exam. Any paper that is used during the course of the exam will be collected but is not scored.
Throughout the course of the exam, students can choose between two options of Chinese characters. Students can either read in traditional characters or simplified characters.
Students also get to choose between two different input methods. The first is Microsoft Pinyin IME (MSPY) which is based on Hanyu Pinyin, the other is Microsoft New Phonetic IME, which is based on Zhuyin Fuhao.
On top of that, students who decide to type with Hanyu Pinyin get the option to choose between traditional and simplified characters.
Multiple Choice
The first section of the exam is a multiple-choice section which takes up the first 80 minutes of the test. There are two different sections with the first featured rejoinders questions and listening selections.
The rejoinders section makes up 10 percent of your score and features 10 to 15 questions
The listening selections takes up 15 percent of your score and features 15 to 20 questions
The second section of the multiple-choice part of the exam is based on reading selections. This section accounts for 25 percent of your total score and students are given 60 minutes to complete the section.
Below are several examples of questions you might face on the multiple-choice section of the exam.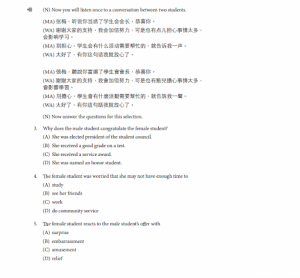 Free-response questions
The second section of the exam is made up of free-response questions and takes up the remaining 40 minutes of the exam. There are two different sections within the free-response question with the first two questions testing student's writing ability and the last two questions testing a students speaking ability. Each sub-section accounts for 25 percent of the students total score.
Question 1 tests through story narration
Question 2 tests students through an email response
Question 3 is a conversation that features 6 questions
Question 4 is a cultural presentation
Below is an example of a free-response question you might face on the exam:
In order to help those who understand better through visual representation, here is a table breakdown of the entire AP Chinese Language and Culture Exam.
AP Chinese Language and Culture Exam Score Breakdown
Students who take the AP Chinese Language and Culture exam are assessed as two groups. The first group is the total group – meaning all of the test takers. The second group is the standard group, which is made up of the students who generally receive most of their foreign training in United States schools, those who do not speak Chinese as a native language, or those who have live for more than one month in a Chinese-speaking country.
In other words, the standard group is made up of students who have not had exposure to Chinese outside of the high school classroom.
In 2019, the College Board's data shows that an impressive 60 percent of total students who took the exam scored a perfect 5 out 5. With that being said, only 16.3 percent of those students came from the standard group. The average score of the exam for the total group was an impressive 4.19, while the average score of the standard group was a 2.95 – less than a passing score of 3.
Here is a graph breakdown of the two groups and their related scores.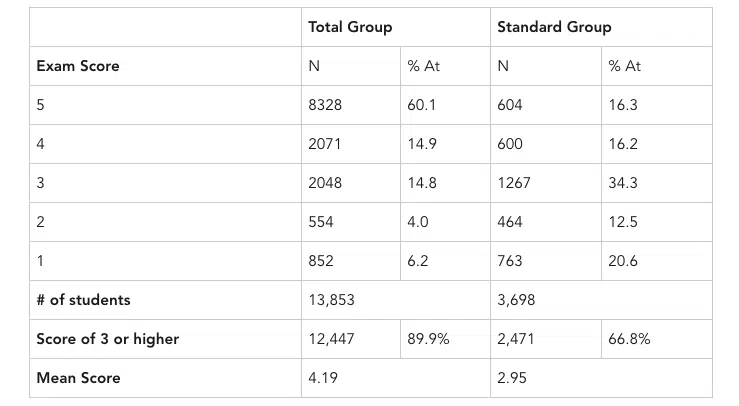 How to prepare for the AP Chinese Language and Culture Exam
Now that you have a great idea when it comes to what will be covered in the course and what you will be expected to master if you want to score a great grade on the exam, let us at AdmissionSight enlighten you on how to best prepare for this – and every other – AP exam. We have created a step-by-step process so that you can learn and master the material of the exam while also prepare yourself for the format of the exam.
Analyze your ability
The very first step to preparing for the exam is to take a full practice exam with the intention of analyzing your current mastery of the material. While you do not need to time yourself on this exam in the way that you will be timed on the real one, you should absolutely go through your questions and make sure to understand why and how you got any answers wrong.
This will not only help you learn but will also help you identify parts of the subject matter that you may want to commit extra time to as you continue to study and prepare.
Master the material
The second step to preparing for this exam is to master the material that you will be tested on. Of course, this means getting as good as possible at speaking and understanding conversational Chinese. While your course and study guides are undeniably useful, it is also a good idea to consider picking up some Chinese newspapers or magazines, visiting Chinese websites, watching Chinese films and television, or even starting up a study group with your fellow students so that you can meet one or two times a week to speak about current affairs taking place in China in Chinese!
Take practice tests
The next step to preparing for the exam is to take practice exams. What is important to keep in mind is that if you want to make sure that you are as prepared as possible for the exam, you will have to give yourself the same amount of time on these practice exams as you will be given on the day of the actual test.
Finally, keep in mind that as the day of the actual exam approaches you will want to lay off of practicing and give your mind and body the rest and relaxation they need so that you can perform your very best!