Universities Requiring Students to Get COVID-19 Vaccine: Everything You Need to Know
Are colleges requiring students to get vaccinated?  COVID-19 pandemic has drastically altered the everyday functionings of colleges across the country. In-person classes were canceled, online school became the norm, extracurriculars were scrapped, and campuses became quiet.
Over the past few months, things have gradually started to return to normal. And with effective vaccines in full distribution, many are eyeing a potential return to normal. However, this has also raised the question about vaccine requirements, leading many students and parents to wonder "are colleges requiring students to get vaccinated?"
Yes, there is a growing number of colleges that have decided to require returning students to receive the vaccine in order to ensure all students and faculty members are safe. Understandably many students and parents have had questions about this requirement.
What schools have the requirement? Is it legal? Are there any exceptions? How many students will end up getting the vaccine? It's a relatively new development, but AdmissionSight has the latest on these changes. Here, we'll take a deeper dive into these requirements and cover everything you need to know about colleges requiring COVID-19 vaccines.
How many students support the vaccination requirements?
College Pulse conducted a survey to determine the level of support the recent vaccine requirements had among students. 1,000 college students participated in the survey and a whopping 71% said they believe universities maintain the right to implement a vaccine requirement for students before they're allowed to return to campus. 10% of the respondents were on the fence, and 19% said they didn't support these requirements.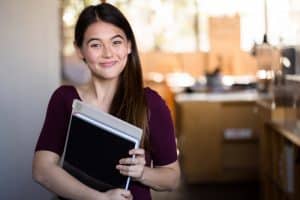 Anne Schwictenber, College Pulse's director of research, reports that the survey illustrates an eagerness among students to return to normal college life. Still, there are clearly still some reservations some students have about the efficacy of the vaccine.
However, another survey found that more students are supportive of requiring vaccines than other strategies used to mitigate the spread of the virus such as stay-at-home orders or mask mandates.
ACHA's push for colleges to require vaccinations
There's been a whirlwind of news reports over the past month as more and more colleges decide to require returning students to get immunized against COVID-19. But where did all of this start? Well, in late April, the American College Health Association (ACHA) formalized its recommendation for universities across the country to require vaccinations for students.
Here's the ACHA's official statement:
"The American College Health Association (ACHA) recognizes that comprehensive COVID-19 vaccination is the most effective way for institutions of higher education (IHEs) to return to a safe, robust on-campus experience for students in fall semester 2021.
Therefore, where state law and available resources allow, ACHA recommends COVID-19 vaccination requirements for all on-campus college and university students for fall semester 2021, in accordance with the IHE's normal exemption practices, including exemptions for medical contraindications. This recommendation applies to all students who live on campus and/or participate in on-campus classes, studies, research, or activities."
You can read the full report here.
What colleges are requiring students to get a vaccine?
There are over 100 universities and colleges currently requiring returning students to get the COVID-19 vaccine.
CALIFORNIA
California Institute of Technology
California Polytechnic State University, San Luis Obispo
California State Polytechnic University, Pomona
California State University system
Claremont McKenna College
Dominican University of California
Harvey Mudd College
Humboldt State University
Loyola Marymount University
Menlo College
Occidental College
Pitzer College
Pomona College
Samuel Merritt University
San Diego State University
San Francisco State University
San Jose State University
Santa Clara University
Scripps College
Sonoma State University
Southwestern College
Stanford University
University of California system
University of San Diego
University of Southern California
COLORADO
Colorado College
Colorado State University system
Fort Lewis College
Metropolitan State University of Denver
University of Colorado system
University of Denver
University of Northern Colorado
CONNECTICUT
Wesleyan University
Yale University
DISTRICT OF COLUMBIA
American University
Bay Atlantic University
George Washington University
Georgetown University
Trinity Washington University
FLORIDA
Nova Southeastern University
GEORGIA
Clark Atlanta University
Emory University
Morehouse College
Spelman College
ILLINOIS
Columbia College Chicago
DePaul University
Loyola University Chicago
Roosevelt University
INDIANA
DePauw University
Holy Cross College
Saint Mary's College
University of Notre Dame
Valparaiso University
IOWA
Grinnell College
KENTUCKY
Berea College
MAINE
Bowdoin College
College of the Atlantic
MARYLAND
Johns Hopkins University
Morgan State University
University System of Maryland
MASSACHUSETTS
Amherst College
Assumption University
Boston College
Boston University
Brandeis University
College of the Holy Cross
Emerson College
Hampshire College
Lasell University
Massachusetts State University system
Mount Holyoke College
Northeastern University
Simmons University
Smith College
Suffolk University
Tufts University
University of Massachusetts Amherst
University of Massachusetts Boston
University of Massachusetts Lowell
Williams College
MICHIGAN
Lawrence Technological University
Oakland University
University of Michigan (Ann Arbor)
MINNESOTA
Carleton College
Macalester College
MISSOURI
Washington University in St. Louis
NEW HAMPSHIRE
Dartmouth College
Southern New Hampshire University
NEW JERSEY
Drew University
Fairleigh Dickinson University
Kean University
Montclair State University
New Jersey City University
Princeton University
Rider University
Rutgers University
Stevens Institute of Technology
NEW YORK
Barnard College
Columbia University
Cornell University
Fordham University
Hamilton College
Ithaca College
Le Moyne College
Manhattanville College
New York University
Pace University
Rensselaer Polytechnic Institute
Sarah Lawrence College
School of Visual Arts
St. John's University
Syracuse University
The New School
University of Rochester
Vassar College
NORTH CAROLINA
Brevard College
Duke University
Wake Forest University
OHIO
Cleveland State University
Kenyon College
OREGON
Lewis & Clark College
University of Portland
Willamette University
PENNSYLVANIA
Bryn Mawr College
Drexel University
Haverford College
Lehigh University
University of Pennsylvania
University of the Sciences
RHODE ISLAND
Brown University
Roger Williams University
SOUTH CAROLINA
Wofford College
TENNESSEE
Maryville College
TEXAS
Paul Quinn College
St. Edward's University
VERMONT
Bennington College
VIRGINIA
Hampton University
Mary Baldwin University
Virginia Wesleyan University
WASHINGTON
DigiPen Institute of Technology
Pacific Lutheran University
Seattle Film Institute
Seattle University
University of Puget Sound
University of Washington system
Washington State University system
Whitman College
WISCONSIN
Lawrence University
What legal professionals are saying about it
One of the first questions many students and parents have about these requirements is "can colleges require students to get vaccinated? Well, that's a tricky question but not one without legal precedent. When speaking with NPR, Doris Reiss – a UC Hasting College of the Law professor – stated that "Most universities have the power to require vaccines.
But it does depend on what the college can do generally on vaccines and what they've done in the past." Universities have to deal with federal, state, and local laws when making these requirements.
As a result, public universities have a tougher time than private ones.
In an interview with CNBC, attorney Renee Mattei Myers struck a more decisive tone by stating that colleges are allowed to require vaccines according to guidance from the Department of Education and Equal Employment Opportunity Commission.
She reported that "The EEOC's guidance that came out in December made it clear and paved the way to say that employers can mandate vaccines and that this isn't considered a medical examination, which is prohibited by the Americans with Disabilities Act."
The legal precedent behind this requirement
One of the most commonly heard and easily understood arguments for these COVID-19 vaccine requirements is the fact that colleges have mandated that students receive vaccines for over a century.
The ACHA has pointed out that many universities require inoculations against varicella, rubella, mumps, measles, and a variety of other diseases that are avoidable with relevant vaccinations. The ACHA compares the COVID-19 illness with some of these "vaccine-preventable" diseases, essentially saying that the requirement is similar to what's been done in the past.
Legal challenges have even arisen in the past surrounding some of these vaccine requirements. For example, the University of California was sued in 1925 by a student who claimed he had met the university's requirements except for the smallpox vaccination. The presiding judge ended up ruling in favor of the university, further solidifying the mandate. A similar legal challenge was brought forth regarding school children in 2015 which was also ruled in favor of the requirements. Reiss said that she expects legal challenges to arise surrounding these recent COVID-19 vaccine requirements.
However, the Equal Employment Opportunity Commission (EEOC) provided guidance in December that said there were no current laws that would keep employers from being able to require vaccines or from requiring proof of vaccination.
Are there any exceptions to the vaccine requirement?
Although it varies between colleges, there are some common exceptions to the COVID-19 vaccine requirement. Two of the most common causes for exemption are religious and medical reasons.
Many universities recognize that there are some extenuating circumstances that would make it harder for students to adhere to the mandate. In these instances, many colleges have outlined alternative options. Some of these involve online classes while others involve regular testing on-campus
FAQs regarding vaccine requirements
Are all colleges requiring students to get a COVID-19 vaccine?
Currently, there are around 100 colleges and universities – both public and private – requiring students to get the vaccine. Although more and more are announcing these requirements each week, there's no reason to believe that all colleges will end up making this same requirement. However, it's imperative that college students check with their current university or one in which they plan to attend to see what their requirements are.
Is it legal for colleges to require students to receive a vaccine?
There's a long history of colleges requiring students to receive vaccines in order to attend. The primary difference this time around is how new the COVID-19 vaccines are compared to others that are regularly required. The vaccines have only received Emergency Use Approval (EUA) by the FDA so far. However, many legal analysts think that it's within the rights of universities to mandate this as a requirement for attending in-person classes.
What happens if I don't get the vaccine?
As many of these requirements are new, some colleges are still working out the specifics of what happens when students don't want to receive the vaccine. Some have talked about continuing to offer online classes for these students so they don't end up falling behind in their education.
Others have even discussed the possibility of allowing these students on campus but requiring them to take regular COVID-19 tests. Exact details will vary between universities and all of the specific questions should be routed to your college.
Your resource for all things college admission related
AdmissionSight has been helping demystify the college admissions process for over a decade. We've helped countless students just like you perfect their applications and get into the school of their dreams. In fact, 75% of our students end up getting accepted into an Ivy League or Top 10 university.
How do we do it? We've mastered the college admissions process for some of the country's best colleges and universities and developed a deep understanding of what admissions officers are looking for in applicants.
All of our services are catered to helping students prime their applications to increase their chances of getting into their school of choice.
Academic Guidance: The classes you choose in high school play a major role in determining whether or not you get accepted into college. We'll help you choose the best courses given your academic interests, strengths, and goals.
Extracurricular Planning: Although academics are vital in the admissions process, they're not everything. Admissions officers are also interested in what you're doing outside of school to develop your skills. We'll guide you in choosing extracurriculars that you enjoy and that will help your application stand out.
Summer Program Selection: One of the best ways to spend your summer break is to participate in a prestigious summer program. We'll help you choose a program that aligns with your field of interest while increasing your chances of getting noticed in the admissions process.
Pre-High School Consultation: For parents who want to get a headstart in preparing their student for college, we offer pre-high school counseling where we'll outline an entire high school plan to drastically increase your child's chances of getting into the college of their dreams when the time rolls around.
All of our services are completely individualized to each student, taking into consideration their academic strengths, interests, and long-term goals. Feel free to contact AdmissionSight to learn more about what we offer and how you can benefit from them. We offer a free consultation where you can get all of your questions answered. We look forward to hearing from you and helping you achieve your educational goals.