Are There Ivy League Schools in NYC?
What are Ivy League schools?
What are Ivy League schools? The most sought-after colleges and universities in the nation and the world are those in the Ivy League. These eight private colleges in the Northeastern United States are renowned for their rigorous admissions standards, academic brilliance, and good employment prospects for graduates. The brand's familiarity and social standing are also helpful. Are there Ivy League schools in NYC?
Ivy League institutions, which were first grouped together by athletic conferences, have a reputation for producing not only well-rounded student-athletes but also future presidents, Nobel Prize winners, and other accomplished graduates.
Some of the oldest educational institutions, with reputable instructors, plenty of research funds, and extensive financial assistance resources, are on the list of Ivy League colleges. For applicants to get into Harvard, Princeton, Columbia, and other prestigious schools, their applications have to be outstanding.
Which Ivy League schools are in New York?
Are there Ivy League schools in NYC? Which Ivy League schools are in New York? Two of these esteemed institutions are located in the Empire State. One is in the vibrant city and cultural center of New York City, and the other is in upstate New York, a quiet region with few people. Take a look at what New York has to offer the bravest and brightest.
Cornell University in Ithaca, New York
One of the Ivy League schools in NYC and the newest Ivy is Cornell University. The education at Cornell University, is of the highest caliber, and it has produced hundreds of famous alumni. Students can benefit from a dynamic curriculum that is based on the ideas of intellectual freedom and discovery.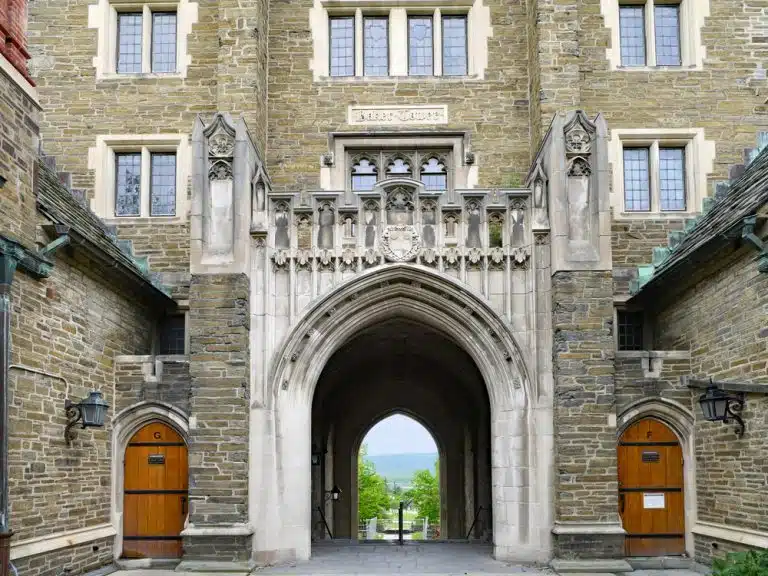 Its 745-acre campus is set on some of Ithaca's most precipitous hills. Although it may seem like a strenuous hike to get from one class to another and from one dorm room to another, students get frequent cardiac workouts while taking in the scenic campus scenery.
This one of the Ivy League schools in NYC encourages students to take classes at different colleges to take advantage of their intellectual independence, even though each of the seven undergraduate schools and colleges runs autonomously, hiring its own teachers and admitting its own students. The world's most cutting-edge business education is provided to students at Cornell's School of Hotel Administration (SHA). Kate Walsh, the institution's current dean, was recently highlighted as SHA's first female dean.
The school's cornerstone colleges, the College of Arts and Sciences and the College of Agriculture and Life Sciences, produce scholars and researchers of the highest caliber.
Cornell also ranks higher than the other Ivies when it comes to being one of the best universities for computer science.
With a 10% acceptance rate, this one of the Ivy League schools in NYC's admissions procedure is extremely difficult. At Cornell, the GPA of admitted students is 3.9 on average. Prospective students shouldn't worry if their GPA is lower than this benchmark because Cornell prides itself on having a holistic selection process that meticulously takes into account all of the applicant's profile components.
First-year matriculated students also apparently have excellent SAT and ACT scores—1550 and 32, respectively. Once more, applicants with SAT or ACT scores below the 75th percentile will not be disqualified. Even Cornell University is aware that some of the brightest and most talented individuals in the world are terrible test takers. And not everyone who achieved success was an A student.
GPA and SAT/ACT scores don't provide a complete picture of each applicant. Prospective students must distinguish themselves from the other applicants. The essay is used in this situation. Writing supplements must be submitted with other application materials by first-year students. The prompts and questions differ throughout the colleges and schools, so candidates must answer the ones that are relevant to the school or college they are interested in.
Columbia University in New York, New York
One of the Ivy League schools in NYC and the fifth-oldest institution of higher learning in the nation is Columbia University. Like the majority of its fellow Ivies, Columbia predates the Declaration of Independence. Among its distinguished alumni are a former US president, prominent political figures, CEOs, and Nobel laureates. The cosmopolitan and financial center of the globe, New York City, is where this Ivy is located.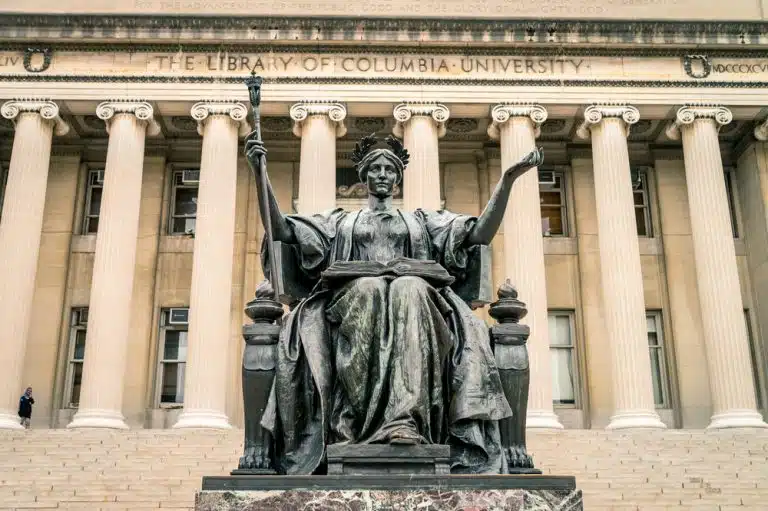 There were only five students in the inaugural class at Columbia. After more than 200 years, this one of the Ivy League schools in NYC's services and contributions to the globe have increased dramatically.
The Teacher's College employs a creative and dynamic method for preparing the following generation of teachers. Teachers College's commitment to socially conscious, comprehensive, and transformative teaching is shown by the fact that psychologists and health educators make up over one-third of the tenure-track faculty.
Teachers at Columbia are prepared to address today's most important social and cultural concerns by incorporating social conscience into their love of teaching.
The programs and specializations offered by one of the Ivy League schools in NYC's Earth Sciences, Computer Science, Math, and Biological Science departments are among the best in the country. Its already robust research profile is enhanced by special research facilities like the Goddard Institute for Space Studies and the Colombia Institute for Tele-Information. Astrophysicist Neil deGrasse Tyson and other National Medal of Science winners are notable Columbia scientists.
How to get into Ivy League schools?
How to get into ivy league schools? An Ivy League education is undoubtedly a fantastic accomplishment. So how did those who were admitted manage to achieve it? AdmissionSight prepared these hints about how to enroll in an Ivy League institution.
Ensure that your test and grade results are strong.
You'll need to achieve high exam scores and stellar grades if attending an Ivy League institution is your objective. These are the two most crucial elements, according to the National Association for College Admission Counseling, for a student attempting to enroll in a highly selective university. They must also enroll in challenging classes that they can succeed in.
Course rigor is crucial. It allows schools to determine whether or not students are willing to push themselves and whether or not they are succeeding in spite of those hurdles. Additionally, those who don't meet the requirements for the Ivy League will not be accepted unless they have another accomplishment or accomplishments that really stand out.
Try to apply early to avoid being late.
By applying in this way, your chances of getting into an Ivy League school are greatly increased. However, keep in mind that you can only apply for early decision to one university, so make your selection carefully. Make sure that you only submit a pre-application if you are certain that the university is what you desire.
All of your other applications must be withdrawn after you are accepted under early decision (ED). Additionally, you must be totally dedicated to attending that university. Another option for students is early action (EA), which, unlike ED, is a non-binding application process. Business Insider discovered that the early action/decision overall acceptance percentage for the class of 2021 reached a high of 27.8%.
Write an outstanding personal statement.
Your application to the Ivies depends greatly on your personal statement. You're probably using the Common Application to apply to Ivy League schools or Ivy League schools in NYC, so you need to stand out from the hundreds of thousands of other ambitious and intelligent candidates.
Your personal statement is crucial; if it has a ton of grammar mistakes or concentrates on a cliche topic, you won't get accepted.
Embrace the fact that your essay does not need to be about something spectacular. In order to effectively focus attention on your written work, groundbreaking stories are not necessary. Simply pick one subject that is significant to you, and make sure your essay is insightful and self-reflective.
In your extracurricular activities, show true depth.
There are countless hobbies that could qualify as extracurriculars, but the truth is that any of them if you have demonstrated genuine enthusiasm and depth in that activity, can make your college application stand out. It's important to keep in mind that any hobby can develop into something genuinely amazing when handled with adequate vigor and dedication.
Instead of considering the range of extracurricular activities, consider their depth. Consider a student who joins a school play one year, seeks to join the yearbook the following year, joins the tennis club the third year, and then participates in Academic All-Stars his senior year. He will appear to be a dabbler who lacks a distinct area of competence or interest, rather than an amazing student with so many skills.
Even though the student has experience in positive activities, this does not guarantee that he will be accepted into an Ivy League college.
On the other hand, take into account a candidate who plays in the school's symphonic band. She has participated in the marching band, concert band, and pep band her entire four years in high school. This student exudes a sense of passion when performing on her instrument. Because of this, college admissions officers will believe that she can engage the campus community with the same level of passion and interest.
Design a comprehensive high school curriculum.
The most crucial component of your application to an Ivy League institution is your high school transcript. Students usually have to sign up for the hardest classes available to show the admissions staff that they are ready to take on a wide range of college courses. You should consider these things when applying to Ivy League schools in NYC.
Consider the situation where you must select between A) AP Calculus and B) business statistics. Select option B. If they are comparable, choose Calculus AB if it is superior to Calculus BC. If you're unsure if you should take a foreign language in your senior year, go ahead and sign up for one if you think you can excel in the classes.
Keeping a realistic outlook on the academic front is also advisable. Don't worry about it because the Ivies won't require you to take seven AP courses in your junior year. A lot of effort will probably backfire, leaving you exhausted or, worse yet, with poor scores.
The crucial academic disciplines of language, science, math, and English should be your main focus. For a better chance of getting into an Ivy League school, make sure to perform well in these areas. It's acceptable to enroll in AP courses like AP Music Theory, AP Statistics, and AP Psychology if your school offers them, but they don't have the same importance as core classes like AB Biology and AP Literature.
Additionally, the Ivies acknowledge that some applicants have more access to academic possibilities than other candidates. The Ivies will take your situation into consideration if you attend a rural school with minimal prospects for academic performance. When the admissions office decides if you are ready for college, a letter of recommendation and your ACT and SAT scores will matter more.
Perform well in the interview.
Get ready for an interview with a university alum that you are applying to. Even though it's not the most crucial component of your college application, the interview affects whether you'll be admitted or denied by the school you want to attend.
For instance, answering questions about your passion and interests while you were a student and your motivations for going to the institution incorrectly will harm your college application. When answering inquiries, be courteous and personable at all times. In most Ivy League interviews, the interviewer is polite and tries to learn more about you.
Now that you know about the Ivy League colleges in New York, you have a better idea of why both are well-known and popular among students, especially those who want to go to college.
Our team at AdmissionSight has more than ten years of expertise in helping students get through the challenging admissions process necessary to enroll in the most prominent universities in the world. Want to be part of the Ivy League schools in NYC? We can help you with that. We have one of the best records in the business because, on average, 75% of our students are admitted to an Ivy League institution, such as Stanford, MIT, the University of Chicago, or Caltech. Book your consultation today!