Are You Cut Out for the Ivy League's Class of 2026?
For students who are interested in attending one of the best universities in the United States, there is little doubt that they are asking themselves if they have what it takes to be a part of the Ivy League class of 2026.
Every year, tens of thousands of students from every corner of the earth apply to the eight schools that make up the Ivy League. The vast majority of those students, however, never receive a letter of acceptance.
So, what are the questions that any student wondering if they have what it takes to get into an Ivy League university should ask themselves? And what are the common requirements that students have to fulfill in order to actually get accepted? You have come to the right place to find out!
Here at AdmissionSight, we take our role of helping high school students accomplish their college admission goals very seriously because we know how much it matters! That is why we have taken it upon ourselves to use our experience and expertise to answer the many different questions that students have as they prepare to apply to top schools.
So, without further delay, let's get started on how you can find out whether or not you are cut out for the Ivy League's class of 2026.
Question 1. Are you ready to work for it?
For the vast majority of students that plan on applying to Ivy League schools like Harvard University, Princeton University or Yale University, the pursuit of actually getting into one of those schools will end up being one of the hardest things they'll have had to do up to this point in their lives.
The reason for this is because getting into an Ivy League school takes years of hard work and preparation. In fact, for the students that are able to beat the odds of an Ivy League acceptance rate and actually get into the school, the journey to that accomplishment begins many years before the moment that they actually send their application in.
In fact, many of the things that a student does in their freshman year in high school will have an impact on their ability to beat the odds of an Ivy League acceptance rate.
When it comes to getting stellar grades (the average GPA for the vast majority of the Ivy League schools is above a 4.0), and when it comes to earning roles of impact and leadership within your chosen extracurriculars, the foundation begins in year one of high school.
So, if you are interested in attending an Ivy League program, make sure that you are ready to work for it from the very beginning of your high school career.
Question 2. Can you manage your time and meet crucial deadlines?
The kinds of students that are able to get accepted to Ivy League programs are often quite a bit more mature than the rest of their peers. One key characteristic that you do have what it takes to get into an Ivy League school is that you are able to lead your life responsibility to make sure that you are managing your time well and meeting important deadlines.
This – of course – applies to many different things. First off, it is going to heavily apply to your time in high school, as you will constantly have to make sure that you are managing your time well to complete your coursework and projects on time.
You will also have to be able to make sure that you are giving yourself ample time to study for quizzes, tests and exams all while also getting involved in groups, clubs and teams within your school or greater community.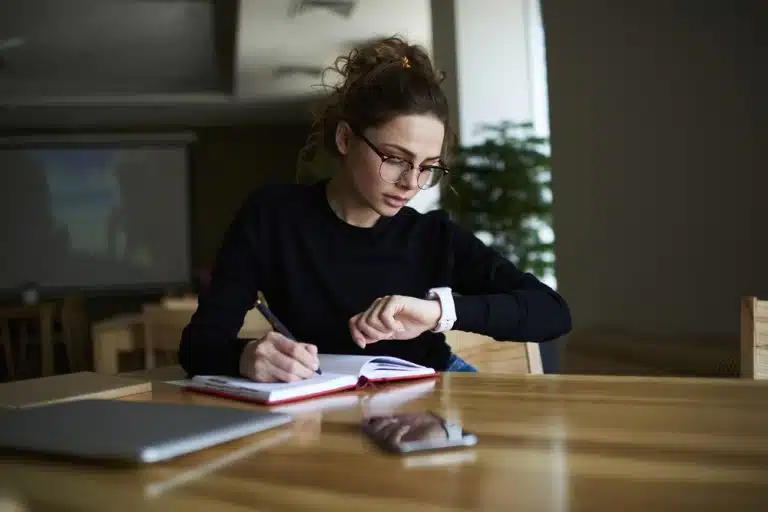 This gets even harder during your junior year of high school when you will also have to carve out an ample amount of time to prepare and study for either the SAT or ACT.
While standardized tests have been made optional by many different schools in the United States (including the Ivy League) due to the ongoing COVID-19 pandemic, students should still take either the SAT or ACT if they are able to. Moreover, it is highly likely that the exams will be made necessary once again in the relatively near future.
All in all, this takes a lot of maturity and a strong ability to keep track of your many responsibilities throughout high school.
Moreover, the application process itself also offers a strong demand for time management skills and meeting deadlines. You want to give yourself ample time to complete every application you have to fill out with to the best of your abilities. You also want to make sure that the teachers whom you want to write your letters of recommendation get substantial heads up.
Finally, managing your schedule so that you have more than enough time to craft, edit and improve your personal essays well before the application deadlines is crucial to improve your chances of getting into the schools of your choice.
Finally, meeting crucial deadlines becomes an even more important factor if you plan on applying to any schools in the Early Decision or Early Action capacities.
Question 3. Are you a leader ready to make a real impact on campus?
One thing that is crucially important for any student who is interested in being a part of the Ivy League class of 2026 has to remember is that the eight schools that are a part of the Ivy League are not just looking for students with great grades and test scores.
Of course, grades and test scores are really important when it comes to improving your chances of getting into a school like Columbia University, Brown University or Dartmouth College, but those alone will not be enough for a student to get into one of those schools.
In fact, getting a GPA that puts you in the top 10 percent of your class and earning an ACT score of 34 or above or an SAT score of 1490 or above should truly be seen as nothing more than incredibly demanding prerequisites. While it is possible for students with lower GPAs and test scores to get into an Ivy League, it is certainly not the norm.
So, what is that an Ivy League university is looking for then, you might ask? One of the key things that any of the eight schools looks for is a young person who they think will be able to have a positive and impactful role on the school's community.
This means getting actively involved in social and academic groups within the school so that you can leave your mark long after you graduate and move onto earning even higher education or entering the workforce.
The Ivy League is a historical and incredibly proud group of schools that has had some of the most impactful men and women of their generations walk through the halls. The Ivy League is always looking to maintain that legacy by bringing in highly passionate, dedicated and intelligent young adults who will take pride in their membership of the Ivy League community.
So, to prove that you have what it takes to not only succeed at an Ivy League school inside the classroom, but also in the community at large, make sure to get involved in your school community in high school, volunteer your time, get involved in youth groups or anything in between to prove that you are the kind of student that the Ivy League is looking for!
Question 4. Can you separate yourself from the pack with powerful personal essays?
At AdmissionSight, one of the most important things that we preach to the high school students that we work with is the profound importance of the personal statement and essay section of the college application.
These personal essays offer students the chance to let admissions officers at college know not only who they are as students, but also who they are as people outside of the classroom.
Sometimes, students hold the false belief that the most important thing that they can do when it comes to their personal essays is to try to make themselves come off as unique as possible. However, there are countless students who have been accepted to Ivy League schools who are not all that unique. So, what is the real technique?
To put it simply, the important thing to do is to prove that you can look at the sometimes mundane aspects of life in a unique and special way! This will signal to the admissions officers reading your application essays that you are a deep and introspective thinker who is aware of yourself and the very high aspirations that you hold yourself to.
For some students, crafting wonderful personal essays prove to be the hardest part of the entire application process. That is especially true for students who are not naturally inclined writers.
However, luckily there are some really important steps that any student – even those who are not totally comfortable with their writing skills – can follow to make sure that they are crafting fantastic personal essays as part of their college applications.
Read the instructions carefully. Making sure that you read the instructions carefully and fully understand what you are expected to accomplish within the essay will help you create the best essay possible.
Make sure to craft a compelling introduction. You want the reader (the admissions officers at the schools that you are applying to) to be drawn in from the very first paragraph of your personal essay. The best way to do that is to create a compelling introduction that makes the reader want to learn more.
Channel your inner voice. Remember when we said that the personal essay is your opportunity to share with the admissions officer about who you are as a person and not just as a student? Well, the best way to make sure that you accomplished that is by channeling your inner voice and making sure that the essay itself remains true to your core beliefs and values. This is far more productive than trying to write an essay based on what you think an admissions officer may want to hear.
Avoid cliches. As you are researching your personal essay, you will want to make sure that you are able to avoid cliche when it comes to topic, style, and tone. In fact, basing your essay off of anything that you find through personal research will only lessen the chances that your essay truly sticks out from the crowd.
Stick to the plan. Or if you want to remain creative throughout the entire process of crafting your personal essay, it is important that you remember to stick to your original plan when it comes to the angle that you are going for and the way in which you want to present yourself. While you may always change your ideas if you come up with something better, you will then want to start again from the beginning and craft an entirely new essay rather than trying to patchwork the two ideas together.
Proofread your essay and ask someone to proofread your essay as well. This is when time management becomes so crucial for students who are applying to Ivy League universities, or any other university for that matter. Having the time that you need to proofread your article and have a parent, teacher, peer, or admissions consultants proofread your work is crucial to make sure that you are able to catch any spelling, grammatical, or thematic errors.
Common Ivy League requirements you must fulfill
In the United States, the most common form of college admissions is done through a holistic method. What this means is that schools will consider a massive range of factors when making their final decisions in regards to which students they will accept and which students they will sadly have to reject.
With that being said, there are a number of unofficial requirements but students will want to meet in order to increase their chances of getting into an Ivy League university. Here are some unofficial requirements that every student interested in attending an Ivy League school should keep in mind:
Earn a GPA above the average for students accepted to your target school. While every Ivy League school has a different average GPA for the high school students they accept (with Harvard having the highest average and Princeton having the lowest average), you will want to make sure that you are above that average to feel good about your chances of getting in.
Earn a standardized test score above the average for students accepted to target school. Principle here is the same as the above, and to feel good about your chances of getting in you will want to end up with a score in the 75th percentile of scores for that school.
Accomplish great things in high school. This is a far more subjective requirement, but that does not make it any less important. The Ivy League schools are interested in accepting only the best students that graduating high school class has to offer. So, 2 improve your chances of getting accepted, you will want to go out of your way to achieve awards, recognition, or other types of success during your high school years.
Get great letters of recommendation and write fantastic personal essays. Again, these two aspects of your applications to Ivy League schools can have a much bigger impact than you could ever imagine. Taking the time to earn the best letters of recommendation and write the best personal essays possible can do wonders and improve your chances of getting into the school of your dreams.
As for admissions requirements, Ivy League schools tend not to have concrete courses that they expect high schoolers to take. However, this quick list should give you a good idea of the kinds of courses a high school student interested in attending an Ivy League university will take.
Four years of English (including continued practice in writing)
Four years of mathematics (including calculus for students interested in engineering)
Four years of one foreign language
At least two years of laboratory science (including physics and chemistry for students interested in engineering)
At least two years of history
In addition, most candidates have had some study in the visual or performing arts.
Students should be aware that taking as many advanced courses, such as honors, AP, and IB courses can only help their chances of getting in. That is one of the most impactful ways they can improve their chances of getting accepted no matter the Ivy League acceptance rate for their year.
Need more help getting into top-tier colleges?
At AdmissionSight, we know that the road to getting into an Ivy League school is a long and hard one. But we also know the excitement and success that lies on the other side. That's why it's our number one opportunity to help the students that we work with achieve their admissions goals and get into some of the best schools in the world.
If you are interested in becoming one of the many students that we have helped get into Ivy League programs and become a member of the Ivy League class of 2026, contact us today to set up a free consultation.