Berkeley Undergraduate Tuition
How Much Is the Tuition per Year for Undergraduates at Berkeley?
The University of California, Berkeley is a public research university in Berkeley, California. It is one of the top-ranked public universities in the world, renowned for its academic excellence, research contributions, and vibrant campus culture. Students considering pursuing their studies at this prestigious university often ask about the Berkeley undergraduate tuition.
Tuition can be a significant factor in attending college, as it is one of the most significant expenses that students and their families must consider when deciding about higher education. The cost of tuition can vary widely depending on the institution and the student's residency status, with public universities generally being less expensive than private institutions.
How much is the tuition per year for undergraduates at Berkeley? The Berkeley undergraduate tuition for the 2022-2023 academic year is $14,796.
Meanwhile, the cost of attendance for undergraduate students living in a campus residence hall at Berkeley totals $43,794 for the 2022-2023 academic year. The cost of attendance or your student budget represents an estimate of the average and reasonable cost of completing an academic year. This includes Berkeley undergraduate tuition and fees, books and supplies, room and board, health insurance, transportation, and personal expenses.
The costs are only estimates, and your actual costs may vary depending on your specific circumstances. For example, your costs may be lower if you choose to live off-campus or have scholarships or financial aid.
UC Berkeley is committed to making higher education accessible to students from all backgrounds and offers a range of financial aid options to help students cover the costs of attending. More than 60% of Berkeley undergraduate students receive financial assistance. Students can apply for grants, scholarships, and loans to help cover the costs of tuition, fees, and other expenses.
How Much Does Room and Board Cost at Berkeley?
As one of the most prestigious public universities in the United States, the University of California, Berkeley, is a popular destination for students seeking a high-quality education. However, with the cost of Berkeley undergraduate tuition and fees rising every year, it's important for students and their families to understand the total cost of attendance, including room and board.
How much does room and board cost at Berkeley? Room and board costs at Berkeley vary depending on several factors, including where students choose to live, what type of meal plan they choose, and whether they opt for single or double occupancy rooms. For the 2022-2023 academic year, the cost for a standard room and meal plan at Berkeley is $19,520.
Living in campus residence halls is the most popular option for incoming first-year students, with 96% of students choosing to make the most of the community, convenience, and academic benefits that come with living on campus.
All Berkeley residence halls include live-in staff (who provide both social and academic support), utilities and Wi-Fi, security, community centers, on-site laundry, easy transportation access, and much more. In addition, the Cal Dining Blue Meal Plan is included in residence hall contracts. This meal plan has 12 meal swipes per week and 300 flex dollars per semester.
These room and boards costs are only estimates, and actual costs may vary depending on a variety of factors. However, they provide a helpful starting point for students and families as they plan for the cost of attending Berkeley.
By carefully budgeting for the cost of attendance, seeking out financial aid opportunities, and taking advantage of the many resources available on campus, students can afford the Berkeley education and enjoy their time to the fullest at the university.
Does Berkeley Give Full Financial Aid to International Students?
International students apply to UC Berkeley because of the school's exceptional learning environment. Berkeley aims to fulfill the students' academic ambitions, intellectual passions, and desire to immerse themselves in cultural diversity.
However, the cost of Berkeley undergraduate tuition and living and personal expenses in another country can be a significant barrier for many international students. Students and parents often ask, "Does Berkeley give full financial aid to international students?"
Berkeley is committed to providing access to education for students from all backgrounds and financial situations, including international students. However, it can be difficult to fund an education as an international student at a university in the United States.
Berkeley does not offer full financial aid to international students. Instead, the university provides a limited amount of need-based aid and merit-based scholarships to international students.
International students can apply for need-based aid at Berkeley, but the amount of aid available is limited. In addition, international students are not eligible for federal financial aid, including grants and loans, which are available to US citizens and permanent residents only.
Berkeley's need-based aid for international students is provided through the Berkeley International Office (BIO). The need-based financial assistance is only available to international students who have demonstrated the most financial need and have experienced a significant and unexpected change in their financial circumstances. These awards are not intended to provide ongoing assistance and do not cover the full cost of tuition and fees.
In addition to need-based aid, Berkeley offers need and merit-based scholarships to international students. This scholarship is awarded based on academic achievement and demonstrated financial need and does not have to be paid back.
In addition to need-based aid and merit-based scholarships, there are other sources of funding available to international students. These may include:
Private scholarships: International students can search for private scholarships offered by organizations and foundations.
Work-study programs: International students can participate in work-study programs to earn money to cover their expenses. Colleges, schools, and departments may open for work-study positions if they are unable to fill the required positions from those students awarded with "work-study" included in their federal/state financial aid package
On-campus scholarship: International students can also check with the specific department they are interested in by looking for any awards or scholarships it may have for incoming students.
International students should carefully research their financial aid options and plan their finances accordingly. While the costs of Berkeley undergraduate tuition, room and board, and personal expenses can be overwhelming, the university's reputation for academic excellence and commitment to student success make it a worthwhile investment for international students.
How Do I Get a Full Scholarship to Berkeley?
If you're dreaming of attending the prestigious University of California, Berkeley but are worried about the high cost of Berkeley undergraduate tuition and living expenses, don't give up hope just yet.
Now, you might be wondering, "How do I get a full scholarship to Berkeley?" There are several ways to get a full scholarship to Berkeley, including need-based scholarships, grants, work-study programs, and external scholarships.
The Financial Aid and Scholarships Office collaborates closely with students to make an education at UC Berkeley affordable. Almost two-thirds of undergraduates are eligible for financial aid.
U.S. citizens and eligible non-citizens who want to apply for financial aid are required to complete a Free Application for Federal Student Aid (FAFSA). In addition, undergraduate students who qualify for an AB 540 nonresident tuition exemption can take advantage of the Berkeley Undergraduate Dream Act Aid. Students who want to be considered for Berkeley Undergraduate Dream Act funding should fill out the California Dream Act Application.
Every year on October 1st, the FAFSA and the California Dream Act Application become available. The FAFSA and California Dream Act Applications are used to determine aid eligibility for the academic year (fall, spring, and summer term) in which the application is submitted. The aid application must be completed for each academic year for which you wish to apply for financial assistance.
In addition to the scholarships offered by Berkeley, there are many external scholarships available to help cover the cost of attending college. These scholarships may be offered by private organizations, corporations, or foundations, and they may be based on a variety of factors, including academic achievement, leadership, community service, and more.
Apart from scholarships, federal loans are available to eligible students, regardless of income. These loans offer a variety of extremely flexible repayment programs, including income-based repayment plans and loan forgiveness benefits.
Moreover, the Work-Study Program, which is included in the financial aid package, encourages students to work part-time while still in school so that they can earn money rather than borrow it to pay for educational expenses.
Berkeley offers a variety of financial aid programs to make a world-class Berkeley education affordable. Be sure to submit your application for admission and financial aid by the appropriate deadlines and explore all your options to increase your chances of securing a full scholarship to Berkeley.
Why Do Students Want to Study at Berkeley?
Why do students want to study at Berkeley? Despite the rising Berkeley undergraduate tuition and other expenses each year, thousands of students worldwide apply to study at Berkeley. However, UC Berkeley has earned its name to be the top public university for the ninth year in a row, according to U.S. News & World Report's 2023 global university rankings. It's no wonder why students work hard to earn a spot in this prestigious university.
Now, let's find out more reasons why students choose to study at Berkeley.
Academic Excellence
Berkeley is consistently ranked among the top public universities in the world, and it is renowned for its academic excellence across a wide range of disciplines. From engineering to business to the humanities, Berkeley offers a rigorous and challenging academic environment that prepares students for success in their chosen fields.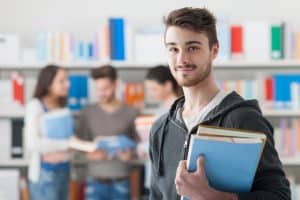 The faculty at Berkeley are world-class scholars and researchers, and they are passionate about teaching and mentoring the next generation of leaders. Students have access to cutting-edge research facilities and resources, and they are encouraged to pursue their own research interests through independent study and undergraduate research programs.
Diversity and Inclusion
Berkeley is committed to creating a diverse and inclusive community, and it values the perspectives and experiences of students from all backgrounds. The university offers a wide range of support services and resources for students from underrepresented groups, including first-generation college students, low-income students, and students of color.
Berkeley is also known for its active and engaged student body, and students are encouraged to get involved in a variety of clubs, organizations, and extracurricular activities. This creates a vibrant, dynamic campus culture that celebrates diversity and promotes social justice.
Location
Berkeley is in the heart of the San Francisco Bay Area, one of the most vibrant and exciting regions in the world. The area has a thriving tech industry, world-class cultural institutions, and breathtaking natural beauty. Students at Berkeley have access to all these resources, as well as a wide range of internship and job opportunities.
Berkeley is also just a short drive from San Francisco, one of the most iconic cities in the world, and it is within easy reach of other popular destinations like Napa Valley, Lake Tahoe, and Yosemite National Park.
Innovation and Entrepreneurship
Berkeley has a long history of innovation and entrepreneurship, and it is home to several groundbreaking research centers and institutes. The university has a strong focus on interdisciplinary collaboration and it encourages students to explore new ideas and approaches to problem-solving.
Berkeley is also home to a thriving startup culture, and Berkeley alumni have founded many successful companies. The university offers a wide range of resources and support for students who are interested in entrepreneurship, including mentoring, networking, and funding opportunities.
There are many reasons why students want to study at Berkeley, from its academic excellence and diverse community to its location and culture of innovation. If you are considering applying to Berkeley, take some time to explore all that the university has to offer, and see if it is the right fit for you.
Berkeley is sure to be an exciting and rewarding place to pursue your academic and professional goals. Before you start your journey in this top-tier university you must go through its competitive admissions process.
To boost your chances of getting into UC Berkeley, you can reach out to college admissions experts like AdmissionSight for proper guidance in building a solid application profile and to get geared up for college.
While the process might be challenging, AdmissionSight is here to assist you by taking your first step towards reaching your goals. Schedule an appointment for an initial consultation with our experts to discuss your college application further.