Berkeley vs Bryn Mawr: A Comprehensive Look at Two Prestigious Universities
Berkeley and Bryn Mawr are two of the most prestigious universities in the US. Both have a rich history and legacy and are renowned for their academic excellence and research opportunities. In this article, we will delve into the various factors that set Berkeley vs Bryn Mawr apart and help you make an informed decision about which university to choose.
The History and Legacy of Berkeley and Bryn Mawr
UC Berkeley was founded in 1868, making it one of the oldest universities in California. It has a rich history of social and political activism, with famous faculty and alumni such as Robert Oppenheimer, Mario Savio, and Angela Davis. On the other hand, Bryn Mawr was founded in 1885 and is a liberal arts college for women. It has a reputation for producing some of the most successful women leaders in various fields, including Pulitzer Prize winners, Nobel laureates, and Rhodes Scholars.
Despite their differences, both Berkeley and Bryn Mawr have made significant contributions to the world of academia. Berkeley is known for its strong research programs and has produced numerous groundbreaking discoveries in fields such as science, technology, and medicine.
Bryn Mawr, on the other hand, has a strong focus on the humanities and social sciences and has produced many influential scholars and writers in these fields. Both institutions continue to attract top talent from around the world and are committed to providing their students with a world-class education.
Admission Requirements and Selectivity: How Do They Compare?
Both Berkeley and Bryn Mawr are highly selective universities that receive a large number of applications each year. However, their admissions requirements differ slightly. UC Berkeley requires standardized test scores such as the SAT or ACT, while Bryn Mawr allows the option of submitting the SAT or ACT or taking the SAT subject tests instead. Both universities value academic excellence and seek students who can contribute to their campus community in meaningful ways.
Additionally, UC Berkeley places a strong emphasis on extracurricular activities and leadership experience, while Bryn Mawr values community service and a commitment to social justice. Both universities also consider essays, letters of recommendation, and academic transcripts in their admissions decisions. It is important for prospective students to carefully review the admissions requirements and priorities of each university to determine which one is the best fit for their individual strengths and interests.
Campus Life at Berkeley vs Bryn Mawr: A Student's Perspective
When it comes to campus life, Berkeley and Bryn Mawr offer vastly different experiences. Berkeley is a large public university, spread over a vast campus with many facilities, including libraries, sports centers, and student housing. Bryn Mawr, on the other hand, is a small, private women's college with a tight-knit community. Students at Bryn Mawr have access to many student-run organizations and clubs, and the campus is known for its inclusive and supportive environment.
However, despite the differences in size and community, both Berkeley and Bryn Mawr offer a variety of opportunities for students to get involved and make the most of their college experience. At Berkeley, students can participate in over 1,200 student organizations, including academic clubs, cultural groups, and sports teams.
Bryn Mawr also has a diverse range of student organizations, including a student government association, a feminist club, and a community service group. Both campuses also offer opportunities for students to engage in research and internships, providing valuable hands-on experience in their fields of interest.
Academics at Berkeley vs Bryn Mawr: A Side-by-Side Comparison
Both universities have reputations for outstanding academics, with excellent faculty and research opportunities. Berkeley is known for its STEM programs, with a strong emphasis on research and innovation. Bryn Mawr, on the other hand, has a strong liberal arts curriculum, with majors in humanities, social sciences, and natural sciences. Both universities offer a wide range of majors and minors, catering to a diverse range of interests and passions.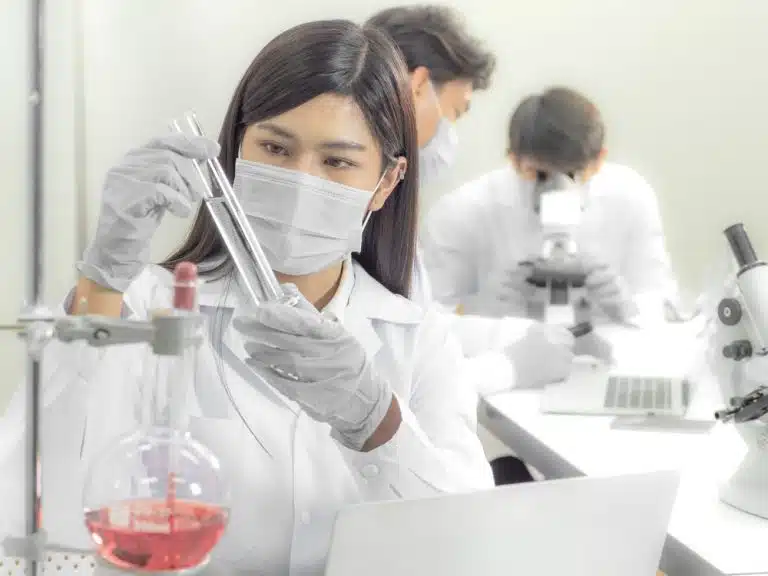 One notable difference between the two universities is their approach to undergraduate education. At Bryn Mawr, there is a strong emphasis on small class sizes and close relationships between students and faculty. This is reflected in the school's Honor Code, which emphasizes academic integrity and mutual respect.
At Berkeley, while there are opportunities for small classes and close relationships with faculty, the university's large size means that many classes are taught in lecture halls with hundreds of students. However, Berkeley makes up for this with its extensive resources, including state-of-the-art research facilities and a vast network of alumni and industry connections.
The Faculty and Research Opportunities at Berkeley and Bryn Mawr
The faculty at Berkeley and Bryn Mawr are world-renowned scholars and experts in their respective fields. Both universities offer ample research opportunities for students, including summer research programs, internships, and collaborations with faculty members.
Berkeley also has a number of research centers and institutes focused on various fields, including environmental science, energy research, and public policy. Bryn Mawr, meanwhile, has a strong focus on undergraduate research opportunities, with every student having the chance to work alongside faculty on research projects.
Additionally, both Berkeley and Bryn Mawr have strong partnerships with nearby research institutions, such as Lawrence Berkeley National Laboratory and the University of Pennsylvania, providing students with even more opportunities to engage in cutting-edge research. These partnerships also allow for interdisciplinary collaborations, where students can work with researchers from different fields to tackle complex problems and develop innovative solutions.
Diversity and Inclusion: What Makes These Universities Unique?
Both Berkeley and Bryn Mawr pride themselves on their diverse student populations and inclusive campus environments. Berkeley has a large and diverse student body, with students from over 100 countries, making it one of the most multicultural universities in the US.
Bryn Mawr, meanwhile, is known for its commitment to women's education and promoting gender equality. It also has a high proportion of international students and is committed to creating an inclusive and supportive environment for its LGBTQ+ community.
In addition to their commitment to diversity and inclusion, both universities have a strong focus on social justice and activism. Berkeley is known for its history of student activism, with a long tradition of protests and demonstrations on campus. The university also offers a wide range of courses and programs focused on social justice issues, including ethnic studies, gender and women's studies, and LGBTQ+ studies.
Bryn Mawr, on the other hand, has a strong tradition of community service and social activism. The college encourages students to get involved in local and global issues and offers a variety of service-learning opportunities and community engagement programs.
Campus Facilities and Amenities: Which One Offers More?
Both universities have impressive facilities and amenities, catering to their respective student populations. Berkeley has a vast campus that includes several libraries, sports centers, museums, and performance venues. It also has state-of-the-art facilities for research and innovation, including lab spaces and computer science labs. Bryn Mawr, on the other hand, has a smaller campus with historical buildings, including a medieval-style castle that acts as a library. The campus also has several cafes, student-run restaurants, and a fitness center.
Despite the size difference between the two campuses, both universities offer a variety of outdoor spaces for students to enjoy. Berkeley has several parks and gardens, including the famous Botanical Garden, which spans over 34 acres. Bryn Mawr has a beautiful arboretum that covers 135 acres and features over 4,000 different types of plants and trees. The campus also has several walking trails and picnic areas for students to relax and enjoy the scenery.
In terms of technology, both universities have invested heavily in providing students with the latest tools and resources. Berkeley has a high-speed internet connection throughout the campus, and students have access to cutting-edge software and hardware for their research and projects. Bryn Mawr has a similar focus on technology, with a campus-wide wireless network and a dedicated IT support team to assist students with any technical issues they may encounter.
Athletics, Clubs, and Extracurricular Activities: Which University Excels?
Both universities have a vibrant student life, with numerous sports teams, clubs, and student-run organizations. Berkeley has a strong athletics program, with its football team being one of the most successful in the US. It also has a large Greek life and many student organizations catering to various interests.
Bryn Mawr, meanwhile, has a strong focus on promoting a healthy and active lifestyle, with many outdoor activities and fitness classes. The campus is also known for its lively arts scene, with several student-run theater productions, concerts, and art exhibits.
Additionally, Berkeley offers a wide range of academic clubs and organizations, including debate teams, engineering societies, and business clubs. These groups provide students with opportunities to network, gain practical experience, and explore their academic interests outside of the classroom.
Bryn Mawr, on the other hand, has a strong tradition of community service and social justice activism. The campus hosts many events and initiatives focused on promoting diversity, equity, and inclusion, and students are encouraged to get involved in advocacy work both on and off campus.
Both universities also offer unique opportunities for students to engage with the local community. Berkeley has a strong partnership with the city of Berkeley, and students can participate in community service projects, internships, and research initiatives that benefit the surrounding area.
Bryn Mawr, located just outside of Philadelphia, provides students with easy access to the city's many cultural institutions, including museums, theaters, and music venues. Students can take advantage of these resources through internships, volunteer work, and extracurricular activities.
Cost of Attendance: A Comparison of Tuition, Fees, and Financial Aid Options at Berkeley vs Bryn Mawr
Both universities are expensive, but the cost of attendance varies depending on several factors. Berkeley is a public university, so tuition is lower for in-state students, while international students pay higher fees. Bryn Mawr, on the other hand, is a private college, and tuition is the same for all students. Both universities offer financial aid options for eligible students, including need-based aid, merit-based scholarships, and work-study programs.
It is important to note that the cost of attendance also includes additional expenses such as room and board, textbooks, and transportation. At Berkeley, students have the option to live on campus or off campus, and the cost of housing varies depending on the location and type of accommodation.
Bryn Mawr offers on-campus housing for all four years, and students are required to live on campus unless they receive special permission to live off campus. Additionally, both universities have resources available to help students budget and manage their expenses while attending college.
Global Recognition and Impact of Berkeley vs Bryn Mawr
Both Berkeley and Bryn Mawr are internationally recognized universities, with a strong reputation for academic excellence and research.
Berkeley has a strong global impact, with its faculty and alumni contributing to groundbreaking research in various fields, including science, technology, and social policy. Bryn Mawr, meanwhile, has a strong emphasis on global education and cross-cultural exchange, with many study abroad programs and partnerships with universities around the world.
Additionally, Berkeley has a strong presence in Silicon Valley, with many of its graduates going on to work for major tech companies such as Google, Facebook, and Apple. This has led to the university being at the forefront of innovation and technological advancement.
On the other hand, Bryn Mawr has a strong focus on the humanities and social sciences, with a particular emphasis on women's studies and gender equality. The college has produced many influential feminist scholars and activists and continues to be a leader in promoting social justice and equality.
Public Perception of the Universities: A Comparative Analysis
Public perception of Berkeley and Bryn Mawr is generally positive, with both universities receiving high rankings from various publications and organizations. Berkeley is a highly-ranked public university, and US News and World Report rank it among the top 20 universities in the US. Bryn Mawr, on the other hand, is a well-respected liberal arts college, with Forbes ranking it among the top women's colleges in the US.
However, there are some criticisms of both universities. Berkeley has faced criticism for its handling of sexual harassment cases and for its lack of diversity among faculty and staff. Bryn Mawr has been criticized for its lack of diversity among students and for its high tuition costs.
Despite these criticisms, both universities have made efforts to address these issues. Berkeley has implemented new policies and procedures to address sexual harassment and has increased efforts to recruit and retain diverse faculty and staff. Bryn Mawr has also made efforts to increase diversity among its student body and has implemented programs to make education more affordable for students from low-income families.
Future Growth Plans for Berkeley and Bryn Mawr: What Can We Expect?
Both universities are dedicated to their continued growth and success, with plans in place to improve their facilities, academic programs, and research opportunities. Berkeley plans to expand its research initiatives and create more opportunities for student success, while Bryn Mawr is focused on improving diversity and inclusion on campus and developing new academic programs.
In conclusion, both Berkeley and Bryn Mawr are exceptional universities that offer unique and diverse opportunities for students. The decision ultimately comes down to personal preferences and priorities, but we hope this article has given you an informed perspective on the various factors to consider when choosing between these two prestigious institutions.
Want to learn more about getting into College? You've come to the right place. At AdmissionSight, we have over 10 years of experience guiding students through the competitive admissions process.
AdmissionSight can help you put your best foot forward when applying to college this fall. Contact us today for more information on our services.