Berkeley Yield Rate
Higher education officials and stakeholders were concerned as the COVID-19 pandemic expanded quickly across the U.S. early last year. They pondered what this would entail for colleges and universities. However, they weren't simply concerned about having to close campuses and transition to virtual learning; they also anticipated that students would completely abandon their plans to submit college applications. It's important to know more about the Berkeley yield rate.
With a 2% dip in first-year enrolment in the autumn of 2019, college enrollment was already declining. Schools were concerned that during the pandemic, this rate would fall much further.
That hasn't been the case, though, for certain institutions. Many prestigious colleges temporarily waived SAT/ACT testing requirements in reaction to COVID-19, which caused a spike in both early admission candidates and first-year students overall.
Students of Color Have Significant Drops in Enrollment
In terms of undergraduate enrolment, students of color were particularly badly struck by the epidemic, with Native American and Black students seeing the biggest declines from the prior academic year.
A staggering 13% less first-year students were enrolled in colleges and universities, which includes two- and four-year institutions as well as public and private schools. Native American, Hispanic, and Black students among this category experienced the biggest declines in enrolment.
The pandemic increased the likelihood of financial hardship for low-income students and students of color, and this lack of stability had a significant impact on the sharp fall in enrolment.
Community College Students are more likely to Change Plans
According to research by the Community College Research Center at Columbia University, these startling enrollment trends may persist through this autumn. A total of 25,000 families having at least one person who has "plans for community college" were polled by the group.
A potential student discontinued their plans to attend community college in more than 40% of homes. Fifteen percent of respondents said they were dropping classes or changing their program.
As opposed to roughly 13% of high-income students, about 45% of potential low-income students canceled their plans to attend community college.
The coronavirus, according to more than one-third of homes with potential community college students, has had a substantial impact on their education plans.
The current Berkeley yield rate, which is calculated as the percentage of accepted students who enroll over all admitted students, was 43%. UT-Austin has a 46% yield, UNC-Chapel Hill has a 45% yield, and UGA has a 45% yield when compared to other top public colleges.
Admissions Data for the University of California-Berkeley
The University of California-Berkeley is one of the top 50 most competitive universities in the world for undergraduate admissions due to its high level of competition and admissions statistics. The acceptance rates at the University of California-Berkeley have decreased during the past eight years and are virtually probably going to keep down in the future, following the trends at all elite universities.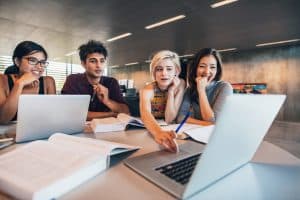 The average acceptance rate at UC Berkeley over the last 10 years (2012–2022) is 16.91%, while the percentage for the current year is 14.00%. University of California-Berkeley admissions were a little bit more competitive last year than they were the year before. The University of California-Berkeley has an extremely low acceptance rate, making it difficult for applicants to be accepted. While the Berkeley yield rate for 2022 is 43.00%, the average Berkeley yield rate (enrollment rate) for the time period is 42.54%. At the University of California-Berkeley, there were 24,781 more applicants than the year before, a 28.14% increase.
| | | | |
| --- | --- | --- | --- |
| | Total | Men | Women |
| Applicants | 112,843 | 53,561 | 59,282 |
| Admitted | 15,798 | 6,427 | 10,078 |
| Enrolled | 6,793 | 3,021 | 4,031 |
| Acceptance Rate | 14.00% | 12.00% | 17.00% |
| Berkeley Yield Rate | 43.00% | 47.00% | 40.00% |
Berkeley's Application Requirements
Berkeley requests that applicants submit their high school GPA, high school rank, and high school record (or transcript). Berkeley's application requirements are summarized in the table below.
| | |
| --- | --- |
| High School GPA | Required |
| High School Rank | Neither required nor recommended |
| High School Record (or Transcript) | Required |
| Completion of College Preparatory Program | Neither required nor recommended |
| Recommendations | Considered but not Required |
| Formal Demonstration of Competencies | Neither required nor recommended |
| Admission Test Scores | Neither required nor recommended |
| TOEFL | Required |
| Other Test (Wonderlic, WISC-III, etc.) | Neither required nor recommended |
Does Berkeley accept by major?
As is the case with several of the majors at UC Berkeley, specific departments, schools, or majors in a college may have additional prerequisites for admission.
By major, the acceptance rate at Berkeley is as follows:
Natural Resources and Conservation: 6%
Multi/Interdisciplinary Studies Majors: 7%
Biological and Biomedical Sciences Majors: 10%
Engineering majors: 11%
Social Sciences Majors: 20%
Class Rank and GPA
The University of California System has implemented a test-blind policy that will last through at least 2025 for applicants in the fall 2021 cycle. Performance in the classroom, therefore, takes center stage. Freshmen in 2021–2022 had a weighted GPA of 4.12 and an unweighted GPA of 3.7. Furthermore, 96% of incoming freshmen graduated in the top 10% of their high school class. Undoubtedly, the majority of the incoming Golden Bears earned straight A's in high school.
Changes in Admission Yield (Enrollment Rate)
The current academic year's Berkeley yield rate is 43.00%, which is higher than the average Berkeley yield rate for the previous 11 years of 42.54%. The percentage of admitted students that actually enrolled is known as the yield, often referred to as the enrolment rate. The yield changes at the University of California-Berkeley from 2012 to 2022 are displayed in the table below.
| | | | |
| --- | --- | --- | --- |
| Year | Total | Men | Women |
| 2012-13 | 38.80% | 39.96% | 37.79% |
| 2013-14 | 37.47% | 38.91% | 36.19% |
| 2014-15 | 46.25% | 46.95% | 45.65% |
| 2015-16 | 41.67% | 43.92% | 39.78% |
| 2016-17 | 44.24% | 48.27% | 41.01% |
| 2017-18 | 43.84% | 46.76% | 41.60% |
| 2018-19 | 45.20% | 47.66% | 43.42% |
| 2019-20 | 45.21% | 48.13% | 43.08% |
| 2020-21 | 39.75% | 43.38% | 37.03% |
| 2021-22 | 43.00% | 47.00% | 40.00% |
| Average | 42.54% | 45.09% | 40.55% |
Headcount Changes for Applicants, Admitted and Enrolled
Over the past ten years, the average number of applicants has been 81,334, the average number of admissions has been 13,499, and the average number of students enrolled has been 5,756. At the University of California-Berkeley, there were 24,781 more applicants than the year before, a 28.14% increase. The following table displays the headcount changes for applicants, admitted, and enrolled at the University of California-Berkeley between 2012 and 2022.
| | | | |
| --- | --- | --- | --- |
| Year | Applicants | Admitted | Enrolled |
| 2012-13 | 52,982 | 11,450 | 4,443 |
| 2013-14 | 61,717 | 11,108 | 4,162 |
| 2014-15 | 73,782 | 11,820 | 5,467 |
| 2015-16 | 78,893 | 13,320 | 5,550 |
| 2016-17 | 82,561 | 13,975 | 6,182 |
| 2017-18 | 85,044 | 14,549 | 6,379 |
| 2018-19 | 89,607 | 13,301 | 6,012 |
| 2019-20 | 87,847 | 14,278 | 6,455 |
| 2020-21 | 88,062 | 15,390 | 6,117 |
| 2021-22 | 112,843 | 15,798 | 6,793 |
| Average | 81,334 | 13,499 | 5,756 |
Admissions Notes and Trends
In 2022–2023, University of California institutions will continue to use a test-blind approach.
Berkeley received 128,197 applications for the Class of 2026, up from 88,067 two years ago.
Berkeley might be forced to dramatically cut their number of acceptances as a result of a recent court decision.
The Class of 2025's unweighted GPA ranged from 3.86 to 4.0.
In recent years, there have been more admissions offers made to students of African American, Latinx, and Native American descent.
How Berkeley scores its candidates?
Over 90,000 applications from all over the world are submitted each year to Berkeley, making it a very competitive institution. The Holistic Review approach is used to evaluate each applicant, making Berkeley's freshman admissions process difficult and competitive.
Academic achievement, extracurricular achievements in the performing arts, athletics, or volunteer work, character attributes, and—most importantly—the candidate's potential to impact intellectual and creative change on the Berkeley campus are all taken into account.
Berkeley lists the following three criteria as being "very important" to its admissions process: rigor of secondary school record, and GPA, and application essays. Extracurricular activities, personal traits, volunteer work, and professional experience are all deemed to be "important" factors. Recommendations, being a first-generation person, and state residency are all "considered" factors.
Beginning with the Class of 2025, Berkeley, along with all other campuses of the University of California, eliminated all standardized requirements (those applying in the 2020–2021 admissions cycle). This strengthens Berkeley's already thorough review procedure even more. The university is seeking applicants who "will contribute to Berkeley's intellectual and cultural community and, ultimately, to the State of California, the nation, and the world," according to the admissions committee.
A candidate's chances can also be significantly increased if they are exceptionally talented in a particular field, whether it be music, science, leadership, or athletics. One recent freshmen class included:
100+ students who had performed at Carnegie Hall.
170 students who had participated in the Science Olympiad
50 Eagle Scouts
50 Girl Scout Gold Award winners
Admission Requirements for Berkeley
The 184 academic departments and programs of Berkeley provide top-notch undergraduate and graduate courses in a variety of fields, including engineering, physics, literature, the social sciences, the visual and performing arts, and more.
Candidates can submit one application to multiple UC campuses, and the entire application process is done online. At AdmissionSight, we examined the key entrance requirements for international students and they are as follows:
All international applicants must have completed secondary school and achieved a grade point average of at least 89 on their senior secondary exams in order to be considered for admission to Berkeley.
Applicants must take either the SAT or ACT to be considered. While the ACT score range is 31 to 35, the winning SAT score range is 1330 to 1530.
Standardized language tests like the TOEFL (with a desired score of 100), IELTS (with a minimum score of 6.5), and DET (with a minimum score of 115) are required for admission for all international students.
All international students must provide proof of their financial resources and supporting documentation for the duration of their degree program. International students must have the financial resources necessary to cover their semester fees, living expenses, travel costs, and return transportation.
A crucial component of the Berkeley application is the personal insight questions, which evaluate the applicant's personality, extracurricular activities, and non-academic achievements.
Berkeley evaluates each applicant holistically, giving both academic and extracurricular achievements equal weight. Consequently, a solid SOP is crucial to the selection process.
Berkeley does not require official transcripts, resumes, or letters of recommendation during the admission process.
They encourage applicants to be open and honest about their academic record and extracurricular achievements. Every piece of information is verified twice, and any discrepancy could result in cancellation.
AdmissionSight advises to be aware of the following if you intend to join the 128,000+ Golden Bear applicants for the upcoming admissions cycle:
Berkeley does not provide any type of in-person or alumni interviews while having a "holistic" application process.
Berkeley does not take into account "demonstrated interest," thus it is not necessary to conduct numerous actions to show that you are a serious and devoted applicant. Even so, it never hurts to get in touch with the admissions office, engage on social media, and (until COVID-19 is resolved) visit campus or meet Berkeley representatives at local college fairs. Even if nothing else, this will still enable you to determine whether the university is the best place for you to call home.
All UC campuses, including UC-Berkeley, are now test-blind.
Make sure to give the Berkeley-required supplemental essays the time and attention they deserve:
Personal Insight Prompts
1.) Describe an example of your leadership experience in which you have positively influenced others, helped resolve disputes or contributed to group efforts over time.
2.) Every person has a creative side, and it can be expressed in many ways: problem-solving, original and innovative thinking, and artistic, to name a few. Describe how you express your creative side.
3.) What would you say is your greatest talent or skill? How have you developed and demonstrated that talent over time?
4.) Describe how you have taken advantage of a significant educational opportunity or worked to overcome an educational barrier you have faced.
5.) Describe the most significant challenge you have faced and the steps you have taken to overcome this challenge. How has this challenge affected your academic achievement?
6.) Think about an academic subject that inspires you. Describe how you have furthered this interest inside and/or outside of the classroom.
7.) What have you done to make your school or your community a better place?
8.) Beyond what has already been shared in your application, what do you believe makes you stand out as a strong candidate for admission to the University of California?
" All questions are equal," and " all are given equal consideration in the application review process," according to the UC-Berkeley admissions committee.
Who is accepted at Berkeley?
Let's examine the demographics of undergraduates at Berkeley:
The majority of Berkeley students were from California:
Californians make up 74% of the population.
China is the top-ranking nation when looking at where international students are from, followed by South Korea, India, Canada, and Indonesia.
The admitted Class of 2025 is divided into the following groups based on ethnicity:
African American: 5.3%
American Indian: 0.5%
White: 20.2%
Asian: 44.7%
Chicano/Latinx: 24.2%
There are noticeably more women than men among all current undergraduates, according to the gender breakdown:
The following people were in the Class of 2025:
Public School Students: 74.1%
From Rural Areas: 5.2%
First-Generation Students: 26.6%
Programs Offered in Berkeley
Knowing the acceptance rate at Berkeley also suggests that you should be aware with the most well-liked course on offer. Berkeley offers a number of well-regarded and popular courses. Among the well-known programs accessible are the following:
Engineering College
Environmental Design College
College of Letters and Science
College of Chemistry
College of Haas School of Business
Should you continue to Berkeley?
It has never been more difficult to get into Berkeley, especially for out-of-state and international students. Even applicants from the same state must have flawless academic records with no more than a few blemishes. Berkeley is a fantastic institution with many incredibly prestigious academic programs that enjoy a worldwide reputation. Of course, between 86 and 89% of applicants will be declined. As a result, every student needs to make sure that they create a list of suitable colleges that includes both "goal" and "safety" schools. You should do this in cooperation with a member of the admissions staff (including your own high school counselor)
At AdmissionSight, we have over 10 years of experience guiding students through the competitive admissions process to get accepted to the top universities in the world. It's not the yield rate or acceptance rate that will get in your way to be admitted to your desired college, but your will to be there. Grab every opportunity you have. Feel free to set up an appointment today to book your initial consultation.