Best Canadian Colleges
Numerous educational institutions are likely the first things that come to mind when asked to name the best places to further one's education. You could consider some of the universities in the United States that are members of the Ivy League, such as Harvard University in Boston or Princeton University in New Jersey. It's possible that you're thinking about some of the most prestigious educational institutions in the United Kingdom, like Cambridge and Oxford, but there are plenty of others as well. It's possible that you haven't given much thought to the best Canadian colleges, but you should.
The north is home to some of the world's best Canadian colleges and universities, including those that educate future world leaders, scientific researchers whose findings shape our understanding of our bodies and our planet, and thinkers who redefine what it means to be human. The academic standards of Canadian universities have traditionally been held to a very high standard, which has helped them earn a strong reputation worldwide.
Universities in Canada consistently rank highly among international schools and institutions around the world, and as a result, they continue to entice the brightest students to enroll in their highly regarded and prestigious degree programs.
Canada, just like every other developed nation, provides its citizens with access to a diverse array of educational opportunities, ranging from intimate liberal arts colleges to prestigious research universities. Nevertheless, in comparison to the United States, Canada is able to provide lower tuition costs, less complicated application procedures, and a greater number of opportunities for permanent residency following graduation.
Because many of Canada's institutions are well-known for fostering a global perspective through recruiting international students and staff and supporting international collaborations, any university in Canada is likely to have a sizeable population of international students and professionals.
What are the Benefits of Studying in Canada?
What Advantages Come with Studying in Canada? It's possible that if you're from the United States or another country than Canada, you're pondering the question of what are the benefits of studying in Canada. After all, doesn't each nation have its fair number of prestigious educational institutions?
If you are a student from the United States or another country outside of the United States, you may be considering attending one of the best Canadian colleges rather than one in the United States.
You Could Save Money
Even if you are not from the United States, it is probable that you are familiar with the high cost of attending university in that country. US News reports that the annual tuition fee at private United States colleges and universities was $38,185 on average for the 2021–22 academic year. The cost of attending an in-state public university was a lot less than the national average: $10,388.
The amount that each province or territory charges for tuition might be very different from one another in Canada. According to Statistics Canada, the standard annual tuition fee for an overseas student attending a school in Canada during the 2021-22 academic year was CA$33,623 (about US$26,644) This figure is still a significant discount in comparison to the typical yearly tuition rate for private universities within the United States; in fact, it is more than $10,000 cheaper.
(It is important to keep in mind that most educational institutions in Canada charge higher tuition fees to students from other countries. According to Statistics Canada, the average cost of tuition for a Canadian student is approximately CA$6,693 (which is equivalent to approximately US$5,304).
So, what does this information signify for you in general? If you are a student in the United States, the best way to save money is to attend a public university that is located in your own state.
If you are forced to choose between a private college in the United States and a university in Canada, choosing the latter will allow you to make significant financial savings.
Note that all of these costs represent merely tuition and fees for the classes. The entire amount that you spend on college, which includes your living expenses, meal plans, and transportation, will vary depending on your personal spending patterns, the type and amount of financial aid that you got, and the location of your school.
You Get to Live in a Different Country
Attending a prestigious educational institution in Canada is a good option for you to consider if you have always had your sights set on relocating to a different country or are genuinely excited about the prospect of living in a different nation.
You will have the opportunity to learn about a new culture (despite how similar Canada and the United States might appear to be to one another, they are still two separate countries!), and you will have the chance to make friends with other students who come from a variety of areas and backgrounds, and you will still be able to obtain an education of the highest caliber.
When compared to other countries, the quality of life in Canada is consistently ranked near the top, and the country is famous for its many unique villages and warm, friendly people. If you're sick of the frenetic pace of life in the United States, Canada might be an interesting (although very chilly!) area for you to consider moving to.
Additionally, the nation is gaining a larger and larger following among students from other countries. The University of Toronto saw an increase of 20% in applications from students residing outside of Canada between the years 2016 and 2017, while the application pool at McMaster University saw an even more spectacular growth of 33% during the same time period.
The admission process is less difficult and more straightforward
The best Canadian colleges and universities often do not publicize their acceptance rates because they are not really predictive of anything, in contrast to institutions in the United States, which take great satisfaction in the low admittance rates they maintain. This is what I mean when I say that the admissions criteria of a Canadian school don't truly convey very much if anything at all that is significant.
Because the majority of colleges in Canada have considerably higher acceptance rates than institutions in the United States, knowing the admissions percentage of a school is not going to provide you with any meaningful information about that institution.
In connection with this, it is important to note that universities in Canada typically have a significantly larger number of students than universities in the United States do, typically more than 30,000 at top schools and more than 72,000 at the University of Toronto, which is the largest institution in Canada. Given the large number of students who apply to universities in Canada each year, it stands to reason that the acceptance rates at these institutions are not extremely competitive.
In contrast to universities in the United States, admission to a university in Canada does not need you to provide any scores from standardized tests, which is a significant advantage.
The reason for this is that Canadian schools place a significant emphasis on your grade point average overall. You may kiss the SAT and ACT goodbye then! (If you really despise standardized testing, another alternative is to apply to institutions in the United States that do not require students to take the test.)
There's Less Emphasis on Dorm Living and Greek Life
In contrast to universities in the United States, which frequently place a great deal of emphasis on living with other students in dorms and participating in sororities and fraternities, universities in Canada typically do not place as much of a priority on any of these characteristics.
After the first year of attendance at the majority of universities in Canada, students are required to obtain off-campus housing, such as apartments or houses, and relocate to a new location. This is in contrast to the situation at many colleges in the United States, which typically require or strongly urge that students continue to live on campus even after they have completed their first year of college.
In this regard, Canada places a greater premium than the United States does on leading an independent lifestyle.
In the same vein, Greek life is significantly less common in Canada than it is in the United States. Even while there are some sororities and fraternities in Canada, there are nowhere like as many as there are in the United States, and the ones that are there are often much smaller.
So, what should we take away from this? If you want to have more control over where you live and you're not a big fan of the Greek system, a university in Canada might be a better option for you than a university in the United States.
It's Possible That Canada has the Program of Your Dreams
It's possible that the university or college in Canada is the only one in the world that offers the course of study that you have always imagined yourself taking.
What are the Best Canadian Colleges?
So, what are the best Canadian colleges? Even though we will most likely rank certain colleges higher than others, the reality is that any one of these institutions would be an outstanding choice for you to pursue your academic goals.
Every university that can be found on this list is a member of the U15, which is Canada's association of the country's most prestigious and research-focused educational institutions. They each have a history of producing successful graduates, high research spending, and a faculty that is highly regarded.
These educational institutions, the best Canadian colleges, may not have the same level of brand recognition as Harvard or Yale or Oxford, or Cambridge, but the education they provide is every bit as rigorous and amazing as anything you would receive at one of the more prestigious universities.
University of Toronto
The University of Toronto is a public research university that has been recognized as the best in the world by US News, Times Higher Education, and the CWUR. It has a total enrollment of 72,000 students, the vast majority of whom are undergraduates (68,000).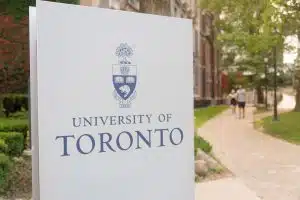 Students have access to more than 700 undergraduate programs and more than 200 graduate programs, and the academic departments they can pick from include everything from engineering and law to information and public health, as well as the arts and sciences. The University of Toronto consists of three campuses, all of which are located within the Greater Toronto Area. Each campus offers a unique set of academic programs.
University of British Columbia
Moving on to the top two, the University of British Columbia currently holds the third position in Canada and the 45th position in the globe, having climbed six places since last year. The University of British Columbia, which seeks to welcome innovation and question the existing quo, is now ranked 28th in the world for the indicator measuring academic reputation.
McGill University
Although it moved up four spots in the rankings to tie for 31st place, McGill University in Montreal has maintained its position as the top university in Canada for the current academic year. Justin Trudeau, the current Prime Minister of Canada, is among the distinguished alumni of McGill University. The university's alumni also include 12 Nobel Laureates and 145 Rhodes Scholars.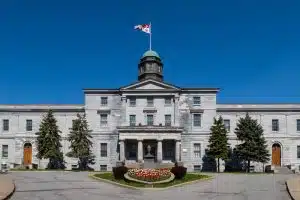 University of Alberta
The University of Alberta has four campuses with a total enrollment of 40,000 students across the province of Alberta. It receives the greatest score possible in the indicator measuring the international faculty.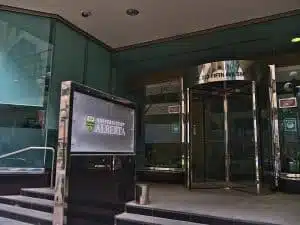 McMaster University
In the overall rankings of universities around the world, McMaster University is ranked 144th. The indicator for international professors at McMaster University awards the university its highest ranking, coming in at number 83 in the world. The university's medical school has earned it a reputation as one of the most prominent in the country and is located in Hamilton, Ontario.
Université de Montreal
The Université de Montréal is a public research university in Montreal that uses French as its primary language of instruction. The university was established in 1878 and currently enrolls about 67,350 students, including 10,000 students from other countries.
University of Calgary
More than 27,000 students, including 5,000 students from other countries, are currently enrolled at the University of Calgary, which is recognized as one of the leading research-intensive schools in all of Canada. There are four campuses in the city of Calgary, and one school is located outside of the country in Qatar.
University of Waterloo
The University of Waterloo was established in 1957, but it has quickly become famous for its pioneering spirit. There are now 32,000 students enrolled at the institution, and nearly 6,000 of them are from other countries. The campus is located in Waterloo, close to the border between Canada and the United States.
University of Ottawa
The University of Ottawa is the largest bilingual (English and French) institution of higher education in the world, and it can be found right in the middle of the Canadian capital city of Ottawa.
It has ten faculties, including social sciences, medicine, education, arts, and the largest law school in Canada, and it has a total enrollment of 35,000 students. This institution offers students access to more than 450 distinct academic programs.
Western University (University of Western Ontario)
Western University is a prestigious educational establishment in Canada that was founded in 1878. The university currently enrolls over 5,000 graduate students and about 25,000 undergraduates, of which 5,000 are students from outside of Canada.
There are eleven different academic departments to choose from here, but the ones with the most undergraduate students are social science (6,500) and science (5,100 undergrads).
Is a Canadian University for you?
Do you belong to a Canadian university? Canada maintains its position as one of the top countries in the world, and it now holds the number one spot for the finest country in terms of quality of life. If you choose to pursue further education in Canada, you will have the opportunity to learn from some of the most renowned teachers and researchers from around the globe.
What are the advantages of studying in one of the best Canadian colleges for students who are not Canadian citizens? Many! Your experience will be one that will shape your life, regardless of whether you choose to study in one of our great cities that is bustling with activity or settle on a small campus in a town that is friendly and accepting.
It is possible that doing so will result in a profession and a future in Canada, or it may result in improved career opportunities at home. At the very least, it will grant you access to our amazing quality of life, which includes our four stunning seasons, vast open spaces, an abundance of wildlife, cultural diversity, a clean environment, and a multicultural melting pot.
Want to learn more about some of the best Canadian colleges? You've come to the right place. At AdmissionSight, we have over 10 years of experience guiding students through the competitive admissions process.
AdmissionSight can help you put your best foot forward when applying to college this fall. Contact us today for more information on our services.