Best Classes at Caltech
When it comes to top-tier education, there's no doubt that Caltech stands out as one of the most prestigious institutions in the world, and if you're a student looking for the best classes at Caltech, then you're in for a real treat.
What sets Caltech's best classes apart is the sheer level of expertise and passion that the professors bring to their teaching.
With a focus on hands-on, interdisciplinary learning, these classes go beyond traditional lectures and textbooks. Instead, they offer students the chance to collaborate on cutting-edge research and work on real-world projects.
From courses in advanced Mathematics and Physics to those in Biology, Chemistry, and Engineering, Caltech's best classes offer students the chance to push the boundaries of what is possible and truly make a difference in their field.
Whether you're an undergraduate or graduate student, you're sure to find the perfect class to help you achieve your academic goals and inspire you to pursue your passions.
What are the best classes to take at Caltech?
What are some of the most beneficial courses offered at Caltech? This university, which is consistently ranked among the top ten universities in the world, is particularly well-known for its academic programs' excellence in Mathematics and Science.
Although this institution certainly has a strong reputation for academic excellence, it also offers a wide variety of interesting and straightforward courses.
If you feel like you need a vacation from the overwhelming amount of schoolwork that comes with attending this incredible university, or if you just want to increase your GPA, here are the best subjects offered at the California Institute of Technology.
PE 70 – Weight training, beginning/intermediate
This is a great session when you need a break from the demanding schedule of other classes. It teaches you the right technique while emphasizing the significance of strength training. You will not only get an understanding of the principles, but you will also put that knowledge into practice!
Art 70 – Traditions of Japanese Art
This is a fantastic class for you if you want a break from all the Science and Math you have been doing lately. In this section, you will concentrate on the culture associated with Japanese art and the abilities of critical thinking that are required to evaluate these masterpieces.
Art 169 – Arts of Dynastic China
As one of the best classes at Caltech, this comprises two-dimensional works, such as paintings and drawings, and three-dimensional works, like architecture and calligraphy.
This really simple and entertaining lesson serves as a welcome diversion from the more challenging Science and Mathematics courses.
Ay 21 – Galaxies and Cosmology
Learning about the world may be fun when you enroll in this program. This course will discuss various themes, including the cosmos, dark matter, and dark energy, among other things.
Although the subject matter of this class is Science, there are still many interesting things you may find out from taking it.
Ay 101 – Physics of Stars
This is another fun class that takes place in space. How often have you found yourself gazing up into the night sky and wondering what the bright lights in the sky are composed of?
In this class, you will discover everything there is to know about stars, making learning an experience out of this world.
Ay 143 – Reading and Independent Study
When choosing how to spend your time, this class gives you complete autonomy. You cannot enroll in this class without first receiving the instructor's permission; nevertheless, you have complete freedom in determining how you will spend your time and what activities you will participate in.
This provides a welcome reprieve from the normally strenuous academic agenda.
Bi 115 – Attack and Repulsion: Viruses and their Hosts
Although some individuals might find this lesson revolting, it's a really interesting one to participate in. It focuses on the process by which viruses gain control of the cells of their hosts and cause illness and disease.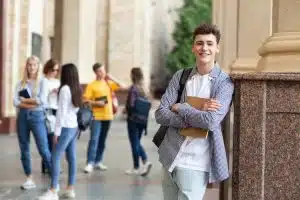 EST 2 – Energy and Society
This is an interesting lesson that discusses the many energy sources used in modern civilization. Not only is it incredibly entertaining, but it can also be applied to real-world situations. You will learn about several energy sources and how they function in your daily life.
Hum/En 22 – Inequality
Another course that provides a much-needed diversion from the rigorous coursework in Mathematics and Physics for which this institution is famous will take a comprehensive look at the inequity in our modern society.
En 102 – Origins of Science Fiction
As one of the best classes at Caltech, this amazing lecture explains the roots of science fiction and where it came from in the first place. It traces a path through history that highlights certain political and social environments crucial to the development of Science fiction at various points in time.
These are just some of the many fun and straightforward lessons that Caltech has to offer.
These courses are perfect for you if you are considering attending this institution or simply need to fulfill a requirement for a few simple lessons. You'll be able to have more fun learning while improving your GPA.
How do Caltech's Unique Classes Prepare Students for the Future?
Caltech, renowned as one of the world's leading institutions for science and engineering, has a reputation not just for rigorous academics but also for its unique classes. These classes, which stand apart from the conventional curriculum found at other universities, are instrumental in equipping Caltech students for future challenges.
Let's delve into how these classes play a pivotal role in shaping a student's future.
Interdisciplinary Approach:
One of the cornerstones of Caltech's pedagogical approach is its emphasis on interdisciplinary learning. Unlike traditional courses that focus on a single domain, Caltech's classes often blend principles from various disciplines.
This approach prepares students for a world where problems are multifaceted and can't be solved with knowledge from a single domain. By thinking across disciplines, students are better equipped to tackle real-world problems, ranging from climate change to quantum computing challenges.
Research-Centric Curriculum:
Caltech's unique classes often incorporate research components, even at the undergraduate level. This not only familiarizes students with the latest advancements in their field but also fosters a mindset of inquiry and innovation.
As the future will be driven by breakthroughs and discoveries, having a research-centric approach ensures that students are not mere consumers of knowledge but also its creators.
Hands-on Learning:
Beyond lectures and textbooks, Caltech emphasizes experiential learning. Be it lab experiments, fieldwork, or project-based assignments, students are encouraged to 'learn by doing.'
This prepares them for industries where practical skills and the ability to implement theoretical knowledge are indispensable.
Collaborative Learning Environment:
Many of Caltech's classes are designed to be collaborative. By working on team projects, participating in group discussions, and jointly solving complex problems, students develop teamwork and communication skills.
In a future where collaboration across borders and disciplines will be the norm, these skills are invaluable.
Ethics and Responsibility:
While Caltech is a STEM-focused institution, it doesn't shy away from introducing students to the ethical dimensions of science and technology. Unique classes that blend technology with humanities ensure that students are not just technically sound but also ethically conscious.
As we stand at the cusp of the Fourth Industrial Revolution with technologies like AI and biotech reshaping our world, having an ethical grounding is crucial.
Adapting to Rapid Changes:
The world is evolving at a breakneck speed. Caltech's unique classes, often updated to reflect the latest in science and technology, ensure that students are always abreast of current trends. By being exposed to the cutting edge of technology and science, students are better prepared for a future that will be defined by rapid changes.
Are classes at Caltech hard?
Are the courses at Caltech challenging? The courses at Caltech do have a reputation for being among the most difficult in the country. The academic program at Caltech is intended to be rigorous and difficult, with a strong focus on mathematical and scientific principles and engineering practices.
This entails the expectation that students will put in significant effort and be totally devoted to their coursework at all times.
In addition, the core curriculum is one of the pillars supporting Caltech's academic structure.
The core curriculum consists of the following: three-quarters of Math and Physics, two-quarters of Chemistry, one-quarter of Biology, two lab courses, one course in another field of Science, one course in Scientific Communication, three courses in Physical Education, and 12 courses in the Humanities and Social Sciences (HSS).
Students at Caltech typically enroll in four or five classes during each academic quarter.
This allows them to complete the majority of the required Science, Technology, Engineering, and Mathematics (STEM) coursework during their first year at the institute and then fill in the remaining credits with major-specific coursework during the subsequent years of their Caltech education.
Although it may appear contradictory that undergraduates at a university with an emphasis on STEM are required to take an average of one HSS course per term, these programs aim to ensure that students can effectively convey the results of their scientific work.
There is still enough time for students to take additional subjects and the best classes at Caltech within their degrees, despite the enormous number of core courses they are required to attend.
Students are not limited in any way by the core curriculum; rather, it lays the groundwork for them to succeed in later subjects and allows them to get acclimated to the organizational framework of Caltech.
It also provides benefits unrelated to academics—for example, first-year students often create study groups for required courses that later develop into social circles.
The majority of scientific research is carried out in collaboration with other people. As a result, collaboration is a common component of practically every class.
The honor system that is used at Caltech ensures that this collaboration stays within appropriate parameters and does not cross the line into instances of copying or plagiarism.
Yet, despite the difficulty of the coursework, students at Caltech often have a strong enthusiasm for their chosen fields of study and are extremely motivated to succeed in their academic endeavors.
Students frequently call on the assistance of their classmates, teachers, and other academic resources to assist them in navigating the hurdles presented by the courses they are required to complete.
In light of this, it is important to note that although the coursework at Caltech is unquestionably challenging, many students report that they feel that the experience was well worth the effort and that it adequately prepared them for their future academic and professional endeavors.
What is Caltech known for academically?
What is it that Caltech is most well-known for in the academic world? The institution provides 28 different majors to its students, the most popular of which is Computer Science. Other majors include Bioengineering, Astrophysics, Geobiology, Materials Science, and Mathematics.
Students can major in subjects like English, History, and Political Science in addition to STEM subjects. Nonetheless, HSS programs frequently employ a scientific perspective in their instruction.
These programs allow students to conduct research projects with the assistance of both faculty and graduate mentors.
Caltech works closely with several different institutions on various opportunities and activities. For instance, during the autumn semester, the school collaborates with the University of Chicago to host a student exchange program.
A substantial study abroad program is also available to students at Caltech. Students have the option of applying to study at the following institutions during their junior or senior year:
École Polytechnique (EPT) in Palaiseau, France
University of Cambridge in Cambridge, England
University College London (UCL) in London, England
University of Copenhagen (UCPH) or Danish Technical University (DTU) in Copenhagen, Denmark
University of Edinburgh in Edinburgh, Scotland
University of Melbourne in Melbourne, Australia
In conclusion, Caltech is an institution that truly values intellectual curiosity, innovation, and pushing the boundaries of what is possible.
Caltech's best classes offer students the chance to engage in rigorous academic work, learn from leading experts in their fields, and make meaningful contributions to research and development.
Moreover, the unique and collaborative approach to teaching and learning at Caltech ensures that students are not only well-prepared for the demands of their field but also equipped with the skills and knowledge necessary to tackle the challenges of the future.
If you're a student who is passionate about Science, Technology, Engineering, or Mathematics and is looking for an educational experience that is both challenging and rewarding, then Caltech should definitely be at the top of your list.
By enrolling in the best classes at Caltech, you'll join a community of scholars committed to pushing the boundaries of human knowledge and making a real difference in the world. So why not take the first step today and explore the many opportunities that Caltech has to offer?
If you are considering attending the California Institute of Technology and exploring its exceptional classes, booking an initial consultation with AdmissionSight is a smart step.
Our admissions experts can guide you in selecting the best Caltech classes and creating an academic plan that aligns with your interests and goals.
Don't hesitate to book your initial consultation today and take the first step toward achieving your dreams!