Best Universities For Political Science In The World
What is a political science major?
A major in political science is a social science degree path that requires students to study government in theory and practice. Majors will study political theory, international relations, comparative politics, and other topics. Students should be able to understand political issues and theories and be able to confidently approach research questions as they study at the best universities for political science.
A political science major will investigate the nature of power and governments while developing analytical, research, and other skills. Students interested in current events and enjoy debate may be interested in the major. A degree in political science will prepare you to understand the forces that shape political processes.
Following graduation, options include doctoral programs and graduate or professional studies in law, international relations, medicine, and other fields. Students majoring in political science may earn class credit for internships in campaign offices, law firms, nongovernmental organizations, and other settings.
What political science major jobs can one do?
Paralegal or legal assistant
A Legal Assistant assists lawyers by organizing files, researching, and drafting legal documents for cases. As a result, your job duties include investigating statements, gathering information, and compiling data. Although an Associate's degree in political science is sufficient, a bachelor's degree will raise your profile in this field. The average salary in this job for political science majors is around $50,000, but more than 10% earn nearly $85,000.
Policy Analyst
A policy analyst investigates current and potential policies to propose solutions to social issues. You will conduct research, monitor trends, and draft policies based on the severity of the problem. You will also impact local, state, and national regulations. To get this job, you should have a bachelor's degree in political science, public policy, or public administration.
Public Relations Manager
As a public relations manager, you will be in charge of coordinating all public-facing activities as well as strategizing marketing and media communication strategies. Your communication skills are essential for success in this field! Although a degree in political science is advanced for this job role, it makes you a desirable candidate for advancement in this field.
Diplomat
One of the most lucrative jobs is that of a diplomat, and it is an excellent example of what you can do as a graduate of one of the best universities for political science. Diplomatic deals in international policies will be your specialty as a diplomat. Your specific job responsibilities include writing and proofreading written reports and guidelines. You will also work with high commissions and embassies to ensure the smooth operation of ministerial and diplomatic operations.
Development Officer
A development officer develops fundraising strategies and oversees all revenue-handling activities. To keep the analysis running, you will also analyze all contract procedures and implement an effective recruitment plan. You will conduct regular research on both public and private companies.
What are the world's best political science schools?
Harvard University, United States
Degrees Offered: Bachelor's, Ph.D.
Harvard University is a well-known name in academia, and its alumni are just as well-known as the school. Former Harvard students such as John F. Kennedy, Theodore Roosevelt, and Barack Obama are not afraid to win prestigious awards such as the Nobel Peace Prize, which should tell you everything you need to know about university.
Because of its prominence, it is very selective in accepting applicants. With Harvard being a top institution for political science, the 4.6% acceptance rate keeps aspiring students on edge during decision day, with many backup schools ready.
Harvard is no joke; if you think the challenge ends once you've been admitted, you're mistaken. It will only get more difficult as you come into contact with geniuses and academic scholars at the same or even higher level than you. After all, those who choose Harvard to learn and grow will be students and leaders in global change.
Sciences Po, France
Degrees offered: Bachelor's, Ph.D.
As one of the best universities for political science, Sciences Po admitted 46% of its students from abroad during their 2019 admission program, making it one of the most diverse schools on this list. Furthermore, it has a transfer program with Harvard and around 80 other schools in the United States, so it is recognized even in Western society.
It provides a wide range of intriguing dual degrees, such as a degree in social sciences and political science partnered with another school. Aside from that, they have language courses that provide many opportunities for their aspiring students, particularly if those students are multi-talented. They will undoubtedly find a suitable dual degree with a language course at Sciences Po.
The London School of Economics and Political Science, United Kingdom
Degrees offered: Bachelor's, Master's, Ph.D.
LSE is a very inclusive school; they have initiatives for race equity and partnerships worldwide to provide opportunities and education to diverse people. Their staff is equally diverse, hailing from various cultures and backgrounds; LSE truly provides a melting pot of cultures and customs.
The school mostly focuses on social sciences, with many of their projects including issues such as shaping social contracts for the improvement of collective welfare and a global hub called 'Firoz Lalji Global Hub.' As a result, students primarily study broad Political Science not only from the standpoint of the law but also from the standpoint of society and the collective minds within, making LSE one of the best political science schools in the world.
University of Oxford, United Kingdom
Degrees offered: Bachelor's, Master's, Ph.D.
While Oxford is a prestigious school with a stellar reputation, its students never forget to have fun. With a 'Do what you love' section on their website, they are already promoting their students' individuality and self-interest. It has over 400 clubs and societies, ensuring that you can find a match regardless of how unique your interest is.
Academically, it is still quite competitive due to its consistently high ranking in the Times Higher Education, which it has held for the past five years. It's no surprise that the University of Oxford is regarded as one of the best universities for political science. Furthermore, international students make up 45% of the total student body, which is very inclusive for a school, especially given its 17.5% acceptance rate.
Princeton University, United States
Degrees offered: Bachelor's, Ph.D.
Princeton University places a high value on research, with multiple sections on their website leading to a research-based program, including an Interdisciplinary Approach in which students work is proudly displayed and the schools with which they collaborate. Princeton is looking for innovative and curious minds who have the potential to be showcased in one of their sections someday and be well-known worldwide.
In a sense, Princeton expects its students to lay down their services to mankind, with their informal motto being "Princeton in the nation's service and the service of humanity." This is evident in their various awards, most of which are Nobel Prizes. The essence is that it believes people can help society through various fields such as science, making it a fitting award for a Princeton student/alum.
University of Cambridge, United Kingdom
Degrees offered: Bachelor's
The University of Cambridge is heavy on science and research, with cancer treatment being their leading university news; it is truly a center of innovation and biological progression. Aside from that, the University of Cambridge is one of the best universities for political science in the world. It thrives on social progress, with one of its core values being discrimination-free thought and expression. Not only is it medically and technologically advanced, but it is also one of the incubators of new ideas.
A 21% acceptance rate for a prestigious school like Cambridge appears to be quite good. A 21% scholarship is certainly generous for a highly regarded university. Furthermore, a combination of 89% employment and higher education rates is quite good for a university, implying that 89% of their population has either gotten a job or pursued a higher education within 15 months of graduation.
Stanford University, United States
Degrees offered: Bachelor's, Master's, Ph.D.
When it comes to Political Science, Stanford takes a very broad approach. It provides a well-balanced mix of quantitative and qualitative methods for teaching political science nationally and internationally. The breadth of it makes graduating students jack-of-all-trades who can tackle the fundamentals of any part of the subject, which is valuable to those who want to specialize in multiple areas.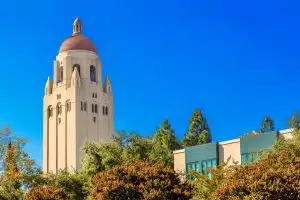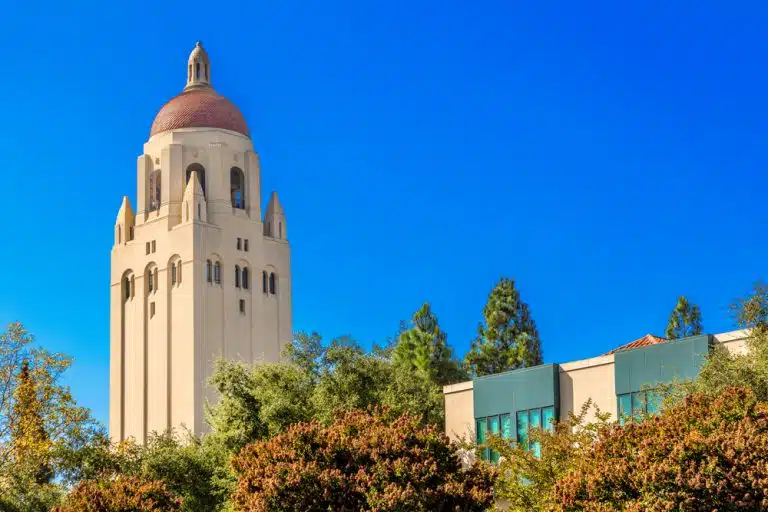 As one of the best universities for political science, Stanford has many Inclusion programs that offer opportunities to people from various backgrounds, such as its 'Minority Student Recruitment Program.'
Now that you know where to study political science, the next thing you should think about is your college admissions. To ensure that you get into the college you want, you can get help with AdmissionSight. With ten years of experience with college admission experts, Admissionsight can help you get into the college of your choice. You can talk to our experts today to get an initial consultation.