Boston University's Ranking 2023: A Comprehensive Overview
In the realm of higher education, rankings provide crucial insight into the quality of institutions. Among those that consistently stand out is Boston University. Boston University's ranking, reflecting its commitment to academic excellence, diverse program offerings, and robust student life, plays a pivotal role in showcasing the institution's prestige. As an indicator of quality and performance, this ranking helps prospective students gauge the opportunities awaiting them at this esteemed university.
As we delve into the nuances of Boston University's ranking, we uncover a narrative of consistent excellence and growth. This ranking, a testament to the university's dedication to its students and its mission, spans various disciplines and parameters.
Whether you're interested in the sciences, arts, or business, Boston University's ranking offers a clear indicator of the top-tier education and enriching experiences that the institution provides. This analysis will explore the factors that contribute to these rankings, providing a comprehensive overview of what makes Boston University a standout institution in the global academic landscape.
Boston University: An Overview
Boston University, affectionately known as BU by its students, is a private research institution located in the heart of Boston, Massachusetts. Founded in 1839, the university has grown into a leading institution of higher education in the United States. It boasts a vibrant and diverse community of 36,729 students and more than 10,000 faculty and staff, spread across three campuses.
BU offers a wide array of undergraduate, graduate, and professional degree programs across 17 schools and colleges. The university is renowned for its robust research output, interdisciplinary approach, and commitment to innovation. Its academic strengths span a range of fields, including Business, Engineering, International Relations, and Performing Arts, among many others.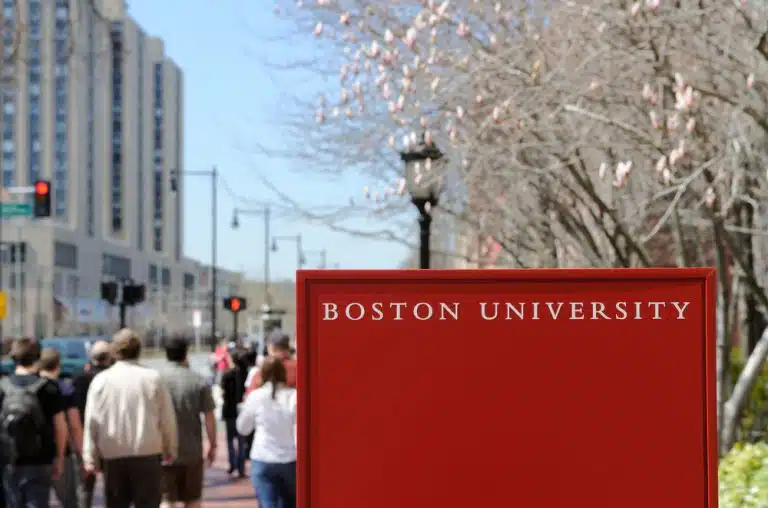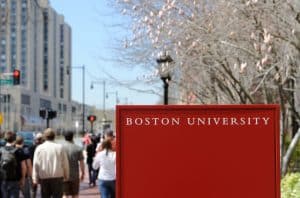 The university's urban location provides students with a wealth of opportunities for cultural enrichment, internships, and research partnerships. BU's campus stretches along the scenic Charles River, integrating the energy and culture of the city with the charm and convenience of a traditional college campus.
BU is also home to diverse student life, with hundreds of student clubs and organizations, a lively arts scene, and competitive athletics. The university competes in NCAA Division I sports, with the BU Terriers participating in a wide range of sports, including hockey, basketball, and soccer.
Boston University is a member of the prestigious Association of American Universities (AAU), a consortium of the top research universities in North America. It is also one of Boston's largest employers, contributing significantly to the local economy.
With its stellar academic offerings, vibrant campus life, and commitment to making a positive impact on society, Boston University stands as an institution that cultivates growth, fosters intellectual curiosity, and prepares students for success in their chosen fields.
What is the Ranking of Boston University?
What is the ranking of Boston University? Boston University, known for its comprehensive and robust academic offerings, indeed holds a notable position in university rankings at both the national and international levels. This prestigious private institution, founded in 1839, demonstrates its commitment to excellence through a broad spectrum of over 300 study programs, enriching its diverse community of students.
Several well-respected ranking agencies consistently recognize Boston University's commitment to quality education. These rankings change yearly and are updated by several organizations like U.S. News & World Report, Times Higher Education, QS World University Rankings, and more. These rankings depend on numerous factors such as student-to-faculty ratio, graduation rate, financial resources, academic reputation, faculty resources, student satisfaction, and others.
U.S. News & World Report
According to the U.S. News & World Report, Boston University is ranked #41 in the National Universities category for the 2022-2023 edition of Best Colleges​​. This ranking is an indicator of the university's commitment to providing high-quality education, and it's based on a variety of factors including academic reputation, faculty resources, student retention, financial resources, student excellence, and alumni giving.
The academic reputation is assessed through surveys of higher education peers, including presidents, provosts, and deans of admissions. Faculty resources evaluate aspects like class size, faculty salary, faculty degree level, student-faculty ratio, and proportion of full-time faculty.
Student retention rates and graduation rates also contribute significantly to the rankings, reflecting the university's success in keeping students engaged and helping them progress towards their degree.
Financial resources indicate the university's investment in instruction and student services, while student excellence looks at the academic profile of admitted students. Lastly, the alumni giving rate can serve as an indicator of student satisfaction and the effectiveness of the university's education.
Times Higher Education World University Rankings
The Times Higher Education World University Rankings is an annual publication of university rankings by Times Higher Education (THE) magazine. The ranking is one of the most reputable and recognized in the world, along with the QS World University Rankings and the Academic Ranking of World Universities.
As of 2023, Boston University is ranked 71st in the Times Higher Education World University Rankings, 42nd in the US College Rankings, and falls within the 101-125th range in the World Reputation Rankings​​.
The THE World University Rankings are compiled with the following methodology:
Teaching (30% of the overall score): This looks at the learning environment.
Research (30%): This considers the university's reputation for research excellence among its peers, its research income, and its research productivity.
Citations (30%): This measures research influence by capturing the number of times a university's published work is cited by scholars globally.
International Outlook (7.5%): This looks at both diversity on campus and how much the university's published work is co-authored with international scholars.
Industry Income (2.5%): This measures how much research income an institution earns from industry (adjusted for purchasing power parity), scaled against the number of academic staff it employs.
The ranking process considers these components to create a comprehensive profile of each university, allowing prospective students, academics, and university administrators to compare universities both regionally and globally.
QS World University Rankings
The QS World University Rankings is a widely recognized annual ranking of universities produced by Quacquarelli Symonds (QS). It is one of the most reliable and prestigious university ranking systems, alongside the Times Higher Education World University Rankings and the U.S. News & World Report.
As of 2023, Boston University is ranked 108th in the QS World University Rankings. QS uses a different set of criteria from the Times Higher Education rankings. The QS ranking is based on the following:
Academic reputation (40%): Based on a global survey of academics.
Employer reputation (10%): Based on a survey of employers worldwide who are asked to identify the universities they perceive to be producing the best graduates.
Faculty/Student ratio (20%): A measure of the teaching quality.
Citations per faculty (20%): A measure of the research output.
International faculty ratio (5%) and International student ratio (5%): These two factors are used to assess the international diversity of the university.
It's important to understand that rankings only offer a general perspective. They serve as one piece of the puzzle when selecting a university. Each student has unique needs, priorities, and ambitions. Some might be looking for a strong program in their field of interest, others might place importance on factors such as student culture, location, extracurricular opportunities, or faculty credentials.
Boston University's appeal extends beyond rankings, known for its dynamic campus life, diverse student body, and its location in a culturally rich and vibrant city. The university promotes hands-on learning experiences through research opportunities and internships, facilitated by a faculty composed of leaders and pioneers in their respective fields.
Why Do College Rankings Matter?
Why do college rankings matter? College rankings can be particularly important for institutions like Boston University for several reasons:
Attracting students: Rankings can significantly influence prospective students' choices. High-ranking universities are perceived as offering a high quality of education, leading to better job prospects and potential for future success. If Boston University is ranked highly, it may attract more applications, leading to a more competitive and diverse student body.
Attracting faculty and staff: Just as students are attracted to highly ranked institutions, so too are faculty and staff. Top professors and researchers want to work at prestigious institutions where their work will be supported and recognized. Higher rankings can help Boston University attract and retain these individuals.
Funding opportunities: Often, rankings can affect a university's ability to secure funding. Public funding bodies, private donors, and corporate sponsors may be more inclined to invest in a higher-ranked institution. This funding can support research, scholarships, infrastructure, and other essential elements of the university.
Reputation: College rankings contribute to an institution's reputation. A high-ranking university like Boston University may be perceived as more prestigious, leading to increased visibility and respect in the academic and professional world.
Alumni pride and engagement: Alumni often feel a sense of pride in their alma mater's high ranking. This can lead to more active engagement, including financial donations, participation in alumni events, and advocacy for the university in their personal and professional networks.
Benchmarking and Improvement: Rankings provide universities with a benchmark to compare themselves against other institutions. They can show areas of strength and weakness, helping universities like Boston University identify where they can make improvements.
However, it's also important to note that rankings are just one measure of a university's quality. They often rely on a specific set of criteria, which may not capture all aspects of an institution's strengths and weaknesses. For instance, rankings may not fully reflect the quality of teaching, the value of the student experience, or the impact of the university's research.
What is the Benefit of Boston University's Ranking in College Application?
What is the benefit of Boston University's ranking in college application? Boston University's strong ranking across various domains is commendable.
However, Boston University's ranking can have a significant impact on college applications, both for the university itself and for prospective students. Here are a few key ways how:
Student Attraction: A high ranking can be a key factor in attracting prospective students. When students see that Boston University is ranked highly, they might be more inclined to apply. This is because they perceive the institution as offering a high quality of education and a rich campus life, both of which can significantly enhance their college experience.
Selectivity and Competition: A high ranking often correlates with a higher level of selectivity in admissions. This means that Boston University might receive more applications than it has spots available, allowing it to be selective and accept only top-performing students. This can further enhance the university's reputation and ranking.
Financial Aid and Scholarships: A high ranking can also lead to more resources for financial aid and scholarships. These resources can make Boston University more accessible to a wider range of students, particularly those who might not be able to afford tuition without assistance. This can result in a more diverse and inclusive student body.
Career Opportunities: Employers often pay attention to university rankings when hiring. If Boston University is ranked highly, its graduates might be more likely to land good jobs in their chosen fields. Therefore, the promise of better career opportunities after graduation can attract more students to apply to Boston University.
Networking and Alumni Relations: Boston University's ranking can contribute to a strong alumni network, as graduates often feel a sense of pride and loyalty toward their alma mater. This network can provide students with valuable connections and opportunities, both during their time at the university and after graduation.
Increased Visibility: High rankings often come with increased media coverage and visibility. This can help Boston University attract a broader range of applicants, including international students who might not have previously been aware of the university.
Quality of Student Peers: A high-ranking university like Boston University tends to attract high-achieving students. For incoming students, this means the opportunity to be surrounded by motivated, ambitious peers. This can enhance their own academic performance and provide opportunities for collaboration and learning outside the classroom.
While rankings can provide a helpful guide, it's important for students to consider a wide range of factors when choosing a university. These might include the availability of specific programs or majors, the culture and community of the campus, location, size, and other personal preferences.
To get an accurate view of a university like Boston University, it would be beneficial to consider a wide range of information, including student satisfaction surveys, graduate outcomes data, research impact scores, and more, in addition to college rankings.
It's also beneficial for prospective students to visit the campus, speak with current students and faculty, and get a firsthand feel for the university's culture and community. After all, the goal is to find a university where they will thrive academically, personally, and professionally.
The Bottom Line
Boston University's ranking reflects its commitment to academic excellence, research prowess, and graduate employability. Beyond these traditional measures, BU's vibrant student life and commitment to diversity further enhance its reputation. However, while rankings are a useful guide, they do not tell the full story of a university. Prospective students should consider a host of factors when choosing an institution to ensure it aligns with their personal and academic aspirations.
Ultimately, Boston University's ranking is a testament to its relentless pursuit of excellence in education, research, and societal impact. Its commitment to nurturing intellectual growth, innovation, and a diverse community shapes its position as a global leader among universities. As BU continues its trajectory, it continues to redefine excellence in higher education and redefine what it means to be a leading university in the 21st century.
Want to learn more about your chances of getting into Boston University? You've come to the right place. At AdmissionSight, we have over 10 years of experience guiding students through the competitive admissions process.
AdmissionSight can help you put your best foot forward when applying to college this fall. Contact us today for more information on our services.