Brandeis vs Cornell: Which One is for You?
When it comes to choosing the right university, you want to ensure that it provides the best education and experience possible. This article will compare two prestigious institutions, Brandeis University vs Cornell University. By examining aspects such as academics, student life, admissions, and campus facilities, you'll be better equipped to make an informed decision about your future education.
Location: How Location Plays a Role in Choosing Between Brandeis and Cornell
Brandeis University is located in Waltham, Massachusetts, a few miles west of Boston. This means that students have all the amenities of a big city, such as cultural events, museums, and shopping, while enjoying a suburban campus setting. Cornell University, on the other hand, is situated in Ithaca, New York, a small town in the Finger Lakes region. While Cornell's location means that students are immersed in a tight-knit community, it can also be more challenging to access certain resources and amenities. Ultimately, the decision between Brandeis and Cornell based on location comes down to the lifestyle that you seek.
Another factor to consider when comparing the locations of Brandeis and Cornell is the climate. Waltham, Massachusetts experiences all four seasons, with cold winters and warm summers. In contrast, Ithaca, New York has a more temperate climate, with mild summers and snowy winters. This may be an important consideration for students who have a preference for certain weather conditions. Additionally, the proximity to outdoor recreational activities may also be a factor to consider, as Waltham is located near the ocean and mountains, while Ithaca is surrounded by lakes and forests.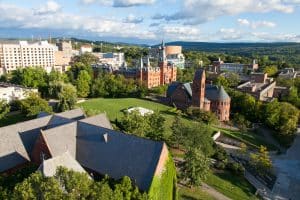 Brandeis vs Cornell: Academics
Both Brandeis and Cornell are known for their rigorous academic programs. Brandeis is particularly well-regarded for its humanities and social sciences departments, as well as its strong pre-med program. Cornell, meanwhile, has a wide range of departments, from agriculture to engineering to hotel administration. Both universities offer a variety of majors and minors, so picking the right one for you depends on your own academic interests and goals.
It's worth noting that both Brandeis and Cornell have a strong emphasis on research. Students at both universities have the opportunity to work with faculty members on cutting-edge research projects, and many students go on to present their research at national conferences or even publish their findings in academic journals. Additionally, both universities have robust study abroad programs, allowing students to gain international experience and broaden their academic horizons.
Brandeis vs Cornell: Campus Culture
Brandeis and Cornell each have their own unique campus culture. Brandeis is known for its social justice advocacy, and students are often politically active and engaged. Cornell, meanwhile, is famous for its "work hard, play hard" mentality. Students are serious about their studies, but also love to unwind with spirited social events. Ultimately, the campus culture that you prefer will depend on your own personality and values.
One aspect of Brandeis' campus culture that sets it apart is its commitment to diversity and inclusion. The university has a strong focus on creating a welcoming and supportive environment for students from all backgrounds. This is reflected in the many student-led organizations and events that celebrate different cultures and identities.
At Cornell, students have access to a wide range of academic and extracurricular opportunities. The university is home to numerous research centers and institutes, and students can choose from over 1,000 student organizations. This allows students to explore their interests and passions outside of the classroom, and to develop a well-rounded set of skills and experiences.
Student Life: What Student Life is Like at Brandeis and Cornell
Student life at Brandeis and Cornell is diverse and rewarding. Both universities have a variety of clubs and organizations to join, from political groups to performance ensembles to volunteer organizations. Additionally, the social scenes at both universities are lively and fun. However, Cornell offers more of a traditional "college experience," with fraternity and sorority life playing a larger role in the social scene.
At Brandeis, students are encouraged to engage in community service and social justice initiatives. The university has a strong commitment to social responsibility, and many students participate in volunteer programs both on and off campus. In addition, Brandeis has a thriving arts scene, with numerous opportunities for students to get involved in theater, music, and visual arts.
Meanwhile, Cornell offers a wide range of academic programs and research opportunities. The university is known for its strong science and engineering programs, as well as its prestigious business school. Cornell also has a beautiful campus, with stunning natural scenery and impressive architecture. Students can take advantage of outdoor activities like hiking and skiing, as well as cultural events like concerts and lectures.
Brandeis vs Cornell: Athletics
Brandeis and Cornell have different approaches to athletics. While both universities offer a range of sports and physical education classes, Brandeis doesn't emphasize intercollegiate athletics to the same extent as Cornell. However, if you're looking for a Division III athletic program with a strong soccer tradition, Brandeis might be the right choice for you. Cornell, on the other hand, has a Division I athletic program and a storied tradition of winning Ivy League championships in a variety of sports.
It's worth noting that both universities prioritize the academic success of their student-athletes. At Brandeis, the average GPA of student-athletes is consistently higher than that of the general student population. Similarly, Cornell's student-athletes have a graduation rate of 96%, which is higher than the national average for Division I schools. So, while the athletic programs at these universities may differ in their approach, both prioritize the well-rounded development of their students.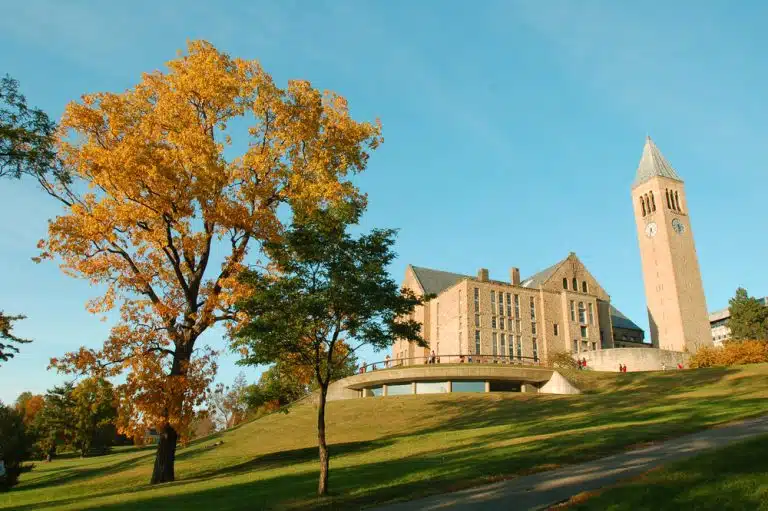 Tuition and Financial Aid: Understanding the Costs of Attending Brandeis and Cornell
Attending either Brandeis or Cornell is not cheap. As of the 2021-2022 academic year, Brandeis' tuition and fees total $61,070. Cornell's tuition and fees for the same year stand at $60,403. However, both universities offer generous financial aid packages to students in need. If cost is a major factor in your decision-making process, you'll want to carefully evaluate the financial aid packages offered by each institution.
It's important to note that the cost of attending a university goes beyond just tuition and fees. Other expenses to consider include room and board, textbooks, transportation, and personal expenses. At both Brandeis and Cornell, the cost of room and board can add an additional $15,000-$20,000 per year. It's important to factor in all of these costs when making a decision about which university to attend.
Brandeis vs Cornell: Career Opportunities
Both Brandeis and Cornell have strong career services centers that seek to support students in achieving their career goals. Brandeis has a dedicated Hiatt Career Center, which offers resume-building workshops, interview preparation, and job search resources. Cornell's career services office is similarly impressive, offering career coaching, on-campus recruiting events, and more. Both universities have strong alumni networks that can also be helpful in landing a job post-graduation.
However, there are some differences between the two career services centers. Brandeis' Hiatt Career Center has a strong focus on social justice and offers resources for students interested in pursuing careers in non-profit organizations or social impact work. On the other hand, Cornell's career services office has a strong emphasis on entrepreneurship and offers resources for students interested in starting their own businesses.
Additionally, both universities offer opportunities for students to gain practical experience through internships and co-op programs. Brandeis has partnerships with a variety of organizations in the Boston area, while Cornell has connections with companies in New York City and beyond. These programs can be a valuable way for students to gain hands-on experience in their field of interest and make connections that can lead to job opportunities after graduation.
Admission Requirements: A Look at Admission Requirements for Brandeis and Cornell
Admission to Brandeis and Cornell is highly competitive. Both universities require strong academic records, impressive extracurricular activities, and powerful essays that demonstrate a genuine desire to attend the university in question. Additionally, Cornell requires standardized test scores, while Brandeis has adopted a test-optional policy for the 2021-2022 academic year.
It is important to note that both universities also consider other factors in their admission decisions. Brandeis, for example, values diversity and actively seeks to admit students from a variety of backgrounds. Cornell, on the other hand, places a strong emphasis on research and innovation, and looks for applicants who have demonstrated a passion for these areas.
Furthermore, both universities offer a range of resources and support services to help students succeed academically and personally. Brandeis has a strong focus on community engagement and social justice, and offers numerous opportunities for students to get involved in service projects and activism. Cornell, on the other hand, has a large and active alumni network, and provides students with access to a wide range of career services and networking opportunities.
Alumni Network: The Power of Alumni Networks at Brandeis vs. Cornell
Both Brandeis and Cornell have impressive alumni networks that offer opportunities for mentorship, career networking, and more. Brandeis alumni are particularly known for their commitment to social justice and activism. Cornell alumni, for their part, are spread out all over the globe and work in a variety of fields. Ultimately, the strength of the alumni network may be a deciding factor when choosing between Brandeis and Cornell.
So, after reading this article, which university is right for you? Ultimately, the decision depends on your individual values, goals, and interests. Both Brandeis and Cornell offer a top-notch education and an engaging student experience. By carefully evaluating the factors outlined above, you'll be well on your way to making the right decision.
It's worth noting that both Brandeis and Cornell have active alumni associations that organize events and activities for graduates. These events can range from professional networking opportunities to social gatherings and community service projects. Additionally, both universities offer resources for alumni, such as career services and access to online databases and libraries. No matter which university you choose, you can be sure that you'll have access to a supportive and engaged alumni community.
Conclusion
Ultimately, the question of which university is better, Brandeis or Cornell, depends on individual preferences and priorities. If you are drawn to a close-knit community, smaller class sizes, and a strong focus on the humanities and social sciences, Brandeis might be the right fit for you. On the other hand, if you prefer a diverse array of academic programs, extensive research opportunities, and a larger campus, Cornell could be the ideal choice.
Remember that college is a transformative journey, and while the reputation of the institution matters, it's equally essential to consider the overall campus environment, academic offerings, and opportunities for personal and professional growth. Take the time to visit both campuses, speak with current students and professors, and carefully assess your own academic and personal goals before making your decision. In the end, the right university is the one that aligns best with your aspirations and values, setting you on the path towards a fulfilling and successful future.
How AdmissionSight Can Help You With College Admissions
AdmissionSight is a college consulting firm that provides personalized assistance to students throughout the college admissions process. Here are some ways that AdmissionSight can help you:
Admissions strategy: AdmissionSight can help you develop a strategic plan for your college application process. Our professional consultants can assist with identifying schools that are a good fit for your academic, extracurricular, and personal goals and help you plan and prioritize your application strategy.
Application review: AdmissionSight can review your application and provide feedback on how to improve it. We can offer suggestions on making your application stand out and highlighting your strengths and unique qualities.
Essay coaching: AdmissionSight can help you craft compelling essays that showcase your personality, goals, and achievements. We can guide you through the essay writing process and provide feedback on your drafts to help you refine your writing.
Interview preparation: AdmissionSight can provide interview coaching to help you feel confident and prepared for college interviews. Our experts can offer tips on how to present yourself professionally and how to answer common interview questions.
Extracurricular planning: AdmissionSight can help you plan and develop your extracurricular activities to make them more impactful and meaningful. We can suggest activities that align with your interests and goals and provide guidance on demonstrating your leadership and initiative.
Overall, AdmissionSight can provide valuable guidance and support throughout the college admissions process to help you maximize your chances of getting accepted into the college of your choice.
With a high success rate of over 75%, we have built a strong network in the past decade. Book an initial consultation today, free of charge!