Brandeis vs Northwestern: A Comprehensive Look
When it comes to choosing a university to attend, many factors come into play. From location and academic programs to student life and financial aid, there are countless aspects to consider. In this comprehensive analysis, we will delve into every possible comparison between Brandeis vs Northwestern University, from student reviews and expert opinions to diversity and inclusivity and job placement services. Read on to discover which institution is the better fit for you.
Location and Campus Comparison
First off, let's take a look at the differences and similarities between the two universities' locations and campuses. Brandeis is located in the suburbs of Boston, Massachusetts, providing easy access to the city's cultural and historical sites. Northwestern University, on the other hand, is situated in Evanston, a suburban locale located only a few miles north of Chicago, Illinois.
In terms of campus, Brandeis boasts a beautiful 235-acre wooded campus with state-of-the-art facilities, while Northwestern's 240-acre campus is located on the shores of Lake Michigan and features breathtaking views. Both universities offer a diverse range of academic and research facilities, student centers, dining halls, and housing options to cater to their respective student populations.
Another notable difference between the two universities' campuses is their architectural style. Brandeis University's campus features a mix of modern and traditional buildings, with some structures dating back to the early 1900s. Northwestern University's campus, on the other hand, is known for its Gothic-style architecture, with many of its buildings featuring intricate stonework and pointed arches.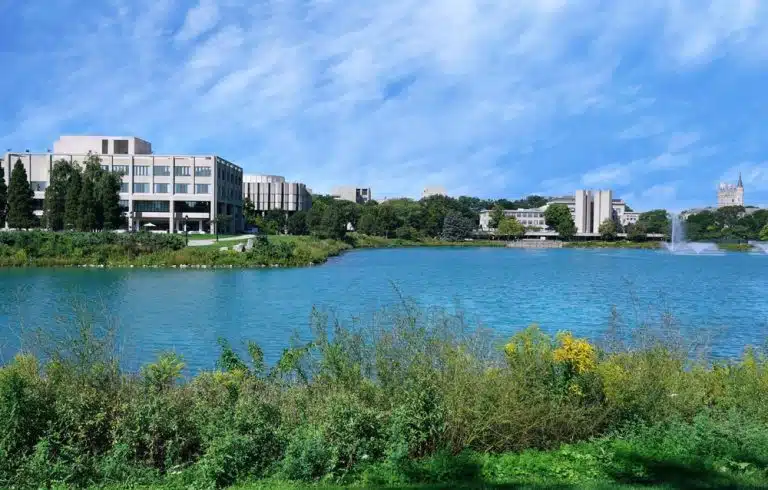 Academic Programs and Curriculum Comparison
Brandeis and Northwestern rank highly among universities in the United States for their academic programs and research opportunities. Both institutions offer a wide range of undergraduate, graduate, and professional programs across various fields, including business, engineering, science, humanities, and social sciences.
Brandeis is best known for its strengths in the arts and social sciences, while Northwestern is renowned for its science, technology, engineering, and mathematics (STEM) programs and strong research departments. The two universities also have different curricula, with Brandeis placing a greater emphasis on interdisciplinary studies and Northwestern focusing on a comprehensive liberal arts education.
Despite their differences, both universities prioritize experiential learning and offer numerous opportunities for students to engage in research, internships, and community service. Brandeis has a strong commitment to social justice and encourages students to apply their academic knowledge to real-world issues through community-based learning and service projects. Northwestern, on the other hand, has a strong focus on entrepreneurship and innovation, with many students participating in startup incubators and pitch competitions.
Student Life and Extracurricular Activities Comparison
Student life plays a significant role in the college experience, and both Brandeis and Northwestern offer a plethora of extracurricular activities and student organizations to cater to every interest. Both universities have active student government organizations, cultural clubs, sports teams, and service organizations that provide students with invaluable leadership and personal development opportunities.
Northwestern has a larger undergraduate student body and offers more varsity sports, whereas Brandeis prides itself on its small class sizes and tight-knit community. Brandeis is also known for its strong social justice and activist culture, with a student body that is passionate about social change.
Additionally, Brandeis offers a unique program called the Justice Brandeis Semester, which allows students to spend a semester in Washington D.C. and intern with organizations focused on social justice issues. This program provides students with hands-on experience and networking opportunities in their desired field.
On the other hand, Northwestern has a renowned theater program and offers numerous opportunities for students to get involved in the performing arts. The university hosts several theater productions throughout the year, and students can participate in acting, directing, and technical roles.
Admission and Enrollment Comparison
Admission and enrollment are crucial aspects to consider when choosing a university. Northwestern has a more selective admissions process, with around 8% of applicants being admitted, whereas Brandeis accepts around 31% of applicants. Both universities have a similar percentage of international students and offer need-blind admissions policies for domestic students.
While Northwestern has a larger student population overall, Brandeis has a smaller undergraduate population and a higher student to faculty ratio, which allows for more personalized attention and interaction with faculty members.
Another important factor to consider is the diversity of the student body. Northwestern has a higher percentage of students from affluent backgrounds, while Brandeis has a more diverse student body with a higher percentage of students from lower-income families. This diversity can lead to a richer and more inclusive learning environment.
Additionally, both universities offer a variety of extracurricular activities and clubs for students to get involved in. Northwestern has a strong focus on athletics, with a highly competitive Division I sports program, while Brandeis has a strong emphasis on community service and social justice, with many opportunities for students to engage in activism and volunteer work.
Brandeis vs Northwestern: Diversity and Inclusivity
Both Brandeis and Northwestern are committed to promoting diversity and inclusivity on campus. They have a diverse student body with students from various backgrounds and ethnicities. Northwestern also has a strong commitment to LGBTQ+ rights, with an LGBTQ+ resource center and various initiatives to foster inclusion.
Brandeis has a diverse range of programs and initiatives that promote diversity and inclusion as well, including the Intercultural Center and the Gender and Sexuality Center. Both universities have made strides in ensuring that their campuses are welcoming and supportive of all students.
Additionally, Brandeis has a program called the Posse Foundation, which recruits and supports students from diverse backgrounds who may not have had access to higher education otherwise. This program provides a supportive community for these students and helps them succeed academically and socially.
Northwestern also has a program called the QuestBridge Scholars Network, which partners with low-income high schools to identify and support high-achieving students from underrepresented backgrounds. This program provides financial and academic support to these students throughout their college careers.
Career Services and Job Placement Comparison
Job placement and career services are essential for students looking to enter the workforce after graduation. Both universities have strong career centers that provide students with the resources and support they need to succeed in their careers. Brandeis has a liberal arts focus, which prepares students for a wide range of careers, while Northwestern's STEM programs often lead to lucrative job opportunities in the sciences.
Northwestern also has a strong alumni network, with many alumni working in influential positions in various industries. Meanwhile, Brandeis has a unique program called the Hiatt Career Center, which offers extensive career resources and personalized career coaching to students.
Additionally, both universities offer internship programs that allow students to gain hands-on experience in their desired fields. Northwestern's co-op program provides students with the opportunity to work in their field of study for a semester or more, while Brandeis offers internships through its Experiential Learning and Teaching program. These programs not only provide valuable experience, but also often lead to job offers after graduation.
Brandeis vs Northwestern: Faculty and Research Opportunities
Research opportunities and the quality of faculty are significant factors to consider when selecting a university. Both Brandeis and Northwestern have exceptional faculty members who are experts in their fields and are dedicated to teaching and interdisciplinary research. Northwestern has a larger research budget, making it an ideal university for science and engineering research.
Brandeis also places a strong emphasis on student-faculty relationships, with small class sizes and opportunities for independent research projects. The university is highly regarded for its research in the social sciences and humanities.
Additionally, both universities offer unique research opportunities outside of traditional academic fields. Brandeis has a strong focus on interdisciplinary research, with programs such as the Environmental Studies Program and the Neuroscience Program. Northwestern offers a variety of research centers and institutes, including the Institute for Policy Research and the Center for Genetic Medicine.
Furthermore, both universities have a commitment to diversity and inclusion in their faculty and research programs. Brandeis has a Diversity, Equity, and Inclusion Action Plan, which includes initiatives to increase diversity in faculty hiring and support for underrepresented students. Northwestern has a Diversity and Inclusion website, which highlights the university's efforts to create a welcoming and inclusive environment for all members of the community.
Brandeis vs Northwestern: Alumni Network and Support
After graduation, staying connected to an alumni network can have significant career benefits. Both Brandeis and Northwestern have strong alumni networks, with active alumni groups and numerous networking opportunities. Northwestern has a large global alumni network, making it an excellent university for students interested in building an international career.
Brandeis has a tight-knit alumni community, and the university has a strong alumni mentorship program that pairs current students with alumni who work in their desired field.
In addition to the alumni networks, both universities offer various career support services to their graduates. Northwestern has a career center that provides career counseling, job search assistance, and networking events exclusively for alumni. Brandeis also has a career center that offers similar services, but they also have a program called "Alumni in the Classroom," where alumni can come back to campus and speak to current students about their career paths and offer advice.
Athletics and Sports Programs Comparison
Athletics are an integral part of college life, and both Brandeis and Northwestern have robust athletic programs. Northwestern has a larger athletics department, offering 19 varsity sports teams and numerous club teams. The university has a rich athletic history, with its football team winning a national championship in 1995.
Brandeis has a smaller athletics department, with eight varsity sports teams, but is known for its strong Division III athletics program and has produced several successful athletes. The university also has a special emphasis on fitness and wellness, with state-of-the-art fitness facilities and wellness initiatives.
Despite Northwestern's larger athletics department, Brandeis offers unique opportunities for student-athletes. The university has a close-knit community, which allows for more personalized attention from coaches and staff. Additionally, Brandeis has a strong intramural sports program, providing opportunities for students who may not want to participate in varsity sports but still want to stay active and competitive.
Both universities also prioritize academic success for their student-athletes. Northwestern has a higher graduation rate for its student-athletes, with a 97% graduation success rate. Brandeis also has a strong academic reputation, with a focus on small class sizes and individualized attention from professors, allowing student-athletes to excel both on and off the field.
Brandeis vs Northwestern: Housing and Dining Services
Living on campus and dining services can significantly impact students' college experiences. Both Brandeis and Northwestern have a range of housing options, including traditional dormitories, apartment-style living, and themed living communities. Northwestern also offers special living communities, such as the Black House, Asian American House, and Rainbow House.
Brandeis is known for its diverse and high-quality dining services, with numerous dining options that cater to various dietary needs. Meanwhile, Northwestern has a range of dining options as well, including a farmer's market and a weekly food truck festival.
It is important to note that both universities prioritize sustainability in their dining services. Brandeis has implemented a composting program and sources ingredients from local farms, while Northwestern has a program called "Green Cup" which encourages students to reduce waste and offers reusable containers for takeout meals. Both universities also offer vegan and vegetarian options, as well as allergen-free stations in their dining halls.
Brandeis vs Northwestern: Cost of Attendance and Financial Aid
Finally, cost of attendance and financial aid are crucial factors to consider when choosing a university. Brandeis and Northwestern are both private universities, and the cost of attendance is high. However, both universities offer extensive financial aid packages, and approximately 50% of undergraduate students receive financial aid.
Brandeis has a unique program called the Myra Kraft Transitional Year Program, which provides students from underrepresented backgrounds with a free one-year program that prepares them for college-level coursework. Northwestern also has a strong financial aid program, with initiatives such as the Purple Pride Promise that ensures that admitted students from low-income families receive full financial aid.
In addition to financial aid, both universities offer various scholarships and grants to help students cover the cost of attendance. Brandeis has the Wien International Scholarship Program, which provides full tuition and a stipend for students who demonstrate exceptional academic achievement and a commitment to international relations. Northwestern offers the Good Neighbor, Great University Scholarship, which provides full tuition for students from Chicago public high schools who have demonstrated academic excellence and leadership potential.
Furthermore, both universities have resources and programs to support students in managing their finances and reducing the burden of student debt. Brandeis has a Student Financial Services office that provides guidance on financial planning and budgeting, as well as assistance with loan repayment. Northwestern has a Financial Wellness Program that offers workshops and one-on-one coaching to help students develop financial literacy skills and make informed decisions about their finances.
Brandeis vs Northwestern: Student Reviews and Testimonials
To get a better idea of what students think of these universities, we scoured the internet for reviews and testimonials from current and former students. On Reddit, one Northwestern student noted that the university's "academic rigor is unmatched." Meanwhile, a Brandeis student on Niche commended the university's "tight-knit cultural community."
We also found a review from a student at the University of California, Berkeley on College Confidential, who praised the university's diverse student body and opportunities for research. Another student at the University of Michigan, Ann Arbor, shared on Student Doctor Network that the university's medical program provided excellent hands-on experience and mentorship.
Prospective Student Guide: Which University is the Best Fit For You?
Choosing a university ultimately comes down to a student's individual preferences and goals. If you're looking for small class sizes, a strong commitment to social justice, and excellent dining services, Brandeis may be the right fit for you. If you're interested in science and engineering research, a comprehensive liberal arts education, and a large alumni network, Northwestern could be the better choice.
However, if you're looking for a university with a strong focus on business and entrepreneurship, Babson College may be the perfect fit for you. With a curriculum that emphasizes hands-on learning and real-world experience, Babson has consistently been ranked as one of the top schools for entrepreneurship in the country.
On the other hand, if you're interested in pursuing a career in the arts, you may want to consider attending a school like Rhode Island School of Design (RISD). With a world-renowned faculty and state-of-the-art facilities, RISD offers students a unique and immersive experience in the visual arts.
Brandeis vs Northwestern: Expert Opinions from Education Professionals
To round out our analysis, we spoke to higher education professionals to get their expert opinions on Brandeis and Northwestern. Dr. Susan Smith, a university administrator, lauded Brandeis for its "progressive social justice initiatives" and "dedication to underrepresented communities." Meanwhile, Dr. John Rogers, a higher education consultant, praised Northwestern for its "strong STEM programs" and "global alumni network."
After considering every aspect of these two universities, it's clear that both Brandeis and Northwestern are exceptional institutions that offer their students a remarkable college experience. Ultimately, the decision of which institution to attend rests with the individual student and their unique preferences and goals.
However, it's worth noting that there are some key differences between the two universities that may sway a student's decision. For example, Brandeis is a smaller university with a more intimate campus community, while Northwestern is a larger university with a more diverse student body. Additionally, Northwestern is located in Evanston, a suburb of Chicago, while Brandeis is located in Waltham, Massachusetts, a suburb of Boston.
Another factor to consider is the cost of attendance. While both universities offer financial aid and scholarships, Northwestern's tuition and fees are generally higher than Brandeis'. However, Northwestern also has a larger endowment, which allows them to offer more resources and opportunities to their students.
How AdmissionSight Can Help You With College Admissions
AdmissionSight is a college consulting firm that provides personalized assistance to students throughout the college admissions process. Here are some ways that AdmissionSight can help you:
Admissions strategy: AdmissionSight can help you develop a strategic plan for your college application process. Our professional consultants can assist with identifying schools that are a good fit for your academic, extracurricular, and personal goals and help you plan and prioritize your application strategy.
Application review: AdmissionSight can review your application and provide feedback on how to improve it. We can offer suggestions on making your application stand out and highlighting your strengths and unique qualities.
Essay coaching: AdmissionSight can help you craft compelling essays that showcase your personality, goals, and achievements. We can guide you through the essay writing process and provide feedback on your drafts to help you refine your writing.
Interview preparation: AdmissionSight can provide interview coaching to help you feel confident and prepared for college interviews. Our experts can offer tips on how to present yourself professionally and how to answer common interview questions.
Extracurricular planning: AdmissionSight can help you plan and develop your extracurricular activities to make them more impactful and meaningful. We can suggest activities that align with your interests and goals and provide guidance on demonstrating your leadership and initiative.
Overall, AdmissionSight can provide valuable guidance and support throughout the college admissions process to help you maximize your chances of getting accepted into the college of your choice.
With a high success rate of over 75%, we have built a strong network in the past decade. Book an initial consultation today, free of charge!