Brandeis vs Princeton: A Comprehensive Look
For many high school students, selecting the right college to attend can be a challenging decision. With so many options available, it is crucial to consider several factors before determining the best fit. In this article, we will compare Brandeis vs Princeton based on various criteria, ultimately helping you make an informed decision.
Location and Campus Size: How Do Brandeis and Princeton Compare?
The location and campus size play a crucial role in creating a conducive learning environment. Brandeis University is located in Waltham, Massachusetts, a small city that's a short distance away from Boston. The campus is spread over 235 acres, and it's home to around 3,600 undergraduate students. In contrast, Princeton University is located in Princeton, New Jersey, just 50 miles southwest of Manhattan. The campus is nestled in 500 acres of lush greenery and serves around 5,400 undergraduate students.
Both the institutions provide plenty of campus amenities, such as libraries, dining halls, recreational facilities, and state-of-the-art laboratories. However, if the size of the student body is a priority, Princeton has a slight edge over Brandeis.
Another factor to consider when comparing the location and campus size of Brandeis and Princeton is the surrounding community. Waltham, where Brandeis is located, is a small city with a population of around 62,000 people. It has a diverse community and a vibrant arts scene, with several museums and galleries in the area. On the other hand, Princeton is a small town with a population of around 30,000 people. It has a charming downtown area with boutique shops and restaurants, and it's known for its historic architecture.
Additionally, both universities have easy access to major cities. Brandeis is just a short distance away from Boston, which is known for its rich history, cultural attractions, and world-renowned universities. Princeton, on the other hand, is located near New York City, which is one of the most vibrant and diverse cities in the world. Students at both universities have the opportunity to explore these cities and take advantage of the many opportunities they offer.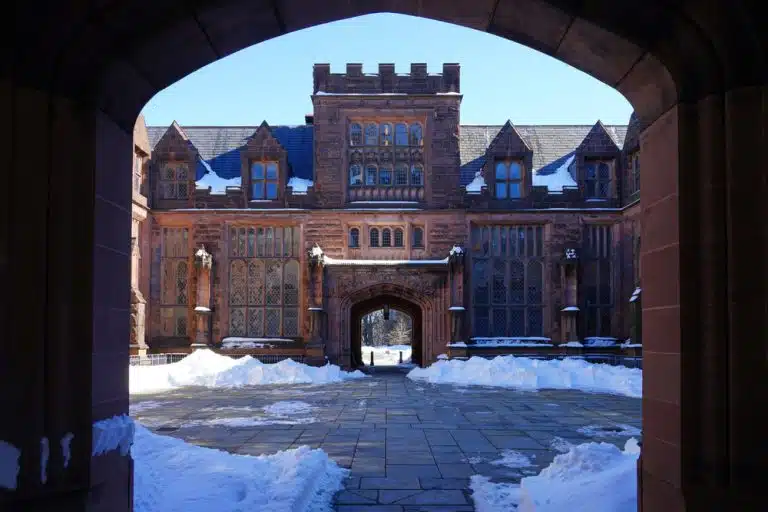 Admissions Criteria: Which School is More Selective?
Every student, when applying to colleges, wishes to get into the best institution possible. One of the major factors that play a vital role in getting admitted into college is admissions criteria. Brandeis University accepts around 34% of applicants while Princeton University only admits just over 6%.
While both the institutions have competitive admissions, Princeton is notoriously more selective. Getting accepted into Princeton requires a stellar academic record, outstanding extracurriculars, and excellent test scores. However, it's essential to keep in mind that a lower acceptance rate does not always translate to inferior academics.
It's also important to note that admissions criteria can vary depending on the program or major you are applying to. For example, some majors at Brandeis University may have a lower acceptance rate than the overall university acceptance rate due to the limited number of spots available in that program. Similarly, some programs at Princeton University may have a higher acceptance rate than the overall university acceptance rate because they are less competitive. Therefore, it's crucial to research the specific admissions criteria for the program or major you are interested in before applying.
Student Diversity: A Comparison of the Student Body at Brandeis and Princeton
Diversity is critical in creating an inclusive and welcoming campus environment. Brandeis has a more diverse student body, with international students representing 21% of the undergraduate population. In comparison, Princeton's international student population is 12%.
Moreover, Brandeis attracts a higher percentage of students from underrepresented backgrounds, including a large Jewish population. Princeton is more homogenous, with around 60% of the student body identifying as White.
Another factor that contributes to Brandeis' diverse student body is its commitment to social justice and activism. The university has a long history of promoting social justice and equality, which attracts students who are passionate about these issues. This has resulted in a student body that is not only diverse but also highly engaged in social justice initiatives.
Additionally, Brandeis has a strong focus on interdisciplinary studies, which attracts students from a wide range of academic backgrounds. This diversity of academic interests and perspectives further contributes to the overall diversity of the student body.
Brandeis vs Princeton: Academic Programs and Curriculum
Both the universities offer an unparalleled academic experience. Princeton's trademark curriculum is the General Education requirements, where students fulfill courses in seven different categories. Brandeis, in contrast, follows a more open curriculum, giving students the freedom to create a unique course of study.
Moreover, Brandeis is well-known for its focus on the liberal arts and humanities, whereas Princeton has more emphasis on STEM fields. If you're interested in pursuing a career in science or engineering, Princeton has more options to offer. On the other hand, if you prefer a more interdisciplinary approach, Brandeis might be the better choice for you.
Another factor that sets Brandeis apart from Princeton is its commitment to social justice and activism. Brandeis has a long history of promoting social justice and equality, and this is reflected in its academic programs and extracurricular activities. The university offers a wide range of courses and programs that focus on issues such as race, gender, and inequality, and encourages students to get involved in social justice initiatives on and off campus. This emphasis on social justice and activism is a unique aspect of the Brandeis experience and sets it apart from many other universities, including Princeton.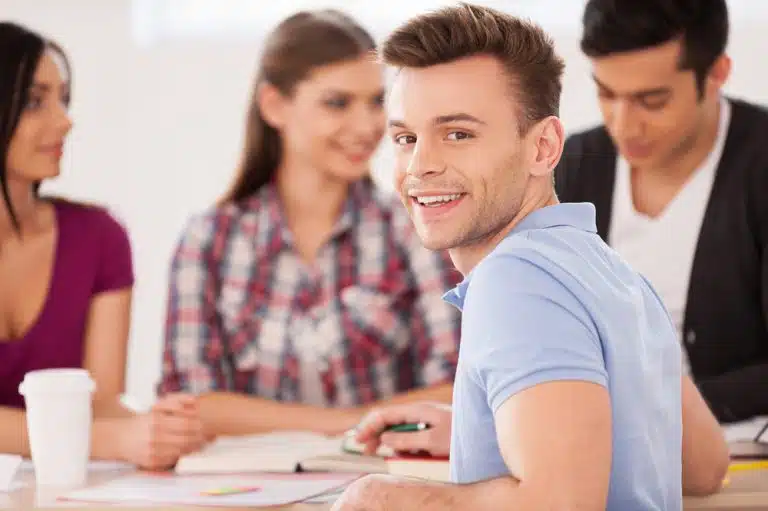 Faculty Quality and Teaching Style: A Comparison of Brandeis and Princeton Professors
The quality of faculty plays a significant role in creating a rewarding learning experience. Professors at both universities are extensively trained and experts in their fields. A significant difference is teaching style. Princeton professors tend to conduct lectures in large classes, while Brandeis is more known for smaller classes with a stronger student-faculty interaction.
Moreover, both institutions have eminent professors in their respective fields, including Nobel laureates and MacArthur fellows. Brandeis, however, has a more student-focused approach to teaching. A priority on undergraduate education gives Brandeis a slight advantage in this area.
Another notable difference between the two universities is the level of diversity among their faculty. Brandeis has a higher percentage of female and minority professors compared to Princeton. This diversity in faculty brings a unique perspective to the classroom and enhances the learning experience for students. Additionally, Brandeis has a strong emphasis on interdisciplinary studies, which allows for a more holistic approach to education. This approach is reflected in the faculty, who often have expertise in multiple fields and can provide a more comprehensive understanding of complex topics.
Brandeis vs Princeton: Campus Life and Extracurricular Activities
College is not just about the academics; participating in extracurricular activities is a vital aspect of the overall college experience. Both institutions offer tons of options for students to participate in clubs, organizations, and sports. Princeton has a more competitive sports culture, with its winning athletics program. Brandeis has an active social scene with various organizations focusing on Jewish Culture.
Moreover, both universities offer a range of cultural and social events throughout the academic year, including theatrical productions, concerts, and guest speaker series. If you're interested in research opportunities, both institutions provide undergraduate research opportunities while Princeton is better known for its graduate research programs.
Additionally, both universities have a strong commitment to community service and offer various volunteer opportunities for students to get involved in. Princeton has a dedicated center for community service, which provides students with resources and support to engage in meaningful service projects. Brandeis has a long-standing tradition of social justice and activism, with many student-led organizations focused on issues such as environmental sustainability, human rights, and social equality. No matter which school you choose, you'll have plenty of opportunities to make a positive impact on the world around you.
Job Placement Rates and Career Services: How Do Brandeis and Princeton Compare?
Looking toward the future, securing job placement after graduation is critical. Both institutions have impressive job placement and career services records. Princeton provides an unmatched network of alumni, who are often in positions of power in their respective fields. While Brandeis may not have as extensive an alumni network, the university's career counseling services are highly regarded.
Additionally, both universities have robust programs dedicated to helping students transition out of college and into the workforce. During their college years, students can avail themselves of countless opportunities to build their resumes and participate in career fairs and internships.
However, there are some differences in the approach to career services between the two universities. Princeton's career services tend to focus more on traditional career paths, such as finance, consulting, and law. On the other hand, Brandeis has a strong emphasis on social justice and public service careers, with dedicated programs and resources for students interested in these fields.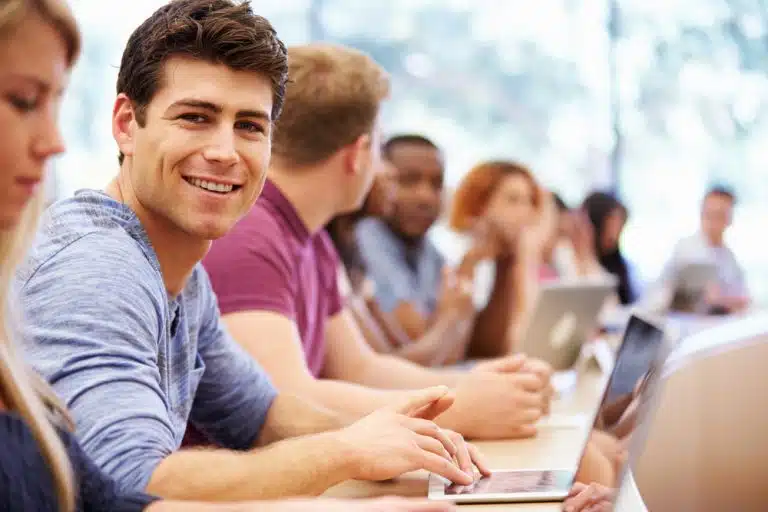 Brandeis vs Princeton: Cost of Attendance and Financial Aid
It's no secret that college is expensive. Navigating the cost of attendance and applying for financial aid can be a daunting prospect. Princeton's cost of attendance is higher than Brandeis's, and the cost is typically covered through scholarships and grants. Princeton's renowned financial aid program is one of the most generous in the country, covering the entire cost of attendance for students that qualify.
Brandeis' cost of attendance is lower than Princeton's, and the university also offers a robust financial aid package that includes both need-based aid and merit-based scholarships.
However, it's important to consider other factors beyond just the cost of attendance and financial aid. For example, Princeton has a larger endowment than Brandeis, which allows for more resources and opportunities for students. Additionally, Princeton has a higher graduation rate and a lower student-to-faculty ratio, which can lead to a more personalized and supportive academic experience.
On the other hand, Brandeis has a strong reputation for its social justice and community service initiatives, which may be appealing to students who are passionate about making a difference in the world. Brandeis also has a diverse student body and a strong commitment to inclusivity and equity.
Brandeis vs Princeton: Alumni Network and Reputation
Finally, both institutions have impressive reputations, and their graduates go on to achieve success in their respective fields after leaving college. Princeton is often associated with Wall Street and the legal profession, while Brandeis has a reputation for producing successful academics, journalists, and creative professionals.
Princeton's extensive alumni network often leads to substantial financial support to the university, while many Brandeis alumni stay highly committed to supporting their alma mater with intellectual and philanthropic contributions that often emphasize their Jewish heritage and brand-based values.
However, the impact of the alumni network on the career prospects of graduates from both institutions differs significantly. Princeton's alumni network is known for providing its graduates with a wide range of job opportunities, especially in the fields of finance and law. On the other hand, the Brandeis alumni network is more focused on providing its graduates with opportunities in academia, journalism, and the arts.
Another significant difference between the two institutions is the size of their alumni networks. Princeton has a much larger alumni network than Brandeis, which means that Princeton graduates have access to a broader range of resources and opportunities. However, Brandeis alumni network is more tightly knit, which means that graduates are more likely to receive personalized support and mentorship from their fellow alumni.
Sports Programs and Athletics Facilities: A Look at the Athletic Departments of Both Schools.
Athletics is an essential component of college life. Princeton has an impressive athletics program, consisting of varsity, club, and intramural sports. Tiger athletes frequently win titles in Ivy League competitions and are often nationally recognized for their accomplishments. Brandeis offers varsity, club, and recreational sports, but not at the same level of success as Princeton.
Both institutions have modern athletic facilities, including fitness centers, gyms, and sports fields. Additionally, Princeton is home to several large arenas for games and tournaments.
It is worth noting that both schools prioritize the safety and well-being of their athletes. Both institutions have certified athletic trainers and medical staff available to provide care and support to injured athletes. Princeton also has a concussion management program in place to ensure the proper treatment and recovery of athletes who have suffered head injuries.
Campus Safety Measures: How Do Brandeis and Princeton Ensure Student Safety?
Campus safety is a paramount concern for any university. Both institutions have their own police forces and a range of safety measures in place, including emergency call boxes, campus-wide alert systems, and 24/7 support services. Despite occasional reports of campus crime, the crime rates are low at both institutions. However, the Brandeis Campus is surrounded by a more urban area and, therefore, may necessitate additional safety measures to protect the students living off-campus.
Additionally, both universities offer safety escorts for students who feel unsafe walking alone on campus at night. At Brandeis, the escort service is available from 6 pm to 2 am, while at Princeton, it is available 24/7. Both universities also have a system in place for reporting and addressing incidents of sexual assault and harassment, with trained staff available to provide support and resources to survivors. Overall, the safety and well-being of students is a top priority for both Brandeis and Princeton, and they continue to implement and improve safety measures to ensure a secure campus environment.
Brandeis vs Princeton: Student Satisfaction Rates
Ultimately, the main objective of attending college is to receive an excellent education and enjoy the overall experience. Each year, both institutions survey students about their experiences. Brandeis students generally report much higher levels of law school satisfaction, while Princeton students report a slightly higher level of overall satisfaction with their college experience.
Both institutions provide students with many resources and opportunities, all of which contribute to the high level of student satisfaction.
One of the resources that both institutions offer is a robust career center. Brandeis has a dedicated career center that provides students with career counseling, job search assistance, and networking opportunities. Princeton also has a career center that offers similar services, but they also have a strong alumni network that students can tap into for job opportunities.
Another factor that contributes to student satisfaction is the quality of the faculty. Both institutions have highly qualified and experienced faculty members who are dedicated to providing students with a top-notch education. Brandeis has a smaller student-to-faculty ratio, which allows for more personalized attention and mentorship opportunities. Princeton has a larger faculty, but they are known for their accessibility and willingness to work closely with students.
Brandeis vs Princeton: Study Abroad Programs
Studying abroad is a popular way to enhance one's college experience and world view. Both Princeton and Brandeis offer a variety of study abroad programs during the academic year and summer months.
The study abroad programs are wide-ranging, spanning multiple continents and offering highly unique study topics. Additionally, both institutions have dedicated staff and resources to support students interested in studying abroad and making their experience an unforgettable one.
Princeton offers study abroad programs in over 50 countries, including programs in Africa, Asia, Europe, Latin America, and the Middle East. Students can choose from a variety of programs, including language immersion, research, internships, and service learning. The Office of International Programs at Princeton provides students with pre-departure orientation, on-site support, and re-entry programming to help them make the most of their study abroad experience.
Brandeis offers study abroad programs in over 70 countries, including programs in Africa, Asia, Europe, Latin America, and the Middle East. Students can choose from a variety of programs, including semester-long programs, short-term programs, and internships. The Office of Study Abroad at Brandeis provides students with academic advising, pre-departure orientation, on-site support, and re-entry programming to help them navigate the study abroad experience.
Brandeis vs Princeton: Research Opportunities Available to Students
Finally, research is a major part of the academic experience at both institutions. Both universities have extensive research facilities, and students have the opportunity to participate in research projects alongside top faculty.
Princeton's emphasis on graduate research ensures that the university is at the forefront of new research areas, but Brandeis students have ample opportunities to participate in hands-on research throughout their undergraduate studies.
The History of Both Institutions, Their Founding Principles, and Their Place in American Education
The history and founding principles of both institutions offer insight into the values they hold and the education they strive to provide. Brandeis University was founded in 1948 and is named after Supreme Court Justice Louis Brandeis and promotes the importance of social justice in its curriculum. Perhaps unsurprisingly, the University has a notably strong historic tie with the Jewish community.
Princeton University, founded in 1746, is one of the oldest and most prestigious universities in the United States. The founding values of Princeton remain at the heart of the university – a focus on integrating faith and learning, an emphasis on intellectual curiosity, and a commitment to service. A similar question of diversity and inclusiveness have prompted Princeton to introspect on its founding principles in recent years and institute a host of corrective measures.
Brandeis vs Princeton: Social Life on Campus
Finally, many prospective students might wonder about the social experience on campus. Both Brandeis and Princeton have active social scenes, but the focus is different.
Princeton has a more traditional social life, including fraternities and sororities and traditional forms of gatherings. In contrast, socially-active Brandeis campus culture emphasises a wide range of activities, such as service projects, artistic performances, and themed parties. Ultimately, the social experience on both campuses will depend on the preferences and individual choices of the students themselves.
Conclusion
This comprehensive comparison of Brandeis and Princeton highlights the main differences, advantages, and potential drawbacks of both institutions. While both universities provide a world-class education and a profound college experience, choosing the right one can come down to personal preferences, values, and career goals.
As prospective students explore their options, they should consider all aspects of what each institution offers, its reputation, and one more – finding a campus culture in which they feel they'll truly thrive.
How AdmissionSight Can Help You With College Admissions
AdmissionSight is a college consulting firm that provides personalized assistance to students throughout the college admissions process. Here are some ways that AdmissionSight can help you:
Admissions strategy: AdmissionSight can help you develop a strategic plan for your college application process. Our professional consultants can assist with identifying schools that are a good fit for your academic, extracurricular, and personal goals and help you plan and prioritize your application strategy.
Application review: AdmissionSight can review your application and provide feedback on how to improve it. We can offer suggestions on making your application stand out and highlighting your strengths and unique qualities.
Essay coaching: AdmissionSight can help you craft compelling essays that showcase your personality, goals, and achievements. We can guide you through the essay writing process and provide feedback on your drafts to help you refine your writing.
Interview preparation: AdmissionSight can provide interview coaching to help you feel confident and prepared for college interviews. Our experts can offer tips on how to present yourself professionally and how to answer common interview questions.
Extracurricular planning: AdmissionSight can help you plan and develop your extracurricular activities to make them more impactful and meaningful. We can suggest activities that align with your interests and goals and provide guidance on demonstrating your leadership and initiative.
Overall, AdmissionSight can provide valuable guidance and support throughout the college admissions process to help you maximize your chances of getting accepted into the college of your choice.
With a high success rate of over 75%, we have built a strong network in the past decade. Book an initial consultation today, free of charge!