Brandeis vs Stanford: A Comprehensive Analysis
For many high school students, selecting the right college to attend can be a challenging decision. With so many options available, it is crucial to consider several factors before determining the best fit. In this article, we will compare Brandeis vs Stanford based on various criteria, ultimately helping you make an informed decision.
The History and Origins of Brandeis and Stanford
Firstly, let's take a look at the history and origins of these two universities. Brandeis University was founded in 1948 and named after Louis Brandeis, the first Jewish justice of the United States Supreme Court. The university is located in Waltham, Massachusetts, and is a non-sectarian private research institution. On the other hand, Stanford University was established in 1885 by Leland and Jane Stanford in memory of their son, Leland Jr. Stanford's campus is in Stanford, California, and is also a private research institution.
Despite being founded over 60 years apart, both universities have a strong commitment to academic excellence and innovation. Brandeis University has a reputation for its strong liberal arts programs and its dedication to social justice, while Stanford University is known for its cutting-edge research in fields such as technology and medicine. Both universities have produced numerous notable alumni, including Nobel laureates, Pulitzer Prize winners, and prominent business leaders. Today, Brandeis and Stanford continue to attract top students and faculty from around the world, and are recognized as leaders in higher education.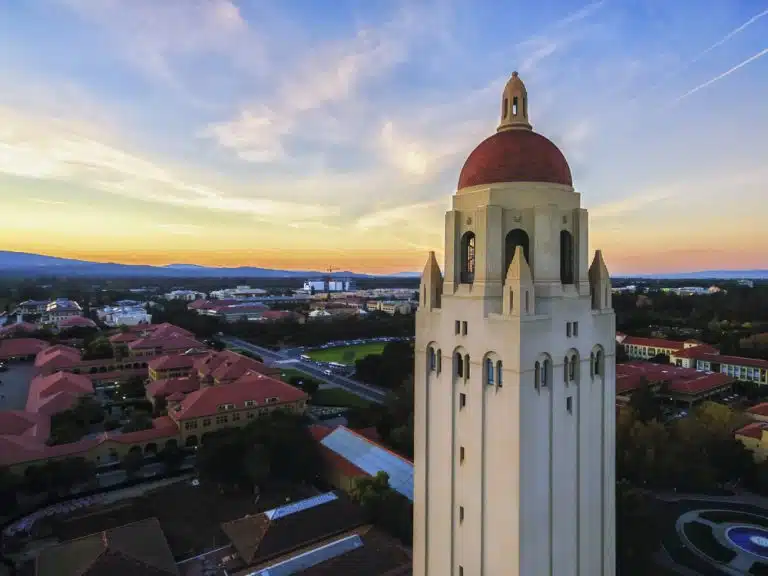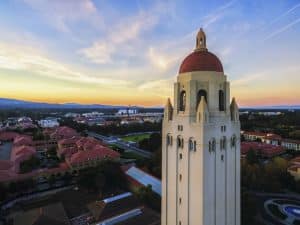 Brandeis vs Stanford: Campus Locations and Facilities
The campus locations and facilities of both universities are worth comparing. Stanford's campus spans 8,180 acres, making it one of the largest university campuses in the United States. The university boasts world-class facilities, including a medical center, research centers, art museums, and a performing arts center. In contrast, Brandeis' campus spans over 235 acres and includes several modern facilities, including a sports complex, art museum, and a state-of-the-art theater. Despite their size differences, both universities offer students top-notch facilities.
Additionally, Stanford's campus is located in the heart of Silicon Valley, providing students with unique opportunities to connect with tech industry leaders and participate in cutting-edge research projects. Brandeis, on the other hand, is located just outside of Boston, giving students access to a vibrant city with a rich history and culture. Both universities offer students a diverse range of experiences both on and off campus.
Admission Criteria: How Do Brandeis and Stanford Compare?
The admission criteria for both universities are rigorous and highly competitive. Stanford, for instance, had an acceptance rate of 4.3% in 2021, admitting only 2,400 out of 57,000 applicants. Brandeis' acceptance rate is comparatively higher at 31%, admitting 3,460 from over 11,000 applicants. Both universities require applicants to submit their SAT/ACT scores, transcripts, letters of recommendation, and essays. Stanford additionally admits students based on their extracurricular achievements and leadership qualities.
However, there are some differences in the admission criteria between the two universities. Brandeis places a greater emphasis on community service and volunteer work, while Stanford values research experience and academic excellence. Brandeis also offers a test-optional policy, allowing students to choose whether or not to submit their standardized test scores, while Stanford requires all applicants to submit their scores.
Another factor to consider is the diversity of the student body. Brandeis has a strong commitment to diversity and inclusion, with a student body that is 44% students of color and 12% international students. Stanford also values diversity, with a student body that is 47% students of color and 11% international students. Both universities actively recruit and support underrepresented students, including first-generation college students and low-income students.
Cost of Attendance: Analyzing the Tuition Fees and Financial Aid Packages
The cost of attendance at Brandeis and Stanford is expensive, but the universities provide financial aid to eligible students. For the 2021-2022 academic year, the tuition and fees at Stanford are $58,847, whereas Brandeis charges $60,930. However, both universities pledge to meet the full financial need of admitted students, irrespective of their family's income level. Furthermore, Stanford waives tuition and fees for students whose family income is less than $150,000 per year.
In addition to financial aid, both universities offer various scholarships and grants to students based on academic merit, athletic achievements, and other criteria. For instance, Brandeis provides the Wien International Scholarship Program, which covers the full cost of attendance for exceptional students who demonstrate a commitment to social justice and global leadership. Similarly, Stanford offers the Knight-Hennessy Scholars Program, which funds graduate education for students with outstanding leadership potential and a strong academic record.
It is worth noting that the cost of attendance at these universities is not limited to tuition and fees. Students also need to consider other expenses such as room and board, textbooks, transportation, and personal expenses. According to the National Center for Education Statistics, the average cost of room and board at four-year public institutions was $11,510 in the 2019-2020 academic year. Therefore, students should carefully evaluate their financial situation and explore all available options before making a decision about where to attend college.
Brandeis vs Stanford: Majors and Programs
Brandeis University offers a wide range of undergraduate and graduate programs in various disciplines, including the sciences, humanities, arts, and social sciences. Stanford University, on the other hand, offers more than 90 undergraduate majors, 70 minors, and dozens of master's, doctorate, and professional degrees. Stanford has a reputation as an excellent research institution, offering a plethora of research opportunities to students.
Both universities also offer unique programs that set them apart from other institutions. Brandeis University has a highly regarded program in Jewish studies, which includes courses in Hebrew language, Jewish history, and Jewish literature. Stanford University, on the other hand, has a program in design that integrates engineering, art, and business to create innovative solutions to real-world problems. This program is highly competitive and attracts students from all over the world.
Brandeis vs Stanford: Student Life
Both universities provide an extensive range of extracurricular activities, sports, and clubs to their students. Stanford has more than 600 student organizations, including cultural groups, service organizations, academic clubs, and sports teams. Similarly, Brandeis also boasts a diverse range of student-run organizations, including cultural clubs, social groups, and academic associations. Both universities have a strong sense of community, and students actively participate in campus life.
Moreover, both universities offer a variety of sports programs for students to participate in. Stanford has a strong athletic program, with 36 varsity sports teams, including football, basketball, and swimming. Brandeis also has a competitive athletic program, with 19 varsity sports teams, including soccer, tennis, and volleyball. Students can also participate in intramural sports, such as flag football, ultimate frisbee, and dodgeball.
Additionally, both universities have resources available for students to start their own clubs and organizations. Stanford has a dedicated office for student activities and leadership, which provides support and guidance for students interested in starting a new club. Brandeis has a similar office, called the Department of Student Activities, which also offers resources and assistance for students looking to create a new organization on campus.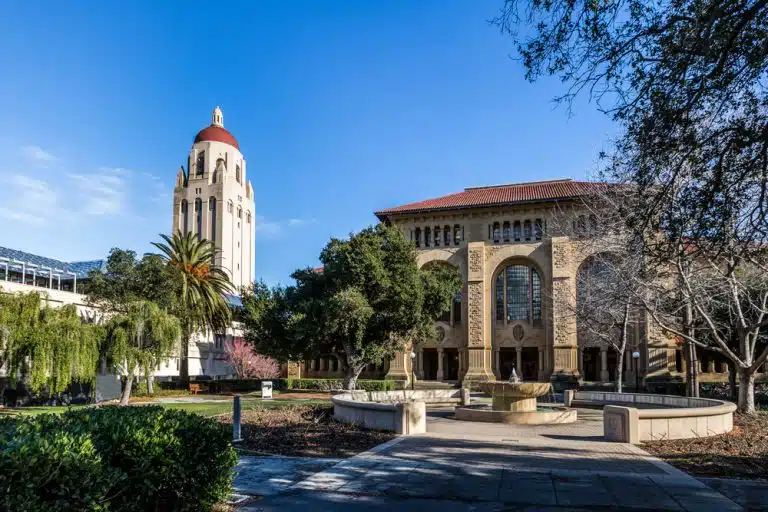 Faculty and Research Opportunities at Brandeis vs. Stanford
The faculty and research opportunities at both universities are remarkable. Stanford has over 2,300 faculty members who are leaders in their fields, and the university ranks second in the United States for research activity. Brandeis, too, has a talented faculty, including Nobel laureates, MacArthur fellows, and Fulbright scholars. The university emphasizes undergraduate research, and students have the chance to work alongside faculty on research projects.
However, there are some differences in the research opportunities offered by the two universities. Stanford is known for its strong focus on STEM fields, with research centers dedicated to fields such as artificial intelligence, bioengineering, and energy. Brandeis, on the other hand, has a strong emphasis on the humanities and social sciences, with research centers focused on areas such as Jewish studies, women's studies, and peace and conflict studies.
Another difference between the two universities is the size of their research budgets. Stanford's research budget is over $1 billion, while Brandeis' research budget is around $60 million. This means that while both universities offer excellent research opportunities, Stanford may have more resources available for larger-scale projects and collaborations.
Brandeis vs Stanford: Reputation and Ranking
Both Stanford and Brandeis have an excellent reputation nationally and internationally. According to the U.S. News & World Report, Stanford ranks fourth in the nation for undergraduate education, while Brandeis ranks 35th. However, in terms of research, Stanford has been ranking first in the nation consistently.
It is important to note that while rankings can be a helpful tool in determining a university's reputation, they should not be the sole factor in making a decision. Other factors such as location, campus culture, and available resources should also be considered. Additionally, rankings can vary depending on the criteria used and the source of the ranking. It is always a good idea to do your own research and visit the campuses before making a final decision.
Post-Graduation Outcomes: Employment Rates and Graduate School Acceptance
After graduation, both universities have a high percentage of students who enter the workforce or attend graduate school. According to Stanford's Office of Institutional Research, 75% of graduates reported having secured jobs before or within three months after graduation. Similarly, Brandeis' Hiatt Career Center helps students transition into the workforce, and 91% of graduates are either employed or attending graduate school six months after graduation.
It is worth noting that the types of jobs and graduate programs that students from each university pursue differ significantly. Stanford graduates tend to enter fields such as technology, finance, and consulting, while Brandeis graduates often pursue careers in healthcare, education, and social justice. Additionally, a higher percentage of Brandeis graduates attend graduate school immediately after graduation, with many pursuing advanced degrees in fields such as psychology, social work, and public policy.
Notable Alumni from Both Universities
Brandeis and Stanford have produced several notable alumni who have made significant contributions in various fields. Some of Stanford's notable alumni include Larry Page and Sergey Brin, the co-founders of Google, and US Secretary of State, Condoleezza Rice. Brandeis' notable alumni include actress Debra Messing, economist Paul Krugman, and playwright Edward Albee.
In addition to these well-known alumni, both universities have also produced many successful entrepreneurs, scientists, and artists. For example, Stanford alumni have founded companies such as Hewlett-Packard, Yahoo!, and Netflix, while Brandeis alumni have made significant contributions in the fields of medicine, law, and social justice. Notable Brandeis alumni in these areas include Dr. Patricia Bath, the inventor of the Laserphaco Probe for cataract treatment, Judge Judith Dein, the first female magistrate judge in Massachusetts, and civil rights activist Angela Davis.
Brandeis vs Stanford: Diversity
Both universities strive to have a diverse student body with students from varied backgrounds. According to their respective websites, Brandeis has a diverse student body, with students from all 50 states and more than 100 countries. Similarly, Stanford prides itself on its diversity, stating that 22% of undergraduates are from underrepresented ethnic groups, and 17% are international students.
However, there are some differences in the demographics of the student bodies at these two universities. Brandeis has a higher percentage of Jewish students, with approximately 50% of the student body identifying as Jewish. In contrast, Stanford has a larger population of Asian American students, making up 22% of the undergraduate population. Additionally, Stanford has a higher percentage of students from high-income families, with 17% of students coming from families with incomes over $500,000 per year, compared to only 5% at Brandeis.
Academic Resources Available for Students at Brandeis vs. Stanford
The academic resources available to students at both universities are extensive. Stanford University offers numerous libraries and research facilities, including the Hoover Institution and the Stanford Linear Accelerator Center. Similarly, Brandeis has a vast library system comprising three libraries, a media center, and an archives and special collections department. Both universities have academic advising and tutoring resources available to students.
However, there are some differences in the academic resources offered by the two universities. Stanford University has a larger budget for research and development, which allows for more cutting-edge technology and equipment in their labs and research facilities. On the other hand, Brandeis University has a smaller student-to-faculty ratio, which means that students have more opportunities for one-on-one interactions with their professors and can receive more personalized attention in their academic pursuits. Additionally, Brandeis offers a unique program called the Justice Brandeis Semester, which allows students to engage in experiential learning through internships, research projects, and community service.
Brandeis vs Stanford: Campus Safety and Security Measures
Both universities prioritize the safety and security of their students and staff. Stanford has an on-campus police department that patrols the campus 24 hours a day, and the university offers several safety resources, including a free shuttle service. Brandeis also has its campus police department and offers various safety programs, including a SafeRide service.
In addition to the on-campus police department, Stanford also has a comprehensive emergency management plan in place. The university conducts regular drills and exercises to prepare for potential emergencies, and has a system in place to quickly alert students and staff in the event of an emergency.
Brandeis has implemented a number of safety measures in recent years, including the installation of security cameras throughout campus and the implementation of a campus-wide emergency notification system. The university also offers self-defense classes and other safety training programs to help students and staff stay safe on campus.
Conclusion: Which University is Right for You?
Choosing between Brandeis and Stanford can be challenging, as both universities are excellent in their ways. If you're interested in research and innovation and want a broader range of undergraduate and graduate majors, Stanford might be the better choice. However, Brandeis offers small class sizes, a tight-knit community, and more affordable tuition fees. Ultimately, the decision of which university to choose depends on individual preferences and priorities.
It's important to consider the location of each university as well. Stanford is located in the heart of Silicon Valley, which provides students with unique opportunities to network and gain experience in the tech industry. On the other hand, Brandeis is located just outside of Boston, a city known for its rich history and cultural offerings.
Another factor to consider is the campus culture. Stanford is known for its competitive and high-pressure environment, while Brandeis values collaboration and community involvement. It's important to think about which type of environment you thrive in and which will help you reach your academic and personal goals.
How AdmissionSight Can Help You With College Admissions
AdmissionSight is a college consulting firm that provides personalized assistance to students throughout the college admissions process. Here are some ways that AdmissionSight can help you:
Admissions strategy: AdmissionSight can help you develop a strategic plan for your college application process. Our professional consultants can assist with identifying schools that are a good fit for your academic, extracurricular, and personal goals and help you plan and prioritize your application strategy.
Application review: AdmissionSight can review your application and provide feedback on how to improve it. We can offer suggestions on making your application stand out and highlighting your strengths and unique qualities.
Essay coaching: AdmissionSight can help you craft compelling essays that showcase your personality, goals, and achievements. We can guide you through the essay writing process and provide feedback on your drafts to help you refine your writing.
Interview preparation: AdmissionSight can provide interview coaching to help you feel confident and prepared for college interviews. Our experts can offer tips on how to present yourself professionally and how to answer common interview questions.
Extracurricular planning: AdmissionSight can help you plan and develop your extracurricular activities to make them more impactful and meaningful. We can suggest activities that align with your interests and goals and provide guidance on demonstrating your leadership and initiative.
Overall, AdmissionSight can provide valuable guidance and support throughout the college admissions process to help you maximize your chances of getting accepted into the college of your choice.
With a high success rate of over 75%, we have built a strong network in the past decade. Book an initial consultation today, free of charge!