Brandeis vs Tufts: Which One is for You?
When it comes to choosing a university, the decision can be daunting yet exciting. There are many factors to consider, such as location, academic reputation, campus life, and cost of attendance, just to name a few. In this article, we will compare two well-respected universities, Brandeis University vs Tufts University, and analyze which one might be the better choice for prospective students.
Brandeis vs Tufts: Location and Campus Features
When it comes to location, Brandeis University and Tufts University are located in two unique and stunning areas in Massachusetts. Brandeis is located in Waltham, a suburb about 25 minutes away from Boston, while Tufts is situated in Medford, closely situated to the energetic city of Somerville and Boston. Both universities' campuses are spread out over large areas that are easy to navigate and rich in campus features, like a grassy quad, parks and gardens, libraries, and athletic facilities. Students of both universities enjoy access to study rooms, dining halls, coffee shops, and state-of-the-art technology resources.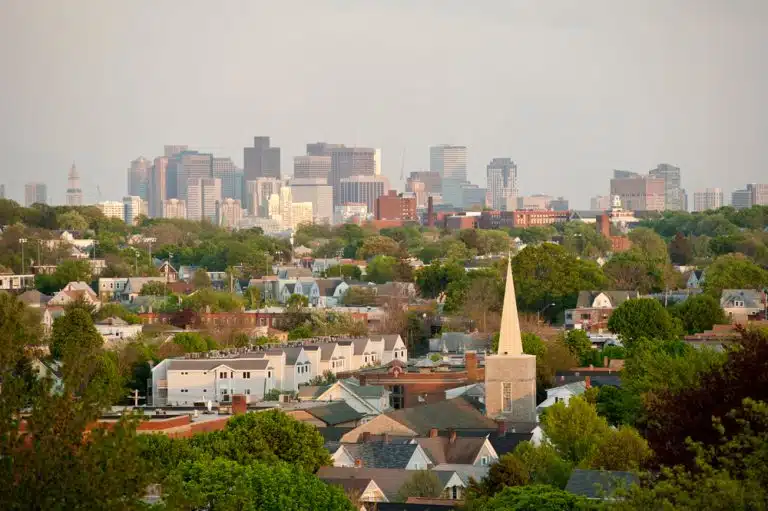 Brandeis University's campus is known for its beautiful architecture, with many of its buildings designed in the mid-century modern style. The Rose Art Museum, located on campus, is home to an impressive collection of contemporary art, including works by Andy Warhol and Roy Lichtenstein. Additionally, Brandeis has a strong commitment to sustainability, with many eco-friendly initiatives in place, such as a campus-wide composting program and a solar panel installation.
Tufts University's campus is known for its vibrant community and diverse student body. The university has a strong focus on civic engagement, with many opportunities for students to get involved in community service and social justice initiatives. Tufts also has a renowned School of Engineering, with state-of-the-art facilities and research opportunities for students. The campus is home to several unique features, such as the Tisch Library, which has a rooftop garden and stunning views of the Boston skyline.
Brandeis vs Tufts: Academic Programs Offered
Both Brandeis and Tufts have a wide range of academic programs that cater to different interests. Brandeis has over 40 majors and minors available, with notable programs such as Neuroscience, International and Global Studies, and Creative Writing. Tufts also has a variety of programs, with typical majors like Economics, Engineering, and International Relations. What makes Tufts stand out is its emphasis on interdisciplinary studies, such as the "American Studies" major, which combines elements of politics, anthropology, sociology, and art history.
In addition to the traditional majors and interdisciplinary studies, both universities offer unique programs that cater to specific interests. Brandeis has a "Health: Science, Society, and Policy" major that explores the intersection of health and society, while Tufts has a "Food Systems and Nutrition" major that focuses on sustainable food production and nutrition. Both universities also offer a variety of study abroad programs, allowing students to gain international experience and broaden their perspectives.
Admission Requirements and Acceptance Rates
The admission requirements and acceptance rates of Brandeis and Tufts vary slightly. To be accepted into Brandeis, you will need at least a 3.5-grade point average and standardized test scores of at least 1450 on the SAT or 33 on the ACT. Brandeis' acceptance rate is approximately 32%. Tufts has similar requirements of a 3.5-grade point average, but with an SAT score of 1500 or ACT score of 33. Tufts' acceptance rate is 15.6%. While both universities have rigorous admissions processes, Tufts is notably more selective.
Aside from academic requirements, both Brandeis and Tufts also consider extracurricular activities, essays, and letters of recommendation in their admissions decisions. Brandeis values community service and leadership experience, while Tufts places a strong emphasis on intellectual curiosity and creativity.
It is important to note that acceptance rates can vary by program and major. For example, Tufts' engineering program has a lower acceptance rate than its liberal arts program. Similarly, Brandeis' business program is more competitive than its humanities programs. Prospective students should research the acceptance rates and requirements for their intended major before applying.
Brandeis vs Tufts: Student Life and Extracurricular Activities
Brandeis and Tufts both offer students a vibrant campus life that caters to a diverse range of interests. Brandeis places a significant emphasis on community building, which is evident in the over 250 student groups available to students, including the social justice-themed 'STAND Against Genocide' club and the 'Game Design Club.' Tufts also offers a wide range of extracurricular activities, with over 300 student groups available, including 'Beelzebubs,' one of America's most famous collegiate acapella groups, and 'Engineers Without Borders.'
Additionally, both universities offer a variety of sports teams and fitness programs for students to participate in. Brandeis has 19 varsity sports teams, including basketball, soccer, and tennis, and also offers intramural sports and fitness classes such as yoga and Zumba. Tufts has 29 varsity sports teams, including field hockey, lacrosse, and swimming, and also offers club sports and fitness classes such as kickboxing and Pilates. With so many options available, students at both universities can easily find ways to stay active and engaged outside of the classroom.
Brandeis vs Tufts: Housing Options and Accommodations
Over 75% of students at Brandeis and Tufts live on campus, making housing a critical factor to consider. At Brandeis, first-year students and sophomores live in traditional-style dorms, while juniors and seniors have access to apartments on campus. Tufts offers on-campus housing options for all four years of undergraduate studies, with a variety of apartment-style and suite-style options. Both universities have dining halls that offer healthy and diverse meals for all dietary needs, making campus living a comfortable and enjoyable experience.
Additionally, both universities offer off-campus housing options for students who prefer to live independently or with roommates. Brandeis has partnerships with local apartment complexes, while Tufts has a database of off-campus housing options for students to browse. It is important to note that off-campus housing may require additional transportation arrangements and may not have the same level of support and resources as on-campus housing.
For students with disabilities or medical needs, both universities have accommodations available. Brandeis has an Office of Disability Services that works with students to provide necessary accommodations, such as accessible housing and transportation. Tufts has a Student Accessibility Services office that offers similar accommodations and support. It is important for students to communicate their needs with these offices in advance to ensure a smooth transition to campus living.
Faculty and Teaching Quality
Both Brandeis and Tufts universities have a world-class faculty comprised of experienced and distinguished professors who are experts in their fields. Both universities prioritize small class sizes, with a student-to-faculty ratio of 9:1 and 8:1, respectively, ensuring personalized attention and comprehensive learning. The teaching quality at both universities is exceptional, with professors providing stimulating and comprehensive lectures that challenge and inspire students.
Additionally, both universities offer opportunities for students to engage in research and work closely with faculty members on various projects. Brandeis and Tufts have well-funded research programs that allow students to gain hands-on experience in their respective fields. The faculty members at both universities are also known for their accessibility and willingness to mentor students, providing guidance and support throughout their academic journey. Overall, the faculty and teaching quality at Brandeis and Tufts universities create a dynamic and enriching learning environment for students.
Career Prospects and Post-Graduation Opportunities
Knowing what lies ahead after graduation is crucial, and both Brandeis and Tufts provide numerous opportunities for students to engage in internships, research, and networking. Brandeis has a comprehensive career center that supports students from their first year, helping them create resumes, cover letters, and providing access to job fairs and career events. Tufts has a similar career center that helps students grow their professional skills through internships, employer visits, and alumni networking opportunities.
Additionally, both universities have strong alumni networks that provide valuable connections and resources for students seeking employment after graduation. Brandeis alumni are known for their success in fields such as law, business, and healthcare, and the university offers a mentorship program that pairs students with alumni in their desired career paths. Tufts alumni are similarly successful, with many working in fields such as technology, finance, and education. The university's alumni network hosts events and workshops to help students build relationships with alumni and gain insight into various industries.
Furthermore, both universities offer graduate programs that provide students with advanced education and training in their fields of interest. Brandeis has a range of graduate programs, including those in business, social policy, and neuroscience, while Tufts offers graduate programs in fields such as engineering, international relations, and public health. These programs provide students with the opportunity to deepen their knowledge and skills, and often lead to higher-paying job opportunities and career advancement.
Tuition Fees, Financial Aid, and Scholarships
Tuition fees vary depending on the course, with Brandeis charging $58,640, while Tufts charges $60,862. However, both universities provide numerous financial aid and scholarship options, making their education accessible to all students regardless of their financial background. Over 60% of the students at Brandeis and Tufts receive financial aid, and such awards range from need-based grants to merit-based scholarships, making study at these institutions affordable for students from all walks of life.
Additionally, both universities offer work-study programs, which allow students to earn money while gaining valuable work experience. These programs provide students with part-time jobs on campus, and the earnings can be used to pay for tuition fees or other expenses. This not only helps students financially, but also helps them develop important skills and connections that can benefit them in their future careers.
Furthermore, both Brandeis and Tufts have partnerships with various organizations and companies that offer internships and job opportunities to their students. These partnerships provide students with access to a wide range of career opportunities, and can help them gain valuable experience and connections in their chosen fields. This makes studying at Brandeis or Tufts not only affordable, but also a smart investment in a student's future.
Athletics and Sports Programs
Brandeis and Tufts both have vibrant and competitive athletics programs that cater to various interests. Brandeis is a member of the University Athletic Association with 20 varsity sports teams, while Tufts is a member of the New England Small College Athletic Conference with 29 varsity sports teams. Both universities place significant emphasis on fostering an inclusive and supportive atmosphere for athletes and non-athletes alike to ensure all students remain active and healthy.
Additionally, both universities offer a wide range of intramural sports programs, allowing students to participate in sports and activities that may not be offered at the varsity level. These programs provide a fun and low-pressure environment for students to stay active and socialize with their peers.
Furthermore, Brandeis and Tufts also have strong connections to their local communities through various outreach programs. Student-athletes often participate in community service projects, such as coaching youth sports teams or volunteering at local events. These programs not only benefit the community, but also provide valuable leadership and teamwork skills for the student-athletes.
Diversity and Inclusion on Campus
Brandeis and Tufts are both committed to fostering a diverse and inclusive environment on their respective campuses. Brandeis is ranked #1 for "most diverse campus" by Niche.com, with students from over 87 countries and 44 states. Tufts has a similar diverse student population from over 60 countries and all fifty states and Canada. Both universities ensure their students and faculty feel valued, accepted, and safe, making the campus an open and supportive community for all.
Brandeis and Tufts have implemented various initiatives to promote diversity and inclusion on their campuses. Brandeis has a Diversity, Equity, and Inclusion Action Plan that outlines specific goals and strategies to create a more inclusive community. Tufts has a Diversity and Inclusion Leadership Council that works to promote diversity and inclusion in all aspects of campus life, including academics, student life, and athletics.
Both universities also offer resources and support for underrepresented groups on campus. Brandeis has a Multicultural Center that provides programming and support for students of color, LGBTQ+ students, and other marginalized groups. Tufts has a Center for STEM Diversity that supports underrepresented students pursuing degrees in science, technology, engineering, and math.
Brandeis vs Tufts: Alumni Network and Support Services
Brandeis and Tufts have a well-established alumni network that helps provide students with post-graduation opportunities. Both universities have a broad range of support services, including alumni events, mentoring programs, and networking events, making it easy for graduates to remain connected, receive support, and find connections for career and research opportunities. The alumni networks at these universities are considered an important resource for current students and a vital part of the university community.
In addition to the traditional alumni support services, both universities have also recently launched online platforms to connect alumni with current students. These platforms allow alumni to share their experiences and offer advice to students who are just starting their academic and professional journeys. The online platforms also provide students with access to job and internship postings, as well as opportunities to connect with alumni who work in their desired fields. These innovative resources have further strengthened the alumni networks at Brandeis and Tufts, and have helped to create a more supportive and connected community for all members.
Brandeis vs Tufts: Research Opportunities
Both Brandeis and Tufts universities offer students a range of research opportunities that allow them to undertake groundbreaking research work, both on and off-campus. Brandeis is renowned for its strengths in science and technology, with research opportunities in robotics, neuroscience, and environmental studies. Tufts has a strong emphasis on interdisciplinary research, with students working on projects in fields like environmental studies, political science, and media studies. Both universities have research labs, funding, and support for students to conduct original research, helping them develop crucial research skills for future academic and professional endeavors.
Additionally, both universities have partnerships with local research institutions, providing students with access to cutting-edge facilities and resources. Brandeis has collaborations with the Massachusetts Institute of Technology (MIT) and the Woods Hole Oceanographic Institution, while Tufts has partnerships with the Boston Museum of Science and the New England Aquarium. These partnerships offer students unique opportunities to work on real-world research projects and gain hands-on experience in their chosen fields.
Brandeis vs Tufts: Student Reviews and Testimonials
Finally, one of the best ways to learn about a university's many features and opportunities is to read about the experiences of current and past students. Both Brandeis and Tufts universities have active online communities, including anonymous student review websites like Niche, where students rate all aspects of the universities. Reading these reviews can help you gain an accurate perspective of the universities from the viewpoint of current and past students.
However, it is important to keep in mind that not all student reviews are reliable or unbiased. Some students may have had a negative experience due to personal reasons, while others may have had a positive experience due to their specific program or major. It is important to read a variety of reviews and take them with a grain of salt.
In addition to online reviews, many universities also offer student testimonials on their official websites. These testimonials are often written by current students or recent graduates and provide a more personal and detailed account of their experiences at the university. They may also highlight specific programs or opportunities that the university offers, which can be helpful in making a decision about where to attend.
Brandeis vs Tufts: Rankings
When it comes to national rankings, both Brandeis and Tufts universities rank highly. According to US News and World Report, Tufts ranks 28th in the National Universities category, while Brandeis ranks 34th. Other rankings put both universities in the top 50 national universities. While these rankings are valuable, it is essential to prioritize other factors listed in this article, such as programs, campus life, location, and financial aid over rankings when deciding which university to attend.
After all that, which university should you choose? That depends on your interests, values, and priorities. Do you want a smaller, close-knit community, or a bustling and more significant campus? Are you interested in specialized programs or a broader range of interdisciplinary studies? With all the great features and opportunities offered at each institution, it can be a hard choice to make, but rest assured, both Brandeis and Tufts Universities offer a world-class education that will set you on the path to success.
It is worth noting that both Brandeis and Tufts universities have a strong commitment to social justice and community engagement. Brandeis, for example, has a long history of promoting diversity and inclusion, with a student body that represents over 100 countries. Tufts, on the other hand, has a strong focus on civic engagement, with many opportunities for students to get involved in community service and social activism. These values are reflected in the curriculum and extracurricular activities offered at both universities, making them excellent choices for students who want to make a positive impact on the world.
How AdmissionSight Can Help You With College Admissions
AdmissionSight is a college consulting firm that provides personalized assistance to students throughout the college admissions process. Here are some ways that AdmissionSight can help you:
Admissions strategy: AdmissionSight can help you develop a strategic plan for your college application process. Our professional consultants can assist with identifying schools that are a good fit for your academic, extracurricular, and personal goals and help you plan and prioritize your application strategy.
Application review: AdmissionSight can review your application and provide feedback on how to improve it. We can offer suggestions on making your application stand out and highlighting your strengths and unique qualities.
Essay coaching: AdmissionSight can help you craft compelling essays that showcase your personality, goals, and achievements. We can guide you through the essay writing process and provide feedback on your drafts to help you refine your writing.
Interview preparation: AdmissionSight can provide interview coaching to help you feel confident and prepared for college interviews. Our experts can offer tips on how to present yourself professionally and how to answer common interview questions.
Extracurricular planning: AdmissionSight can help you plan and develop your extracurricular activities to make them more impactful and meaningful. We can suggest activities that align with your interests and goals and provide guidance on demonstrating your leadership and initiative.
Overall, AdmissionSight can provide valuable guidance and support throughout the college admissions process to help you maximize your chances of getting accepted into the college of your choice.
With a high success rate of over 75%, we have built a strong network in the past decade. Book an initial consultation today, free of charge!