Brandeis vs UCLA: Which One is for You?
Brandeis University and the University of California, Los Angeles (UCLA) are two of the most prestigious institutions in the United States. While both universities are known for their academic excellence, there are a number of differences between the two institutions that go beyond their geographical locations on opposite coasts. In this article, we'll compare Brandeis vs UCLA in terms of location and campus size, student demographics, academic programs, faculty, research opportunities, extracurricular activities, campus life, student housing, and campus safety, among other factors. If you're considering applying to either one of these schools, then read on to find out more about which one might be a better fit for you.
Location and Campus Size: How do Brandeis and UCLA differ?
One of the most obvious differences between Brandeis and UCLA is the location of the two institutions. Brandeis is located in Waltham, Massachusetts, a suburban town just nine miles west of Boston. In contrast, UCLA is located in the heart of Los Angeles, California, one of the largest cities in the United States. As a result, the two universities have vastly different campus cultures and sizes. Brandeis has a relatively small campus, measuring just 235 acres in size, while UCLA's campus covers over 419 acres and is one of the largest in the country.
Despite the differences in size and location, both universities offer beautiful and well-maintained campuses. Brandeis' campus boasts of plenty of green spaces and modern facilities, while UCLA's campus is in the hills and surrounded by lush greenery. Students at UCLA enjoy the sunny LA weather to the fullest with outdoor pool and beach access just a few miles away.
Another difference between the two universities is the student population. Brandeis has a smaller student body of around 5,800 students, while UCLA has over 44,000 students. This means that UCLA has a more diverse student population, with students from all over the world and a wider range of academic programs and extracurricular activities.
Additionally, the academic focus of the two universities differs. Brandeis is a private research university with a strong focus on the liberal arts, while UCLA is a public research university with a broader range of academic programs, including professional schools in law, medicine, and business. Both universities offer excellent academic opportunities, but students should consider their academic interests and goals when choosing between the two.
Admission Requirements: What does it take to get into Brandeis or UCLA?
The admission requirements at both Brandeis and UCLA are rigorous, and the competition for acceptance is intense. To apply to Brandeis, students need to submit the Common Application, official transcripts, letters of recommendation, and a personal essay. In addition, Brandeis requires applicants to submit either SAT or ACT scores, and also to test scores of two SAT Subject Tests aligned with their disciplinary interests. UCLA has a similar list of requirements, including the common application, official transcripts, letters of recommendation, and essays. However, unlike Brandeis, UCLA requires applicants to submit both SAT or ACT scores and two SAT Subject Tests.
Both universities have selective acceptance rates, with UCLA being more competitive than Brandeis. In the most recent admissions cycle, Brandeis accepted 30% of its applicant pool while UCLA accepted only 14% of its applicants.
It is important to note that admission requirements are not the only factors that determine acceptance into these universities. Both Brandeis and UCLA also consider extracurricular activities, community involvement, and leadership experience when evaluating applicants. They also take into account the rigor of the applicant's high school curriculum and their GPA.
Furthermore, both universities offer various resources to help students navigate the application process. Brandeis has an admissions blog and offers virtual information sessions and campus tours. UCLA has a dedicated admissions website with information on application deadlines, financial aid, and campus life. They also offer virtual tours and information sessions for prospective students.
Brandeis vs UCLA: Student Body Demographics
Both Brandeis and UCLA are diverse institutions, with students from a wide range of ethnic and socioeconomic backgrounds. However, there are some notable differences in the demographics of the two universities. Brandeis has a higher percentage of Jewish students, owing to its origins as a non-sectarian, Jewish-sponsored university. Roughly 50% of students at Brandeis identify as Jewish, compared to less than 10% at UCLA. Meanwhile, UCLA has a higher percentage of underrepresented minority students – 33.8% of its student body and 36% of incoming freshman students identify as Hispanic, African American, or Native American.
Another significant difference between the two universities is the gender distribution of their student bodies. At Brandeis, there are slightly more female students than male students, with women making up 53% of the student population. In contrast, UCLA has a more even gender distribution, with women comprising 51% of the student body and men comprising 49%.
Additionally, the two universities differ in terms of their international student populations. At Brandeis, international students make up only 8% of the student body, while at UCLA, international students comprise 15% of the student population. This may be due in part to UCLA's location in Los Angeles, which is a more popular destination for international students seeking to study in the United States.
Cost of Attendance: Which university is more affordable?
The cost of attendance is an important factor to consider when comparing universities. Both Brandeis and UCLA have high tuition costs, although there are some differences in terms of affordability. Brandeis tuition fees are around $59,780 for 2021-2022 academic year, while UCLA charges $13,249 per year for in-state students and $42,217 per year for out-of-state students.
In addition, both universities provide financial aid and scholarships to help cover the cost of attendance. In the last academic year, 89% of Brandeis students received financial aid. On the other hand, UCLA is known to be more generous in providing financial and merit-based scholarships.
It is important to note that the cost of attendance goes beyond just tuition fees. Other expenses such as room and board, textbooks, and transportation should also be taken into consideration. At Brandeis, the estimated cost of attendance for the 2021-2022 academic year is $78,160, while at UCLA it is $34,551 for in-state students and $63,519 for out-of-state students. It is important to carefully evaluate all of these costs when making a decision about which university is more affordable for you.
Academic Programs: What are the strengths of each university's curriculum?
The academic programs at both Brandeis and UCLA are renowned for their excellence. Brandeis is known for its strong programs in the humanities, social sciences, and sciences, particularly biology, psychology, economics, and film studies. UCLA, on the other hand, is well-known for its programs in engineering, business, law, and medicine.
Both universities offer a wide range of majors and courses of study, and both encourage interdisciplinary research and collaboration between different departments and schools. At Brandeis' cross-departmental centers for neuroscience, environmental studies, and the humanities, students are given the opportunity to study in an interdisciplinary environment. UCLA's honors courses, including cross-disciplinary seminars and self-directed research projects, challenge smart students seeking to go beyond the traditional curriculum to explore cutting-edge interdisciplinary research.
Brandeis University also offers unique programs such as the Heller School for Social Policy and Management, which focuses on social justice and policy research. The school offers master's degrees in public policy, social work, and sustainable international development, as well as a PhD program in social policy. The Heller School is known for its commitment to social justice and its graduates are highly sought after by non-profit organizations, government agencies, and international organizations.
UCLA, on the other hand, has a strong program in the arts, with its School of the Arts and Architecture offering degrees in art, design, and architecture. The school is known for its innovative and experimental approach to art and design, and its graduates have gone on to become successful artists, designers, and architects. UCLA also has a strong program in environmental science, with its Institute of the Environment and Sustainability offering interdisciplinary courses and research opportunities in areas such as climate change, conservation biology, and environmental policy.
Brandeis vs UCLA: Faculty and Teaching Quality
Both Brandeis and UCLA boast of having world-class faculty members, who are known for their research and teaching excellence. The faculty to student ratio at Brandeis is 9:1 which allows for interactive classroom discussions and seminars taught by top professors in departments such as International and Global Studies, Jewish Studies and Peacebuilding and Conflict Resolution.
UCLA, on the other hand, is home to more than a dozen Nobel laureates and over 300 endowed chairs and professorships. Professors at UCLA are experts in their fields and are often sought out by national and international media to speak about current issues. Quality of teaching goes beyond faculty member's expertise and UCLA has adopted a comprehensive approach to teaching styles that incorporate technology, practical work and active learning.
Additionally, both universities offer opportunities for students to engage in research with faculty members. Brandeis has a strong emphasis on undergraduate research, with over 60% of students participating in research projects. UCLA also offers research opportunities for undergraduate students, with programs such as the Undergraduate Research Scholars Program and the Undergraduate Research Center.
Brandeis vs UCLA: Research Opportunities
For students interested in conducting research, both Brandeis and UCLA offer countless opportunities to engage in hands-on research and scholarship. At Brandeis, undergraduates have the opportunity to participate in research with faculty in the natural sciences, arts, and humanities through programs like the Summer Science Scholars and the Humanities Fellowship Program. UCLA provides opportunities through the Undergraduate Research Center that offers research seminars and provides resources for students to seek out faculty mentors, present their research at conferences and publication platforms, and even earn competitive research grants offered by the university and research funding organizations.
Additionally, both universities have research facilities that provide students with access to state-of-the-art equipment and technology. Brandeis has the Volen National Center for Complex Systems, which houses research labs in neuroscience, psychology, and computer science. UCLA has the California NanoSystems Institute, which provides students with access to cutting-edge nanotechnology research facilities. These facilities offer students the opportunity to work on groundbreaking research projects and gain valuable hands-on experience in their field of study.
Extracurricular Activities: What kinds of clubs and organizations can you find at each institution?
Both Brandeis and UCLA have a vibrant campus culture, with a wide range of clubs and organizations available to students. At Brandeis, students can choose from over 250 clubs and organizations covering a wide range of interests and topics, including student government, activism, community service, music and culture. Similarly, UCLA has a wide range of student organizations, centered on the arts, culture, activism, sports, and many other interests.
Additionally, both universities offer opportunities for students to create their own clubs and organizations, allowing them to pursue their unique interests and passions. At Brandeis, students can apply for funding and resources to start their own clubs, while at UCLA, students can work with the Student Organizations, Leadership and Engagement (SOLE) office to create new groups. These student-led organizations often provide a sense of community and belonging for students, as well as valuable leadership and organizational skills.
Brandeis vs UCLA: Sports Programs
At Brandeis, athletics are an important part of campus life, with teams competing in 19 varsity sports within the University Athletic Association. UCLA also has an impressive athletics program, with 25 NCAA Division I varsity sports. However, UCLA is known particularly for its nationally-ranked men's basketball and football teams. While the stadiums and facilities differ, both universities take sports seriously and provide top-notch facilities to their athletes and fans.
One major difference between the sports programs at Brandeis and UCLA is the level of fan culture. At UCLA, the student section at basketball and football games is known for being loud and enthusiastic, with organized chants and cheers. At Brandeis, while there is still a strong sense of school spirit, the fan culture is more subdued, with smaller crowds and less organized cheering.
Another factor to consider when comparing the sports programs at these universities is the level of competition. While both schools have strong athletics programs, UCLA is part of the highly competitive Pac-12 conference, which includes other top-ranked schools such as Stanford and USC. Brandeis, on the other hand, competes in the Division III University Athletic Association, which includes smaller liberal arts colleges.
Alumni Network: Which university has a stronger alumni network?
Both Brandeis and UCLA have strong alumni networks, with graduates working in a wide range of industries and professions. However, UCLA has a larger alumni network due to its size and the sheer number of graduates it produces each year. UCLA alumni network is spread across the globe and alumni have the opportunity to stay connected through over a hundred alumni chapters throughout the world.
Brandeis, on the other hand, has a more tight-knit alumni community due to its smaller size. Graduates often form close relationships with their peers and professors during their time at Brandeis, which translates into a strong alumni network. Brandeis alumni are known for their willingness to help fellow graduates, whether it be through mentorship or job referrals.
Both universities offer various opportunities for alumni to stay connected, including networking events, online communities, and career services. UCLA's alumni network is particularly strong in the entertainment industry, with many graduates working in Hollywood. Brandeis alumni, on the other hand, are well-represented in the fields of healthcare and social justice.
Brandeis vs UCLA: Career Services
For students looking to secure jobs after graduation, both Brandeis and UCLA offer career services and resources to help students with networking, job searches, resume writing, and interview preparation. While both universities offer valuable resources, UCLA has more robust and comprehensive career services, including access to job databases, alumni career mentoring, and on-campus recruiting for top employers.
Additionally, UCLA's career services also offer specialized career counseling for students interested in specific industries, such as entertainment, technology, and healthcare. This allows students to receive tailored advice and guidance on how to break into their desired field.
On the other hand, Brandeis' career services prioritize building strong relationships with employers and alumni, which can lead to more personalized job opportunities and connections for students. Brandeis also offers career fairs and networking events that allow students to meet with potential employers and learn about different industries.
Brandeis vs UCLA: Campus Life
While the daily life experiences at Brandeis and UCLA differ, both universities offer engaging campus life experiences for students, faculty, and staff. Students at Brandeis enjoy a tight-knit community culture, and access to a variety of cultural and intellectual events on campus. Meanwhile, UCLA's campus culture is more eventful and dynamic, with many students attending concerts, films, and other cultural events featured at the university's performance venues.
Additionally, both universities offer a range of extracurricular activities and clubs for students to get involved in. At Brandeis, students can participate in over 250 clubs and organizations, including academic, cultural, and athletic groups. UCLA also offers a diverse range of clubs and organizations, with over 1,000 student groups to choose from. These extracurricular activities provide opportunities for students to pursue their interests, develop leadership skills, and make connections with other students.
Brandeis vs UCLA: Student Housing Options
Both Brandeis and UCLA provide a combination of on-campus housing and off-campus housing options for students. Brandeis guarantees campus housing for all four years while UCLA guarantees housing for up to three years. Dormitories, apartments, and different living arrangements available to students are designed to offer comfortable living experience based on students' preferences. UCLA offers a growing number of apartment buildings in the Westwood area that students can rent off-campus towards the later years of university.
When it comes to dormitories, Brandeis offers traditional dormitory-style living with communal bathrooms and shared living spaces. UCLA, on the other hand, offers a variety of dormitory options including suite-style living with private bathrooms and shared living spaces. Both universities offer on-campus dining options for students living in dormitories.
Off-campus housing options are also available to students at both universities. Brandeis offers a list of off-campus housing options for students to choose from, while UCLA has a dedicated off-campus housing office to assist students in finding suitable housing options. Off-campus housing options can range from apartments to shared houses and can provide students with more independence and privacy.
Brandeis vs UCLA: Campus Safety Measures
Both Brandeis and UCLA take campus safety very seriously and have implemented a range of measures to ensure the safety of students, faculty, and staff, especially considering the university's large student bodies. UCLA has a strong campus safety department with campus safety vehicles and robust security measures. Brandeis has an emergency alert system, campus security officers, and emergency call boxes throughout the campus.
In conclusion, deciding whether to attend Brandeis or UCLA requires careful consideration of individual priorities, goals, and preferences. Both universities offer many unique strengths with some significant similarities and differences. Hopefully, this overview has provided you with a comprehensive understanding of the different factors that set these two universities apart, and the strengths that make each one a unique place of learning.
It is important to note that campus safety is not just the responsibility of the universities, but also the students themselves. Both Brandeis and UCLA have programs in place to educate students on how to stay safe on campus, such as self-defense classes and safety workshops. Additionally, students are encouraged to report any suspicious activity or behavior to campus security or local law enforcement. By working together, the universities and students can create a safer campus environment for everyone.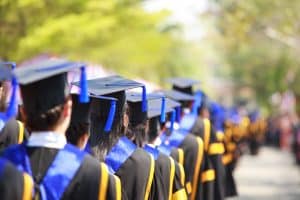 How AdmissionSight Can Help You With College Admissions
AdmissionSight is a college consulting firm that provides personalized assistance to students throughout the college admissions process. Here are some ways that AdmissionSight can help you:
Admissions strategy: AdmissionSight can help you develop a strategic plan for your college application process. Our professional consultants can assist with identifying schools that are a good fit for your academic, extracurricular, and personal goals and help you plan and prioritize your application strategy.
Application review: AdmissionSight can review your application and provide feedback on how to improve it. We can offer suggestions on making your application stand out and highlighting your strengths and unique qualities.
Essay coaching: AdmissionSight can help you craft compelling essays that showcase your personality, goals, and achievements. We can guide you through the essay writing process and provide feedback on your drafts to help you refine your writing.
Interview preparation: AdmissionSight can provide interview coaching to help you feel confident and prepared for college interviews. Our experts can offer tips on how to present yourself professionally and how to answer common interview questions.
Extracurricular planning: AdmissionSight can help you plan and develop your extracurricular activities to make them more impactful and meaningful. We can suggest activities that align with your interests and goals and provide guidance on demonstrating your leadership and initiative.
Overall, AdmissionSight can provide valuable guidance and support throughout the college admissions process to help you maximize your chances of getting accepted into the college of your choice.
With a high success rate of over 75%, we have built a strong network in the past decade. Book an initial consultation today, free of charge!