Brown Acceptance Dates
For students who are interested in attending one of the best schools in the United States, typically end up applying to one or more Ivy League schools. The Ivy League is a group of eight private learning institutions located in the Northeast of the United States.
One of those eight schools is Brown University, located in the historic city of Providence, Rhode Island. And if you are interested in one day attending Brown, you are probably curious about what the Brown acceptance date is.
The truth is that if you are interested in applying to any of the Ivy League schools, or schools that are not in the Ivy League but still very prestigious, then you will not only want to know about the acceptance date of the school but truly about the entire admissions process at that school. Knowing how a school's specific admissions process works can clue you into important information regarding what kinds of students they look for.
Though it may not feel like knowing the Brown acceptance date or the Brown Early Decision date is important, getting that information is all part of a greater information-gathering phase that can absolutely help you overcome the very low acceptance rates at these kinds of schools and get in!
At AdmissionSight, we firmly believe that having a deep knowledge of how these top schools make their choices in terms of what students to accept can dramatically improve a student's chances of getting in. Having that knowledge can help guide a student when it comes to enrolling in high school courses, investing time and energy in certain extracurricular activities, writing personal essays, gathering letters of recommendation and so much more.
The tools that we offer the students that we work with have had impressive and consistent success! In fact, out of all the students that we have worked with from one application cycle to the next, 75.0 percent of them end up getting into either an Ivy League school like Brown, Columbia, or Cornell, or a top 10 school that is not in the ivy League such as Stanford, UChicago or MIT.
Considering the fact that many of these schools have acceptance rates well below 5.0 percent, we feel very confident that our methods have really positive impacts!
So, if you are curious to learn more about how Brown admissions work, what the Brown acceptance date is and more, then you have absolutely come to the right place. Let's get started on breaking all that important information down.
Brown Acceptance Rate
Before we get into the Brown acceptance date and other important components of the process, we thought that we would quickly break down some information about what percentage of students are actually getting into Brown these days. Of course, an acceptance rate at any school reflects the percentage of students that end up getting offered a spot versus the total pool of students that apply.
In recent years, acceptance rates at schools have been dipping across the board, but the largest dips have been seen at many of the best schools in the world. That is very much the case when it comes to Brown University.
In the most recent application cycle (the 2021-22 application cycle) a total of 50,649 students applied to the school and just 2,547 students ended up getting offered a spot of admission. That made for an overall acceptance rate of 5.0 percent. Believe it or not, that is one of the higher acceptance rates from the Ivy League from this application cycle.
Going a bit deeper, however, tells a much more compelling story. First of all, it is important to know that the total number of students that applied was the biggest number in the history of the school! That's saying quite a lot considering the fact that Brown first opened its doors back in 1764!
On top of that, it is very important to know that out of a total pool of 50,649 applicants, the vast majority (44,503 to be exact) applied to Brown via the school's Regular Decision application option. Of those students, just 1,651 students got in. That means that the Regular Decision application at the school was just 3.6 percent. That's basically on par with Harvard, Yale, and the other hardest Ivies to get into! As for the Early Decision applicants at Brown during the 2021-22 application cycle, just 6,146 students applied and 896 got in. That resulted in an Early Decision acceptance rate of 14.6 percent.
If you are interested in learning about the current acceptance rate trends at Brown, take a look at the table below to get an idea of how much the acceptance rate has dropped in just three years alone!
From this alone, it should be abundantly clear that schools that are hard to get into are only getting harder to get into! Now, it's important to know that we are not giving you this information to discourage you from applying! After all, just because it is hard does not mean that applying to Brown and getting in is not impossible.
We just believe that it is important for students who plan on applying to these schools to know the statistical reality that they are up against! There is no room for magical thinking when it comes to applying to the most competitive schools in the United States, and indeed the world!
Important Brown acceptance dates
Now that you have a good idea of what the current statistics are in relation to the Brown acceptance rate, we can start breaking down the important dates related to the Brown admissions timeline. At Brown, there are two different admissions timelines based on how students choose to apply.
As you may already know, the two ways in which students can apply is either through the Early Decision application option or the Regular Decision option. We'll get into what Early Decision means beyond the expedited application timeline in a little bit, but first we want to break down just the dates to keep in mind.
One final thing that students who are interested in applying to Brown should know is that there are no Brown Early Decision 2 application options at Brown, so there is no such date or timeline to keep in mind. With that out of the way, here are the important Brown application and acceptance dates to keep in mind:
Early Decision application deadline: November 1 (11:59 p.m. applicant's local time)
Early Decision letters available online: December 16
Regular Decision application deadline: January 5 (11:59 p.m. applicant's local time)
Regular Decision letters available online: March 31
Commitment deadline for candidates: May 2
So there you have it! That is all the information that anyone could really need when it comes to learning about the Harvard deadlines and the Brown decision date. It's quite simple when you look at it like that, even though there is of course a lot of preparation
As you now know well, there are two different sets of deadlines for the two different ways in which applying students can submit their material. But what is the difference between applying to Brown via Early Decision or Regular Decision other than the expedited timeline?
Do Early Decision students have a better chance of getting in? Are there additional materials that they must submit in order to make sure their application is eligible? If you have any of these questions or more about the differences in Early Decision applications and Regular Decision applications at Brown, then simply continue reading to find out more.
Brown's different deadlines
So now that you have a good idea of the two different general timelines that students who apply to Brown contend with – both the Early Decision timeline and the Regular Decision timelines – you may be curious why students choose one way to apply to Brown over the other.
While the basic requirements regarding either application timeline are basically identical, meaning you send in the same material, have to complete the same personal essays, and are basically held to the same degree of expectations from the admissions officers, there are some key differences when it comes to the rules surrounding both application types.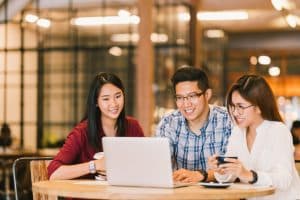 More importantly, the rules involving applying to Early Decision to Brown are something that any student interested in applying to Brown should know about. There are a lot of names for the restrictive rules surrounding applying to a given school via either Early Action or Early Decision.
At Brown, it's called the Early Decision Commitment. Here is what the school has to say about what this commitment means:
"We offer Early Decision as an opportunity for students who are ready to commit and would like early notification of their admission status," the school says. "If you choose to apply to Brown under Early Decision, we ask that you not submit an application to another institution under another early decision, single-choice early action or restrictive early action plan. If you are admitted under our Early Decision plan, you will be required to withdraw all pending applications—including those you may have already submitted to regular, rolling or (open) early action programs.
"Please do not assume that your admission chances are improved by applying under the Early Decision plan. The Board of Admission makes the same decisions under Early Decision that it would under the Regular Decision plan."
So what this essentially means is that if you decide to apply to Brown via Early Decision and end up getting in, there is an expectation that you will withdraw all of your application to other colleges and universities and enroll at Brown. Early Decision at Brown is for students who know with a very high level of certainty that if they were to end up getting into Brown, they would happily go no matter the outcome of any of their other applications. If you are thinking of applying to the school in this way, you should know that Brown is truly your No. 1 option.
As for students who apply to Brown via Regular Decision, there are no such restrictions or expected commitments from the school. Even if you get in, you can freely choose between Brown or any of the other schools that have offered you a spot in the incoming class.
Does applying to Brown Early Decision boost your chances of getting in?
This is obviously an important question for any student to ask. If you are thinking about applying to Brown via Early Decision and agreeing to the commitment that the school's admissions office expects of you, you should know whether or not applying in this way is actually going to do anything to help yourself get in.
The truth is that this is a more complex answer than just a "yes" or a "no." After all, based on the quoted message above from the school itself, you now know that the school claims outright that students who apply to Brown via Early Decision do not get an actual boost in their application just because they applied early.
However, you also now know – based on the acceptance rate data we covered earlier – that students who applied via Early Decision in the 2021-22 application cycle enjoyed a far more favorable acceptance rate compared to students who applied via Regular Decision. To jog your memory, 14.6 percent of Early Decision applicants got in versus just 3.6 Regular Decision applicants.
From that alone, one would probably deduce that students that apply via Early Decision do indeed receive a boost in their chances of getting in. But if we take the school's word for it and believe that there is no boost involved simply from applying early, what can account for an acceptance rate that is more than four times more favorable for applying students? Here are some of the things to keep in mind.
Students who apply to Brown via Early Decision tend to be a self-selecting group, meaning students that apply early to any of the top schools are likely to have more impressive academic records, extracurricular achievements, personal essays and more. This is going to make them incredibly attractive applicants to the admissions committee no matter how they apply. It is possible that every student that gets in via Early Decision would also get in via Regular Decision based on merit alone.
Students who apply to Brown via Early Decision are initially competing against a much smaller pool of applicants (44,503 students applied via Regular Decision in 2021-22 vs. just 6,146 Early Decision students in the same year). As all Early Decision applications are reviewed before any Regular Decision applications are, Early Decision applicants have to face off against far less students. This can help improve the standing of their applicants in a big way.
Finally, even if there is not an official boost that Early Decision applicants get, there is one thing that students should not ignore. Just like elite companies look to garner interest from elite professionals in the industry, elite schools are always looking to attract elite students from all over the world. Those elite schools also want to feel "wanted" by students because it ensures that if that elite student gets in, they will end up attending that school. By applying to Brown – or any other elite school – via early admissions, you are able to basically make a clear statement that the school is your top choice and your "dream school." This could make your application much more attractive in the eyes of admissions officers, and even if there is no official boost, this could absolutely be a more unofficial boost that still helps you overcome the low acceptance rate and get in.
So there you have it! While students who want to apply to Brown early do have to contend with the earlier deadline for the applications and related material, they also do stand to benefit from these points, and probably some other benefits as well!
In the end, the primary thing to keep in mind is that if Brown is your top choice compared to all the other schools that you plan on applying to, then you have nothing to lose and potentially a whole lot to gain by applying to this school via Early Decision.
We'll help you track Brown acceptance dates
Getting into the top schools in the country is hard, but that does not mean you are not up to the challenge. Perhaps the best place to start when it comes to improving your chances is learning as much as you can about the school itself and its admissions practices. We hope that this quick breakdown of the Brown acceptance date has helped you start off that important process.
If you are interested in learning more about Brown and what it takes to get in, contact us at AdmissionSight today to set up a free consultation.