Brown Application Portal
What Application Portal Does Brown Use?
Brown University is a leading research university known for its innovative Open Curriculum. As the builders of their educational experience, students pursue rigorous scholarships by exploring a variety of subjects before deciding on a focus area. A Brown education encourages students to be creative thinkers, intellectual risk-takers, and entrepreneurs.
Now, aspiring Brown students often ask, "What application portal does Brown use?" The Brown application portal utilized for undergraduate admissions is the Common Application. The Common Application is a non-profit membership organization dedicated to access, equity, and integrity in the college admission process.
Through the Common Application portal, prospective students can submit one application to apply to multiple colleges and universities that are members of the Common App. This saves time and effort for students as they do not have to fill out separate applications for each school they wish to apply to.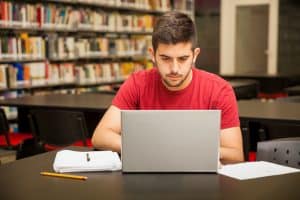 In addition to the Common App, Brown is proud to be a part of this incredibly successful and valuable program. QuestBridge connects the nation's brightest underrepresented youngsters to 40 prominent colleges and university partners across the United States to provide the National College Match scholarship.
The scholarship pays for the entire cost of attendance at each college, including tuition, housing and board, travel expenses, and books and supplies, with no parental contribution or student loans. These scholarships may require student participation in the form of work-study or student savings.
Brown also requires additional supplemental materials such as essays, test scores, and transcripts. These requirements can also be submitted through the Common Application portal or QuestBridge.
Your access to the Brown Applicant Portal will be sent via email within 48 hours of submitting your Common Application. To check the status of your application, you can log in to your Brown Applicant Portal.
Brown's portal is a secured and confidential site that allows students to:
Monitor the progress of their application.
Check to see if all necessary materials have been received.
Change your email and password.
Examine your application's admittance determination.
The Brown application portal options provide a convenient and secure way for prospective students to apply to Brown and other institutions. With a user-friendly interface, students can easily navigate the application process and submit all required materials in one place.
How to Register for the Brown Application Portal?
Applying to Brown University can be an exciting and rewarding experience, and the Common Application portal makes it easy to submit your application. Students might wonder, "How to register for the Brown application portal?" Here is a step-by-step guide on how to register for the Brown application portal:
Visit the Common Application website: Go to the Common Application website at commonapp.org and click on the "Apply" button.
Create an account: On the next page, click on the "Create an Account" button and enter your email address, password, and a security question.
Complete your profile: Fill in your basic personal information, including your name, address, and contact information. Make sure to provide accurate information as it will be used for your application and future communications from Brown University.
Choose the schools you want to apply to: Once your account is set up, you can start the application process by selecting the colleges and universities you want to apply to. Make sure to add Brown University to your list of schools.
Complete the application: Fill out the Common Application form, including the required essays and activities. Be sure to provide detailed and accurate information as it will be used to evaluate your application.
Submit your application: After you have completed the application, double-check it for any errors or omissions, then submit it online through the Common Application portal. You will receive a confirmation email once your application has been received and processed.
Submit your supporting documents: In addition to the Common Application, Brown University requires additional materials such as transcripts, test scores, and essays. You can submit these materials through the Common Application portal or the Brown University admissions office.
To create a QuestBridge application, you must provide your personal email address, full name, and date of birth to create an account. Then, an email with a temporary PIN and a link to activate your account will be sent to your email address. You can submit a free online QuestBridge National College Match application in late September of your senior year.
QuestBridge reviews applications and selects Finalists to move further in the process. Finalists may rank universities in order of preference for participation in the College Match. Ranking institutions imply that you wish to be evaluated for early admission as well as the full College Match Scholarship.
What Time Is Brown Application Due?
What time is Brown application due? Brown University's deadline is November 1st, at 11:59 p.m. in the applicant's local time, for Early Decision. For the Regular Decision program, applications are due on January 5th, at 11:59 p.m. in the applicant's local time. This means that all materials, including the Common Application form, essays, test scores, and transcripts, must be submitted by this date. It is highly recommended that you submit your application well before the deadline to ensure that it is received and processed on time.
It is important to note that submitting your application on time is not only a requirement but also a critical factor in the admissions process. Late applications may not be considered or may be at a disadvantage compared to those received on time. Therefore, it is essential to plan ahead and allow enough time to gather all the required materials and complete your application through the Brown application portal before the deadline.
In addition, if you are applying for financial aid, it is important to note that the deadline for the Free Application for Federal Student Aid (FAFSA) is November 1st for Early Decision applicants and March 1st for Regular Decision. The FAFSA must be submitted on time to be considered for financial aid.
How Does Brown Notify Acceptance?
While everyone is excited to find out their admissions decisions, it's important to know when and how can you view the results.
Early Decision applicants will get their decision notification by mid-December, while applicants of the Regular Decision plan will hear back by early April.
So, how does Brown notify acceptance? Students will be able to access their admission decision by logging into their Brown Applicant Portal after they have received an email informing them that decisions on admission are now available.
Be sure to regularly check your email and the portal for updates on your admission status, and don't hesitate to contact the admissions office if you have any questions or concerns.
Now, there are three conceivable outcomes under Brown's Early Decision plan:
Accepted: You must withdraw all other college applications. Your spot in Brown's first-year class is guaranteed if you complete your senior year successfully.
Deferred: Your credentials will be reviewed again in the context of the Regular Decision applicant pool.
Denied: If you are denied admission through Early Decision, you may not reapply through Regular Decision in the same year.
For the Regular Decision, applicants could be accepted, denied, or waitlisted.
Remember that being waitlisted or deferred does not mean you have been denied admission. It's as though you've been asked to sit a little longer in the waiting room pending a final decision. Use the time carefully, as you would any other waiting period. Raise your grades or exam scores, or simply maintain your excellent academic performance.
Make sure you have backup plans with others schools and don't give up. It may be disappointing to be denied, waitlisted, or postponed, but it's not the end of the world or your college quest.
How Hard Is It to Get Accepted Into Brown?
Brown University is one of the most prestigious universities in the country, and the admissions process can be competitive. If you are considering applying to Brown, you may be wondering about your chances of getting accepted.
Before submitting your application to the Brown application portal, let's discuss the popular query, "How hard is it to get accepted into Brown?"
Brown University is a highly selective institution, and the admissions process is competitive. In recent years, the acceptance rate has been around 5%. This means that only about 5 out of every 100 applicants are admitted to the university. The university received about 50, 649 applicants for the Class of 2026; admitting only 2,560 students from the applicant pool.
Brown University stands as a top research university for its student-centered learning and deep sense of purpose. Staff and professors are motivated by the belief that their work will have a good impact on the world.
Brown University prepares its students to thrive as independent thinkers, imaginative collaborators, and active global citizens engaged in critical issues.
The institution takes pleasure in being inclusive and tolerant of all views and needs, asserting that as a student, you can study whatever you want and have the flexibility to discover what you love thanks to Brown's well-known open curriculum.
Brown is looking for more than just good grades and test scores. The admissions committee evaluates applicants on a holistic basis, taking into consideration a wide range of factors including academics, extracurricular activities, essays, recommendations, and more.
To increase your chances of being admitted to Brown, it's important to present a well-rounded and compelling application that showcases your unique qualities, interests, and achievements. This means putting in the time and effort to craft thoughtful essays, gathering strong letters of recommendation, and demonstrating your commitment to your passions and interests.
Furthermore, college admissions experts like AdmissionSight can assist students in every step of their application. With our 10 years of experience, we help hundreds of students each year to get into their dream schools and top universities in the country. Feel free to book an initial consultation with us today.