Caltech vs Colby: Which College is Right for You?
Choosing the right college can be overwhelming. With so many options out there, it's important to find the one that best fits your needs and interests. Two excellent choices to consider are Caltech and Colby. In this article, we'll compare these two highly recognized colleges – Caltech vs Colby and highlight all the essential factors that will help you decide which one is the right fit for you.
Location and Campus Facilities of Caltech and Colby
Caltech, located in Pasadena, California, is a relatively small campus situated in a suburban area. Colby, on the other hand, is located in the beautiful state of Maine and is set in a small-town environment. Both colleges have their unique charm, but it ultimately comes down to what kind of environment you are most comfortable in.
The campus facilities at both colleges are top-notch, boasting modern classrooms, research labs, and state-of-the-art libraries. Although Caltech might have a more tech-savvy campus, Colby is equally equipped to support all academic endeavors.
One of the unique features of Caltech's campus is the Jet Propulsion Laboratory (JPL), which is managed by the university for NASA. This facility is responsible for many of NASA's space missions and is a hub for cutting-edge research in space exploration. Colby, on the other hand, has a strong focus on environmental sustainability and has implemented many eco-friendly initiatives on campus, such as a composting program and a solar-powered greenhouse.
Both colleges also offer a wide range of extracurricular activities for students to get involved in. Caltech has a strong emphasis on STEM-related clubs and organizations, such as robotics and coding clubs, while Colby has a thriving arts community, with opportunities to participate in theater productions and art exhibitions. No matter what your interests are, both Caltech and Colby have something to offer beyond the classroom.
Academic Programs Offered by Caltech and Colby
Caltech is renowned for its scientific and technological programs, with majors ranging from physics and chemical engineering to computer science and astronomy. Colby, on the other hand, offers a broader range of programs from arts to sciences, and even business management. Ultimately, the decision depends on your academic aspirations and which of these two esteemed institutions will best prepare you for success in your chosen field.
It is worth noting that both Caltech and Colby offer exceptional research opportunities for undergraduate students. Caltech's undergraduate research program is highly competitive and provides students with the opportunity to work alongside world-renowned faculty members on cutting-edge research projects. Similarly, Colby's research program allows students to engage in hands-on research in a variety of fields, including environmental studies, neuroscience, and economics. Regardless of which institution you choose, you can be sure that you will have access to unparalleled research opportunities that will help you develop the skills and knowledge necessary to succeed in your future career.
Faculty and Class Size at Caltech vs Colby
Caltech boasts a student-to-faculty ratio of just 3:1, which means that students benefit from close engagement with some of the most distinguished faculty members. Colby has a ratio of 10:1, which is still impressive, but not quite as intimate. At Caltech, you can expect small class sizes and personalized attention, which adds to the institution's overall academic excellence.
In addition to the small class sizes and personalized attention, Caltech also offers a unique research experience for undergraduate students. With access to cutting-edge facilities and resources, students have the opportunity to work alongside faculty members on groundbreaking research projects. This hands-on experience not only enhances their education but also prepares them for future careers in their respective fields.
Admission Requirements for Caltech and Colby
The admission standards at both colleges are high, with an acceptance rate of around. However, Caltech is generally considered more selective at 4%, with its students having slightly better academic qualifications. That said, both colleges welcome students with diverse backgrounds and experiences, so beyond academics, it comes down to how you can contribute to the vibrant campus community.
It is important to note that both Caltech and Colby have unique admission requirements. Caltech places a strong emphasis on math and science coursework, while Colby values a well-rounded education with a focus on the humanities. Additionally, both colleges require standardized test scores, essays, and letters of recommendation. It is recommended that prospective students thoroughly research the specific admission requirements for each college before applying.
Student Life at Caltech and Colby: Extracurricular activities, sports, clubs, etc.
At Caltech, students are more focused on academics, and extracurriculars take a back seat. Colby, on the other hand, has a more robust student life program, offering more than 200 student organizations, clubs, and sports teams. If you're looking for a well-rounded college experience, Colby might be the place for you.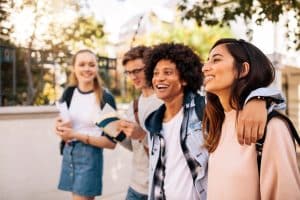 However, despite the focus on academics at Caltech, there are still plenty of opportunities for students to get involved outside of the classroom. The school has several research groups and projects that students can participate in, as well as a variety of clubs and organizations, focused on everything from robotics to music. Additionally, Caltech has a strong athletic program, with several varsity sports teams and several intramural sports leagues.
At Colby, students not only have access to a wide range of extracurricular activities, but they also have the opportunity to participate in unique programs like the Colby Outing Club, which offers outdoor adventure trips throughout the year. The school also has a strong commitment to community service, with many students participating in volunteer programs both on and off campus. Overall, both Caltech and Colby offer unique and fulfilling student life experiences, depending on what you're looking for in a college.
Housing Options at Caltech and Colby
Both colleges provide comfortable and modern housing options for students. Caltech offers on-campus apartments while Colby has traditional residence halls and apartments. Caltech might have more independent living options, but again, it comes down to personal preference when choosing where to live.
It is important to note that both colleges have housing options that cater to different needs and preferences. Caltech's on-campus apartments offer more privacy and independence, while Colby's traditional residence halls provide a more communal living experience. Additionally, Colby's apartments offer a middle ground between the two options, providing students with a balance of independence and community. Ultimately, the choice of housing will depend on individual preferences and priorities.
Diversity on Campus: Caltech vs Colby's Student Body
Diversity is an essential factor to consider when choosing a college. Caltech has a smaller student population, making it less diverse than Colby, which has a more international student population. Colby prides itself on its multicultural community, making it a great place for people who want to learn from and engage with a diverse group of people.
However, it is important to note that diversity goes beyond just international students. Caltech has a strong representation of underrepresented minorities in STEM fields, which adds to the diversity of the campus. Caltech has been recognized for its efforts in promoting diversity and inclusion in STEM education. This creates a unique and valuable experience for students who are interested in pursuing STEM fields and want to learn from a diverse group of peers.
Internship and Career Opportunities for Students at Caltech and Colby
Internship opportunities at Caltech are mainly in the scientific, engineering, and research fields. Colby offers a broader spectrum of opportunities across multiple industries, including business, arts, and healthcare. Both colleges have a strong career services department that helps students navigate the job market and secure employment upon graduation.
Additionally, Caltech has a strong partnership with NASA's Jet Propulsion Laboratory, providing students with unique opportunities to work on cutting-edge space exploration projects. Colby, on the other hand, has a strong focus on community engagement and offers many internships with local non-profit organizations. Both colleges also offer international internship programs, allowing students to gain valuable experience while immersing themselves in different cultures.
Alumni Network of Caltech vs Colby – Who Has a Better Network?
The alumni networks of both colleges are strong, but Caltech alumni tend to use their connections to further their research or entrepreneurial goals. Colby has a broader alumni base across multiple industries, providing more diversified career opportunities.
However, Caltech's alumni network is known for its close-knit community and strong support system. Alumni often mentor and provide job opportunities for current students and recent graduates. On the other hand, Colby's alumni network is more focused on networking events and job fairs, providing a wider range of opportunities for students to connect with potential employers.
Cost of Attendance at Caltech vs Colby: Tuition Fees, Scholarships, Financial Aid, etc.
Caltech's total tuition and fees of around $60,864 while Colby's is $63,520. However, both colleges offer need-based and merit-based scholarships to deserving students. So, financial aid is available to help mitigate the cost of attendance. It's essential to research and apply for financial aid assistance well before starting your chosen college.
It's also important to consider the cost of living in the area surrounding the college. For example, if you choose to attend a college in a big city, the cost of living may be higher than a college in a rural area. Additionally, some colleges offer work-study programs, which allow students to work part-time on campus to earn money towards their tuition and living expenses.
Another factor to consider is the potential return on investment. While a college education can be expensive, it can also lead to higher earning potential in the future. It's important to research the job market and potential salaries in your chosen field to determine if the cost of attendance is worth it in the long run.
Graduate School Acceptance Rates from Caltech vs Colby
Caltech has a higher graduate school acceptance rate compared to Colby, mainly attributed to its focus on research and advanced scientific programs. However, both colleges offer excellent programs designed to prepare students for graduate-level studies.
It is important to note that graduate school acceptance rates are not the only factor to consider when choosing a college. Other factors such as location, campus culture, and available resources should also be taken into account. Additionally, students should focus on developing strong academic and research skills during their undergraduate studies to increase their chances of being accepted into their desired graduate programs.
Research Opportunities for Undergraduates at Caltech vs Colby
Caltech is a research powerhouse, placing a great emphasis on undergraduate scientific research opportunities. Colby also offers research opportunities but not as developed as those at Caltech. So, if scientific research is your passion, Caltech encourages undergraduate research, further driving its reputation.
Caltech's research opportunities for undergraduates are not limited to just the sciences. The school also offers research opportunities in fields such as engineering, humanities, and social sciences. This allows students to explore their interests and gain valuable research experience in a variety of fields.
While Colby may not have as many research opportunities as Caltech, the school does offer unique opportunities for students to conduct research in the field. Colby's location in Maine provides students with access to a diverse range of ecosystems and wildlife, making it an ideal location for environmental research. Additionally, Colby's partnerships with local organizations and businesses provide students with opportunities to conduct research that has real-world applications.
Ultimately, the right college for you depends on a multitude of factors, such as location, academic program, campus community, cost, and overall lifestyle. Caltech is an excellent choice for students interested in the hard sciences and conducting research while Colby is a great option for those who want a broader liberal arts education, with various extracurriculars and community engagement.
Whatever your decision, make sure to research and visit each campus before making an informed choice that will undoubtedly shape your future academic and career pursuits.