Caltech's Graduation Requirements
What are the graduation requirements for Caltech?
In order to graduate from Caltech, what are the prerequisites? The basic curriculum at Caltech is the same for all students, regardless of the major they choose. The faculty conceived the core curriculum with one overarching goal in mind which is to improve students' scientific abilities.
The university doesn't believe in the practice of taking classes simply to fulfill Caltech's graduation requirements for a degree. Each and every student's required classes serve a purposeful and important role in their overall education.
The core curriculum will be quite challenging to complete successfully. This is how it was intended to work: to take the most talented people in STEM fields from around the world and push them past the boundaries of what they think is possible. But you can do it. You will be successful. And this essential groundwork will assist you in making a difference in the world.
As you progress through the required courses of the core curriculum, you will be required to take more advanced classes in the sciences, the humanities, and the social sciences.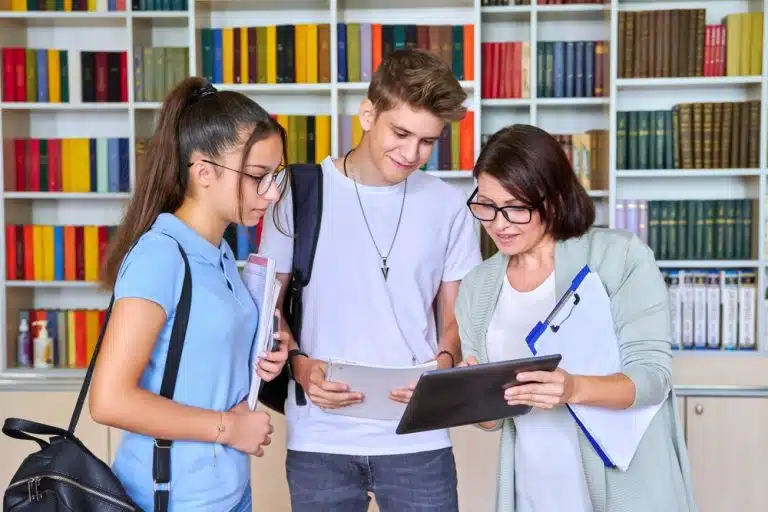 Moreover, your perseverance will be put to the test in our math sessions. Problem sets, often known as homework assignments, will be significantly more challenging than anything else of its kind that you have ever encountered. You will strengthen both your academic and personal resiliency as a result of this exercise.
The classes that the university provides in the humanities and social sciences will require you to think critically and communicate effectively. They will provide you with a more well-rounded comprehension of society as well as the planet. They will also make amazing opportunities available at the points where different fields converge. Many of today's research frontiers, such as brain science and climate change, cross over into other fields of study.
You'll also develop the skills necessary to find solutions to difficult, complicated issues by taking these classes. In addition to that, you will acquire the skills necessary to work effectively with other scientists and convey your views. The most important thing you'll take away from your time at Caltech is the realization that everything you study is interrelated.
At Caltech, they measure courses in units, which is roughly equivalent to the number of hours per week that is anticipated that you will dedicate to studying that particular topic.
A standard course consisting of nine units requires three hours of in-class time in addition to six hours of weekly homework.
The following subjects make up the majority of Caltech's required coursework:
Freshman Mathematics: 27 units (covering Multivariable Calculus and Linear Algebra)
Freshman Physics: 27 units (yearlong course)
Freshman Chemistry: 15 units (classes) and 6 units (lab)
Freshman Biology: 9 units
Menu Class: 9 units (subjects include Astronomy, Environmental Science and Engineering, Energy Science, Geosciences, Information, and Logic)
Additional Introductory Lab: 6 units (multiple options)
Scientific Writing: 3 units
Humanities and Social Sciences: 36 units in Humanities, 36 units in Social Sciences, and 36 additional units in either
Physical Education: 9 units
What GPA do you need to graduate from Caltech?
What is the minimum grade point average required to graduate from Caltech? In order to fulfill Caltech's graduation requirements, a student must earn a grade of "passing" in all needed subjects and have an overall grade point average of 1.9 in order to be eligible for graduation from the school.
Additionally, the student must finish the requisite coursework for one of the available options. A student doesn't need to retake an optional course in which they obtained a failing grade if they have already passed a sufficient number of other recognized units to meet the minimum number of requirements for the option as a whole.
An undergraduate degree from Caltech is built on a four-year residential experience (including time spent studying abroad), during which students have the opportunity to investigate their academic interests in a manner that is both in-depth and rigorous.
It is possible for students who are admitted to Caltech as transfer students or as 3/2 students to get advanced standing and semester credit for academic work that is accepted in transfer to Caltech.
However, transfers and students in the 3/2 program are required to enroll at Caltech for a minimum of six terms. All other students who are consistently admitted are required to enroll for a full four years (12 terms).
Any deviations to the rule that states residents must have been in the same location for at least four years need to be approved by both the dean of undergraduate students and the vice president for student affairs.
How does Caltech's graduation work?
How does the graduation process operate at Caltech? The graduation ceremony is celebrated by students who finally fulfill Caltech's graduation requirements and the university appreciates it if you would examine the following critical reminders:
All candidates who will be participating in Commencement are required to arrive at their designated marshaling and lineup sites around Caltech Hall Pond, dressed in their cap and gown, and check in no later than 8:45 a.m. on Friday.
After that, the candidates for the Bachelor's degree will gather for a collective portrait in front of Parsons-Gates before heading back to the marshaling area.
The commencement ceremonies will get underway at exactly 10 in the morning. Those who arrive too late risk missing out on being included in the processional.
It is strictly forbidden for students who are graduating to bring any bags or other personal objects with them into the processional, including purses, backpacks, and other similar items. Every mobile device needs to be put into silent mode and tucked away somewhere out of sight.
Although your friends and family do not need tickets to attend Caltech's Commencement, seating is restricted and will only be made available on a first-come, first-served basis.
Before being allowed to take a seat at the event, attendees need to first obtain a wristband from one of the four check-in locations that have been set up throughout Beckman Mall. You can determine the locations of the four check-in spots by consulting the Commencement Map.
Note that graduate students do not need to travel through the guest check-in lines and should instead report immediately to the marshaling location at Caltech Hall Pond.
The check-in stations for visitors will open at 8:30 in the morning. Along with photo identification, visitors will be required to present evidence of a recent negative test or full immunization at the time of check-in. Guests will also be expected to participate in the event while wearing masks.
On the day of Commencement, the Caltech Store will open at 8:00 a.m. for customers to make any last-minute purchases and to pick up their regalia.
It can be difficult to fulfill all of Caltech's graduation requirements. Nevertheless, regardless of how challenging the process is, the outcomes are invariably deserving of the investment of both time and energy.
We at AdmissionSight, are confident in your ability to be successful at Caltech and earn your degree, no matter what challenges you might face along the way in the future. However, getting accepted into the school is currently the most important thing that needs to be done.
AdmissionSight has proven to be a valuable resource for assisting students in effectively navigating the difficult and competitive college admissions process. We would appreciate it if you could get in touch with us as soon as possible so that we can set up an appointment.