Canada/USA Mathcamp: Things You Need to Know
What is Canada/USA Mathcamp?
What exactly is Canada/USA Mathcamp? Canada/USA Mathcamp is a five-week summer program for high school students with exceptional mathematical ability that aims to introduce them to the elegance of more abstract mathematical ideas and to new ways of thinking. Mathcamp is more than simply a summer program; it's a thriving community of learners and mathematicians from all walks of life.
At Mathcamp, students can develop transferable problem-solving abilities applicable to any field of study by delving into undergraduate and even graduate-level topics.
What is the purpose of Canada/USA Mathcamp?
What does the Canada/USA Mathcamp aim to achieve? Canada/USA Mathcamp is a summer program designed for mathematically talented students from Canada and the United States.
The purpose of the program is to provide an opportunity for students to deepen their understanding of math concepts, develop their problem-solving skills, and work with other students who share their interests in math.
One of the main goals of Canada/USA Mathcamp is to challenge and inspire students to think critically and creatively about mathematical concepts and problems.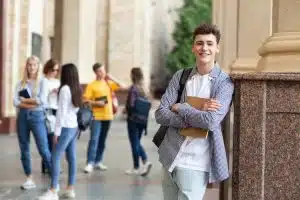 The curriculum is designed to expose students to new and advanced concepts in mathematics, and through lectures, workshops, and problem-solving sessions, students are encouraged to push the limits of their abilities and develop new skills.
Another important aspect of Canada/USA Mathcamp is the opportunity for students to work with other students who have similar interests in math. This allows students to collaborate on problems, share ideas, and learn from one another.
This type of peer-to-peer learning is an essential part of the math camp experience and can be a valuable source of inspiration and motivation.
Additionally, Canada/USA Mathcamp often invites guest speakers who are experts in their field, to share their knowledge and experience with the students.
This is a unique opportunity for students to learn from professionals and gain insight into the different career paths that are available in the field of mathematics.
The program also provides an opportunity for students to participate in math competitions and contests.
These can include individual and team-based competitions, as well as problem-solving challenges. These activities help students to test their skills, develop their confidence in their abilities, and foster a sense of camaraderie and competition among students.
How to apply to Canada/USA Mathcamp?
How can I signup for the Canada/US Mathcamp? Mathcamp encourages applications from any student between the ages of 13 and 18 who has an interest in mathematics, regardless of the student's race, ethnicity, religious affiliation, or financial situation.
Mathcamp's application includes the following:
Basic personal and contact details.
Some information regarding your educational background and your mathematical experience.
A reflective essay on yourself and the reasons you wish to attend Mathcamp.
Your answers to the qualifying quiz for Mathcamp.
Two letters of recommendation: one for academic work, and one for personal character.
An application for a scholarship, in the event that you require financial support to attend Mathcamp. (Optional)
There is no charge to submit an application.
Canada/USA Mathcamp does not require transcripts, nor demand scores from standardized tests; rather, students need to report their mathematical experience, both within and outside of the classroom. This includes both problem-solving and theoretical work.
It is anticipated that applicants will have completed precalculus, either through formal education or through their own study of material that is equivalent.
If you are not a native English speaker, you do not need to take the TOEFL exam. However, the program is administered fully in English, therefore, you should only apply if you are completely comfortable engaging mathematically and socially in English.
How to get into Canada/USA Mathcamp?
If you're interested in attending Canada/USA Mathcamp, there are a few key steps you can take to increase your chances of being accepted into the program.
Maintain a strong academic record.
Canada/USA Mathcamp is a competitive program, and most applicants will have a strong academic record, particularly in mathematics. To increase your chances of being accepted, focus on maintaining high grades in your math classes and consider taking advanced math classes if they are available to you.
Participate in math-related extracurricular activities.
Many math camps look for students who have demonstrated a passion for math outside of the classroom. Consider participating in math extracurricular activities such as competitions, clubs, or volunteer opportunities that are related to math.
Prepare for the Mathcamp entrance exam.
Canada/USA Mathcamp requires applicants to take an entrance exam as part of the application process. The exam typically tests math skills and problem-solving abilities. Prepare for this exam by reviewing math concepts, practicing math problems and puzzles, and taking sample tests.
Submit a strong application.
Canada/USA Mathcamp typically requires applicants to submit a completed application form, which includes personal information and academic records, essays, and letters of recommendation. Make sure that you complete your application thoroughly and submit it on time.
Show your passion for mathematics.
Many math camps have a limited number of spots available, and the selection process can be competitive. Showing your passion for mathematics through essays, letters of recommendation, and interviews can be helpful in getting into Canada/USA Mathcamp.
It's important to note that the application process and requirements may vary from year to year, so be sure to check the math camp's website or contact the camp's organizers for more information.
Should you need more help, AdmissionSight can help you with any of your summer program applications including math camps.
We at AdmissionSight give recommendations on summer programs to apply to based on your academic interests and profile and undertake deep-dive editing to help you produce polished essays to boost your odds for admission. Contact us to book your initial consultation.