Carleton vs. Lehigh: A Comprehensive Analysis
If you're looking to attend a highly respected and nationally recognized academic institution, you may have come across the names Carleton College and Lehigh University. These two prestigious institutions have much to offer, and deciding which one to attend can be a difficult decision.
This comprehensive analysis will take a closer look at Carleton vs. Lehigh, examining everything from location and campus facilities to academic programs and athletics. By the end of this article, you'll have a better understanding of what these schools have to offer and which one might be the best fit for you.
Before we dive into the specifics of Carleton and Lehigh, it's important to understand why we're conducting this analysis and what we hope to accomplish. The purpose of this analysis is to provide prospective students with a comprehensive overview of these two institutions. We aim to examine and compare various aspects of each school, including academics, faculty, student life, and more. By doing so, we hope to equip students with the knowledge they need to make an informed decision about where to attend college.
Furthermore, this analysis will also benefit the institutions themselves. By identifying areas of strength and weakness, Carleton and Lehigh can use this information to improve their programs and services, ultimately enhancing the overall student experience. Additionally, this analysis can serve as a benchmark for other colleges and universities, providing a model for how to conduct a thorough and objective comparison of institutions.
It's important to note that this analysis is not meant to be the sole determining factor in a student's college decision. Rather, it should be used as a tool to supplement other research and personal experiences. Ultimately, the decision of where to attend college is a highly personal one, and each student should carefully consider their own priorities and goals when making this choice.
Carleton vs. Lehigh: Location and Campus
The location and campus of a college can have a significant impact on a student's overall experience. Carleton College is located in Northfield, Minnesota — a quaint and charming town with a population of just over 20,000. The college's campus is predominantly situated on a hillside, with a mix of modern and historic buildings.
Lehigh University, on the other hand, is located in Bethlehem, Pennsylvania — a larger, urban city with a population of over 75,000. The university's campus is spread across two adjacent mountains, overlooking the heart of the Lehigh Valley. Both campuses offer a plethora of facilities, including libraries, art galleries, sports facilities, and more.
Carleton College's location in Northfield, Minnesota provides students with a unique opportunity to experience small-town living while still having access to the amenities of a larger city. The town is home to several locally-owned shops and restaurants, as well as a weekly farmers market. Additionally, the college's Arboretum offers over 800 acres of natural beauty for students to explore.
Lehigh University's location in Bethlehem, Pennsylvania also offers students a diverse range of experiences. The city is home to several museums, including the National Museum of Industrial History and the Banana Factory Arts Center. Students can also take advantage of the university's close proximity to Philadelphia and New York City, both of which are just a short drive or train ride away.
Carleton vs. Lehigh: Academic Programs
The academic programs offered at a college can be a crucial factor in deciding where to attend. Carleton College offers over 30 majors and 15 minors across a wide range of disciplines, including humanities, social sciences, natural sciences, and interdisciplinary studies.
Lehigh University, on the other hand, offers over 100 majors and minors, ranging from arts and sciences to engineering and business. Both schools have diverse and challenging academic programs, allowing students to explore their interests and passions.
In addition to the majors and minors offered, Carleton College also provides students with the opportunity to pursue certificates in various fields, such as African/African American Studies, Cognitive Science, and Women's and Gender Studies. These certificates allow students to gain a deeper understanding of a specific topic and enhance their academic experience.
Lehigh University also offers unique academic programs, such as the Integrated Business and Engineering Honors Program, which combines business and engineering coursework to prepare students for careers in both fields. Additionally, the university has a strong emphasis on research, providing students with opportunities to work alongside faculty members on cutting-edge projects.
Carleton vs. Lehigh: Faculty and Student Body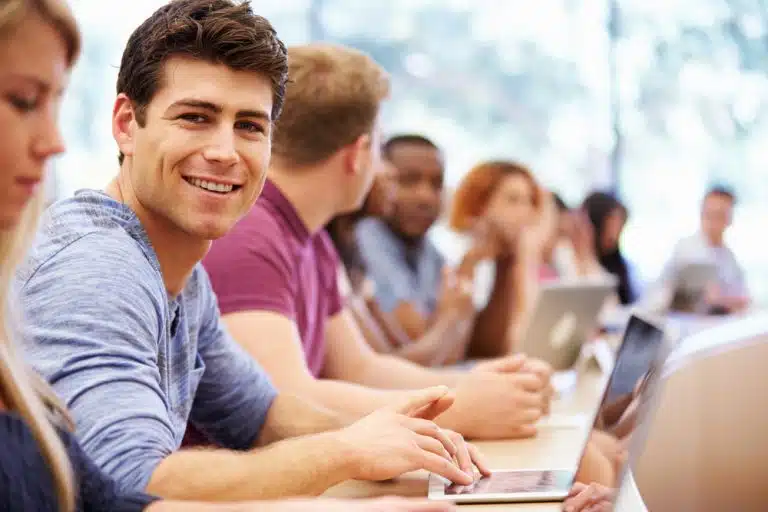 The quality and diversity of a school's faculty and student body can have a significant impact on the overall academic experience. Carleton College has a faculty-student ratio of 9:1, with over 200 full-time faculty members. The faculty is renowned for their dedication to teaching and student success, and they come from a diverse range of backgrounds and experiences.
Lehigh University has a faculty-student ratio of 10:1, with over 1,000 full-time faculty members. The faculty is comprised of experts and scholars across various fields, who are committed to mentoring and guiding their students.
In addition to the quality and diversity of faculty, the student body also plays a crucial role in shaping the academic experience. At Carleton College, the student body is known for their intellectual curiosity and passion for learning, with a diverse range of interests and backgrounds represented.
Lehigh University's student body is similarly diverse, with students hailing from all 50 states and over 100 countries. Both schools prioritize creating a supportive and inclusive community, where students can learn from each other and grow both academically and personally.
Carleton vs. Lehigh: Research Opportunities
Research opportunities are a crucial component of higher education as they can help students develop critical thinking skills and prepare them for future careers. Both Carleton and Lehigh offer a wide range of research opportunities for students, including independent research projects, research internships, and access to cutting-edge facilities and equipment. Students at Carleton are encouraged to engage in research early on in their college careers, while Lehigh has a thriving research community that spans across all departments.
At Carleton, students have the opportunity to work closely with faculty members on research projects. This allows students to gain valuable mentorship and guidance as they navigate the research process. Additionally, Carleton offers funding opportunities for students to pursue their research interests, including travel grants to present their findings at conferences.
Lehigh's research opportunities extend beyond the campus, with partnerships with local businesses and organizations. This provides students with real-world experience and the opportunity to apply their research skills to solve practical problems. Lehigh also offers interdisciplinary research programs, allowing students to collaborate with peers from different departments and gain a broader perspective on their research topics.
Carleton vs. Lehigh: A Comparison of Sports Teams, Facilities, and Fan Culture
For many students, athletics are an integral part of the college experience. Carleton and Lehigh both offer robust NCAA Division III athletic programs, with numerous sports teams and highly ranked facilities. Fans at both institutions are passionate and supportive, creating an exciting and enjoyable atmosphere for students and alumni alike.
However, there are some differences between the two schools when it comes to athletics. Carleton has a strong tradition in cross country and track and field, with several national championships under their belt. Lehigh, on the other hand, has a highly competitive wrestling program that consistently ranks among the top in the country.
Another factor to consider is the accessibility of athletic facilities. While both schools have top-notch facilities, Carleton's athletic center is located centrally on campus, making it easy for students to access. Lehigh's facilities are spread out across campus, which can be inconvenient for some students.
Carleton vs. Lehigh: Exploring Extracurricular Activities, Clubs, and Social Events
The college experience isn't just about academics; extracurricular activities, clubs, and social events can help students develop lifelong friendships, explore new interests, and create memories. Carleton and Lehigh both offer a wide range of clubs and organizations, including academic clubs, sports clubs, and cultural and service-oriented groups. Both institutions also have a vibrant social scene, with numerous events and activities throughout the academic year.
Additionally, students at Carleton and Lehigh can also participate in various leadership and professional development programs. These programs provide students with opportunities to enhance their skills, network with professionals, and gain valuable experience that can help them in their future careers. Some of the programs offered include leadership workshops, mentorship programs, and internships. These programs not only help students grow personally and professionally, but also make them more competitive in the job market.
Carleton vs. Lehigh: Cost of Attendance
College can be a significant financial investment for students and their families. Carleton College's tuition and fees for the 2021-2022 academic year are approximately $60,000, with additional expenses for housing, food, and books. Lehigh University's tuition and fees for the same academic year are approximately $56,000, with additional expenses for housing, food, and books. However, both institutions offer generous financial aid packages, including scholarships, grants, work-study, and loans, to help students manage the cost of attendance.
It is important for students and families to carefully evaluate the cost of attendance when choosing a college. In addition to tuition and fees, they should consider the cost of living in the area, transportation, and other expenses. It is also important to research and apply for all available financial aid options, including scholarships and grants from the college, government, and private organizations.
Furthermore, students can also consider alternative options to manage the cost of attendance, such as attending a community college for the first two years and then transferring to a four-year institution, or taking advantage of online courses and programs. By carefully evaluating all options and resources, students can make informed decisions about their college education and financial future.
Carleton vs. Lehigh: Career Services
Preparing for a career is a key component of the college experience, and career services can play a vital role in helping students achieve their professional goals. Both Carleton and Lehigh offer robust career services, including job fairs, individual career coaching, networking events, and access to extensive alumni networks. These resources can help students secure internships and job opportunities after graduation.
In addition to these resources, both Carleton and Lehigh also provide students with access to valuable career-related data. This includes analyzing job placement rates for recent graduates, which can help students make informed decisions about their career paths. Additionally, students can take advantage of internship opportunities through partnerships with local and national organizations. These internships provide hands-on experience in a variety of fields and can lead to job offers after graduation. Finally, both schools offer extensive networking resources, including online platforms and in-person events, to help students connect with alumni and other professionals in their desired fields.
Conclusion: Summing Up the Findings and Recommending a College Choice
Comparing Carleton and Lehigh can be challenging, as both institutions have much to offer. Ultimately, the decision of where to attend college will depend on each individual student's interests, goals, and preferences.
However, based on our analysis, we can confidently say that both Carleton and Lehigh are exceptional institutions that offer rigorous academic programs, supportive communities, and exciting opportunities for students. We encourage prospective students to further research these schools and visit them in person to get a better sense of which one might be the best fit for them. With careful consideration, we have no doubt that students can make the most of their college experience at either Carleton or Lehigh.
It is important to note that while Carleton and Lehigh share many similarities, there are also some key differences between the two institutions. For example, Carleton is known for its strong emphasis on the liberal arts, while Lehigh is more focused on engineering and business.
Additionally, Carleton is located in a small town in Minnesota, while Lehigh is situated in a mid-sized city in Pennsylvania. These factors may play a significant role in a student's decision-making process and should be carefully considered when choosing between the two schools.