Carleton vs. Swarthmore: Which College is Right for You?
Choosing the right college can be a daunting task, especially when considering the best among the top liberal arts colleges in the United States. Two of these top-ranked colleges are Carleton College and Swarthmore College, and this article will help you make an informed decision on which of the two colleges to choose.
Here, we will assess the rivalry between Carleton vs. Swarthmore based on academics, student life, faculty, admissions, diversity, career services, alumni, financial aid, housing, athletics, safety, and overall feedback.
Academic Programs and Majors: Carleton vs. Swarthmore
Carleton and Swarthmore are both revered for their rigorous academic programs, but there are some differences in their approach. Swarthmore offers 50 courses in the Arts and Humanities, 27 in the Natural Sciences and Engineering, and 24 in the Social Sciences. Carleton, on the other hand, offers over 30 academic majors and 17 interdisciplinary concentrations, with a strong focus on independent research. Both colleges have a student-to-faculty ratio of 9:1 and are known for their personal and intensive approach to teaching.
One notable difference between the two colleges is their approach to distribution requirements. Swarthmore has a set of distribution requirements that all students must fulfill, regardless of their major. Carleton, on the other hand, has a more flexible approach, allowing students to design their own course of study with the help of their academic advisor.
Another difference is the availability of study-abroad programs. Carleton has a strong emphasis on global learning and offers over 200 study-abroad programs in more than 60 countries. Swarthmore also offers study abroad opportunities, but with a more limited selection of programs.
Student Life and Extracurricular Activities: Carleton vs. Swarthmore
Carleton and Swarthmore provide their students with a vibrant student life and a wide range of extracurricular activities. Carleton has over 200 student-led organizations, including academic clubs, service groups, performance groups, and fitness clubs. Swarthmore, with more limited options due to a smaller student body, also has a strong commitment to extracurricular activities, particularly in the arts, with student groups like the Swarthmore College Orchestra and Chorus.
Additionally, Carleton offers a unique program called "Friday Flowers," where students can send flowers to their friends or professors to show appreciation or celebrate a special occasion. This program has become a beloved tradition on campus and adds to the strong sense of community at Carleton.
On the other hand, Swarthmore has a strong focus on sustainability and environmentalism, with student groups like the Swarthmore Environmental Studies Club and the Swarthmore Climate Action Network. These groups work to promote sustainable practices on campus and in the surrounding community, and Swarthmore has been recognized for its commitment to sustainability by organizations like the Princeton Review.
Faculty and Teaching Style: Carleton vs. Swarthmore
Carleton and Swarthmore are known for their exceptional faculty, who are not only experts in their fields but also dedicated to their students. Both colleges have minimal graduate programs, allowing their faculty to focus solely on teaching undergraduates.
warthmore puts an emphasis on small-group seminars and independent research, while Carleton is known for its innovative curriculum that allows students to explore interdisciplinary subjects and choose their own academic path.
At Carleton, the faculty members are encouraged to collaborate with each other and with students, creating a dynamic and engaging learning environment. The college also offers a number of research opportunities for students, including summer research programs and senior thesis projects.
Swarthmore, on the other hand, has a strong tradition of student-led learning, with students taking an active role in shaping their own education.
Despite their differences, both Carleton and Swarthmore share a commitment to providing a well-rounded education that prepares students for success in a variety of fields. The faculty members at both colleges are passionate about their subjects and are dedicated to helping students achieve their full potential.
Whether you choose Carleton or Swarthmore, you can be sure that you will receive a top-notch education that will prepare you for a fulfilling and rewarding career.
Student Diversity and Inclusion: Carleton vs. Swarthmore
Diversity and inclusion are central to both Carleton and Swarthmore's mission statements, with both colleges putting in efforts to create an inclusive community on their campuses. Carleton has a higher percentage of domestic students of color, at 35%, compared to Swarthmore's 27%.
Both colleges are actively working to improve the experiences of underrepresented students and have programs focused on diversity and inclusion.
Carleton and Swarthmore also differ in terms of international student representation. Swarthmore has a higher percentage of international students, at 11%, compared to Carleton's 7%. However, both colleges have resources and support systems in place to help international students adjust to campus life and succeed academically.
Furthermore, Carleton and Swarthmore have different approaches to addressing diversity and inclusion in their curriculums. Carleton has a required course called "Understanding Race, Ethnicity, and Racism" for all first-year students, while Swarthmore has a similar requirement called "Interpretation Theory and Cultural Diversity."
Both colleges also offer a variety of courses and majors focused on issues of diversity and social justice.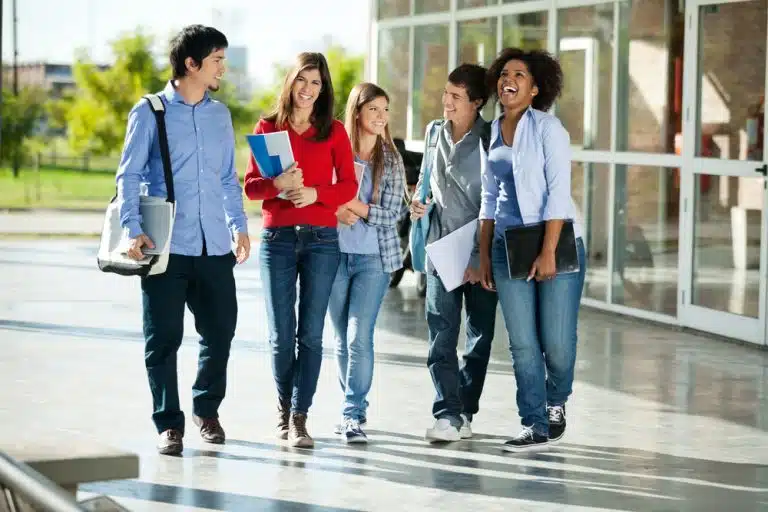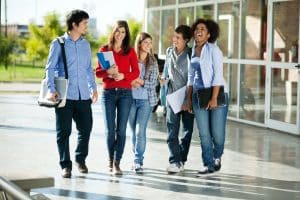 Career Services and Job Placement: Carleton vs. Swarthmore
Carleton and Swarthmore both have dedicated career services offices that offer resources and assistance to students looking for internships, jobs, and post-graduate opportunities. Both colleges have high rates of graduates who pursue advanced degrees, with Carleton graduates attending prestigious programs like Harvard Law School and the University of California, Berkeley. Swarthmore graduates also have had great success, with over 85% of alums being employed two years after graduation and earning an average starting salary of $60,000.
However, there are some differences in the approach of the two colleges towards career services. Carleton's career services office focuses on providing personalized career counseling and coaching to students, helping them identify their strengths and interests and aligning them with suitable career paths.
On the other hand, Swarthmore's career services office emphasizes on building strong industry connections and partnerships, organizing career fairs and networking events, and bringing in alumni and employers to campus for recruitment and information sessions. Both approaches have their advantages, and it ultimately depends on the individual student's needs and preferences.
Alumni Network and Post-Graduate Opportunities: Carleton vs. Swarthmore
Carleton and Swarthmore both boast strong alumni networks, with graduates in fields like journalism, law, medicine, education, public service, and theater. Carleton is known for its outstanding Ph.D. programs in the sciences and its alumni network that includes Nobel Laureates, while Swarthmore's graduates have gone on to become Pulitzer Prize winners and leading scholars in their fields. Both schools have active alumni communities that offer opportunities for networking, mentorship, and continuing education.
However, there are some differences in the post-graduate opportunities offered by these two institutions. Carleton has a strong focus on undergraduate education and offers limited graduate programs, while Swarthmore has a range of graduate programs in fields such as engineering, social sciences, and humanities.
Additionally, Swarthmore has a robust career services center that offers resources such as job fairs, resume workshops, and alumni networking events to help students and graduates navigate the job market. Carleton, on the other hand, has a strong emphasis on research and offers opportunities for students to work alongside faculty on cutting-edge research projects.
Financial Aid and Scholarships: Carleton vs. Swarthmore
Carleton and Swarthmore both have generous financial aid packages for students with demonstrated need, with both schools covering 100% of demonstrated need and not requiring loans for families with incomes below $75,000. However, Carleton has a slightly lower average net price for low-income students, at $7,251, compared to Swarthmore's $9,239. Both schools also offer merit-based scholarships, with Carleton's Presidential Scholarship offering full tuition coverage.
In addition to need-based and merit-based aid, both Carleton and Swarthmore offer work-study programs to help students cover the cost of attendance. At Carleton, students can work on campus or in the local community, with jobs ranging from research assistants to baristas. Swarthmore's work-study program also offers a variety of on-campus and off-campus jobs, including positions in the library, dining hall, and community service organizations. These programs not only provide financial support, but also valuable work experience for students.
Campus Housing Options and Amenities: Carleton vs. Swarthmore
Carleton and Swarthmore both offer a variety of housing options for students, including traditional dorms, suites, apartments, and theme housing. Both colleges have facilities that allow students to engage in physical activity, such as swimming pools, fitness centers, and tennis courts. Swarthmore is noted for its Natural Sciences Center, which includes a greenhouse and laboratories for environmental studies. Carleton has a unique feature, the Weitz Center for Creativity, which includes a cinema, theater stages, and visual arts studios.
Additionally, Carleton and Swarthmore both have dining options that cater to a variety of dietary needs and preferences. Swarthmore has a student-run co-op that offers organic and locally sourced food, while Carleton has a sustainable farm that provides fresh produce for its dining halls. Both colleges also have cafes and coffee shops for students to grab a quick bite or study with friends.
Athletics Programs and Facilities: Carleton vs. Swarthmore
Carleton and Swarthmore have exceptional athletic programs, with both colleges fielding varsity teams in various sports, including basketball, soccer, cross-country, swimming, and tennis. Carleton's athletic facilities include the West Gym, Laird Stadium, and the Recreation Center, while Swarthmore offers impressive facilities such as the Ware Pool and Lamb-Miller Field.
However, Carleton has a unique program called "Intramurals," which allows students to participate in sports without the pressure of varsity competition. This program includes a wide range of sports, from ultimate frisbee to dodgeball, and is open to all students regardless of skill level.
On the other hand, Swarthmore has a strong emphasis on sustainability in their athletic facilities. The college has implemented various eco-friendly initiatives, such as using solar panels to power their athletic center and using recycled materials in the construction of their fields and courts.
Campus Safety and Security Measures: Carleton vs. Swarthmore
Carleton and Swarthmore take campus safety and security seriously and have measures in place to ensure students' well-being. Carleton has an active Department of Public Safety that operates 24/7 and offers campus Escort Services for students, while Swarthmore has a partnership with the Swarthmore Borough Police Department, which patrols the campus and neighboring communities.
In addition to these measures, both Carleton and Swarthmore have implemented emergency notification systems that allow students to receive alerts in the event of a campus emergency. Carleton's system, called "Carleton Alerts," sends notifications via text message, email, and phone call, while Swarthmore's system, called "Swarthmore Alerts," sends notifications via text message and email. These systems are designed to quickly and effectively communicate important information to students in the event of a crisis.
Overall Pros and Cons of Attending Carleton or Swarthmore
Both Carleton and Swarthmore are exceptional colleges with strong academic programs and a vibrant student culture, but there are some differences that may influence your choice. Carleton has a focus on interdisciplinary studies and independent research, with strong programs in the humanities and sciences. Swarthmore offers a rigorous honors program and a tradition of academic excellence that goes back to its founding in 1864. However, Swarthmore's highly selective admissions process may deter some students, while Carleton's remote location may not be ideal for students who prioritize proximity to urban areas. Ultimately, choosing between these two excellent options will depend on your personal preferences and priorities.
Another factor to consider when choosing between Carleton and Swarthmore is the size of the student body. Carleton has a smaller student population, which allows for more personalized attention from professors and a tight-knit community. Swarthmore, on the other hand, has a larger student body, which can provide more opportunities for extracurricular activities and a wider range of perspectives in the classroom.
Additionally, both colleges have unique campus cultures that may appeal to different students. Carleton is known for its quirky traditions, such as the annual "Primal Scream" during finals week, while Swarthmore has a strong commitment to social justice and activism. It's important to consider which campus culture aligns with your values and interests when making your decision.