Choosing Careers with a Psychology Major
Why study psychology?
There are many reasons why someone should study psychology. One is that it can provide a deeper understanding of human behavior and mental processes. This knowledge can be useful in various careers with a psychology major, such as counseling, education, healthcare, law enforcement, and business.
Studying psychology can also help individuals better understand themselves and others, leading to personal growth and improved relationships. Another reason is that psychology is constantly evolving, with many research opportunities for students and professionals.
What are the top psychology schools in the US?
There are many top universities with psychology degrees in the US, and a school's popularity can depend on a variety of factors, such as its location, curriculum, research opportunities, and reputation. However, some well-regarded schools for psychology include:
Stanford University
Students who attend Stanford University can work toward earning a Bachelor of Science degree in Psychology. The coursework for the degree must total seventy units, and it must contain several fundamental classes designed to familiarize students with the scope of their discipline.
They also have the option to specialize in a certain field. The four sub-fields that can be specialized in are cognitive sciences, health, and development, mind, culture, society, and neuroscience. In addition, the department offers high-achieving students the opportunity to participate in an honors program.
Undergraduate students at Stanford can do independent research outside of the classroom and/or spend the summer working on a research project in conjunction with a faculty member. In addition, they can join the Psychology Association at Stanford University.
University of California, Berkeley
UC Berkeley, students have the opportunity to complete their Bachelor of Arts in Psychology degree. This program not only provides students with an understanding of human behavior but also helps them get ready for a variety of post-graduate educational opportunities and lays the groundwork for psychological research.
In addition, students at UC Berkeley can participate in independent research projects or study abroad throughout their stay at the university, which is useful to those considering careers with a psychology major. They also benefit from the wide variety of research fields in which faculty members specialize, such as behavioral and systems neuroscience, clinical science, cognition, cognitive neuroscience, developmental psychology, and social personality research.
Additionally, the University of California, Berkeley, keeps an up-to-date listing of available internships at private institutions and businesses, including Kaiser Permanente, Stanford University, and other universities that are part of the University of California system.
Harvard University
Students at Harvard University can earn a Bachelor of Science degree in Psychology from the institution. Students who intend to complete a thesis must take 14 courses in addition to completing the standard track's 12 required classes to graduate. In addition, students pursuing this degree can select one of three concentrations.
The first option is a general path, which introduces students to a broad range of psychology-related topics. The second option is to pursue a career in cognitive science, and the third option is to pursue a career in cognitive neuroscience and evolutionary psychology. In addition, students have the opportunity to participate in research activities in a variety of laboratories located both on and off campus.
University of California Los Angeles (UCLA)
The Bachelor of Arts in Psychology program at the University of California, Los Angeles (UCLA) requires students to take a total of ten courses. Courses like "Brain, Mind, and Motion Pictures," "Integration of Face and Brain," "Brain Bugs: Understanding the Brain through Its Flaws," and "Psychology of Sleep and Dreams" are included in this category.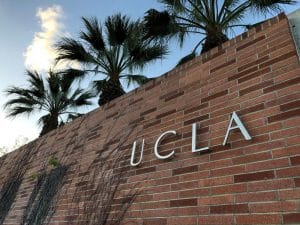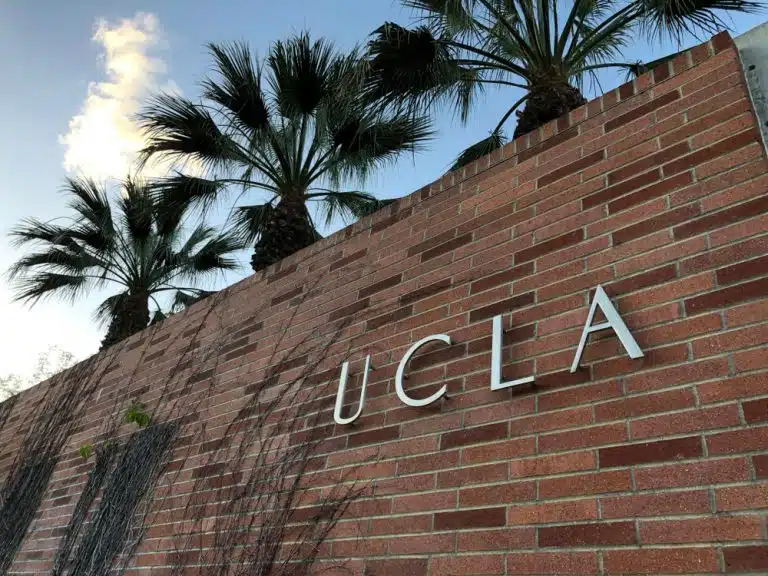 Students also have the option to take fieldwork courses, which will allow them to gain practical experience by interning in the local community. In addition, a number of research opportunities are available through the department, such as a research assistantship program and the UCLA Psychology Undergraduate Research Conference. Students can have their work published in the Undergraduate Science Journal and the Undergraduate Psychology Journal at UCLA.
University of Michigan
The University of Michigan takes a comprehensive approach to studying psychology, which benefits students working toward a Bachelor of Science degree at the university. Students in this program can participate in research experiences that will prepare them for graduate school. They also have the opportunity to prepare for professions in the area and have a dynamic on-campus experience with their peers through student groups.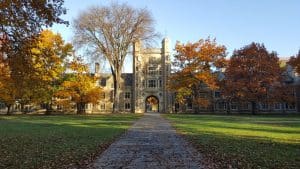 Students at the University of Michigan have access to internship opportunities through the institution's Department of Psychology and universities in Pittsburgh, Pennsylvania, and Glasgow, Scotland. In addition, every student can participate in an intensive research lab experience called Research Methods in Brain, Behavior, and Cognitive Science.
This list is based on the US News Best Psychology Schools of 2023, and many other great psychology schools exist. If you choose a school to pursue careers with a psychology major, it is important to research and compare different schools to find the one that best fits your needs and goals.
What are great choices for a career in psychology?
Guidance Counselor
A career in psychology you can consider is that of a guidance counselor. The goal of guidance counseling is to assist students, teachers, and families in organizing their educational goals and overcoming any challenges that may stand in the way of achieving those goals. School counselors might greatly benefit from having a strong foundation in theories of learning, cognitive development, and motivation, all of which are covered in the psychology major.
Graduates of psychology programs are in a good position to earn a master's degree and become qualified for these positions. To qualify as a guidance counselor, one must first satisfy the certification standards and conduct a practicum within the educational setting. To find out the specific requirements, you need to get in touch with the department of teacher certification in your state.
Human Resources Staff
Staff members in human resources (HR) are responsible for the recruitment and training of new employees, the counseling of workers, the negotiation of contracts, the mediation of personnel conflicts, the administration of benefit programs, and the establishment of policies and standards for the management of employees.
Those who consider this as one of the careers with a psychology major will want to take classes in industrial and organizational psychology at either the undergraduate or graduate level and receive valuable insight into workplace dynamics. Students who major in psychology develop abilities in interviewing and the capacity to evaluate the attributes of other people, which serves them well on the human resources recruiting side.
Students who major in psychology develop communication skills and talent with people that are important for counseling employees, mediating problems, and negotiating contracts. The knowledge of the scientific approach gained from a major in psychology can be highly helpful to HR staff members who are significantly involved in assessing, evaluating, and researching employees.
Social Worker
Psychology studies give social workers a solid foundation in human behavior, social connections, addiction, personality disorders, and motivation. A lot of people who major in psychology go on to get their master's degrees in social work because it gives them the professional training they need to help those who are in need.
Students who study psychology frequently enroll in clinical social work programs, which allow them to become qualified to practice psychotherapy with clients in a significantly shorter amount of time than obtaining a Ph.D. in clinical or counseling psychology does.
Students majoring in psychology are equipped with the interviewing skills necessary for acquiring information from clients, as well as the sensitivity to clients' feelings required to build a productive rapport. Because of their strong analytic abilities, they can evaluate complex issues and propose workable solutions. Students who major in psychology develop the communication skills necessary to present useful information and provide recommendations for treatment to clients.
Management Trainee
Graduates in psychology get expertise in areas such as motivation, personality, and industrial/organizational psychology, which can assist them in their roles as management trainees by allowing them to better oversee and motivate workers. Their ability to interact with others and communicate effectively enables them to conduct interviews, train employees, and evaluate their performance. The ability to solve problems can assist an individual in analyzing problems with performance and developing ways to increase productivity.
The majority of medium-sized and large-sized businesses offer some form of management education. Because they frequently recruit through educational institutions, students can check their college's career office to see if there are any possibilities to interview on campus or at career fairs.
Fundraiser
Like other types of salesmen, people who work in fundraising need to have excellent people skills. Students who major in psychology frequently have an excellent ability to read other people and know the appropriate time to ask for a donation. They can communicate with prospective donors and explain how their donations will help advance the mission of the charity they work for. In addition, they have the interviewing skills necessary to elicit the interests of prospective contributors that are linked to their organization.
To demonstrate their proficiency in fundraising, students majoring in psychology should seek out on-campus roles (such as annual fund caller) in their respective colleges' development and alumni offices. Also, consider coordinating campus fundraising campaigns for charitable organizations in the community or student groups.
Market Research Analyst
Another one of the careers with a psychology major that one can consider is becoming a Market Research Analyst. This job requires one to have the training necessary to do research in a scientific manner; they can plan studies, gather and evaluate data, and synthesize their findings.
Students who major in psychology get expertise in motivation and social psychology, enabling them to comprehend how consumers create preferences and attachments to various items. The ability to conduct good interviews is a talent psychology students gain while working with human subjects for human studies. These skills can then be used in the facilitation of focus groups.
This is also ideal for those interested in market research, who should consider adding a minor in business or economics to their education and focusing their psych studies on projects with a business focus. Participating in internships that are directly related to marketing will increase the likelihood of you being hired for careers within the industry.
Public Relations Specialist
To build relationships with media members and persuade them to print articles about their company or their client's organization, public relations (PR) professionals need the interpersonal skills taught by having a psychology major. Psychology students are equipped with the interviewing abilities that public relations specialists employ to glean information from staff members as the foundation for press releases.
It is important for someone interested in having this as one of their careers with a psychology major to be equipped with the requisite writing skills to craft compelling articles. This persuades editors and reporters to cover developments with their respective customers.
PR specialists are frequently called upon to take action to address developing image problems within a firm. Students who study psychology are equipped with the knowledge of how attitudes are created through social psychology and the problem-solving skills necessary to develop effective tactics to construct or restore a company image.
Students majoring in psychology who want to work in public relations should get involved in student organizations that require a lot of writing, such as the school newspaper or magazine, and complete internships connected to writing. A history of successfully arranging events on campus is also advantageous.
Psychiatric Aide
Psychiatric aides can better understand the problems that plague their patients and the instructions for care offered by psychiatrists when they have a thorough understanding of abnormal psychology, clinical psychology, and the psychology of personality. Psychology majors with strong interpersonal and communication skills can better connect with patients and provide therapeutic support.
Students majoring in psychology who want to work as psychiatric assistants after graduation should gain experience in the field by working as volunteers with clients or patients with psychological problems. As students prepare to enter their junior year, they should have completed clinical internships. One more approach to acquiring expertise relevant to this field is to work as a peer counselor.
To acquire clinical experience before enrolling in graduate programs in counseling/clinical psychology or social work, most college graduates take temporary jobs in the mental health or psychiatric fields, such as as mental health aides, psychiatric aides, or residential counselors.
Figuring out what kind of careers with a psychology major can be a big help in your decision in pursuing psychology. If you have already made your decision, it is important that you also pay attention to your college admissions. You can get help with AdmissionSight in your college admission. With ten years of experience with college admission experts, AdmissionSight can help you get into the college of your choice. You can talk to our experts today to get an initial consultation.