Choosing The Best PhD Program
A Doctor of Philosophy, also known as a PhD, is the highest level of academic qualification that a person can earn. Completing a doctoral degree typically requires three to four years of continuous employment. You will conduct research and write a thesis that makes a unique contribution to the discussion of the topic. As such, applying for the best PhD Program is taken very seriously by those who plan to apply for one.
The doctoral degree is becoming increasingly popular among young people, particularly those interested in pursuing careers in academia. Individuals who have earned a Ph.D. have access to an entire universe of opportunities and are free to pursue all of them. Because of this, many people have become interested in getting more education. Getting a degree in the United States will give you even more opportunities no matter where you go.
Earning a doctorate is both mentally and emotionally taxing and financially draining. The percentage of students who begin their qualification and either fail it or drop out is significantly higher than any other postgraduate course, even though it lasts for three to four years (depending on your subject matter).
Why study for a PhD?
Have you recently asked yourself, "Why study for a PhD?" There are many compelling reasons to pursue a doctoral degree, including a desire to contribute to your field of study, fulfilling professional goals, a sincere interest in research, and the satisfaction of achieving a significant goal. All of these are excellent reasons to pursue a doctoral degree.
1) Make a significant impact in the area that you have chosen to focus on
Many students who enroll in PhD programs do so because they have a deep interest in a particular field and hope to contribute significantly to that industry through the discoveries, they make during their research time. Some might even say they look for the best PhD Program as a passion than a job.
You will have the opportunity to conduct your research once you have earned your doctoral degree, which is one of the many benefits of doing so. Suppose both your thesis and your findings are compelling and pertinent to the topic at hand. In that case, other specialists working in the academic field that you have chosen will reference your work and your discoveries when instructing future students.
2) Aim for the profession in the long term
Some students eventually opt to study for a doctoral degree to earn the degree they have always wanted. A doctorate is an essential qualification for those interested in pursuing a career in academia because it enables them to carry on their research while also being qualified to instruct students at the university level. During their PhD studies, individuals interested in pursuing a career in this field should gain teaching experience by instructing first-year undergraduates through lectures and seminars.
Many students who are fortunate enough to have their PhD studies funded by a company go on to find employment with that company after completing their studies. In a similar vein, the critical thinking and research abilities acquired during a PhD program are highly marketable in a variety of different fields.
3) Expand one's knowledge while confronting new information
Some people's minds are just naturally curious, and for those people, pursuing the best PhD Program that suits them will feel like the next logical step in their career path. In contrast to the requirements for a Bachelor's degree and a Master's degree, the PhD program will have a looser structure. As a result, students will be encouraged to research subjects of particular interest to them.
4) Enjoyment of the subject matter
Again, the primary motivation for many students to pursue a doctoral degree is that they have a deep interest in the topic at hand and wish to learn more about that interest.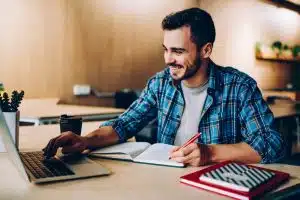 You will be immersed in your research and thesis for at least three years, so you should be sure that this is something you want to do before committing to a PhD program, even though the number of contact hours is relatively low.
5) A showing of intellectual capability and potential
One of the things that a PhD program will accomplish is the separation of good academics from fantastic academics. It demonstrates an individual's capacity to carry out independent research and highlights the individual's comprehensive understanding of a particular subject area. This is necessary in the world of academia.
How can one determine whether or not they are qualified for a PhD degree?
The evaluation of your candidacy for the best PhD Program will consist of the following three steps:
Evaluate your credentials- You will need to broaden your search if your grade point average and your test scores fall significantly below the averages for the school you are interested in attending. It is important to remember that GRE scores are not the be-all and end-all of PhD programs. However, many graduate schools have a minimum score; if you do not meet this minimum, the university will not even send your application to the department to be considered.
Research deserves your full attention-The best graduate programs won't take you seriously as a candidate if you don't have previous experience conducting research.
Check to see if the shoe fits you well. Because PhD degree doesn't accept many students each year, the admissions process can sometimes appear arbitrary, especially to the applicant. You can strike a balance between the two by ensuring that you are a good fit for the program and applying to a sufficient number of schools. I would suggest applying to at least eight to ten different programs.
How to pick the best PhD Program?
The decision of which PhD program to enroll in is not analogous to whether to drink pour-over coffee or latte coffee, paper or plastic, half-and-half or heavy cream. It is a significant financial commitment, will take a significant amount of time, and will lead to a significant change in career path.
Is it in line with your plans for your professional future?
Sometimes a Ph.D. program may look appealing because of the coursework, the faculty, or the location; however, in the end, you need to ask yourself if that Ph.D. will advance your career in the direction that you want to take it. If it doesn't, it might be time to look elsewhere to make sure you choose the right Ph.D. to match your needs, or maybe it's time to consider a completely different professional path altogether.
What different kinds of research are there to choose from?
Research is an essential component of a Ph.D. program, and the work you do as part of your Ph.D. program can assist in the launch of your professional career on a strong footing. While analyzing the research opportunities that will be a part of your Ph.D. program, make sure to take your time and ask questions.
As you learn how to pick the best PhD program, you can do little things to help you decide, like paying a visit to the school, introducing yourself to the faculty, and doing in-depth research. This is to determine whether you will have access to all of the necessary tools and resources, including the liberty to research subjects that truly excite you.
What is the faculty's overall standing in the community?
Because you will spend most of your time being instructed by the faculty, you should do everything in your power to ensure that they are the kind of intellectuals and role models who will positively impact your work and your professional life. It would be best to spend most of your research time looking at faculty CVs, publications, research records, and areas of interest to ensure that your potential teachers align with your research goals.
What kind of financial support is available?
Your ability to secure funding is one of the most important considerations in selecting the best PhD program for you. Fellowship and assistantship offers may make it your top priority. It is a significant choice that will impact the rest of your life to finance your graduate education through student loans. Therefore, you should perform the necessary research to determine how to cut costs and find other funding sources before making this choice. Look at our comprehensive guide to obtaining "scholarships" for graduate school.
How much longer is it going to take?
There is a good chance that you have a family and a career to think about, and it is highly unlikely that you will be able to "pause" either of these things to pursue your Ph.D. How much longer do you plan to devote to your academic pursuits? How will you juggle your current job with the requirements of a Ph.D. program? It will be easier for you to select the appropriate Ph.D. program if you ask yourself the questions listed here.
Are the students content, do they graduate, and do they find employment?
In deciding if the program you are entering is the best PhD program for you, you should check out the people who are studying or have graduated there. Those currently enrolled in the graduate program and those who have recently completed it can be invaluable resources. It is not necessary to be afraid to contact them. Inquire about their experiences in graduate school, find out if they were satisfied with the program and the faculty, research support and teaching opportunities, and how well they were prepared for the job market, and ask them about their experiences.
Find out whether or not they are getting jobs, and inquire about their plans for the future once they have graduated. They have been in your position before, and by learning from their experiences, you will be better able to select the appropriate Ph.D. program.
Applying for your PhD is a difficult task. Since, unlike when applying for an undergraduate program, there are extra considerations that the university may look at. As such, It is important that you get all the help you can get to make your admission easy. At AdmissionSight, you will get 10 years of experience from the guidance of experts through college admissions. Set up an appointment today and see how we can help you.