Choosing The Best Schools For Psychology in California
What is a psychology degree?
What exactly is a degree in psychology? The study of people's behaviors and thought processes is the domain of psychology as a scientific discipline. In contrast to sociology, which focuses on societies and larger groups as its object of study, psychology centers on the individual as its primary unit of inquiry. Those who study in schools for psychology in California can get this degree.
The study of psychology can help analyze and find solutions to problems, trends, and challenges in providing human services. Stress, anger, the effects of aging, and memory are some of the topics covered in psychology. Emotional and social reactions serve as the discipline of psychology's bedrock.
This understanding of the individual emphasizes the diversity of populations; recognizing this trend is essential for achieving success in psychology. If you earn a degree in psychology, you'll learn that various factors influence an individual's mental health. In most undergraduate psychology degree programs, you will study various topics that illustrate the diversity of population groups. This will prepare you to be of service no matter where you end up working in the field of psychology.
Is psychology for you?
Many people are interested in psychology; however, not everyone has what it takes to make a successful career in this field. Do you ever wonder whether you have what it takes to be a successful psychologist? The following list of eight indicators can help you determine whether or not a career in psychology is right for you: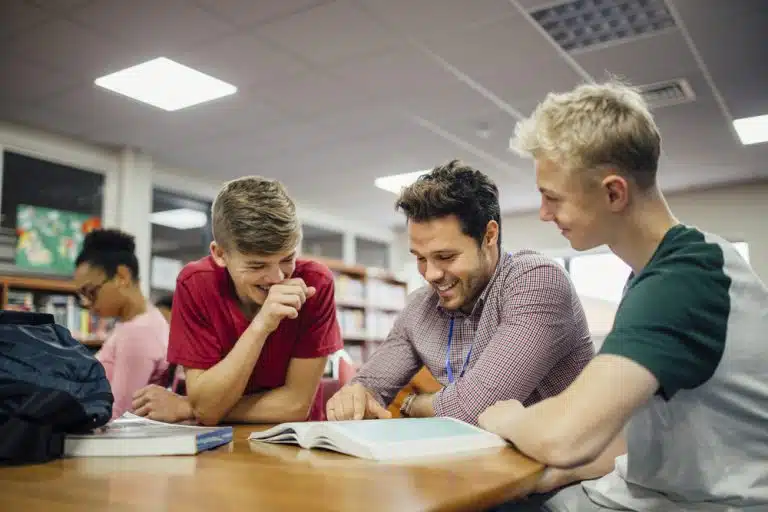 1. You have a curious personality.
One of the many professions that are tailor-made for people with inherently curious minds is the field of psychology. To succeed in psychology, one needs to feel compelled to learn what makes people tick. Because of this, the more you study psychology at schools for psychology in California, the more you'll realize that there is still a great deal that you haven't uncovered, even though every case you encounter will be unique. Your insatiable appetite for knowledge will be a powerful motivator for you on your path to becoming a successful psychologist.
2. Everyone considers you to be the kind of friend they can safely share anything with.
There is always one person in a group of friends who everyone knows they can count on to provide sound advice, regardless of the issue they are dealing with. Does that describe you? If this is the case, it is clear that you are an extremely trustworthy individual, which is a quality that is necessary if your goal is to pursue a career in psychology.
Building a relationship with your customers founded on trust is necessary if your job requires you to interact directly with customers. If people already think of you as a trustworthy friend, that's a good sign that you might be a good fit for a role that requires psychological expertise.
3. You have excellent listening skills.
Your friends may have mentioned that you are an attentive listener, in addition to being someone they can trust as a reliable person. Because the role will likely involve listening to others talk about themselves for extended periods, this is another really important trait for a psychologist.
The role will likely involve listening to others talk about themselves. Concentrating on what customers are saying, accurately interpreting what they are saying, and appropriately responding is a big responsibility; therefore, it is essential to be a careful listener.
4. You take pleasure in assisting others and working with other people.
Working in psychology requires you to collaborate closely with others to get the job done. Those who study in schools for psychology in California can have a wealth of opportunities to serve others, whether through collaborative efforts with other professionals to carry out investigations that could alter people's lives or through private consultations with customers.
If you want to pursue a career in psychology, you need to be someone who enjoys interacting with people; therefore, if you find the idea of being able to assist other people inspiring, you might be the ideal candidate for the profession.
5. You're open-minded and non-judgemental
If you are easy to talk to and capable of avoiding preconceptions, then that will certainly work in your favor if you decide that a career in psychology is for you. In psychology, there is no room for close-mindedness and judgment; psychologists must be supportive of their clients, and clients must feel comfortable discussing things openly.
6. You're a confident communicator
Verbal communication is extremely vital in psychology, as is the capacity to listen attentively and comprehend what is being communicated by others. If you're a client-facing psychologist, one of the most important skills you can have is reading nonverbal cues, such as body language and eye contact (or the lack thereof). If you feel that you are a confident communicator, then you already possess one of the many personal characteristics necessary to succeed in psychology.
7. You find great pleasure in kicking back with a good psychological thriller…
What would you say if you were asked to name a few of your favorite movies? Some movies that come to mind immediately are Memento, Seven, and A Beautiful Mind. You are not like most people, who find it difficult to watch psychological thrillers when they are attempting to relax; rather, you are the complete opposite.
If you have ever thought that your fascination with psychological topics could lead to something more than just a DVD collection, then a job in the field might be the perfect fit for you.
8. …and remember to always look for the twist.
In your spare time, you like to watch psychological thrillers, and not only do you enjoy them, but you also have a knack for predicting the twist in the story, and you take a lot of pride in your ability to do so.
If this ability comes naturally to you, or even if you find yourself consciously putting effort into figuring out what's going to happen next, then psychology is an area in which you have the potential to excel. What could be the downside of finding out where it could lead you?
What are the best schools for psychology in California?
University of California-Los Angeles
The University of California has ten campuses, and UCLA is one of them. As one of the best schools for psychology in California, Graduates of the Ph.D. in Psychology program, one of 18 doctoral programs offered by the biosciences division, are prepared for careers in both academic and applied settings, with an emphasis on research.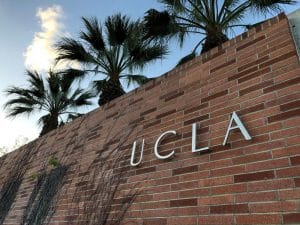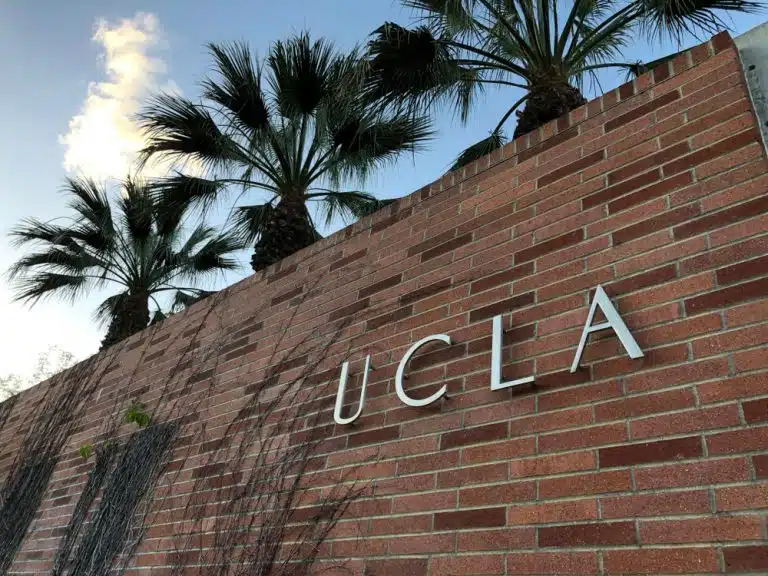 Including the doctoral dissertation and the final oral exam, this on-campus, full-time program typically takes six years to finish. Students can specialize their education in one of eleven areas, including behavioral neuroscience, clinical psychology, cognitive neuroscience, cognitive psychology, developmental psychology, health psychology, learning and behavior, quantitative psychology, social psychology, social and affective neuroscience, and computational cognition.
A bachelor's degree is required for entry into the doctoral program, transcripts from any colleges previously attended, a grade point average of 3.0, a personal statement, and three letters of recommendation. The application must be submitted with a fee of $120, which must be paid in full. All graduate students in psychology are guaranteed financial support from the Department of Psychology for five years. This support can include stipends, fellowships, training grants, or teaching or research assistantships.
University of California-Berkeley
More than 42,000 students are enrolled in more than 300 undergraduate and graduate degree programs at the University of California, Berkeley. The university awards many graduate and professional degrees, ranking among the highest in the nation for both categories.
It takes approximately ten semesters to finish a Ph.D. in psychology. During that time, students choose from six training units covering topics such as clinical science, cognition, cognitive neuroscience, developmental psychology, social and personality psychology, and behavioral and systems neuroscience.
The program requires students to complete 120 credits of coursework in addition to a research project in their second year, a qualifying exam, and a dissertation. The program requires students to teach for two semesters, in addition to the significant emphasis on research.
Ph.D. students at Berkeley receive significant financial support from the university. All doctoral students in psychology are guaranteed financial support for the full five years of their studies. This support includes reimbursement for tuition and all student fees and a stipend for ten months of each academic year.
Stanford University
Since it was founded in 1885, Stanford University has consistently received a high rank as a university for the accomplishments of its faculty and the originality of its research. As one of the well-known schools for psychology in California, the psychology program at Stanford was one of the first departments to be established at the university. It currently ranks among the top programs in the field.
The psychology doctoral program takes five years to complete and allows students to specialize in one of five subfields: neuroscience, affective, cognitive, developmental, or social psychology. Research takes up at least half the time that Ph.D. candidates devote to their studies until they hand in their dissertations. While working toward their degree, all students will be expected to work as teaching assistants for at least five different psychology classes.
The admissions committee for the psychology program considers several criteria when making its decision, including the candidate's previous coursework, GPA, letters of recommendation, and personal statement. After being accepted, students are eligible for full funding for the subsequent five years of their education, which includes four summer sessions. This financial assistance covers the cost of tuition and provides a stipend to help with living expenses and health insurance.
Pitzer College
Pitzer College is a private liberal arts university located in Claremont, California. It was established in 1963 and currently has a total enrollment of approximately 1,000 students. Pitzer offers more than 40 majors and minors in environmental and interdisciplinary studies; the arts; humanities; and social, behavioral, and natural sciences. This highly regarded liberal arts and sciences college coordinates its academic offerings with those of four additional undergraduate colleges and two graduate institutions as part of its membership in the Claremont University Consortium.
The minimum number of credits required to graduate with a major in psychology at Pitzer is 13, which includes a required specialized research practicum during the junior year. A second practicum, an internship, and a culminating senior capstone seminar follow this. At Claremont Graduate University, students can participate in combined Bachelor of Arts and Master of Arts degree programs in psychology. The accelerated BA/MA program comprises 32 credits and requires an additional year of study beyond the bachelor's degree.
What makes Pritzer unique among the many schools for psychology in California is that they no longer require prospective students to take admissions exams. The admissions process at this college takes a comprehensive view, evaluating applicants based not only on their high school transcripts but also on their recommendations, extracurricular activities, work history, and other indicators of academic potential.
University of California-Irvine
The University of California, Irvine (UCI), founded in Orange County in Southern California, is lauded for its academic and research accomplishments. The university offers 222 different degree programs to its more than 37,000 students.
Both undergraduate and graduate degrees can be earned in the highly regarded department of psychological science at UCI. A distinct area of focus is given to each of affective science, developmental psychology, health psychology, social and personality psychology, and clinical psychology within the Ph.D. program. During their time spent working toward their doctoral degrees, students have the option of specializing in either psychology or law.
The University of California, Irvine (UCI) provides a stipend that covers tuition and most other fees for all five years of the Ph.D. program. In the admissions process, the university takes a holistic approach, evaluating applicants based on their academic credentials, interest in research, and dedication to diversity and inclusion. Completing an undergraduate degree in psychology is not required of applicants, but they should demonstrate some familiarity with the field.
University of Southern California
Over 49,500 students are enrolled at the College of Letters, Arts, and Sciences and 22 other academic and professional divisions at the University of Southern California (USC), a private research university in Los Angeles that holds a high ranking among other universities nationwide. The faculty at this university includes several individuals who have been recognized with illustrious awards, such as the National Medal of Science, the MacArthur Genius Award, and the Nobel Prize.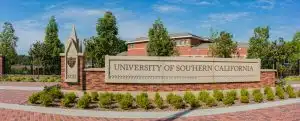 One of the highly regarded schools for psychology in California, the university awards degrees at the bachelor's, master's, and doctoral levels in five subfields of research: brain and cognitive science, clinical science, developmental psychology, quantitative methods, and social psychology. One program, a Master of Science in Applied Psychology, can be completed online through this department. Students can choose to specialize in consumer behavior or organizational psychology.
The admissions process for the graduate program in psychology is extremely competitive. Applicants are evaluated based on their academic performance, test scores, letters of recommendation, personal statement of interests and goals, and evidence of their research abilities. Students who are accepted into the Ph.D. program are eligible for five years of financial support that covers their tuition costs, stipends, and health insurance benefits.
University of California-Davis
UC Davis has over 39,000 students enrolled and offers 107 undergraduate majors, 101 graduate programs, and six professional schools in addition to its other academic offerings.
The Department of Psychology at UC Davis offers an undergraduate major and minor in addition to a highly regarded Ph.D. program that emphasizes teaching and research in five subfields of the field of psychology. These subfields are developmental psychology; perception, cognition, cognitive neuroscience; biological psychology; social-personality psychology; and quantitative methods.
No prerequisite coursework must be completed, nor is a master's degree in psychology required to enroll in the program. A bachelor's degree with a minimum 3.0-grade point average, transcripts, three letters of recommendation, and a statement of goals and purpose are all necessary admissions requirements for most schools for psychology in California.
In addition, applicants are required to submit a personal history and diversity statement. This statement should explain how the applicant's life experiences contribute to either the campus community or their field of study and how the applicant might serve underrepresented groups with their graduate training.
Figuring out where to study can be a big help in your decision to pursue psychology. If you have already made your decision, it is important that you also pay attention to your college admissions. You can get help with AdmissionSight in your college admission. With ten years of experience with college admission experts, Admissionsight can help you get into the college of your choice. You can talk to our experts today to get an initial consultation.