College Basketball 101
College basketball, a revered and deeply-rooted American sport, traces its origins back to 1891 when Dr. James Naismith invented the game to keep the students he teaches active during the winter months. From humble beginnings in a Springfield, Massachusetts, gymnasium, the sport rapidly gained popularity and became a national phenomenon.
Today, the sport is prominent in American sports culture, drawing millions of fans and fostering fierce rivalries among institutions. The sport serves as a stage for young athletes to prove their talents and develop their skills and as a platform for higher education institutions to strengthen their identity and sense of community.
College basketball's annual season is marked by several key events, including the preseason, which features exhibition games and tournaments. With its rich history, passionate fan base, and dramatic on-court action, this sport continues to captivate audiences and solidify its status as a staple of American sports culture.
College Basketball Governing Bodies and Conferences
National Collegiate Athletic Association (NCAA)
The National Collegiate Athletic Association (NCAA) is the governing body for college athletics in the United States, overseeing various aspects of college sports, including college basketball. Comprised of three divisions—Divisions I, II, and III—the NCAA is responsible for establishing and enforcing eligibility rules and regulations for student-athletes.
Each division represents a different level of competition and institutional commitment to athletics, with Division I being the most competitive and Division III placing the greatest emphasis on balancing academics and athletics.
The NCAA maintains strict guidelines regarding academic performance, amateurism, and recruiting to ensure the integrity of collegiate sports and student-athletes' well-being while promoting fair competition among its member institutions.
Major conferences
In college basketball, major conferences play a crucial role in shaping the competitive landscape, with each conference boasting its unique history and traditions. The Atlantic Coast Conference (ACC), which includes perennial powerhouses like Duke, North Carolina, and Virginia, has long been well known as one of the premier basketball conferences, consistently producing competitive teams and NBA-bound talent.
The Big Ten Conference, with its Midwestern roots, features storied programs like Indiana, Michigan State, and Ohio State and is known for its physical, defense-oriented style of play. The Big 12 Conference encompasses several central and southern states, is home to programs like Kansas, Baylor, and Texas, and has built a reputation for high-scoring, up-tempo games.
The Pac-12 Conference, representing institutions primarily located on the West Coast, has fostered notable teams such as UCLA, Arizona, and Oregon and has contributed to the development of numerous NBA stars over the years. Lastly, the Southeastern Conference (SEC), although often associated with football dominance, has solidified its place in college basketball with powerhouses like Kentucky and Florida and the emergence of other competitive programs in recent years.
College Basketball Season
Preseason
The preseason is essential in college basketball, allowing teams to prepare for the upcoming season and build team chemistry. During this time, many teams participate in preseason tournaments and exhibition games, which allow coaches to assess their rosters, experiment with lineups, and develop game strategies.
Preseason tournaments often feature competitive matchups between top programs, giving players valuable experience against high-caliber opponents and offering fans an early glimpse of the potential contenders for the season.
Exhibition games, typically played against lower-division or international teams, provide a low-stakes environment for teams to fine-tune their play and make necessary adjustments before the intensity of the regular season begins.
Regular season
The regular season in college basketball is marked by a combination of conference and non-conference play, which play a crucial role in determining postseason seeding and NCAA Tournament eligibility. During conference play, teams face off against their conference rivals in a round-robin format, competing for the conference title and vital positioning within the conference standings.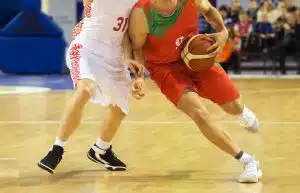 These matchups often carry significant weight, as they influence conference tournament seedings and can impact a team's chances of receiving an at-large bid to the NCAA Tournament. Non-conference play, on the other hand, offers teams the chance to test their abilities against opponents from different conferences, providing a valuable opportunity to build their resume for postseason consideration.
These games can serve as an important barometer for a team's potential success on the national stage and contribute to a conference's overall strength. The regular season, with its blend of heated rivalries and inter-conference battles, fuels the passion and excitement
Postseason
The postseason is a thrilling culmination of months of intense competition, marked by conference tournaments, the National Invitation Tournament (NIT), and the NCAA Division I Men's Basketball Tournament, also known as March Madness. Conference tournaments are held after the regular season, with each conference crowning a champion who earns an automatic bid to the NCAA Tournament.
These high-stakes, single-elimination tournaments often showcase fierce rivalries, dramatic upsets, and last-minute heroics, setting the stage for the following excitement. The NIT, a prestigious tournament in its own right, invites 32 teams that narrowly missed the NCAA Tournament cut, offering them the opportunity to compete for a national title and gain valuable postseason experience.
The highlight of the college postseason, however, is March Madness—a 68-team, single-elimination tournament that captivates the nation with its unpredictable outcomes, Cinderella stories, and unforgettable moments. This iconic event gives teams from all corners of the country a chance to compete for the coveted national championship, solidifying their place in college history.
In addition to the Division I tournament, the NCAA also holds separate championships for Division II and III, allowing teams from all levels of competition to vie for national titles and celebrate their hard work and dedication throughout the season.
The college postseason is a testament to the passion, talent, and determination of student-athletes, coaches, and fans, embodying the very essence of what makes the sport so captivating.
College Basketball Players
Recruiting process
The recruiting process is a critical aspect of college basketball, as it shapes the future success of programs by identifying and securing top high school talent. Coaches and scouts extensively evaluate high school prospects through game film, showcases, and AAU tournaments, assessing their skills and potential fit within the team's culture and playing style.
As part of the evaluation process, coaches often forge relationships with players and their families, offering scholarships and presenting their vision for the athlete's future role within the program. Once a prospect has considered their options and received guidance from their family, coaches, and mentors, they announce their college commitment, typically during their senior year of high school.
This binding decision, which can significantly impact the trajectory of both the athlete's career and the college program, is often celebrated with a formal signing ceremony, symbolizing the beginning of a new chapter in the athlete's journey.
Impact of the one-and-done rule
The one-and-done rule, which requires players to be at least one year removed from high school before entering the NBA draft, has significantly impacted college basketball since its implementation in 2006. While the rule has led to an influx of top-tier talent into college programs, it has also sparked debate and controversy.
On the one hand, the rule provides elite high school players a platform to showcase their skills and develop their game against stronger competition before entering the NBA. This brief college experience also offers these athletes a taste of higher education and an opportunity to acclimate to life away from home.
On the other hand, critics argue that the rule restricts players from pursuing their professional careers immediately after high school, potentially risking injury or declining draft stock during their college tenure.
Furthermore, the one-and-done phenomenon has prompted some college programs to build their rosters around short-term success, prioritizing recruiting top prospects who are likely to leave after a single season. This approach can lead to less roster stability and hinder long-term player development.
Player development and coaching
Player development and coaching are integral components of college basketball, as they contribute to a team's success and foster young athletes' growth and maturation. College coaches play a pivotal role in shaping a player's career trajectory by offering guidance, mentorship, and skill development.
Through intensive practices, film sessions, and individual workouts, coaches work diligently to refine players' technique, enhance their understanding of the game, and cultivate their mental fortitude. Beyond the physical aspects of the sport, coaches also focus on instilling values such as teamwork, leadership, and perseverance, which can lead to success both on and off the court.
The environment provides a unique opportunity for players to learn from the experienced coaching staff and compete against high-level competition, ultimately preparing them for the challenges they may face as they advance in their basketball careers or pursue other endeavors.
Top college players and their Impact on the NBA
Top college basketball players have consistently significantly impacted the NBA as they transition from the collegiate level to the professional stage with refined skills and valuable experience. Over the years, numerous college standouts have enjoyed successful NBA careers, earning accolades such as Rookie of the Year, MVP, and All-Star selections.
These players often enter the league as high draft picks, expecting to turn around struggling franchises or complement established rosters. The college platform has historically served as a critical proving ground for future NBA stars, allowing them to develop their game, adapt to higher levels of competition, and showcase their talents on a national stage.
The influx of top college players into the NBA each year contributes to the league's ever-evolving talent pool. It reinforces the strong connection between college and professional basketball in the United States.
Women's College Basketball
NCAA Women's Division I Basketball Championship
The NCAA Women's Division I Basketball Championship is an annual showcase of the best women's college teams in the United States, celebrating the sport's growth, talent, and competitiveness.
By mirroring the format of the men's tournament, the women's championship features a 64-team, single-elimination bracket, providing thrilling matchups, Cinderella stories, and unforgettable moments.
Over the years, dominant programs such as the University of Connecticut, Stanford, and Baylor have emerged as perennial contenders, contributing to the rich history and tradition of the women's tournament. The championship highlights the skill and dedication of female student-athletes.
It serves as a platform to inspire future generations of women to pursue their passion for sports, fostering a sense of empowerment and unity within the larger context of women's athletics.
Notable teams and players
Notable women's college basketball teams and players have significantly contributed to the growth and popularity of the sport, garnering national attention and inspiring countless aspiring athletes.
Historically dominant programs, such as the University of Connecticut, led by iconic coach Geno Auriemma, and the University of Tennessee, under the legendary Pat Summitt, has consistently produced exceptional players who have gone on to have successful professional and international careers.
Standout athletes like Diana Taurasi, Maya Moore, Candace Parker, and Breanna Stewart, who honed their skills at the collegiate level, have transcended the sport, becoming household names and role models for younger generations.
These players and teams exemplify excellence on the court and serve as ambassadors for women's sports, advocating for increased visibility, recognition, and support for female athletes across all levels of competition.
Growth and Impact on Women's Sports
The growth of women's college basketball has profoundly impacted women's sports, promoting increased visibility, equity, and opportunities for female athletes. As the sport's popularity has expanded, so has media coverage and public interest, leading to greater financial investment and support for women's sports programs.
This progress has been further propelled by implementing Title IX, which mandates equal opportunities and resources for male and female student-athletes. The success and growth of women's college basketball create more opportunities for young women to pursue athletic scholarships and higher education and foster a sense of empowerment and self-confidence that extends beyond sports.
Additionally, the prominence of the sport has paved the way for the establishment and expansion of professional women's leagues, such as the WNBA, offering female athletes the opportunity to continue their careers at the highest level. Ultimately, the sport's growth catalyzes positive change, inspiring generations of female athletes to break barriers and redefine the boundaries of possibility in sports.
Now that you have an idea of how to get into college basketball, transitioning to college life should be a little easier, especially if you are into basketball. If you are still planning your college admission, you should get guidance from AdmissionSight. With guidance from AdmissionSight's top experts in college admission with 10 years of experience, you can get into any college you dream of. You can talk to our experts today to get started.