College football: How it operates and how to get in
College football has had a rich history since its inception in the late 19th century, with the first recorded game between Rutgers University and Princeton University in 1869. Since then, it has become a beloved American pastime and an integral part of the country's culture. With a unique blend of tradition, pageantry, and fierce competition, this sport has captivated the hearts and minds of millions of fans nationwide.
It serves as a platform for student-athletes to showcase their talents and cultivates a sense of community and pride among students, alumni, and supporters. The system, governed by the National Collegiate Athletic Association (NCAA), comprises various divisions and conferences, each with unique characteristics and rivalries.
This multi-layered structure ensures a competitive environment that drives schools and athletes to excel on and off the field. Furthermore, the sport's enduring popularity has helped shape the social, economic, and academic landscape of colleges and universities across the United States.
Collegiate Football Organization and Structure
National Collegiate Athletic Association (NCAA)
The National Collegiate Athletic Association (NCAA) governs college football, organizing the sport and ensuring a fair and competitive environment. The NCAA is divided into three divisions (I, II, and III) and further subdivided into various conferences, each representing a collection of schools with similar athletic programs and geographical proximity.
These divisions and conferences are instrumental in organizing competitions, maintaining rivalries, and creating a cohesive structure for college football. Additionally, the NCAA establishes eligibility requirements for student-athletes, which include maintaining a minimum GPA, enrolling in a particular number of credit hours per semester, and fulfilling other academic and amateurism criteria.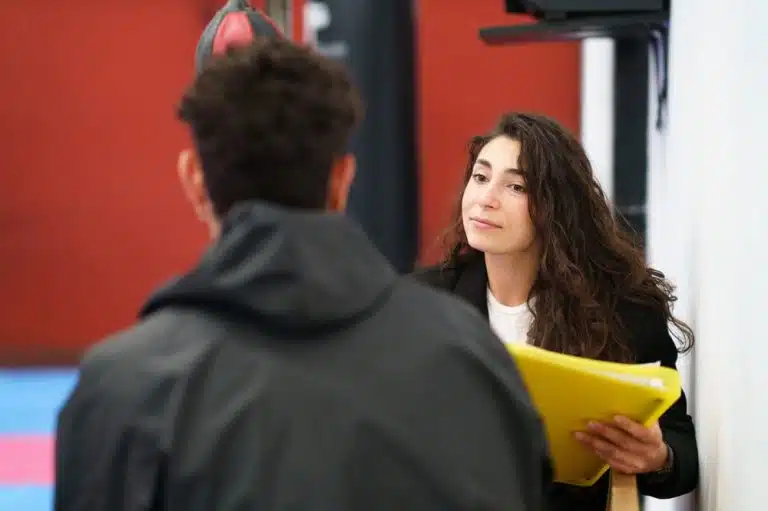 These rules and regulations aim to balance college athletes' athletic and academic pursuits, emphasizing the importance of education while participating in the sport.
College Football Playoff (CFP)
The College Football Playoff (CFP) is the culmination of the season, determining the national champion through a series of high-stakes games. The selection process for the CFP involves a committee of experts who evaluate and rank the top teams in the country based on their performance throughout the season, the strength of the schedule, and other factors.
Four teams are chosen to compete in the semifinal games, with the winners advancing to the national championship game. In addition to the CFP, numerous bowl games occur during the postseason, allowing other deserving teams to showcase their talents and conclude their seasons on a high note. The combination of the CFP and bowl games creates an exciting and competitive atmosphere, heightening the drama and intensity of the college postseason.
College Football Players and Coaches
Notable players in college football's history
Throughout college football's storied history, numerous notable football players have left a serious mark on the sport with their exceptional talent, determination, and impact on their respective teams. These athletes have inspired their teammates and fans, set records, and changed the game in profound ways.
Some of the most prominent names in college football's history include Archie Griffin, the only two-time Heisman Trophy winner; Herschel Walker, a legendary running back who led the University of Georgia to a national championship; and Bo Jackson, a multi-sport star who displayed extraordinary athleticism and skill on the gridiron.
These players and countless others have helped define college football's landscape, contributing to the sport's enduring appeal and shaping its legacy for future generations.
Impactful college football coaches
Impactful college coaches have played a crucial role in shaping the success and legacy of their teams, leaving a lasting impression on the sport. These coaches possess a unique combination of leadership, strategic understanding, and the ability to develop and mentor their players on and off the field.
Notable figures like Bear Bryant, who led the University of Alabama to six national championships, and Joe Paterno, who guided Penn State University to multiple undefeated seasons, exemplify a great coach's impact on a program.
More recently, coaches like Nick Saban, with his numerous championships at Alabama, and Urban Meyer, who found success at Florida and Ohio State, have continued pushing the boundaries. These influential coaches have contributed immensely to the rich tapestry of college football, fostering a culture of winning and inspiring generations of players and fans alike.
Player development and recruitment
Player development and recruitment are integral aspects of the game, shaping teams' future success and providing opportunities for talented high school athletes to pursue their dreams. The recruitment process begins with identifying high school prospects with exceptional skills and potential.
College coaches and scouts carefully evaluate these players through game film analysis, attending high school games, and inviting prospects to on-campus camps or visits. The recruitment process often intensifies as coaches compete to sign the best available talent, culminating in National Signing Day when high school athletes officially commit to their chosen college programs by signing a National Letter of Intent.
This event marks the beginning of a new chapter for student-athletes and reflects the culmination of a highly competitive and strategic process vital to the continued success and growth of college programs.
College Football Awards and Recognitions
Heisman Trophy
The Heisman Trophy is one of the most prestigious awards in college football, presented annually to the most outstanding player. Established in 1935, the Heisman Trophy recognizes players who demonstrate exceptional skill, dedication, and leadership. The award is named in honor of John Heisman, a pioneering football coach, and innovator.
A panel of sports journalists, former Heisman winners, and fans selects the Heisman recipient through a public voting process. Throughout its history, the Heisman Trophy has been awarded to many notable players who have achieved great success in college and professional football.
Some of the past winners include Bo Jackson, Barry Sanders, and Tim Tebow. The Heisman Trophy is a symbol of individual excellence and a testament to the athlete's impact on their team and the broader college landscape.
Other prestigious individual awards
Besides the Heisman Trophy, college football boasts a variety of prestigious individual awards that recognize outstanding performance in specific positions or aspects of the game. These accolades highlight the hard work, skill, and dedication of the athletes who excel in their respective roles.
For instance, the Maxwell Award is given to the best all-around player in the game, while the Outland Trophy honors the nation's top interior lineman.
Other notable awards include the Biletnikoff Award for the best wide receiver, the Doak Walker Award for the premier running back, the Davey O'Brien Award for the top quarterback, and the Jim Thorpe Award for the best defensive back.
These awards not only celebrate individual achievements but also motivate aspiring athletes to strive for excellence and contribute to the sport's rich tradition and competitive spirit.
All-American teams
All-American teams are an annual selection of the best college players at each position, highlighting their exceptional performance and contributions during the season. These teams represent the pinnacle of collegiate athletic achievement and are a testament to the talent and hard work of the players.
Various organizations, including the Associated Press, the Football Writers Association of America, and the American Football Coaches Association, compile their All-American teams, often resulting in consensus or unanimous selections for players who receive the distinction from multiple sources.
Being named an All-American is a significant honor, placing the athletes among the elite and recognizing their outstanding abilities. Furthermore, these selections often serve as a stepping stone to professional careers in the NFL, as All-American players frequently become highly sought-after draft prospects.
Academic awards
Academic awards in college football emphasize balancing athletic pursuits with academic excellence, acknowledging student-athletes who do well on the field and in the classroom. These accolades celebrate the commitment and discipline required to succeed academically while participating in a demanding sport.
One of the most well-known and prestigious academic awards in sports is the William V. Campbell Trophy, often called the "Academic Heisman." This award recognizes a senior player who demonstrates outstanding academic achievement, performance, and leadership.
Additionally, the NCAA honors student-athletes with Academic All-American selections, celebrating those who maintain high GPAs while making significant contributions to their teams. Academic awards serve as a reminder that college players are also students, and they reinforce the importance of education and personal development in the lives of these young athletes.
Future of College Football
Potential changes to the College Football Playoff format
The College Football Playoff (CFP) format has been debated since its inception in 2014. Many fans, analysts, and stakeholders have called for potential system changes to create a more inclusive and competitive postseason landscape.
One of the primary proposed changes is expanding the playoff field, increasing the number of teams involved from the current four-team model to potentially eight, twelve, or even sixteen teams. Advocates for expansion argue that it would allow more deserving teams to compete for a national championship and reduce the subjective nature of the selection process.
Additionally, it could create more excitement and interest in the playoff system by adding more high-stakes games and matchups. While there are logistical challenges to consider, such as scheduling and player welfare, the potential changes to the CFP format could significantly impact the future of college football and its postseason structure.
The role of technology in enhancing the game
The role of technology in enhancing college football has become increasingly prominent in recent years, as advancements in various fields contribute to a more immersive and dynamic experience for players, coaches, and fans alike.
For instance, sophisticated data analytics and tracking systems enable coaches to better evaluate player performance, strategize game plans, and make informed decisions during games.
Video review technology, such as the instant replay system, helps officials make more accurate calls, improving the overall fairness and integrity of the game. Wearable technology, like GPS trackers and heart rate monitors, provides valuable insights into player conditioning and workload, aiding in injury prevention and recovery.
Furthermore, virtual reality and other immersive technologies offer innovative training methods and fan experiences, allowing users to delve deeper into the sport. As technology continues to develop, its role in enhancing the game will only grow, ultimately shaping the game's future and impacting all who participate in or enjoy the sport.
Increasing awareness and focus on player welfare
In recent years, there has been a growing awareness and focus on player welfare in the sport, as concerns regarding the physical and mental well-being of student-athletes come to the forefront. This shift in perspective has led to significant changes in how the sport is approached, with increased emphasis on safety protocols, injury prevention, and overall health.
For example, advancements in protective equipment, such as helmets and pads, aim to reduce the risk of concussions and other serious injuries. Rules and regulations have been modified to protect players from dangerous hits and promote fair play.
Furthermore, programs that focus on mental health support, stress management, and personal development are being implemented to address the psychological well-being of student-athletes. As the awareness and focus on player welfare continue to grow, the college community is taking important steps to ensure that the sport remains competitive, engaging, safe, and sustainable for its participants.
As you learn about College Football and how to join, it is also valuable that you learn how to enter College in general. This is because some students struggle to enter college. As such, you must get all the help you can get.
AdmissionSight is known to be a leader in college admissions, with over 10 years of experience getting students into the best universities in the world. Set up an initial appointment today with AdmissionSight and get the best help with college admission.