Columbia Enrollment
The best five universities in the country consistently include Columbia. The university places a high value on academics, much like its Ivy League rivals Brown and UPenn, but with a more overt emphasis on intellectual diversity. This indicates that a student should have strong humanities classes (e.g., numerous APs) in addition to their excellent STEM courses, and vice versa.
The "Core Curriculum," which exposes students to a wide range of concepts and viewpoints in the subjects of literature, history, philosophy, music, art, and science, is at the heart of Columbia academics. Core classes are renowned for their small class sizes (only around 22 students per class), which enable students to interact and develop relationships with faculty while developing abilities crucial for successfully navigating the wider world, such as observation, analysis, argument, and respect for a variety of ideas.
How Many Students Are Enrolled At Columbia?
If you want to become a part of Columbia University, you might wonder "How many students are enrolled at Columbia?" During the Columbia enrollment in the academic year 2020-2021, there will be a total of 30,135 students attending Columbia University. This includes 8,148 undergraduate students and 21,987 graduate students. There are a total of 23,803 full-time students and 6,332 part-time students.
The gender distribution of the student body is 14,041 male students and 16,094 female students. The distance learning opportunity, also known as an online degree program, is being provided by Columbia University in the City of New York. As of right now, there are a total of 25,843 students enrolled in the online program exclusively.
What Is Columbia's Acceptance Rate?
For Columbia enrollment, the application period was once again astronomical. The school got 60,377 applications, virtually matching last year's remarkable 60,551 applications. Now, what is Columbia's acceptance rate? Columbia's Class of 2026 acceptance rate of 3.73 percent was practically comparable to last year's 3.66 percent.
While the last two years' numbers remained steady, they were significantly different than the numbers in the 2019-2020 admissions cycle when only 40,083 students applied, and 6.15 percent were admitted. This year only 2,253 students from all 50 states and 86 countries received the coveted acceptance letter. Columbia's student body is likewise more diverse than ever before. Compared to the previous year, Columbia's Class of 2026 includes:
4 percent more students who identified as students of color
3 percent more first-generation college students
2 percent more Pell-grant-eligible students
2 percent more international students
Although there were a lot more candidates for Columbia in 2021 than there were in 2020, the number of applications stayed relatively constant in 2022, falling from 60,551 to 60,377.
The numbers of applicants and acceptances to Columbia during the previous three years are displayed in the graph below.
| | | | |
| --- | --- | --- | --- |
| | Class of 2024 | Class of 2025 | Class of 2026 |
| Total Number of Applicants | 40,084 | 60,551 | 60,377 |
| Admitted Applicants | 2,465 | 2,218 | 2,253 |
| Total Admission Rate | 6.15% | 3.66% | 3.73% |
What GPA Is Required For Columbia?
Although there is no formal minimum GPA and no information on the average GPA of accepted students at Columbia, the university frequently highlights the value of a solid academic record. The typical new Columbia student will have a competitive GPA along with extremely competitive exam results and class standings. Let's discuss further what GPA is required for Columbia.
GPA requirements are typically around a 4.12 minimum. While not explicitly stated by the universities themselves, this figure is the average GPA of successful applicants who succeeded in getting accepted to Columbia University. This makes Columbia a very competitive college and requires you to achieve very high grades throughout your schooling.
That being said, Ivy Leagues like Columbia University rarely have a concrete GPA requirement as it may change based on your field of study and your overall application. A candidate with a GPA of below 4.12 may still have a chance in Columbia enrollment if it is balanced out with extracurriculars, sports achievements, great standardized test scores, or other outstanding achievements that show your application to be a cut above the rest.
Is Columbia Test Optional for 2023?
If you're an incoming freshman in college, this question might have crossed your mind, "Is Columbia test optional for 2023?" Columbia is extending their test-optional policy for two years, effective for first-year and transfer applicants to Columbia College or Columbia Engineering for entrance in Fall 2023 and Fall 2024. They stated that they understand the COVID-19 pandemic has had a profound impact on the ways that students navigate their path to college, including decreased access to safe and reliable standardized testing.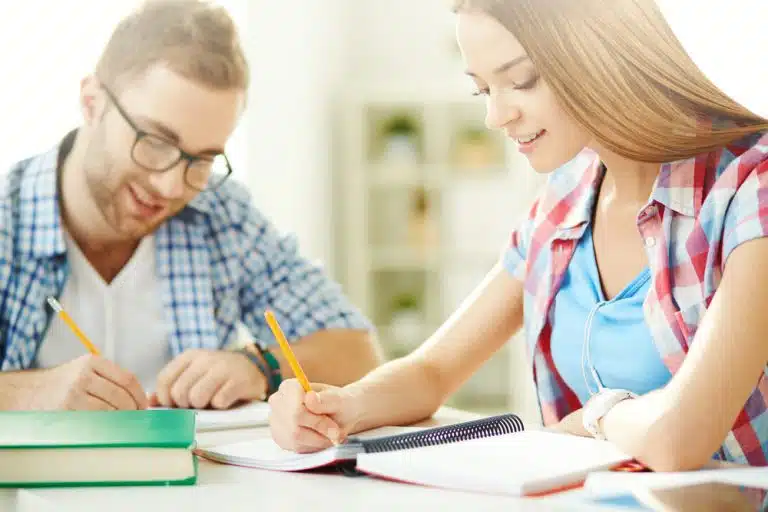 This continued waiver of the standardized testing requirement will allow Columbia to carefully evaluate the impact of test-optional admissions for a full cohort of enrolled Columbia students, to reflect on the holistic and contextual review process, and to consider systemic shifts in access to educational opportunities. After a period of review and synthesis, the testing policy will be re-assessed for the 2024-2025 Columbia application cycle.
ACT and SAT results will not be a required component for the first-year and transfer 2022-2023 and 2023-2024 application cycles, and students who are unable or choose not to submit test scores will not be at a disadvantage.
Columbia will continue to evaluate all submitted information within the holistic and contextual review process that considers individual circumstances shaping each applicant's journey. The rigor of a student's curriculum, their academic achievement, and their demonstrated intellectual curiosity will remain central to our review.
For students who choose to submit testing, Columbia's testing policies remain the same. The SAT and ACT scores will be accepted through November test dates for Early Decision applicants and scores through January for Regular Decision applicants.
What Are the Requirements for Columbia Enrollment?
Knowing how to get into Columbia starts with understanding the application requirements. So, what are the requirements for Columbia enrollment?
Columbia accepts either the Coalition Application, the Common Application, or QuestBridge Application. You will need to complete an activities and achievements section, provide autobiographical information, and complete a personal statement.
The deadline for the Regular Decision is early January, and you should hear from Columbia in early May. Then, in order to get admitted to Columbia University, you must fulfill the following requirements:
Supplemental Essays
Secondary School Report
Mid-Year Review Report
Scores from Standardized Tests
Results of the English Proficiency Test (if applicable)
Teacher Recommendations
An application fee of $85 or a fee exemption
Supplementary materials (if applicable)
Character Reference Letters
Three letters of recommendation are required by Columbia; one from your high school guidance counselor and two from your teachers.
Columbia mandates that you request a letter from your math or science teachers if you are applying as an engineering major. You can ask teachers from any topic to write recommendation letters for Columbia University if you're applying for any other major. Your letters must demonstrate "evidence of intellectual curiosity and promise, classroom, school, and community activity, and overall potential for the candidate to make a difference at Columbia, in and outside the classroom," according to Columbia.
The most important criteria for admission to Columbia University is recommendation letters, which can show the admissions committees more proof of your prospective performance than test results.
A teacher who knows you well both within and outside of the classroom makes for the ideal recommender. Inform your teachers if they are unaware of your after-class volunteer work at a youth center. Your letter ought to highlight your qualifications.
Supplementary Materials
The submission of supplemental materials is a voluntary step in the admissions process, so you should only do so if necessary. Columbia cautions that "there may be instances where such credentials provide valuable information that the regular application does not," albeit this is not always the case. As a matter of fact, this is where you should upload your artistic portfolio or academic work.
SAT Prerequisites
The SAT is frequently used by universities to assess your readiness for college. Three main categories will be used to evaluate you:
Critical Reading
Math
Writing
Most students take the SAT in the spring or fall of their junior or senior year. In the best-case scenario, you should take it as soon as you can to avoid having to retake the test.
There is no minimum score requirement at Columbia. The middle 50% of admitted students' composite SAT scores, however, range from 1510 to 1560. It is advised to get scores that are close to the top end of this range if you wish to be a competitive applicant.
ACT Prerequisites
The American College Test (ACT), like the SAT, is designed to establish whether your talents are prepared for the rigorous nature of a college-level education. There are four multiple-choice sections on the ACT, and a writing examination is optional.
English
Mathematics
Reading
Science
Writing test (optional)
The middle 50% of ACT scores attained by accepted students falls between 34 and 35. Again, there is no minimum score required, but you should strive for the highest score.
Columbia does not favor either test and permits superscoring on both of them. Therefore, if you take either exam more than once, the admissions committee will take your best test scores into account.
English Language Proficiency Testing
You must meet Columbia's English Language Proficiency criterion if English is not your native tongue or the main language of teaching at your institution.
Additionally, this is required of applicants who scored lower than 700 on the SAT's Evidence-Based Reading and Writing portion or a 29 on the ACT's English or Reading section. You must submit your results from one of the following exams in order to meet this English proficiency requirement:
Test of English as a Foreign Language (TOEFL)
International English Language Testing System (IELTS)
Duolingo English Test (DET)
For these exams, you must achieve a minimum score of 105 on the TOEFL, 7.5 on the IELTS, and 125 on the DET.
How To Get Into Columbia?
It's easier said than done, even if many people aspire to be part of the Columbia enrollment. It consistently ranks among the top five most prestigious universities in the United States, with an acceptance rate of just 3.73 percent. There, students from a wide range of backgrounds excel. Continue reading to find out more about the Columbia experience if you're wondering how to get into Columbia. If you decide it's a good fit, we'll go over some strategies for making yourself stand out from the other applicants to Columbia.
Colleges for Undergraduates and the Core Curriculum
The numerous undergraduate institutions at Columbia offer programs to suit various students' needs and interests. The School of Engineering and Applied Science is for engineering, Columbia College is for liberal arts, and General Studies is for returning and nontraditional college students. A little women's institution called Barnard College is right across the street, and Columbia also exchanges resources with it.
The Core Curriculum, a series of required courses that all students, regardless of major, must complete in order to have a well-rounded education, is undoubtedly Columbia's most recognizable feature. Students at all stages of their undergraduate degree take seminars where they are forced to think across areas and engage with other students' viewpoints in courses like Literature Humanities (Lit Hum) and Frontiers of Science.
You will have read a variety of classical authors, philosophers, and historians by the time you complete your second year at Columbia. You should be ready to read a lot and engage with a wide range of topics if you're wondering how to gain Columbia enrollment as Columbia College offers the most traditional liberal arts curriculum and structure.
The Character of a Columbia University Student
Researching how to get into Columbia can be aided by understanding that students are highly engaged in their communities. Students at Columbia demonstrate their interests through their engagement, whether it be by taking on leadership roles in their communities, participating in lectures and cultural events, or devoting a lot of time to independent research projects.
This translates to the campus culture, where Columbia students frequently find communities through their extracurricular activities. You should expect to be busy if you decide to visit Columbia. Everyone at Columbia puts a lot of effort into their work.
Columbia students are also loud about their passions, whether in politics or culture. Show off your enthusiasm on your application, whatever it may be! The admissions committee at Columbia wants to know about your personality and your values. The school's students take initiative.
The undergraduate population at Columbia University is around 7,000, making it a large institution in a large metropolis. Students speak out for themselves and ask for the tools they need. If you think you'll fit in here, you should demonstrate your independence in your application and essays.
How to Have a Competitive Advantage When Applying to Columbia University?
Engage in Enrichment Activities
For excellent high school students, Columbia offers a few enrichment programs, and there is some evidence that taking part in one may provide kids an advantage when applying to colleges.
Students who want to show a passion for Columbia, establish relationships with the university's faculty and community and showcase their intellectual prowess can apply to these programs. Students who reside close to the institution should learn more about the College Edge Program and the Academic Year Immersion Program.
Some programs, like the Columbia Scholastic Press Association and the Columbia Climate School in the Green Mountains program, specifically cater to particular interests. There are also summer and online programs available for those who don't reside close to New York.
However, because the admissions procedure for these programs is difficult, there is no assurance that a particular student will be accepted into one. Students should look into the enrichment programs provided by their local colleges if they are unable to join one of these programs due to rejection, lack of funds, or time constraints.
Students might also research academic contests, particularly those in their field of interest. Students can stand out in the application process by doing well in such a competition at the national level.
Early Decision Acceptance Rate at Columbia
A little less than half of each class is admitted through early decision, which is roughly three times as many as the standard acceptance rate at Columbia.
Although, because Columbia's early decision admissions are final, students should only think about doing so if:
Columbia is their first preference.
They can decide to attend Columbia no matter what kind of financial aid is provided to them.
By the conclusion of their junior year, they have excellent test results and GPA.
Don't worry if you aren't prepared to apply early or if it's not a good fit for you. If you take the time to improve your application, it won't matter when you submit it because you'll still be a strong candidate who has the time and flexibility to consider your options. To become a strong candidate, you should consult with experts in college admissions such as AdmissionSight. We will guide you through the entire process of your journey to Columbia enrollment (or to any other school).
You can look through AdmissionSight's programs that can help you in applying to college. Book an initial consultation to find out more about us.