Columbia Music Program
The Department of Music at Columbia University is one of the oldest and most prestigious of its kind at any university in the United States. Edward MacDowell was the one who initiated the department back in 1896. (1860-1908). The mission of the Columbia Music Program is to support and promote scholarly and scientific inquiry into music.
Moreover, as well as the creative activity of music composition, at the highest levels of rigor and innovation, for both graduate and undergraduate students, specialists, and non-specialists in music, and a diverse constituency that spans both within and beyond Columbia University. The Columbia music program's target audience includes graduate and undergraduate students, music specialists, and non-specialists in music.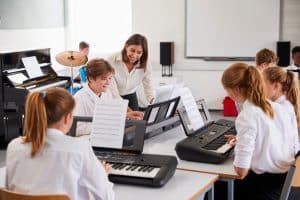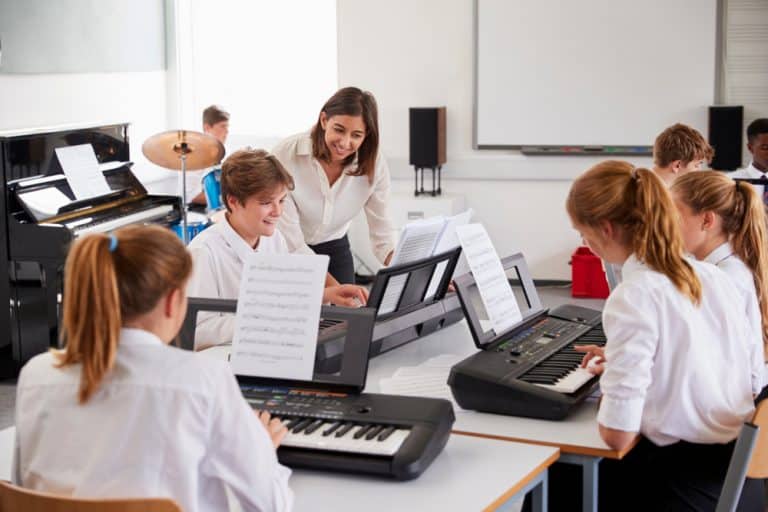 The Columbia music program collaborates with many other centers, institutes, schools, and departments at Columbia, as well as with institutions, artists, students, and scholars in our New York community and around the world. The Department of Music and its affiliated Centers sponsor a large number of scholarly events and performances for the Columbia and New York communities, whose diverse and rich musical legacies are represented across the full range of our commitments.
Does Columbia have a music program?
Does Columbia have a music program? Yes, it does! The mission of the Department of Music at Columbia is to support and profess scholarly and scientific inquiry into music, as well as the creative activity of music composition, at the highest levels of rigor and innovation. The Columbia music program is intended for graduate and undergraduate students, music specialists, and non-specialists in music, as well as a diverse constituency that spans both within and beyond Columbia University.
Despite the fact that they do not provide any degrees in music performance, they do provide a performance offering of a high level to a wide variety of student musicians. This offering is linked with the school's academic curriculum.
As a liberal arts department, and not a conservatory, the Columbia music program aims to prepare its undergraduate music majors, minors, and concentrators for careers in music and the arts, but it also aims to bring the skills developed in the rigorous study of music to the pursuit of careers in academia, technology, public service, policy, business, medicine, the law, engineering, science, education, and many other fields.
The Columbia music program holds the belief that the study of music is essential to the development of the essential intellectual and ethical skills that are the larger goals of a liberal arts education and the foundation for a successful career in any field. These skills include the ability to critically evaluate information and act in an ethical manner.
What is the Columbia music program like?
Knowing about Columbia's music program, it is natural to wonder, "What is the Columbia music program like?" Within the context of more general education in the liberal arts, Columbia's music department is rigorous and all-encompassing, offering significant instruction in technical music abilities as well as interpretive and creative approaches to music.
Studio training, participation in ensembles, solo performances, supporting music courses, and a culminating capstone experience will all contribute to the development of your musical skills. In addition to preparing you for a number of vocations in the world of music and for entry into graduate programs, our primary objectives for you include establishing competence and leadership in the major area of study. These objectives are core to its mission.
What are the various Columbia music groups?
So, what are the various Columbia music groups? There are options available for everyone, regardless of whether you are currently an experienced musician or are trying to get started in the field of music. The Columbia music program hosts a wide variety of musical ensembles, some of which are listed here.
The Music Performance Program
If you already have a significant amount of experience in the field of music, the Music Performance Program is the ideal location for you to continue your musical education. It provides the option to engage in a variety of ensembles, including cultural organizations like the Latin American Music Ensemble in addition to classical chamber music groups, and it also provides private lessons for those interested.
Additionally, it hosts an annual performance at the illustrious Carnegie Hall in New York City. Private instrumental lessons are available to students attending either Columbia University or Barnard College for a cost of $300 each semester.
Audition opportunities are provided to everyone who expresses interest during the first week of the fall semester. Unfortunately, auditions are necessary unless you are interested in beginning piano lessons, which are also provided by MPP.
If you want to enroll in private instruction and are accepted into the program, you will be required to complete a total of six hours of instruction per semester; these hours will count toward one credit. The curriculum is open to performers who have been trained in either jazz or classical music.
Columbia University Orchestra
This is the right area for you if you are currently or plan to become an orchestra nerd. The Columbia University Orchestra holds the title of being the oldest university orchestra in the United States that is still actively performing.
It was established in 1896. Jeffrey Milarsky, a renowned conductor who also collaborates with the CUO and the Juilliard School, is in charge of the orchestra's musical direction. CUO performs some of the most famous and influential pieces of classical music, including "The Marriage of Figaro" by Mozart and "Symphonie Fantastique" by Berlioz.
These works are considered to be among the genre's greatest masterpieces. It puts on two concluding sets of performances each year, so if you are confused about whether or not you should join, you might think about going to one of its concerts. CUO will count for two credits each semester and will be considered an official course within the music department at Columbia University.
Columbia Classical Players
Students who are interested in playing for an audience have the opportunity to do so through the Columbia Classical Performers, which gives them a platform to share their playing with the wider Columbia music program community and the general public. CCP hosts concerts every other week, and anyone is welcome to sign up to attend.
The fact that these concerts are generally accompanied by delectable refreshments and don't cost anything to attend means that they might be the ideal setting in which to showcase your musical abilities to your loved ones. You can still volunteer to assist out behind the scenes by applying for a place on the board, even if performing isn't your strong suit.
Columbia University Bach Society
The Columbia University Bach Society is a campus orchestra and choir ensemble that is conducted entirely by undergraduate students. It is currently directed by Andre Chan, and its mission is to play works from the high baroque and classical periods of western music using students from a variety of musical backgrounds.
The Bach Society is renowned not just for the caliber of its performances of advanced classical music repertoire but also for the strong sense of camaraderie that it fosters among its member artists. Their performances are frequently conducted at the breathtaking St. Paul's Chapel, which is located right here on the campus of Columbia University. Auditions are held at the beginning of each of the fall and spring semesters for anybody who is interested in joining the Bach Society.
Columbia Pops
Have you ever dreamed of performing the regal score of Indiana Jones or the endearing themes from Super Mario Bros.? Do you enjoy going against the grain of society by performing popular music on your classical instrument? If you answered yes to either of those questions, you should think about becoming a member of Columbia Pops.
The Columbia Pops Orchestra is entirely controlled by students and is open to students attending any of Columbia University's four undergraduate colleges. The orchestra plays student arrangements of nonclassical pieces, including soundtracks for movies, television shows, and video games.
Every year, there are two different concert series that is presented, and people from the Columbia community as well as those from the broader New York City area attend them. It is a tight-knit community that gets together once a week for practices that last for two hours.
If you're lucky, you might be able to see its chamber groups performing at one of the many events that take place on campus. Auditioning takes place at the beginning of each of the fall and spring semesters, and composers and musicians of any instrument are welcome to take part.
Columbia New Music
The objective of Columbia New Music is to imaginatively investigate a large number of musical genres through the process of making and performing music by Columbia students. The group is open to Columbia music program students who are both passionate performers and composers. In the past, it has primarily concentrated on modern classical music as well as jazz and electronic music.
Its mission is to expose the Columbia community to music that is progressive but underappreciated much of the time. It holds three concerts each semester that feature the works of student composers from Columbia. These concerts are presented through improvisation sessions as well as weekly meetings.
If you are a composer seeking for musicians to perform your compositions, this is the ideal method to turn the notes on your manuscript paper into a real-life performance. If you are a musician looking for a composer to perform their compositions, this is the ideal method.
Jazz Ensembles
This year marks the 20th anniversary of the Louis Armstrong Jazz Performance Program (LAJPP), which has been directed by Ole Mathisen since its inception. Over one hundred students and at least thirteen ensembles are still receiving financial assistance from the Louis Armstrong Educational Foundation. Jazz performance opportunities and private lessons are available to students at both the undergraduate and graduate levels at LAJPP.
There is a vast variety of jazz ensembles that can span a wide variety of musical styles. These ensembles can be huge or tiny, instrumental or vocal, or any combination of these. Every jazz ensemble performs at an intermediate level or above and requires at least some prior jazz expertise to join. The following are examples of jazz ensembles:
Jazz Combos
Big Band
Piano Trio Workshop
Jazz Vocal Ensemble
Afro-Cuban Jazz
Brazilian Jazz
Free Jazz
Collegium Musicum
Since the middle of the 1950s, the Collegium Musicum has been an integral component of student life at Columbia University, where it serves as one of the most prominent choral ensembles.
The group has a connection to the core curriculum at Columbia University, and they traditionally perform Josquin's Ave Maria…Virgo Serena for the students in the Music Humanities lectures. In the past, the Collegium primarily focused on the performance of music from the middle ages and the Renaissance, including works by composers such as Machaut, Josquin, Palestrina, Ockeghem, Tallis, and Monteverdi.
However, in recent years, the Collegium has expanded its repertoire to include works from all historical epochs, including music from the 20th century and contemporary music.
This coming autumn, the group will concentrate mostly on baroque repertoire while also performing some works from the Renaissance period. Dido and Aeneas by Henry Purcell could be staged as a chamber concert performance depending on the level of enthusiasm shown.
Japanese Gagaku/Hogaku Ensemble
The Japanese Gagaku/Hogaku Program at Columbia University is a collaborative effort between the Department of Music at Columbia University, the Music Performance Program at Columbia University, the Center for Ethnomusicology at Columbia University, and the Institute for Medieval Japanese Studies at Columbia University. This program is the only one of its kind in the world.
Attendance at weekly rehearsals and individual practice are both mandatory for students participating in any ensemble. There will be a number of public performances held throughout the school year, in addition to possibilities for mentorship during the summer in Tokyo.
The students will be provided with high-quality musical instruments. Elizabeth Brown is in charge of teaching shakuhachi, Yumi Kurosawa is in charge of teaching koto, and Alicia "Lish" Lindsey is in charge of teaching the Gagaul ensemble. It would be preferable if you had some musical background, especially with wind or string instruments.
Bluegrass Ensemble
The Bluegrass Ensemble at Columbia University was established in 2004 and has since garnered an excellent reputation both on campus and in the surrounding community. Throughout the course of the year, they perform at a variety of university events as well as locations located in the surrounding community.
Students in the Bluegrass ensemble actively participate in group lessons and rehearsals, which culminate in at least one public performance at the end of each semester. This allows the students to get familiar with various non-Western and non-Classical musical genres and cultures. The Bluegrass ensemble gets together once a week for a total of two hours, and it welcomes players of any experience level.
Want to learn more about the Columbia music program? You've come to the right place. At AdmissionSight, we have over 10 years of experience guiding students through the competitive admissions process.
AdmissionSight can help you put your best foot forward when applying to college this fall. Contact us today for more information on our services.