Common App Essay Tips
You need to take advantage of the college app essay to tell your tale and reveal the various sides of your personality. This will boost your chances of getting accepted to the university of your dreams as it will help convince them that you deserve a spot. Taking advantage of these common app essay tips can go a long way.
What is the Common App Essay?
What does the common app essay entail? The Common App essay serves as your primary personal statement for institutions that use the Common App and require the essay.
You may access the Common App essay prompts as well as the instructions by logging into your account and going to the "Common App" tab. From there, click on the "Writing" button and you will be given the opportunity to reply to one of seven different topics. The length of your essay must be between 250 and 650 words.
You now have the opportunity to delve deeper and further your interests, experiences, passions, and strengths through this essay. You are free to talk about practically anything you choose, as long as the subject of your discussion is relevant to the prompt you've chosen. There are also no regulations about the manner in which one must relate their tale.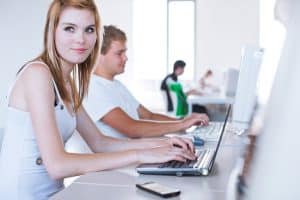 You are required to submit the essay that is found on the Common Application to all of the colleges that need it; however, some of these universities may also ask you to submit one or more supplementary essays.
You will find a space on the application form designated for you to input your essay; however, it is strongly recommended that you first compose your essay using Microsoft Word, Google Docs, or another word processor before copying and pasting your final draft into this box.
Why is the Common App Essay important??
Why is it necessary to submit an essay using the Common Application if institutions will need students to submit college-specific essays anyway? If you don't have a strong Common Application essay, you probably won't even make it to the supplemental essay stage of the application process.
This essay could count for ten percent to thirty percent of how your primary application is evaluated, and the more prestigious the college, the more vital it is for you to write a good one.
This is due to the fact that prestigious universities, such as those in the Ivy League, receive a significant number of applications from students of exceptionally high ability.
They receive many applications from students who have excellent grades, outstanding participation in extracurricular activities, and strong references. Hence, the Common App essay plays an increasingly important role in distinguishing one application from another.
In addition, certain educational institutions, such as private liberal arts colleges, prefer an admissions procedure that is more holistic. These institutions frequently place less importance on students' standardized test scores than other schools do and instead place a greater emphasis on the student's extracurricular activities and personal statements.
It's possible that your Common App essay will make the difference between you and another applicant whose profile is very similar to yours. There are many students who have the highest grades in their class as well as a list of amazing extracurricular activities, not to mention top SAT scores, who wind up being denied from their desired colleges due to a poorly written essay on their application.
Having said that, it is essential to keep in mind that regardless of how impressive your personal statement is, it will not be able to compensate for inconsistent grades and a less than comprehensive résumé, particularly at prestigious schools where admissions are highly competitive.
Keep in mind that the essay portion of the Common Application is the last opportunity you will have to take your application to the next level by following some common app essay tips. When it comes to your academic record, your history of extracurricular activities, and other aspects of your background, there is not much you can change by the time you are writing and submitting your essay.
These aspects represent long-term accomplishments that just cannot be completed in a single day. However, you have entire control over the essay that you submit with your Common App, and it is the only opportunity you will have to make a case for yourself in front of the admissions committee.
In point of fact, considering this from the point of view of the students, this is what makes the Common Application essay so significant. Your primary application consists primarily of quantitative information, your essay is one of the few "qualitative" components of your application. It gives you the opportunity to talk directly to the admissions committee, during which you may truly humanize yourself and assist them in seeing you as a person rather than merely a collection of data and figures.
Your grades, scores on standardized tests, and all of the other components of your application are obviously essential since they demonstrate your academic ability, talents, and abilities; yet, they do not represent who you are as a person. Everyone has a different background, and sharing some of yours in your application can really help it stand out from the crowd.
What are the most effective common app essay tips?
Parents and students frequently ask us for advice on how to write the most effective essays for the Common Application. In response, our knowledgeable team of counselors has compiled a list of straightforward and efficient common app essay tips that can serve as guidelines as you navigate the complex waters of college essay writing. Make an effort to put them to good use.
Keep it simple.
When writing the essay for the Common Application, far too many students feel forced to attempt to cram and squeeze their entire life experience into 650 words. My dear friends, this is simply impossible.
It is always best to start with a limited perspective. Find a tale or an experience from your past that has a lot of personal significance for you then ask yourself if is there any aspect of any of these stories that exemplifies broader your most valuable qualities.
Your personality, passions, and/or goals should shine through in the appropriate topic for your essay, but you shouldn't force it to do too much all at once.
Asking yourself "what am I trying to communicate about myself, and am I utilizing a specific, compelling example to illustrate my story?" when you find yourself becoming lost when writing can help you find your way out of a rut.
Write first, and edit later.
When it comes to writing, we are nearly always our own worst critics. The best advice is to write first and edit later. There are a great number of students who desire and expect themselves to produce pure, unrestrained brilliance the very first time their fingers hit the keys when writing an essay; yet, this is usually never the case when it comes to good essay writing.
Creating an article that persuades readers to take action is a process, and many times, the best writing comes from writing that is done in a stream of consciousness. It is important to refrain from editing your work until you have given your creative juices a chance to flow freely onto the paper.
You should never evaluate your writing before you have at least several paragraphs put down. It is far simpler to work with a surplus of words and ideas than it is with nothing at all. You can always cut what doesn't work, and it is a lot easier to do so.
Enough with the clichés.
Let's be straightforward, clichés are definitely tiring. Colleges are very particular with content which is why they find clichés to be particularly repulsive. Nonetheless, we have sufficient faith in your creative ability to know that you are capable of producing superior work. The people who will read your admissions essay are aware of this fact as well, and they anticipate that you will demonstrate creative thinking while avoiding clichés such as "think out of the box." Therefore, remove those worn-out sentences from your essay right away.
Pay attention to the details.
When asked to review their own tales, many students have a pattern of sounding unremarkable and unoriginal. The accumulation of a number of seemingly insignificant aspects is sometimes what makes an essay memorable. If you can construct a clear image for your reader by offering specifics, you will significantly increase the likelihood that you will leave a marker in their memories.
If you can't do anything else, try to entertain.
Imagine that you work as a college essay reader at a prestigious academic institution and that your position requires you to read dozens of essays each day, every day, over a stretch of several weeks. The vast majority of the essays that come across your desk are mind-numbingly dull; perhaps just ten percent cut through the clutter and compel you to pay attention to what's being said.
You, as a potential applicant, want your essay to be like a brilliant light shining in the face of the reader, who is likely to be bored. Your goal in writing an essay should be to entertain your reader, and this objective should remain the same regardless of the nature of the subject you choose to explore.
Accomplishing this goal will require the cooperation of many different factors. You will need a topic that is interesting to the reader, a narrative that is clear and convincing, flawless punctuation, and an engaging writing style. A healthy dose of humor is never a bad idea, either.
When you are looking through your drafts, the question, "Is this essay amusing to read?" should constantly be in the back of your mind.  Some students make themselves more entertaining by engaging in contentious debates while some sprinkle their work with comedic touches.
Moreso, some people have the ability to describe the events in such minute detail that the reader has no choice but to finish the essay. Readability that is not just easy but also compelling should be your primary objective, regardless of the strategies that you ultimately decide to employ.
Brand yourself.
This is one of the best common app essay tips here. For your essay to be considered successful, a reader should be able to summarize the content of your paper in a single line. This self-branding can be accomplished by selecting an original topic to write about and writing about it in sufficient detail to ingrain an image of yourself in the mind of the reader.
When it comes down to you and another candidate who is similarly qualified, you want an admissions officer to be able to stand up with your application in his or her hand. Bring your tale into focus.
After you have completed the first draft of your essay, you should conduct a branding test. This involves attempting to categorize yourself based on your essay and observing the results. If you find that you are unable to condense the information into a punchy description, your essay probably needs to be revised or simplified.
Admission is a human process. Even if grade point average, standardized test scores, and participation in extracurricular activities are all taken into consideration by admissions committees, there are still other students for every available slot in a university's class who have excellent qualifications in these areas.
In order to be accepted as a candidate, an admissions counselor needs to prioritize you above all of the other applicants and speak up on your behalf. Essays are a great way to turn an admissions officer into a supporter of your application since they provide you the opportunity to make a personal connection with the reader.
The Common Application essay is the most significant of all of your essays so making use of these common app essay tips is a plus because it is read by the majority of the universities to which you apply. It is also the longest essay you have written, which provides you with additional scope to construct a story and convey more about your personality, feelings, and perspective.
To suggest that writing a strong essay for the common application is the single most significant thing a high school senior can do to increase his or her chances of getting into college is not an exaggeration.
For years, AdmissionSight has been assisting students in putting together applications that stand out from the crowd and leave a lasting impression on admissions officers. We will have done everything in our power to increase your chances of admission. Don't hesitate to contact us and book your initial consultation today at AdmissionSight.