Comparing Davidson College and Pitzer College
Are you comparing Davidson College and Pitzer College for your higher education journey? Look no further than this comprehensive analysis. We will break down all the important factors and details to help you make an informed decision.
Location and Campus Overview
Davidson College is located in Davidson, North Carolina, a small town outside Charlotte. The campus is spread out over 665 acres and boasts stunning Georgian-style architecture. Pitzer College, on the other hand, is located in Claremont, California, a small suburb about 30 miles east of Los Angeles. The campus is on 35 acres and has unique and modern architecture with plenty of open green spaces and outdoor art installations.
Davidson College's location in North Carolina provides students with easy access to the vibrant city of Charlotte, which offers a variety of cultural and entertainment options. The town of Davidson itself is also a charming and welcoming community, with a quaint downtown area and numerous local businesses.
Pitzer College's location in California provides students with access to the diverse and exciting city of Los Angeles, which is known for its thriving arts and entertainment scene. The college is also located near the San Gabriel Mountains, providing students with opportunities for outdoor recreation such as hiking and skiing.
Student Body Diversity and Demographics
Diversity is an essential factor for many college-bound students, and both Davidson and Pitzer commit to creating inclusive and diverse communities. Davidson has a student body that is 48% white, 17% Hispanic/Latino, 8% Black/African American, and 12% Asian. Pitzer has a student body that is 44% white, 18% Hispanic/Latino, 7% Black/African American, and 14% Asian.
In addition to racial and ethnic diversity, both Davidson and Pitzer also have a diverse range of students regarding socioeconomic status, geographic location, and academic interests. Davidson has a need-blind admission policy, meaning that a student's ability to pay for tuition is not a factor in the admission decision.
Pitzer also commits to providing financial aid to students with demonstrated need. Both schools attract students from all over the United States and the world, creating a vibrant and diverse community on campus.
Academic Programs Offered
Davidson College offers 29 majors and 40 minors across various fields, such as the humanities, social sciences, natural sciences, and fine arts. Pitzer College offers 42 majors and 31 minors in the social sciences and interdisciplinary studies.
In addition to the majors and minors offered, both Davidson College and Pitzer College provide students with opportunities to engage in research and independent study projects. Davidson College's undergraduate research program allows students to work closely with faculty members on research projects in various fields. Pitzer College's Interdisciplinary Program will enable students to design their major and explore multiple areas of study in depth.
Faculty-to-Student Ratio and Class Sizes
Davidson has a faculty-to-student ratio 1:8, and their average class size is 16 students. Pitzer has a faculty-to-student ratio of 1:11, and their average class size is 15 students. Both schools have small class sizes, which allows for personalized attention from professors.
Small class sizes have many benefits for students. In addition to personalized attention from professors, students in smaller classes have more opportunities to participate in class discussions and activities. They also have more opportunities to receive feedback on their work, which can help them improve their skills and knowledge.
Furthermore, small class sizes can help students build stronger peer relationships. In smaller classes, students are more likely to get to know each other and work together on projects and assignments. This can lead to a more supportive and collaborative learning environment, which can be especially beneficial for students who may feel isolated or disconnected in larger classes.
Admission Requirements and Acceptance Rates
Davidson College has an acceptance rate of 18%, and its admissions process is highly selective. Pitzer College has an acceptance rate of 16%, and they take a holistic approach to admissions, considering factors such as test scores, transcripts, essays, and extracurricular activities.
Additionally, both colleges require applicants to submit letters of recommendation from teachers or other professionals who can speak to their academic abilities and personal character. Davidson College also requires applicants to submit standardized test scores, while Pitzer College has adopted a test-optional policy in recent years. Prospective students need to review the admission requirements and deadlines for each college carefully they are considering and put forth their best effort in all aspects of the application process.
Cost of Attendance and Financial Aid Opportunities
Davidson College's tuition and fees for the 2021-2022 school year total $57,765, and they offer both need-based and merit-based financial aid. Pitzer College's tuition and fees for the same year come to $58,608, and they also have need-based and merit-based aid options.
It is important to note that the cost of attendance at both Davidson College and Pitzer College includes not only tuition and fees but also room and board, textbooks, and other expenses. However, students may be able to reduce these costs through various means, such as living off-campus or applying for scholarships.
Additionally, both colleges offer work-study programs, which allow students to earn money while gaining valuable work experience. These programs can help offset the cost of attendance and provide students with opportunities to develop skills and build their resumes.
Campus Life and Extracurricular Activities
Davidson and Pitzer offer various extracurricular activities and organizations on campus. Davidson has over 200 student-run organizations, including a competitive student government and a thriving arts community. Pitzer is known for its sustainability initiatives and has various clubs and organizations focused on social justice.
Davidson College has a robust athletic program, with 21 NCAA Division I teams and a state-of-the-art athletic facility. Students can participate in sports such as basketball, soccer, tennis, and swimming, among others. Pitzer College, on the other hand, has a unique outdoor education program that allows students to explore the natural beauty of Southern California through activities such as rock climbing, backpacking, and kayaking.
Both colleges also offer a variety of cultural events and performances throughout the year. Davidson hosts an annual international festival showcasing the diverse cultures on campus, while Pitzer has a popular concert series featuring up-and-coming musicians. Additionally, both colleges have vital community service programs, giving students opportunities to give back to the local community and beyond.
Athletics and Sports Programs Offered
Davidson College is known for its NCAA Division I athletic programs, with 21 varsity teams competing in the Atlantic 10 Conference. Pitzer College is a member of NCAA Division III and has a varied selection of varsity sports programs.
In addition to varsity sports, both Davidson College and Pitzer College offer a range of intramural and club sports programs for students who want to stay active and engaged in sports. These programs include basketball, soccer, volleyball, ultimate frisbee, and more. Students can also participate in fitness classes, such as yoga and Pilates, to maintain a healthy lifestyle. With a focus on promoting physical activity and wellness, both colleges provide ample opportunities for students to get involved in sports and stay active throughout their college years.
Career Services and Job Placement Rates
Davidson College has a comprehensive career services program and a strong alum network. Ninety percent of Davidson graduates are employed or in graduate school within six months of graduation. Pitzer College also has a robust career services office and a unique study abroad program focusing on international internships.
At Davidson College, the career services program offers a variety of resources to help students explore career options, develop job search skills, and connect with potential employers. The program includes career counseling, resume and cover letter reviews, mock interviews, and networking events. Additionally, Davidson's alum network is highly engaged in supporting current students and recent graduates in their career pursuits.
Pitzer College's study abroad program is a standout feature for students interested in gaining international work experience. The program offers opportunities for students to complete internships with organizations in countries such as Costa Rica, India, and South Africa. These internships provide valuable hands-on experience in a global context and can help students stand out to potential employers after graduation.
Alumni Network and Support for Graduates
Davidson and Pitzer have impressive alum networks that offer support and guidance to graduates. Davidson has over 23,000 alumni worldwide, and Pitzer has over 17,000. Both schools also offer post-graduate fellowships and scholarships for continued education and research.
Additionally, both schools have career services offices that provide resources and assistance to alums seeking employment opportunities. These offices offer job search strategies, resume and cover letter reviews, and networking events. Davidson's career services office also provides a mentorship program that connects current students with alums in their desired career fields.
Student Life in the Surrounding Area
Davidson College is located just outside Charlotte, a vibrant city with various cultural attractions, shopping, and dining options. Pitzer College is located near Los Angeles, giving students access to all the culture, entertainment, and outdoor activities that Los Angeles has to offer.
Additionally, both Davidson College and Pitzer College are in beautiful natural surroundings. Davidson College is located near Lake Norman, which offers opportunities for boating, fishing, and hiking. Pitzer College is located near the San Gabriel Mountains, which provide opportunities for hiking, skiing, and other outdoor activities.
Internship Opportunities Available
Both Davidson and Pitzer offer numerous opportunities for internships, research, and other experiential learning experiences. Davidson strongly focuses on community engagement and offers many internships with local non-profit organizations. Pitzer has a unique program called the Pitzer in Ontario program, which provides students hands-on experience working with local organizations and businesses.
Additionally, both colleges partner with various companies and organizations, providing students access to internships in multiple fields. Davidson has partnerships with companies such as Bank of America and Duke Energy. In contrast, Pitzer partners with organizations such as the Claremont Chamber of Commerce and the Pomona Valley Hospital Medical Center.
Furthermore, both colleges have career centers that offer resources and support for students seeking internships and other professional opportunities. These centers assist with resume and cover letter writing, interview preparation, and networking events with alums and employers.
Research Opportunities for Students
Davidson College has a strong focus on undergraduate research, and its students have opportunities to conduct research with faculty members across a range of disciplines. Pitzer College emphasizes a multidisciplinary research approach and offers research opportunities both on and off campus.
Additionally, many universities offer summer research programs for undergraduate students. These programs provide students with the opportunity to work on research projects full-time, often with a stipend or housing provided.
Some examples of these programs include the National Science Foundation's Research Experiences for Undergraduates (REU) program and the Amgen Scholars program. These programs can be an excellent way for students to gain valuable research experience and explore potential career paths.
Study Abroad Programs Offered by Both Colleges
Both Davidson and Pitzer have robust study-abroad programs that take students worldwide. Davidson's programs focus on immersive experiences and partner with over 30 institutions worldwide. Pitzer has a unique program called Pitzer in Costa Rica that involves living and studying in a sustainable eco-village for a semester.
In addition to these programs, Davidson also offers a popular summer program in China that focuses on language immersion and cultural exchange. Students live with host families and attend classes at a local university.
Pitzer, on the other hand, has a program called Pitzer in Botswana that focuses on community development and social justice. Students work with local organizations on projects related to education, health, and environmental sustainability.
Campus Safety Measures and Crime Rates
Both Davidson and Pitzer have strong campus safety measures in place to ensure the safety of their students. Davidson has a low crime rate, and the college has a well-trained and equipped campus police force. Pitzer College also has a low crime rate and a campus safety office that provides shuttle services and safety escorts.
In addition to these safety measures, both colleges also have emergency alert systems to quickly notify students and staff in case of any potential danger. These systems include text messages, emails, and loudspeakers throughout the campus.
Furthermore, both colleges have implemented various programs and initiatives to promote a safe and inclusive campus environment. These programs include bystander intervention training, sexual assault prevention workshops, and diversity and inclusion training for students and staff.
Sustainability Initiatives on Campus
Davidson and Pitzer firmly commit to sustainability and have implemented numerous initiatives to reduce environmental impact. Davidson aims to be carbon neutral by 2040 and has implemented various measures such as geothermal heating and cooling and sustainable building practices. Pitzer College is a leader in sustainability, and its campus is designed to teach students about sustainable living through features such as solar panels and edible gardens.
In addition to these initiatives, both schools have implemented programs to reduce waste and promote recycling. Davidson has a composting program for food waste and has installed water bottle filling stations to reduce plastic waste.
Pitzer has a "zero waste" goal and has implemented a program to compost all food waste and use compostable utensils and plates in their dining halls. Both schools also offer courses and programs focused on sustainability and environmental studies, encouraging students to become leaders in sustainability.
Academic Support Services Available to Students
Davidson and Pitzer both offer a range of academic support services to help their students succeed. Davidson has an academic support center that provides tutoring, study groups, and writing support. Pitzer has a writing center and a center for humanistic inquiry that supports research and inquiry-based projects.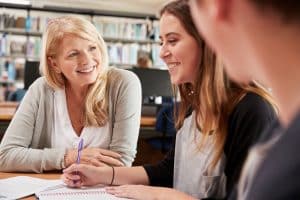 In addition to these services, both Davidson and Pitzer offer academic advising to their students. At Davidson, students are assigned a faculty advisor who helps them navigate their educational journey and make informed decisions about their course selection and major. Pitzer has a team of professional advisors who work with students to create a personalized academic plan and provide guidance on career and graduate school options.
Furthermore, both institutions have resources available for students with disabilities. Davidson has an office of access and disability resources that provides accommodations and support services for students with disabilities. Pitzer has a disability resources office that offers similar services, as well as assistive technology and adaptive equipment to help students with disabilities succeed academically.
Technology Resources Available to Students
Davidson and Pitzer have extensive technology resources available to their students, including wireless internet access, computer labs, and tech support services. Davidson has a tech center that offers both hardware and software support, and Pitzer has a digital media center that provides access to specialized software and equipment.
Overall, both Davidson College and Pitzer College offer unique and valuable experiences for undergraduate students. The decision ultimately comes down to personal preferences and priorities, so we hope this comprehensive analysis has helped you make a more informed decision.
Additionally, both colleges offer online resources and tools to support student learning. Davidson provides access to online databases, e-books, and academic journals through their library website. At the same time, Pitzer offers a variety of online learning platforms and tools, such as Moodle and Zoom, to facilitate remote learning and collaboration.
Make your college comparison of Davidson College and Pitzer College a stepping stone to success.
Are you finding it challenging to decide between Davidson College and Pitzer College? With many factors to consider, from academic programs to campus life and financial aid, making the right choice can be overwhelming. That's where AdmissionSight comes in. Our expert consultants specialize in helping students like you navigate the complex world of college admissions.
At AdmissionSight, we understand that comparing Davidson College and Pitzer College is more than just looking at rankings. It's about finding the institution that aligns with your academic goals, social needs, and career aspirations. Our personalized approach considers all these factors, offering you a tailored strategy to boost your chances of admission.
When comparing Davidson College and Pitzer College, we delve deep into the nuances that make each institution unique. Whether you're drawn to Davidson's vital athletic programs or Pitzer's commitment to diversity and inclusion, we help you weigh the pros and cons to make an informed decision.
Our services don't just stop at comparing Davidson College and Pitzer College. We offer end-to-end support, from SAT/ACT prep and essay writing to interview coaching and scholarship guidance. Our track record speaks for itself, with a high percentage of our clients gaining admission to their dream colleges.
So, if you're stuck comparing Davidson College and Pitzer College and don't know how to go, let AdmissionSight guide you through this crucial journey. Contact us today for a free consultation and take the first step towards securing your future.