Comparing Princeton and Tufts: A Comprehensive Look
In this article, we will be comparing the similarities, differences, advantages, and disadvantages of attending Princeton and Tufts.
History and Founding of Princeton and Tufts
Princeton University was established in 1746 in Princeton, New Jersey, making it one of the oldest and most prestigious universities in the United States.
It was originally known as the College of New Jersey and was founded by the Presbyterian Church. Today, Princeton is a private Ivy League research university that is renowned for its undergraduate and graduate programs, faculty, and scholarly achievements.
Tufts University, on the other hand, is a private research university that was founded in 1852 in Medford and Somerville, Massachusetts. It was established by Christian Universalists and was originally named the Tufts College.
It was renamed Tufts University in 1955 to reflect its vast academic enterprise. Today, Tufts University is known for its internationalism, research, and emphasis on civic engagement.
Princeton University has a rich history of producing notable alumni, including two U.S. Presidents, James Madison, and Woodrow Wilson, as well as numerous Nobel laureates, Rhodes Scholars, and Pulitzer Prize winners.
The university is also home to many renowned research centers, such as the Princeton Neuroscience Institute and the Princeton Plasma Physics Laboratory.
Tufts University has a strong commitment to social justice and community service. The university's motto, "Pax et Lux," which means "Peace and Light," reflects its dedication to promoting peace and social responsibility.
Tufts is also known for its interdisciplinary approach to education, with programs such as the Experimental College, which allows students to design their own courses of study.
Campus Life: Housing, Dining, and Student Activities
The campus life in both Princeton and Tufts universities is vibrant, diverse, and full of opportunities for personal and social growth. Both universities offer a variety of housing options that cater to different needs and preferences, ranging from traditional residence halls to apartments and co-ops.
The dining programs at both universities are also exceptional, with a wide range of cuisine options and special meal plans for students with various dietary restrictions.
When it comes to student activities, both Princeton and Tufts have a long list of clubs, organizations, and events that cater to the interests and passions of students.
Princeton has over 300 clubs and organizations, ranging from academic, athletic, artistic, cultural, and religious activities. Tufts, on the other hand, has over 300 registered student organizations that promote diversity, inclusion, and community-building.
Additionally, both universities offer various opportunities for students to engage in community service and volunteer work. Princeton has a dedicated center for community service that connects students with local organizations and non-profits, while Tufts has a program called "Tisch College of Civic Life" that promotes civic engagement and social responsibility.
Furthermore, both universities have robust wellness programs that prioritize the physical and mental health of students. Princeton has a health center that offers medical and counseling services, as well as fitness classes and wellness workshops.
Tufts has a similar health center that provides medical and mental health services, as well as a wellness center that offers yoga, meditation, and other wellness activities.
Faculty and Curriculum: An In-depth Analysis of Academic Programs
The quality of faculty and curriculum is one of the most important factors that students consider when selecting a university. Both Princeton and Tufts are known for their rigorous academic programs and world-class faculty who are experts in their fields.
Princeton has over 1,200 faculty members who are committed to teaching, research, and service. The university offers undergraduate and graduate programs in various fields, including the arts, humanities, sciences, engineering, and social sciences.
Tufts University, meanwhile, has over 1,500 full-time faculty who are committed to providing innovative and interdisciplinary academic programs.
Tufts offers undergraduate and graduate programs in the arts, engineering, humanities, sciences, social sciences, and professional fields, such as health sciences and international relations. Both universities emphasize research, collaboration, and real-world experiences to prepare students for success in their fields of study.
Princeton University has a unique approach to its curriculum, known as the "Princeton Plan." This plan allows students to design their own academic program, choosing from a wide range of courses across different departments and disciplines. This approach encourages students to explore their interests and passions, while also providing a well-rounded education.
Additionally, Princeton has a strong commitment to undergraduate research, with opportunities for students to work alongside faculty members on cutting-edge research projects.
Tufts University is also known for its commitment to experiential learning. The university offers a variety of study abroad programs, internships, and community service opportunities, allowing students to gain real-world experience and apply their classroom knowledge to practical situations.
Tufts also has a strong focus on interdisciplinary studies, with programs that combine multiple fields of study to address complex global issues, such as climate change and social justice.
Admissions Criteria: How to Get Accepted to Princeton and Tufts
Getting accepted into Princeton or Tufts is highly competitive, as both universities receive tens of thousands of applications from highly qualified candidates each year.
Admission criteria for both universities include high academic achievement, extracurricular activities, essays, test scores, and recommendations.
Princeton and Tufts also consider factors such as demonstrated leadership, community service, and diversity when evaluating applicants. Prospective students are encouraged to review the admissions criteria carefully and to submit a strong application that highlights their strengths and potential.
It is important to note that both Princeton and Tufts have holistic admissions processes, meaning that they consider the whole applicant and not just their academic achievements.
This means that applicants who may not have perfect grades or test scores can still be accepted if they demonstrate exceptional qualities in other areas, such as leadership or community service.
Additionally, both universities offer need-blind admissions, meaning that an applicant's financial situation is not taken into account during the admissions process. This ensures that all qualified applicants have an equal opportunity to attend these prestigious institutions.
Research Opportunities at Princeton and Tufts
Research is an essential component of academic life at Princeton and Tufts. Both universities have world-class research facilities, funding opportunities, and collaborations that enable students and faculty to engage in cutting-edge research and discovery.
Princeton has a robust research enterprise that spans the sciences, engineering, social sciences, and humanities. Tufts, meanwhile, is known for its interdisciplinary research and innovative approaches to problem-solving in fields such as biotechnology, nutrition, environmental studies, and more.
At Princeton, students have access to a wide range of research opportunities, including Princeton Research Day, which is an annual event that showcases the research of undergraduate and graduate students.
Additionally, the university has several research centers, such as the Andlinger Center for Energy and the Environment, the Lewis-Sigler Institute for Integrative Genomics, and the Princeton Neuroscience Institute, which provide students with state-of-the-art facilities and resources to conduct research.
Tufts, on the other hand, has a strong focus on community-engaged research, which involves collaborating with local communities to address real-world problems.
The university's Tisch College of Civic Life offers several programs that enable students to engage in community-based research, such as the Tufts Community Research Center and the Tufts Institute for Global Leadership.
Furthermore, Tufts has a number of research institutes, including the Feinstein International Center, which focuses on humanitarian action and policy, and the Center for the Study of Drug Development, which conducts research on the pharmaceutical industry.
Athletics at Princeton and Tufts: A Comparative Study
Athletics is an integral part of campus life at both Princeton and Tufts. Princeton is a Division I school that has a strong athletic tradition and a long history of success in various sports, including football, hockey, basketball, tennis, and more.
Tufts, meanwhile, is a Division III school that emphasizes sportsmanship, personal growth, and academic excellence in its athletic programs. Both universities offer a wide range of sports, including varsity, club, and intramural sports, as well as fitness programs and facilities for students.
Despite the differences in their athletic programs, both Princeton and Tufts prioritize the well-being and safety of their student-athletes. Both universities have implemented measures to ensure that their athletes receive proper medical attention and support, including access to athletic trainers, physical therapists, and sports medicine specialists.
Additionally, both schools have policies in place to prevent and address issues such as concussions, injuries, and mental health concerns among their athletes.
Financial Aid: A Comprehensive Guide for Prospective Students
Financial aid is a critical consideration for many students when deciding to attend Princeton or Tufts. Both universities offer generous financial aid packages that are based on a student's financial need, academic merit, and other factors.
Prospective students are encouraged to explore all available options, such as scholarships, grants, work-study programs, and loans, to fund their education. Princeton and Tufts have extensive financial aid offices that can provide guidance and support to prospective and current students.
It is important to note that financial aid packages can vary greatly between universities and even between different programs within the same university.
Therefore, it is crucial for prospective students to research and compare financial aid options before making a final decision on where to attend.
Additionally, it is recommended that students regularly check in with their university's financial aid office to ensure they are receiving the maximum amount of aid for which they are eligible and to stay informed about any changes or updates to the financial aid process.
Career Opportunities for Graduates of Princeton and Tufts
The career opportunities for graduates of Princeton and Tufts are diverse and plentiful. Both universities have strong relationships with employers, graduate schools, and professional organizations that provide valuable resources and connections to graduates.
Graduates of Princeton and Tufts are highly sought after by employers in various industries, including finance, healthcare, law, education, government, and more.
The career centers of Princeton and Tufts offer a range of services and resources that help students and graduates prepare for their careers, including career counseling, workshops, resume review, and job search assistance.
Additionally, both Princeton and Tufts have strong alumni networks that provide ongoing support and opportunities for graduates. Alumni from both universities are actively involved in mentoring programs, networking events, and job fairs, which allow graduates to connect with professionals in their fields of interest.
These networks also provide access to exclusive job postings and career development opportunities that are not available to the general public. Graduates of Princeton and Tufts can leverage these networks to gain a competitive edge in their job search and advance their careers.
Student Diversity and Inclusion on Campus
Diversity and inclusion are core values at both Princeton and Tufts. Both universities have a diverse student body that includes students from all 50 states and over 100 countries.
Princeton and Tufts foster a welcoming and inclusive community that emphasizes respect, empathy, and understanding. Both universities have a range of programs and initiatives to promote diversity, equity, and inclusion on campus, including multicultural centers, diversity training, and affinity groups.
At Princeton, the Carl A. Fields Center for Equality and Cultural Understanding provides a space for students to engage in dialogue and programming related to diversity and inclusion. The center also offers mentorship and leadership development opportunities for students from underrepresented backgrounds.
Tufts University has a strong commitment to promoting diversity and inclusion in its curriculum. The university offers courses and programs that explore issues related to race, ethnicity, gender, sexuality, and other aspects of identity.
Tufts also has a number of student-led organizations that focus on promoting diversity and inclusion, such as the Asian American Alliance, the Black Student Union, and the Queer Student Union.
Social Life on Campus: Comparing the Party Scene at Princeton and Tufts
Social life on campus is an essential aspect of the college experience for many students. While both Princeton and Tufts offer a range of social activities, the party scenes at these universities differ.
Princeton has a vibrant social scene that includes traditional events such as eating clubs and dorm parties. Tufts, on the other hand, has a reputation for being more laid-back and low-key, with fewer organized parties and more opportunities for students to hang out with friends in small groups. Both universities promote responsible behavior and safety in their social activities.
It's worth noting that the differences in party scenes at Princeton and Tufts can also be attributed to the size of the schools. Princeton has a smaller student body, which means that social events can feel more exclusive and intimate.
In contrast, Tufts has a larger student population, which can make it easier for students to find their niche and connect with like-minded individuals.
Ultimately, the social scene at each university is what you make of it, and students can find ways to have fun and make meaningful connections regardless of the size or reputation of the party scene.
Environmental Sustainability Efforts at Princeton and Tufts
Environmental sustainability is a growing concern for many students and universities. Both Princeton and Tufts have ambitious sustainability goals and initiatives that aim to reduce their environmental impact and promote sustainable practices.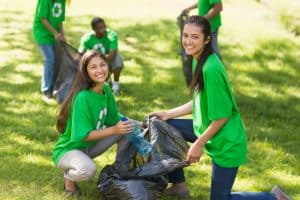 Princeton has a Sustainability Plan that outlines its objectives in areas such as energy conservation, waste reduction, and transportation. Tufts, on the other hand, has a Sustainability Commitment that focuses on areas such as sustainable food, water conservation, and green buildings.
Both universities are committed to promoting environmental awareness and sustainable behaviors among their students, faculty, and staff.
Princeton has implemented several programs to reduce its carbon footprint, including a bike-sharing program and a shuttle service that runs on biodiesel fuel.
They have also installed solar panels on several buildings and have a composting program for food waste. Additionally, Princeton has a Green Labs program that encourages sustainable practices in research labs, such as reducing energy consumption and waste generation.
Tufts has also taken steps to promote sustainability on their campuses. They have a program called Eco-Ambassadors, which trains students to be sustainability leaders and advocates.
Tufts has also implemented a program to reduce single-use plastics on campus and has installed hydration stations to encourage the use of reusable water bottles.
In addition, Tufts has a Green Roof Initiative, which involves planting vegetation on rooftops to reduce energy consumption and stormwater runoff.
Conclusion
Princeton and Tufts are two exceptional universities that offer a world-class education, diverse campus life, and endless opportunities for personal and professional growth.
While they share some similarities, they also have distinct characteristics that make them unique. Prospective students are encouraged to do their research, visit both campuses and evaluate their individual needs and goals before making a decision.
With the information provided in this article, prospective students can make an informed and confident choice about attending either Princeton or Tufts.
Segue to AdmissionSight
At AdmissionSight, we firmly uphold the conviction that every student is entitled to the chance to pursue their dreams at their preferred college. Our mission is to equip you with the expert advice and unwavering support you need to secure a place at the schools you aspire to attend.
Don't let your future hinge on uncertainty. Reach out to AdmissionSight today to arrange a complimentary consultation and embark on the journey toward realizing your dreams. With our expert mentorship and steadfast support, the sky's the limit.