Comparing Princeton and UCLA: A Comprehensive Look
Are you trying to decide between Princeton and UCLA for your college education? The decision can be overwhelming, as both universities have their unique features. While Princeton is an Ivy League institution, UCLA is a prominent public research university in California. In this article, we will be comparing Princeton and UCLA across various factors to help you make an informed choice.
Introduction: Why Compare Princeton and UCLA?
Choosing a college that aligns with your interests and career goals can be an arduous task, and it requires extensive research on various institutions.
Princeton and UCLA are both top-notch universities in their categories, and they attract students from various parts of the world. This comparison aims to give prospective students a clearer picture of both universities and help them make an informed decision.
Princeton University is a private Ivy League research university located in Princeton, New Jersey. It was founded in 1746 and has a rich history of academic excellence and notable alumni, including two U.S. Presidents. UCLA, on the other hand, is a public research university located in Los Angeles, California.
It was founded in 1919 and is known for its strong programs in the arts, humanities, and social sciences. By comparing these two universities, prospective students can gain a better understanding of the differences between private and public institutions, as well as the unique opportunities and resources each school has to offer.
Location and Campus: A Comparison between Princeton and UCLA
Princeton University is located in Princeton New Jersey, about an hour's drive from New York City. It has a campus environment that is similar to the typical Ivy League colleges, with beautiful Gothic architecture and quads.
On the other hand, UCLA is situated in the heart of Los Angeles, California. Its campus offers a sprawling, urban environment with modern and diverse architecture.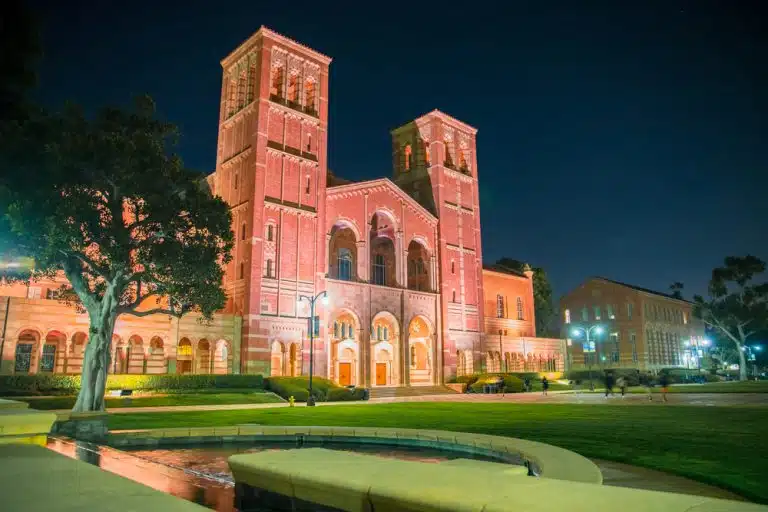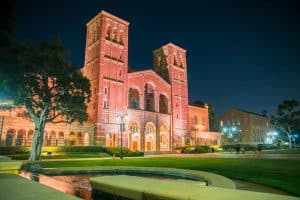 In terms of facilities, UCLA stands out with its state-of-the-art sports facilities, including the famous Pauley Pavilion, which holds about 13,800 people. Princeton, meanwhile, has an impressive library system that comprises over 11 million volumes, making it one of the largest in the country.
Another notable difference between Princeton and UCLA is their student population. Princeton has a smaller student body, with just over 5,000 undergraduate and graduate students combined.
In contrast, UCLA has a much larger student population, with over 44,000 undergraduate and graduate students. This difference in size can impact the overall campus culture and student experience.
Academic Programs: Courses, Majors, and Degrees at Princeton vs. UCLA
Both Princeton and UCLA have an extensive range of academic programs available to students. However, Princeton's curriculum focuses on liberal arts, making it an excellent choice if you prefer a broad-based education. In contrast, UCLA offers a range of majors that cater to a diverse set of interests.
Princeton offers undergraduate degrees in 36 academic departments and programs and has a student-faculty ratio of 5:1, making it easier for students to develop close relationships with professors. UCLA, on the other hand, has an 18:1 student-faculty ratio and offers over 130 undergraduate majors and 80 minors.
Another difference between Princeton and UCLA is the availability of graduate programs. Princeton offers graduate degrees in 42 academic departments and programs, while UCLA offers over 200 graduate programs. This makes UCLA a better choice for students who are interested in pursuing advanced degrees.
In terms of research opportunities, both Princeton and UCLA have a strong focus on research. Princeton has a number of research centers and institutes, including the Princeton Neuroscience Institute and the Andlinger Center for Energy and the Environment.
UCLA also has a number of research centers and institutes, including the California NanoSystems Institute and the Institute for Society and Genetics. Both universities offer students the opportunity to work with faculty on research projects, providing valuable hands-on experience.
Faculty and Staff: A Comparison of the Professors and Instructors at Both Universities
Both Princeton and UCLA employ some of the most distinguished professors and educators in the world. Princeton has an impressive line-up of faculty, including Nobel laureates and Pulitzer Prize winners, while UCLA has produced several academicians, including Nobel Prize winners and MacArthur Fellowships.
One thing that sets Princeton apart from UCLA is their emphasis on undergraduate teaching. Princeton professors also serve as academic advisors to students, ensuring close mentorship opportunities. Meanwhile, UCLA has a strong research culture, with professors receiving funding for their research projects.
Another notable difference between the faculty and staff at Princeton and UCLA is their approach to diversity and inclusion. Princeton has made significant strides in recent years to increase diversity among its faculty, with a focus on recruiting and retaining underrepresented groups. UCLA has also made efforts to increase diversity, but has faced criticism for not doing enough to address issues of equity and inclusion.
Admissions: How to Get into Princeton and UCLA
Admission to both universities is highly competitive. Princeton requires students to submit standardized test scores and demonstrate academic excellence and leadership through their extra-curricular activities. The university has an acceptance rate of 5.5%.
UCLA admissions process is rigorous as well, requiring applicants to submit test scores and demonstrate academic excellence in high school. While UCLA has a slightly higher acceptance rate than Princeton, it still stands at an impressive 14%.
Aside from academic excellence and leadership, Princeton also values diversity and community involvement. The university encourages applicants to showcase their unique backgrounds and experiences through their essays and interviews.
Additionally, Princeton offers need-blind admission, meaning that a student's financial need is not taken into consideration during the admissions process.
UCLA, on the other hand, places a strong emphasis on community service and civic engagement. The university looks for applicants who have made a positive impact in their communities and have a passion for social justice.
UCLA also offers a holistic review process, taking into consideration factors such as personal challenges and hardships that may have affected an applicant's academic performance.
Student Life: Differences in Campus Culture, Clubs, Sports, and Activities
Princeton has a tight-knit community with a vibrant campus life. Its students participate in over 300 clubs and organizations and regularly attend events like university dances, comedy nights, and live performances.
On the other hand, UCLA is known for its diverse student body and has over 1000 cultural and dance organizations across the campus. UCLA is also home to Intercollegiate Athletic programs that have won numerous national championships.
In addition to the clubs and organizations, Princeton also has a strong focus on community service. The university encourages students to get involved in volunteer work and offers various opportunities to do so. Students can participate in service trips, mentorship programs, and community outreach initiatives.
Meanwhile, UCLA has a reputation for being a hub of innovation and entrepreneurship. The university has a dedicated entrepreneurship center that provides resources and support for students looking to start their own businesses. UCLA also hosts various hackathons and startup competitions throughout the year, attracting students from all over the world.
Housing and Accommodation: Comparing Dorms, Apartments, and Off-Campus Living Options
Princeton offers a residential college system, where students live in one of six residential colleges throughout their four years. This system ensures an intimate living and learning environment for students. UCLA, on the other hand, offers several housing options, including dormitories, apartments, and off-campus housing.
Both universities have robust residential support programs that provide students with invaluable resources and assistance throughout their stay on campus.
When it comes to dorms, Princeton's residential colleges offer a unique experience where students live and learn alongside their peers in a close-knit community. UCLA's dormitories, on the other hand, offer a more traditional dorm experience with shared living spaces and communal bathrooms.
For those looking for more independence, both universities offer apartment-style living options. At Princeton, upperclassmen can choose to live in independent housing options, while UCLA offers on-campus apartments for both undergraduate and graduate students.
Off-campus housing options are also available at both universities, with UCLA offering a wide range of options in the surrounding areas of Westwood and Brentwood.
Tuition and Financial Aid: The Costs of Attending Princeton vs. UCLA
Both Princeton and UCLA are relatively expensive to attend. Princeton's tuition, room, and board costs approximately $73,450 per year, while UCLA's tuition, fees, and housing costs approximately $34,000.
However, both universities offer financial aid to students based on merit and need, making it possible for students to attend regardless of their financial background.
It is important to note that the cost of attending a university goes beyond just tuition and housing. Students must also consider the cost of textbooks, transportation, and other living expenses. At Princeton, the estimated cost of additional expenses is around $3,000 per year, while at UCLA it is around $5,000 per year.
Furthermore, both universities offer various scholarships and grants to help offset the cost of attendance. Princeton offers need-based grants, while UCLA offers a range of scholarships based on academic achievement, community service, and other factors.
Career Opportunities: Job Prospects for Graduates from Both Universities
Both Princeton and UCLA have a strong reputation for producing successful graduates. Princeton alumni include prominent figures like former US President James Madison and Nobel laureate John Nash.
Meanwhile, UCLA alumni include several famous individuals in various industries, including renowned director Francis Ford Coppola and accomplished lawyer Jerry Brown.
Both universities have strong alumni networks that provide students with valuable career opportunities and guidance.
Princeton University has a strong focus on research and innovation, which has led to many of its graduates pursuing careers in the fields of science and technology.
Many Princeton alumni have gone on to work for top companies like Google, Microsoft, and Apple, while others have started their own successful tech startups.
On the other hand, UCLA has a strong reputation for producing graduates who excel in the entertainment industry. Many alumni have gone on to become successful actors, directors, and producers in Hollywood. Additionally, UCLA's School of Law is highly regarded, and many graduates have gone on to become successful lawyers and judges.
Research and Innovation: Comparing the Research Facilities, Labs, and Centers at Princeton vs. UCLA
Both universities have world-renowned research facilities and labs. Princeton's innovative research focuses on top-tier sciences like physics, mathematics, and engineering. UCLA, on the other hand, is known for research in fields like medicine, environmental studies, and law.
Both universities have active research centers that provide students with opportunities for research work and internships.
Princeton's research facilities are known for their cutting-edge technology and state-of-the-art equipment. The university's Plasma Physics Laboratory is one of the largest and most advanced in the world, and its Engineering Quadrangle houses some of the most advanced research labs in the country.
UCLA's research facilities are equally impressive, with the university's medical center being one of the most advanced in the world. The center is home to some of the most innovative medical research labs, and its researchers have made significant contributions to the field of medicine.
Diversity and Inclusion: A Look at the Student Body Demographics at both Universities
Both Princeton and UCLA have a diverse student body and are committed to creating an inclusive campus culture. Princeton strives for diversity in its student population and has implemented policies like affirmative action to ensure representation.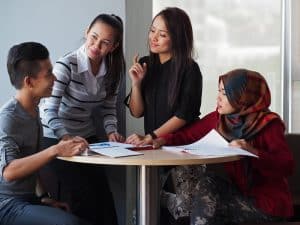 UCLA, on the other hand, has a student population that is 33% Hispanic, 26% Asian, and 3% African-American, making it one of the most diverse campuses in the nation.
Despite their commitment to diversity, both universities still face challenges in creating an inclusive environment. At Princeton, some students have expressed concerns about the lack of representation for certain minority groups, such as Native American and Pacific Islander students.
UCLA has also faced criticism for not doing enough to support underrepresented minority students, particularly in terms of access to resources and support services.
Both universities have taken steps to address these issues. Princeton has launched initiatives to recruit and support underrepresented minority students, including partnerships with organizations that serve these communities.
UCLA has also implemented programs to support underrepresented minority students, such as the Bruin Success Program, which provides academic and personal support to first-generation and low-income students.
Extracurricular Opportunities: Comparing Internships, Study Abroad Programs, Volunteer Work, etc.
Both universities offer a variety of extracurricular programs, including study abroad opportunities, volunteer work, internships, and leadership programs.
Princeton has several centers that provide students with opportunities to explore internships and mentorship programs in various industries, while UCLA has a vibrant cultural exchange program that encourages students to study abroad and connect with different cultures.
Additionally, both universities have strong community service programs that allow students to give back to their local communities. Princeton's Community-Based Learning Initiative partners with local organizations to provide students with hands-on experience in community service, while UCLA's Volunteer Center offers a wide range of volunteer opportunities both on and off campus.
These programs not only benefit the community but also provide students with valuable skills and experiences that can enhance their academic and professional careers.
Conclusion: Which University is a Better Fit for You?
Choosing a college that aligns with your interests, skills, and career goals is pivotal to your success. Both Princeton and UCLA offer outstanding academic programs, extra-curricular opportunities, and high-quality faculty.
Ultimately, the decision boils down to what you prioritize in a college environment. If you prefer a tight-knit community, smaller class sizes, and a liberal arts education, Princeton may be the right fit. Meanwhile, if you enjoy a diverse student body, a large campus, and research opportunities, UCLA may be the perfect fit for you.
Whatever your decision, remember to do thorough research, visit the campus, and engage with current students and alumni to get a first-hand perspective on both universities.
Segue to AdmissionSight
At AdmissionSight, we firmly uphold the conviction that every student is entitled to the chance to pursue their dreams at their preferred college. Our mission is to equip you with the expert advice and unwavering support you need to secure a place at the schools you aspire to attend.
Don't let your future hinge on uncertainty. Reach out to AdmissionSight today to arrange a complimentary consultation and embark on the journey toward realizing your dreams. With our expert mentorship and steadfast support, the sky's the limit.