Comparing Yale and Amherst: Which College is Right for You?
Are you comparing Yale and Amherst for your college education? These two prestigious institutions offer unique experiences and advantages. Let's take a closer look at the differences between the two to help you determine which one is the best fit for you.
Location: The Differences Between New Haven and Amherst
The first significant difference between Yale and Amherst is their location. Yale University is located in New Haven, Connecticut, while Amherst College is situated in Amherst, Massachusetts. New Haven is a bustling city with a population of over 130,000 people, while Amherst is a smaller town with a population of just under 40,000.
Yale's location in New Haven provides students with numerous opportunities to engage with the city's diverse neighborhoods and indulge in cultural experiences such as museums, galleries, and theaters. Amherst, on the other hand, has a quieter, more relaxed atmosphere and provides students with a respite from the hustle and bustle of city life.
Another difference between the two locations is the proximity to other major cities. New Haven is located just 75 miles northeast of New York City, making it easily accessible for weekend trips or internships. Amherst, on the other hand, is located about 100 miles west of Boston, which also provides students with opportunities for weekend getaways or internships in the city.
Admissions: How to Get into Yale and Amherst
Both Yale and Amherst are highly competitive and selective institutions. Yale's acceptance rate currently stands at 6.3%, while Amherst's is at 11.6%. Admissions policies are based on several factors, including academic performance, extracurricular activities, and character. It is essential to ensure that all application materials, including essays, letters of recommendation, and test scores, are of a high standard and tailored to the respective institutions.
One important factor to consider when applying to Yale and Amherst is the strength of your academic record. Both institutions place a significant emphasis on academic achievement, and applicants are expected to have taken a rigorous course load in high school. Additionally, it is important to note that standardized test scores, such as the SAT or ACT, are also considered in the admissions process.
Another factor that can set applicants apart is their involvement in extracurricular activities. Yale and Amherst both value well-rounded students who have demonstrated leadership, creativity, and a commitment to their interests outside of the classroom. This can include participation in sports, music, community service, or other pursuits that showcase your unique talents and passions.
Academics: A Comparison of Yale and Amherst's Curriculum
The academic programs at Yale and Amherst are exceptional, but they differ in structure and focus. Students' academic experience at Yale is based on the concept of liberal arts and sciences, which means they take courses in a wide range of subjects before choosing a major. At Amherst, students have the opportunity to design a unique course of study based on their interests and passions.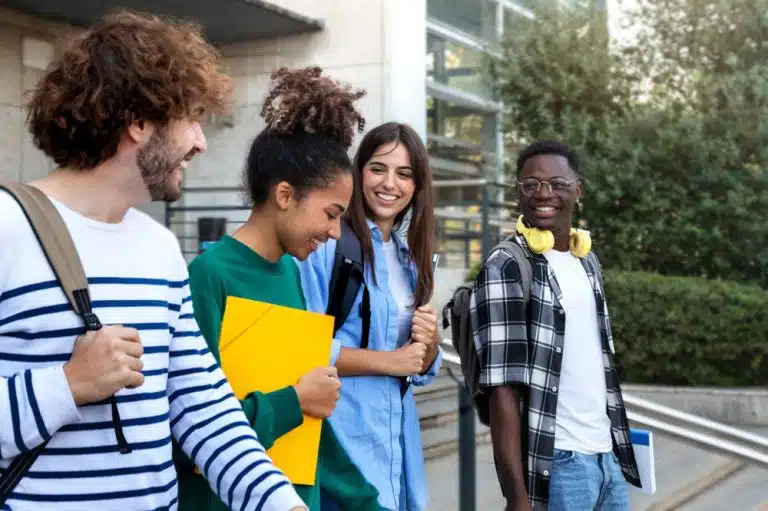 Additionally, at Yale, students engage in a significant amount of research and independent study, while at Amherst, there is a greater emphasis on small group discussion, collaboration, and critical inquiry.
Another difference between Yale and Amherst's curriculum is the availability of interdisciplinary programs. Yale offers a variety of interdisciplinary majors, such as Ethics, Politics, and Economics, while Amherst encourages students to create their own interdisciplinary majors. This allows students at Amherst to explore their interests in a more personalized and flexible way.
Furthermore, Yale has a larger number of graduate programs, which provides undergraduate students with more opportunities to engage in research and collaborate with graduate students and faculty. Amherst, on the other hand, has a smaller student-to-faculty ratio, which allows for more personalized attention and mentorship from professors.
Faculty: The Professors at Yale and Amherst
Both Yale and Amherst have highly experienced and renowned faculty members. However, the student-to-teacher ratio is different at each institution. Yale has a student-faculty ratio of 6:1, while Amherst has a ratio of 7:1.
At Yale, professors are often leaders in their field, and they are more focused on research, with many faculty members having published books and papers. At Amherst, professors are more focused on teaching, with a greater emphasis on student interaction and collaboration.
Despite the differences in teaching styles, both Yale and Amherst offer opportunities for students to work closely with faculty members. At Yale, students can participate in research projects and assist professors with their work. At Amherst, students can take advantage of small class sizes and engage in discussions with their professors.
In addition to their teaching and research responsibilities, many faculty members at both institutions are also involved in community service and outreach programs. They work with local organizations and non-profits to address social and environmental issues and provide opportunities for students to get involved in these efforts.
Campus Culture: What to Expect at Yale and Amherst
The campus culture is an essential aspect of any college experience. Yale has a diverse student body from all over the world, creating a vibrant and exciting atmosphere. Amherst is known for its more intimate campus environment, which fosters close relationships between students. Both institutions encourage students to participate in campus clubs and organizations, volunteer and engage in other extracurricular activities, and embrace the college community.
At Yale, students can expect a strong emphasis on academic excellence. The university is renowned for its rigorous academic programs, and students are encouraged to challenge themselves and pursue their intellectual passions. Amherst, on the other hand, places a greater emphasis on interdisciplinary learning and encourages students to explore a wide range of subjects.
Both Yale and Amherst offer a wealth of opportunities for students to engage with the local community. Yale has a strong tradition of community service, and students can participate in a variety of volunteer programs both on and off campus. Amherst has a close relationship with the surrounding town and offers numerous opportunities for students to get involved in local initiatives and events.
Student Life: Comparing Extracurricular Activities at Yale and Amherst
The student life at Yale and Amherst is rich with extracurricular activities, clubs, and organizations. Yale is known for its robust sports programs, while Amherst's distinctive club culture is seen as a point of pride. Clubs and organizations at both institutions focus on supporting the community, social activism, and student leadership development.
However, there are some differences in the types of extracurricular activities offered at Yale and Amherst. Yale has a strong focus on performing arts, with a variety of theater groups, a cappella groups, and dance troupes.
On the other hand, Amherst has a greater emphasis on outdoor activities, with clubs dedicated to hiking, camping, and rock climbing. Both schools also offer opportunities for students to participate in research projects and internships, providing valuable hands-on experience in their fields of interest.
Housing: Where Will You Live at Yale or Amherst?
Both Yale and Amherst offer students on-campus housing options. Yale provides housing for all four years, while Amherst requires first-year students to live on campus. Yale's housing options include traditional dormitories and residential colleges, and Amherst has single-gendered dormitories, suite living arrangements, and program houses that align with specific academic interests.
At Yale, students have the option to live off-campus starting their junior year, but this is not guaranteed and is subject to availability. Amherst, on the other hand, requires all students to live on campus for their first three years, with the option to live off-campus during their senior year.
Both Yale and Amherst prioritize creating a sense of community within their housing options. Yale's residential colleges, for example, offer students the opportunity to live and learn with a smaller group of peers, while Amherst's program houses provide a space for students with shared academic interests to live together and engage in related activities and events.
Sports: A Comparison of Athletic Programs at Yale and Amherst
Yale and Amherst take pride in their athletic programs, which provide opportunities for students to participate in varsity and club sports. Yale has a strong athletic culture, and its varsity teams have won several national championships.
Amherst is known for its elite athletic program and has won more national championships than any other Division III school. The institutions are both committed to ensuring that athletes balance their academic commitments with their sports commitments.
Despite their similarities, there are some notable differences between the athletic programs at Yale and Amherst. Yale has a larger athletic department, with more varsity teams and a larger budget.
Amherst, on the other hand, has a smaller athletic department but places a greater emphasis on individual sports and has a strong tradition of success in sports like cross country and track and field. Additionally, Yale's athletic facilities are spread out across campus, while Amherst's are centralized in one location, making it easier for athletes to access them.
Reputation: How Do Employers View Yale vs. Amherst Graduates?
Both Yale and Amherst have excellent reputations, but they are distinct in their areas of strength. Yale is revered for its humanities and sciences programs, while Amherst is known for its humanities, social sciences, and natural sciences.
Employers often value analytical and critical thinking skills, as well as the independent, interdisciplinary approaches to address complex challenges, which students develop while studying at either institution.
It is worth noting that Yale has a larger student body than Amherst, which can provide more opportunities for networking and socializing. However, Amherst's smaller size allows for more personalized attention from professors and a tight-knit community feel.
Additionally, Yale's location in New Haven, Connecticut, offers access to a vibrant city with numerous cultural and entertainment options, while Amherst's location in western Massachusetts provides a quieter, more rural setting.
Another factor to consider is the availability of resources and facilities. Yale has a larger endowment and can offer more funding for research and extracurricular activities. Amherst, on the other hand, has a strong commitment to sustainability and environmental stewardship, with numerous initiatives and programs in place to reduce its carbon footprint and promote eco-friendly practices.
Conclusion
Choosing between Yale and Amherst requires careful consideration of the differences between the two institutions. Both offer extraordinary academic experiences, but different approaches to achieve this.
We hope this article has provided you with some insight to help make your decision. Whether you prefer the rural, intimate setting of Amherst or the bustling, urban experience of Yale, both institutions will provide you with a challenging, enriching learning environment.
Segue to AdmissionSight
At AdmissionSight, we firmly uphold the conviction that every student is entitled to the chance to pursue their dreams at their preferred college. Our mission is to equip you with the expert advice and unwavering support you need to secure a place at the schools you aspire to attend.
Don't let your future hinge on uncertainty. Reach out to AdmissionSight today to arrange a complimentary consultation and embark on the journey toward realizing your dreams. With our expert mentorship and steadfast support, the sky's the limit.