Comparing Yale and Tufts: A Comprehensive Look
In this article, we will be comparing the details about Yale and Tufts to give you a comprehensive look at these two esteemed universities. Both institutions are known for their academic excellence, esteemed faculty members, and top-notch resources, but they differ in many ways.
The History and Background of Yale and Tufts
Both Yale and Tufts were founded during the colonial period, with Yale being established in 1701 and Tufts in 1852. Yale was initially founded as a religious institution and has since evolved into one of the most prestigious research universities in the world, consistently ranked among the top ten universities in the United States according to US News.
Tufts, on the other hand, started as a small liberal arts college with a focus on practical education for working-class students. Currently, it is a comprehensive research university. It has seven campuses located throughout the Boston metropolitan area, making it an urban-located institution known for its commitment to global engagement.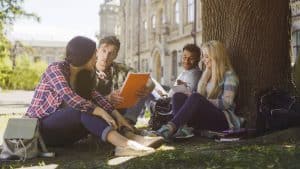 Yale has a long and rich history of producing notable alumni, including five US presidents, 20 Nobel laureates, and numerous other prominent figures in various fields. The university has also been at the forefront of many groundbreaking research projects, such as the development of the first cancer chemotherapy drug and the discovery of the structure of DNA.
Tufts, on the other hand, has a strong focus on interdisciplinary studies and is known for its innovative programs in fields such as international relations, environmental studies, and nutrition science. The university also has a strong commitment to community service and social justice, with many students and faculty members actively involved in local and global initiatives to promote positive change.
Admissions: How to Get into Yale vs Tufts
The admissions process for both Yale and Tufts is highly competitive, with an acceptance rate of 6.3% and 14.6%, respectively. Yale values academic excellence, leadership qualities, extracurricular involvement, and community service. They also have an SAT/ACT testing requirement, and interviews are optional.
Tufts is a little bit different, with their admissions process relying more heavily on personal characteristics such as creativity, intellectual curiosity, and initiative. They also adopt a test-optional policy for the majority of their applicants, with interviews highly recommended.
One thing to note about Yale is that they have a need-blind admissions policy, meaning that they do not consider an applicant's ability to pay for tuition when making admissions decisions. This allows for a more diverse student body, as financial need is not a barrier to admission. Tufts also has a need-blind policy, but they also offer a generous financial aid program that meets 100% of demonstrated need for all admitted students.
Another factor to consider when applying to these schools is their location. Yale is located in New Haven, Connecticut, which is a small city with a strong sense of community. Tufts, on the other hand, is located in Medford, Massachusetts, which is a suburb of Boston. This allows for easy access to the city and all it has to offer, but also provides a quieter, more residential campus environment.
Campus Life: A Comparison of Student Experience at Yale and Tufts
Although located in urban areas, both Yale and Tufts have expansive green campuses that provide ample opportunities for outdoor activities. Campus life at Yale is renowned for its strong sense of community, with a diverse range of student organizations and an active Greek life. In contrast, Tufts has a more laid-back atmosphere, with a focus on community engagement and experiential learning.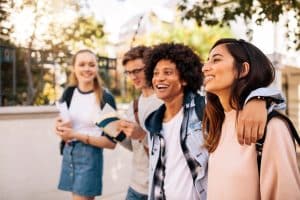 Both schools foster a work-hard, play-hard mentality, with a healthy dose of both academic rigor and social activities available to students. At Yale, students often take part in the university's popular student-run publications, such as the Yale Daily News or the Yale Record. On the other hand, Tufts has a thriving arts scene, with numerous campus theaters and galleries hosting student productions.
Additionally, both Yale and Tufts offer a wide range of extracurricular activities for students to get involved in. Yale has a strong athletic program, with many varsity sports teams and a state-of-the-art athletic center.
Tufts, on the other hand, has a strong focus on community service and social justice, with many student-led organizations dedicated to making a positive impact on the world. Both schools also offer opportunities for students to study abroad, with programs in countries all over the world.
Academics: Differences in Curriculum and Course Offerings between Yale and Tufts
Yale and Tufts differ in their core requirements, with Yale placing a stronger emphasis on undergraduate general education. Yale students are required to study a wide range of subjects, including science, math, and literature. Tufts, on the other hand, emphasizes liberal arts, with a Bachelor of Arts degree offered in nearly all majors.
Both institutions have a broad range of academic programs, with Yale offering 80 majors and Tufts offering over 90 majors. Faculty at both schools are renowned in their fields, including Nobel Prize winners and Pulitzer Prize winners.
Despite the differences in core requirements, both Yale and Tufts offer a variety of interdisciplinary programs. Yale has a popular program in Ethics, Politics, and Economics, which combines coursework in philosophy, political science, and economics. Tufts offers a unique program in Cognitive and Brain Sciences, which draws on psychology, neuroscience, and computer science.
Additionally, both schools have strong research opportunities for undergraduate students. Yale has a well-funded undergraduate research program, which allows students to work with faculty on cutting-edge research projects. Tufts has a similar program, called the Summer Scholars Program, which provides funding for students to conduct research over the summer.
Faculty and Research: A Comparison of Professors and Research Opportunities at Yale and Tufts
Both Yale and Tufts have renowned faculties, with professors who are leaders in their fields, and who are committed to involving students in their research. Yale has produced many famous alumni, including five U.S. presidents, over 50 Nobel laureates, and almost 20 Pulitzer Prize winners. Tufts' most famous alumni include the Secretary-General of the United Nations Kofi Annan, and the former Egyptian President Mohamed Morsi.
Research is a significant part of campus life at both schools, with opportunities available to students in all fields. Yale has significant research in biomedicine, psychology, engineering, and law, among others, while Tufts is known for its research in global leadership, environmental health, and food policy, among others.
One of the unique aspects of Yale's faculty is its commitment to interdisciplinary research. Professors from different departments often collaborate on research projects, leading to innovative and groundbreaking discoveries.
Tufts also encourages interdisciplinary research, with programs such as the Tufts Institute of the Environment, which brings together faculty and students from various fields to address environmental challenges.
Additionally, both Yale and Tufts offer numerous opportunities for undergraduate students to conduct research, including summer research programs, independent study projects, and research assistant positions. These experiences not only provide valuable hands-on learning opportunities but also help students build relationships with faculty members and prepare for graduate school or careers in research.
Student Body: Diversity, Demographics, and Social Atmosphere at Yale vs Tufts
Both Yale and Tufts have a diverse student body, with students from across the United States and around the world. Yale has a slightly larger population, with about 6,000 undergraduate students compared to Tufts' 5,500 students.
Yale's reputation as an Ivy League school is reflected in the demographics of its student body, with the majority of students coming from the Northeast. In contrast, Tufts attracts more international students and boasts a higher percentage of first-generation college students.
Despite the differences in demographics, both Yale and Tufts prioritize creating a welcoming and inclusive social atmosphere for their students. Yale has a strong residential college system, which fosters a sense of community and encourages students to interact with peers from different backgrounds. Tufts, on the other hand, has a variety of student organizations and clubs that promote diversity and cultural awareness on campus.
Additionally, both schools offer resources and support for students from underrepresented backgrounds. Yale has a number of programs and initiatives aimed at increasing diversity and inclusion, such as the Office of Diversity and Inclusion and the Cultural Connections Center. Tufts has a similar commitment to diversity, with programs like the Center for STEM Diversity and the Latino Center.
Financial Aid and Scholarship Opportunities at Yale vs Tufts
Although both universities are known for their high tuition rates, they are also committed to making education accessible to all. Yale offers a need-based financial aid program that covers the full cost of attendance for students from families earning less than $65,000 annually.
Tufts also provides extensive financial aid opportunities, awarding both need-based and merit-based scholarships to incoming, transfer, and returning students. They offer the Tufts Financial Aid Guarantee, which ensures that students will receive financial support throughout their four years of study.
Additionally, Yale offers a range of scholarships and grants to students from diverse backgrounds, including first-generation college students, veterans, and international students. These scholarships are designed to support students who may face financial barriers to attending college and to promote diversity and inclusion on campus.
Similarly, Tufts has a number of scholarship programs that are specifically tailored to support students from underrepresented communities, such as the Tufts University Latino Scholarship Program and the Tufts University African American Scholarship Program. These programs provide financial assistance and mentorship opportunities to students who may face unique challenges in pursuing higher education.
Post-Graduation Outcomes: Employment Rates, Graduate School Acceptances, and Alumni Networks Compared Between Yale and Tufts
Yale and Tufts are both renowned for producing graduates who go on to achieve great success in their fields. Both schools rank highly for graduate school acceptance rates and have robust alumni networks that offer opportunities for mentorship and career advancement.
Following graduation, Yale graduates typically pursue career paths in finance, law, consulting, and medicine, among others. Tufts alumni, on the other hand, frequently enter into fields such as education, non-profit work, and research.
However, when it comes to employment rates, Yale has a slight edge over Tufts. According to recent data, 95% of Yale graduates secure employment within six months of graduation, while Tufts has an employment rate of 92%. This could be attributed to Yale's location in New Haven, which offers a plethora of job opportunities in nearby cities like New York and Boston.
Campus Resources: Comparing Libraries, Laboratories, and Other Facilities at Yale vs Tufts
Yale and Tufts both have extensive resources to support academic pursuits, including libraries, labs, and research centers. Yale's library system boasts over 15 million items, with a focus on rare books, manuscripts, and maps. Tufts has a considerable library system of its own, with 22 libraries and over 5 million items.
Both campuses have state-of-the-art laboratory facilities for research in biology, physics, engineering, and more. Additionally, both schools have numerous research centers, including the Yale Center for Environmental Law and Policy and the Tufts Center for the Study of Drug Development.
However, there are some differences between the facilities offered by the two universities. Yale has a larger number of specialized research centers, such as the Yale Center for British Art and the Yale Center for Genome Analysis, which provide unique opportunities for students and faculty. On the other hand, Tufts has a strong focus on interdisciplinary research, with centers such as the Tufts Institute for Innovation and the Tufts Institute of the Environment bringing together experts from different fields to tackle complex problems.
Student Organizations: Comparing Extracurricular Activities Available at Yale vs Tufts
Both Yale and Tufts offer a wide range of student organizations, including clubs for cultural organizations, performance arts, and academic pursuits. At Yale, students can choose from over 500 student organizations, including The Yale Dramatic Association and The Yale Political Union.
Tufts has more than 200 clubs and organizations, including the Jackson Jills, one of the oldest all-female collegiate a cappella groups in the United States.
Despite the difference in the number of student organizations, both Yale and Tufts offer unique opportunities for students to get involved in extracurricular activities. Yale has a strong focus on community service, with organizations such as Dwight Hall and the Yale Hunger and Homelessness Action Project. Tufts, on the other hand, has a strong emphasis on sustainability and environmentalism, with organizations such as the Tufts Sustainability Collective and the Tufts Food Rescue Collaborative.
Additionally, both universities have a variety of sports clubs and intramural teams for students to participate in. Yale has a strong tradition in rowing, with the Yale Crew team being one of the most successful collegiate rowing programs in the country. Tufts has a strong Ultimate Frisbee program, with both men's and women's teams consistently ranking among the top in the nation.
Conclusion
Yale and Tufts are both excellent universities, and the decision between the two ultimately depends on individual priorities and preferences. Yale is well-known for its rigorous academic programs and strong community, while Tufts is unique for its focus on global engagement and experiential learning. Both schools offer extensive resources to support academic and co-curricular pursuits, and a degree from either institution opens the door to a wide range of post-graduation opportunities.
It is important to note that both Yale and Tufts have a strong commitment to diversity and inclusion. Yale has made significant strides in recent years to increase the representation of underrepresented minorities on campus, and Tufts has a long-standing commitment to social justice and community engagement. Both universities offer a welcoming and supportive environment for students from all backgrounds and prioritize creating a campus culture that values and celebrates diversity.
Segue to AdmissionSight
At AdmissionSight, we firmly uphold the conviction that every student is entitled to the chance to pursue their dreams at their preferred college. Our mission is to equip you with the expert advice and unwavering support you need to secure a place at the schools you aspire to attend.
Don't let your future hinge on uncertainty. Reach out to AdmissionSight today to arrange a complimentary consultation and embark on the journey toward realizing your dreams. With our expert mentorship and steadfast support, the sky's the limit.