Constructing Futures: Unveiling the Wonders of the Columbia Architecture Program
Dive into the world of innovative design and groundbreaking visionaries with the Columbia architecture program, where creative minds are sculpted into the architects of tomorrow's awe-inspiring structures.
If you're an enthusiast of skyscrapers, sustainable structures, or simply the art of creating spaces that impact our lives, then you've landed in the right place. In this blog, we'll be exploring the magnificent epicenter of architectural education—Columbia's architecture program!
Columbia's very own architecture program has long been at the forefront of producing some of the world's most talented and forward-thinking architects.
By intertwining the rich history of architectural marvels with modern-day innovations, the program has established itself as an undeniable force in shaping the future of our built environment. So, get ready for an exhilarating journey as we dive into the dazzling world of the architecture program at Columbia!
Does Columbia have an architecture program?
Does Columbia have an architecture program? A prominent name in global academia, Columbia University is renowned for its diverse range of academic programs, including those in the field of architecture.
As one of the oldest and most prestigious universities in the world, Columbia offers a multitude of programs across various disciplines. One of these is the architecture program, which is well-regarded for its comprehensive and interdisciplinary approach to education.
The Columbia architecture program is housed within the Graduate School of Architecture, Planning, and Preservation (GSAPP). GSAPP, as a hub for architecture education, produces graduates equipped with the knowledge and skills to make significant contributions to the field of architecture and beyond.
Degree Programs Offered
GSAPP offers a variety of degree programs, each designed to cater to different areas of interest within the broad field of architecture. Some of the most notable programs include:
Master of Architecture (M.Arch): This is a professional degree program accredited by the National Architectural Accrediting Board (NAAB). The M.Arch program at Columbia is designed for students who are passionate about shaping the built environment and wish to become licensed architects. The curriculum encompasses a broad range of topics, including architectural design, history, theory, technology, and representation.
Master of Science in Advanced Architectural Design (MSAAD): This post-professional program is designed for individuals who already hold a professional degree in architecture and wish to specialize in advanced design practices. The curriculum focuses on innovative design techniques, critical thinking, and a comprehensive understanding of architecture in the context of cultural, social, and environmental factors.
Master of Science in Architecture and Urban Design (MSAUD): This program is designed for students interested in the intersection of architecture and urban design. The curriculum focuses on the dynamic relationship between architectural design, urban planning, and the broader social and environmental context.
Ph.D. in Architecture: This research-focused program is for students who wish to contribute to the field of architecture through original research. The program encourages a broad view of architecture, integrating various aspects such as design, history, theory, and technology.
Master of Science in Critical, Curatorial, and Conceptual Practices in Architecture (CCCPIA): This program is designed for students interested in exploring and shaping the discourse around contemporary architecture. The curriculum combines critical theory with hands-on curatorial practice.
Unique Aspects of the Program
Columbia's GSAPP stands out due to its commitment to an interdisciplinary approach to architectural education.
The faculty represents a diverse range of expertise, bringing together architects, historians, critics, curators, and technologists. This diversity ensures a rich educational experience that bridges theory and practice, historical and contemporary perspectives, and critical and creative thinking.
The architecture program at Columbia also places a strong emphasis on understanding architecture in its broader social, cultural, and environmental contexts.
This approach is reflected in the curriculum, which covers not only the technical aspects of architecture but also the critical issues that architects today must grapple with, such as sustainability, inclusivity, and the impacts of technology on design.
What makes Columbia architecture unique?
What makes Columbia architecture unique? If you are curious about what makes the Columbia architecture program stand out from the crowd, well, you're in the right place! Here, we're going to explore the unique aspects of the program that make it a go-to choice for students seeking an exceptional architectural education.
World-Class Faculty
A major factor that sets the architecture program at Columbia apart is its roster of world-renowned faculty members. With a mix of accomplished architects, theorists, and historians, the program's faculty bring a wealth of experience and knowledge to the table.
As a student, you'll have the opportunity to learn from the best in the business, gaining invaluable insights and inspiration from your mentors.
Interdisciplinary Approach
Columbia's architecture program embraces an interdisciplinary approach, encouraging students to explore the intersections between architecture and other fields such as art, science, and technology.
This cross-disciplinary mindset fosters a culture of innovation and creativity, equipping students with a diverse skillset that sets them apart in the ever-evolving world of architecture.
Global Perspective
In today's interconnected world, having a global perspective is more important than ever. Columbia's architecture program understands this, offering a curriculum that emphasizes international engagement and exposure.
From study abroad opportunities to collaborations with foreign institutions, the program ensures that students develop a well-rounded understanding of architecture in a global context.
State-of-the-Art Facilities
The architecture program at Columbia boasts cutting-edge facilities that provide students with the resources they need to excel.
From the Avery Architectural and Fine Arts Library to the Fabrication Lab and Digital Media Labs, the program offers an environment where students can push the boundaries of architectural design and technology.
Engaging Studio Culture
The studio culture at the architecture program at Columbia is another aspect that sets it apart. The studio environment is designed to foster creativity, collaboration, and critical thinking, with ample space for designing, building models, and engaging in constructive critiques.
As a student, you'll have the opportunity to work closely with your peers and learn from one another, creating a dynamic atmosphere that fuels your growth as an architect.
A Thriving Alumni Network
Lastly, Columbia's architecture program's extensive and active alumni network is a major asset for students.
With graduates working in top-tier firms and prestigious institutions worldwide, the program's alumni network offers students access to a wealth of connections, mentorship opportunities, and potential job prospects.
What are the requirements for admission into the Columbia architecture program?
What are the requirements for admission into the Columbia architecture program? If you are considering applying to the prestigious architecture program at Columbia but feel a little overwhelmed by the admissions process, worry not!
Here, we'll walk you through the requirements and application steps and give you an overview of what to expect on this exciting journey. So, let's get started and make your dream of joining Columbia's architecture program a reality!
Application Process
Choose your program.
First things first, it's essential to decide which degree program at Columbia's architecture program is right for you.
Whether it's a Bachelor of Arts in Architecture, a Master of Architecture, or one of the various specialized graduate programs, make sure you choose the program that aligns with your career goals and aspirations.
Know the deadlines.
When applying to the architecture program at Columbia, it's crucial to be aware of the application deadlines. These deadlines vary depending on the program you're applying to, so make sure to mark your calendar and give yourself ample time to prepare your application materials.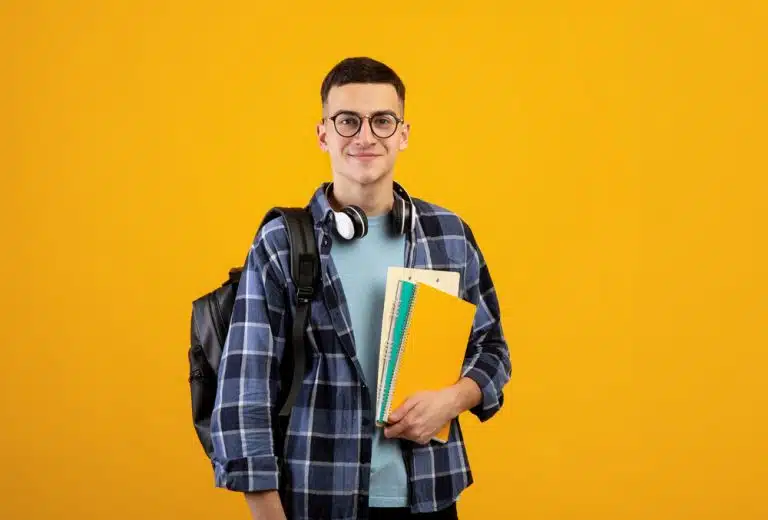 Ace your portfolio.
A standout portfolio is a critical component of your application to the architecture program at Columbia. Your portfolio should showcase your best work and demonstrate your creative abilities, technical skills, and design thinking.
Remember, the admissions committee is looking for originality, so let your unique perspective shine through!
Prepare your transcripts and test scores.
When applying to Columbia's architecture program, you'll need to submit official transcripts from all previously attended institutions.
For some programs, you may also be required to submit standardized test scores, such as the GRE. Be sure to check the specific requirements for the program you're applying to and plan accordingly.
Request letters of recommendation.
Letters of recommendation play an essential role in your application as they provide insight into your academic and professional abilities. When requesting letters, be sure to choose individuals who know you well and can speak to your strengths as a potential architecture student.
It's a good idea to give your recommenders ample notice and provide them with any necessary information to help them craft a strong letter on your behalf.
Craft a compelling personal statement.
Your personal statement is your chance to showcase your passion for architecture and explain why you're an excellent fit for the Columbia architecture program. In your statement, be sure to discuss your background, experiences, and aspirations, as well as how the program aligns with your career goals.
Remember, this is your opportunity to make a lasting impression on the admissions committee, so take your time to craft a thoughtful and engaging essay.
Complete the online application.
Once you've gathered all your application materials, it's time to complete the online application. Be sure to carefully review the instructions and requirements for the program you're applying to and ensure that all sections of the application are completed accurately. Don't forget to double-check your work and submit your application by the designated deadline.
Explore financial aid and scholarships.
If you're concerned about the cost of attending the architecture program at Columbia, be sure to explore financial aid and scholarship opportunities.
The program offers a variety of financial assistance options, including need-based aid, merit scholarships, and fellowships. Be sure to complete the necessary financial aid applications and submit any additional documentation required to be considered for these opportunities.
List of Required Application Materials
Completed Online Application: This requirement refers to submitting an application form through an online platform provided by the college or university. The application typically includes personal information, educational background, extracurricular activities, and essay questions.
Portfolio: A portfolio is a collection of work samples that showcase an applicant's skills, talents, and achievements in a specific area of interest.
Official Transcripts: Official transcripts are documents that provide a record of an applicant's academic performance and grades. These transcripts are usually obtained from the applicant's high school or previous colleges and universities. They provide a comprehensive overview of the applicant's coursework, grades, and any honors or awards received.
Letters of Recommendation: Letters of recommendation are written by individuals who can vouch for the applicant's character, abilities, and achievements. Typically, these letters are written by teachers, counselors, employers, or mentors who have interacted closely with the applicant. They provide insights into the applicant's academic performance, personal qualities, and potential for success in college.
Personal Statement: A personal statement is an essay in which the applicant has the opportunity to express their background, experiences, goals, and aspirations. It allows the applicant to present themselves beyond their academic achievements and demonstrate their uniqueness and potential contribution to the college or university.
Standardized Test Scores: Standardized tests are designed to measure a student's academic abilities and readiness for college. Many colleges and universities require applicants to submit their standardized test scores as part of the application process. These scores provide an objective measure of an applicant's academic proficiency in subjects like math, reading, and writing.
Resume or Curriculum Vitae: A resume or curriculum vitae (CV) provides a concise summary of an applicant's educational background, work experience, extracurricular activities, and other relevant achievements. It highlights key accomplishments and skills that demonstrate the applicant's qualifications and potential contributions to the college or university.
Application Fee: An application fee is a payment required by most colleges and universities when submitting an application. This fee covers administrative costs associated with processing and reviewing applications. It is important to note that some institutions offer fee waivers for applicants who demonstrate financial need.
What kind of career opportunities are available to graduates of the Columbia architecture program?
What kind of career opportunities are available to graduates of the Columbia architecture program? If you are curious about the career opportunities that await you after graduating from the architecture program at Columbia, then you're in the right place!
Read on as we explore the vast array of job prospects, entrepreneurship opportunities, and continuing education and professional development resources available to Columbia graduates. So, let's jump right in and see what the world has in store for you as Columbia's architecture program graduate!
Job Prospects in Various Sectors
Graduates of the architecture program at Columbia can look forward to diverse and exciting career opportunities across multiple sectors. Here are some of the sectors where you might find your dream job:
Architectural Firms: Many graduates kick off their careers by joining established architectural firms, where they can work on a wide range of projects, from residential buildings to skyscrapers and everything in between.
Government Agencies: Columbia grads can also find rewarding opportunities working with government agencies, helping to design and plan public spaces, infrastructure, and urban development projects.
Non-profit Organizations: If you're passionate about social impact, working with non-profit organizations offers a chance to use your architectural skills to create sustainable and affordable housing, promote community development, or engage in disaster relief efforts.
Education and Research: For those who love academia, opportunities in education and research allow you to share your knowledge, inspire the next generation of architects, and contribute to the advancement of the field.
Entrepreneurship Opportunities and Starting Your Own Practice
Feeling entrepreneurial? Many architecture graduates choose to start their own architectural practices, offering them the freedom to pursue their creative vision and shape the built environment on their terms.
With the solid foundation provided by the program, you'll be well-equipped to navigate the challenges of entrepreneurship and establish a thriving practice.
Continuing Education and Professional Development Resources
The architecture field is constantly evolving, making ongoing education and professional development essential for success. Architecture graduates can benefit from various resources, such as industry conferences, workshops, and online courses, to keep their skills sharp and stay up-to-date on the latest trends and technologies.
Additionally, Columbia offers a strong alumni network, providing you with valuable connections and opportunities to continue learning from your peers.
As you can see, the career opportunities for Columbia architecture program graduates are vast and exciting, spanning multiple sectors and allowing you to forge your own unique path.
Whether you dream of working for a renowned architectural firm, starting your own practice, or dedicating your skills to social impact, a degree from Columbia will give you the foundation and support to achieve your goals.
If you are interested in applying to Columbia's architecture program, it is crucial to prepare a compelling application that effectively demonstrates your passion, skills, and potential in architecture.
This is where AdmissionSight can help. We offer expert guidance and support in the college application process, helping you to present your strengths and aspirations effectively and thereby increasing your chances of acceptance.
Our team of seasoned professionals will work with you to understand your academic and extracurricular profile, helping you craft a unique and persuasive narrative. We will assist in the preparation of all application components, from your personal statement to your portfolio, ensuring you stand out in the competitive applicant pool.
So, why wait? Book an initial consultation with us today, and let us guide you on your path to securing a spot in the prestigious architecture program at Columbia or any other elite college of your dreams. Together, we can make your college application journey smooth and successful!